A one pot soup that's ready in just 30 minutes? It's true! This Lemon Dill Chicken Noodle Soup is bursting with bright flavors and is sure to awaken your taste buds.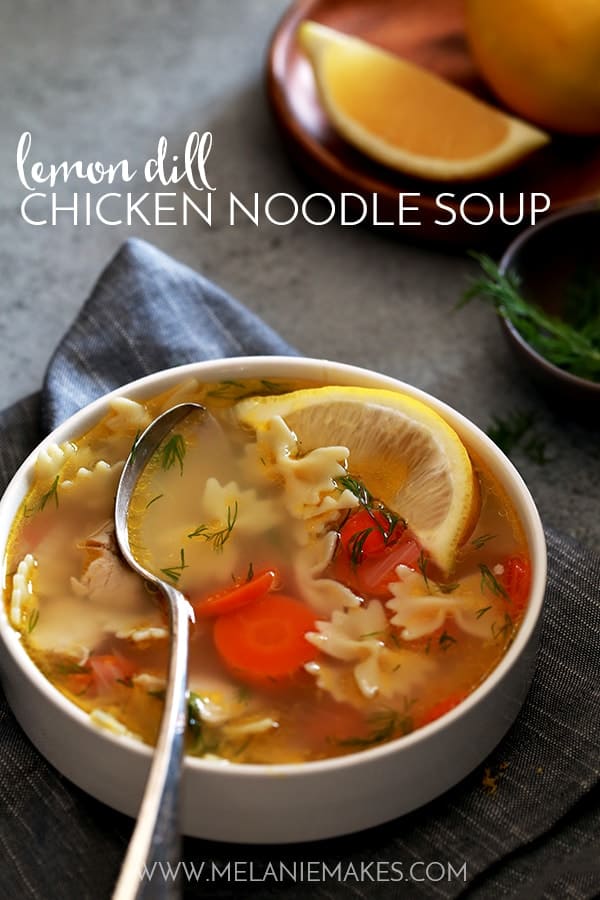 Keep in touch! Subscribe to receive Melanie Makes recipes direct to your inbox.
Soup weather is some of my favorite weather. If it's going to be grey and gloomy or rainy or all around yuck outside, I say bring on the soup and crusty bread. Because, you obviously can't have one without the other. Am I right, or am I right? And when your young children are requesting this Lemon Dill Chicken Noodle Soup specifically by name? Well, then you know you've got a winner on your hands!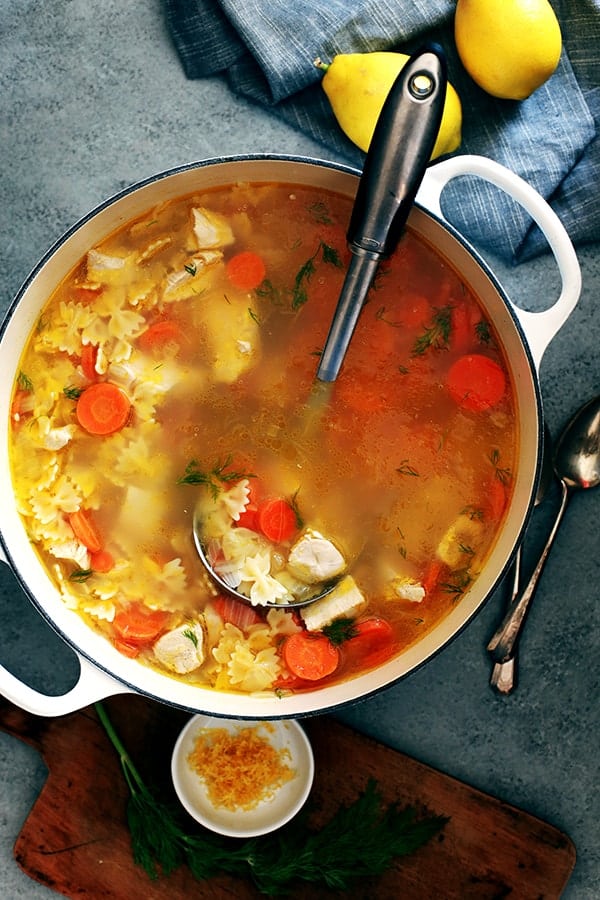 My Lemon Dill Chicken Noodle Soup is a twist on the ordinary and easily stands out from the crowd. Lemon and fresh dill transform a childhood favorite into something bright and flavorful. The fact that it's a one pot soup and it can be prepared in less than 30 minutes elevates it's status to weekday worthy. Forget to take the chicken out of the freezer to thaw? Not a problem! You'll simply add a few more minutes to the cooking time. This soup will be one of those recipes you'll be adding to your menu plan arsenal. Great taste and no fuss equals a win/win in my book!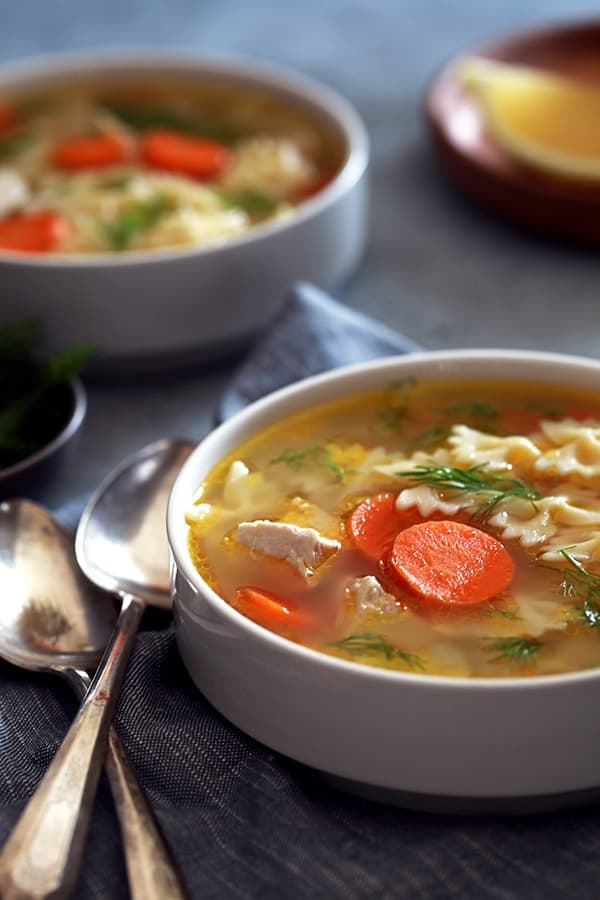 Those noodles? I'm a sucker for cute pasta. And yes, I think these noodles are cute. They're simply a smaller version of the usual bowtie variety. Easier to eat with a spoon and I also knew that they'd be a hit with the three small children in our home. Soup tends to be a bit difficult for the younger two to eat so I tend to add a bit less broth to their portions. This equals more chicken, vegetables and noodle-y goodness for the younger crowd.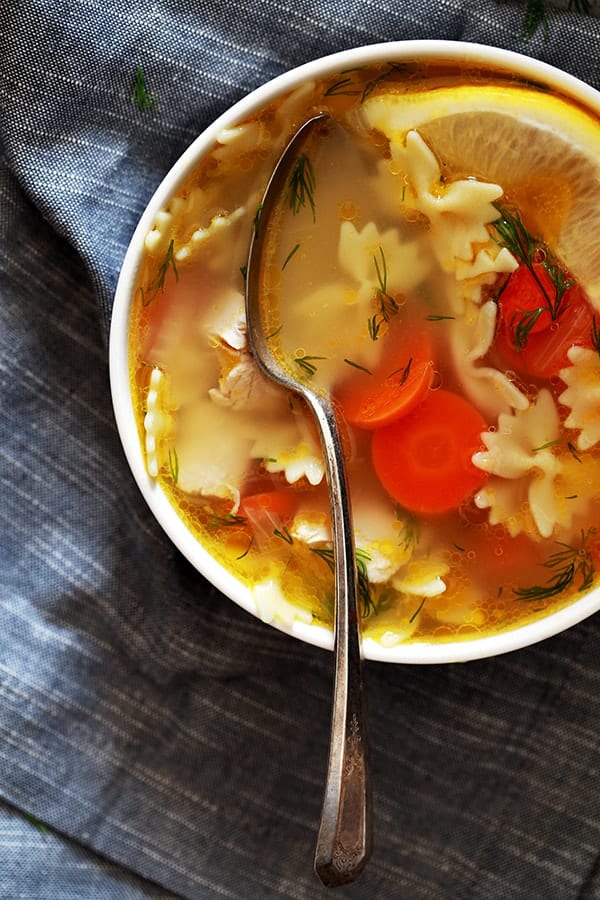 For three years now, I've partnered with two of my favorite food bloggers, Emily from Jelly Toast and Courtney from Neighborfood, for Soup-er Bowl week. Basically, the week before the big game, we've each committed to sharing two new soup recipes with you so that you're able to serve them for the big game. This Lemon Dill Chicken Noodle Soup seemed to be the perfect soup to introduce this week. A one pot soup that's ready in just 30 minutes? It's true! This Lemon Dill Chicken Noodle Soup is bursting with bright flavors and is sure to awaken your taste buds.

Melanie Bauer
Yields 8 servings
Lemon Dill Chicken Noodle Soup
10 minPrep Time
20 minCook Time
30 minTotal Time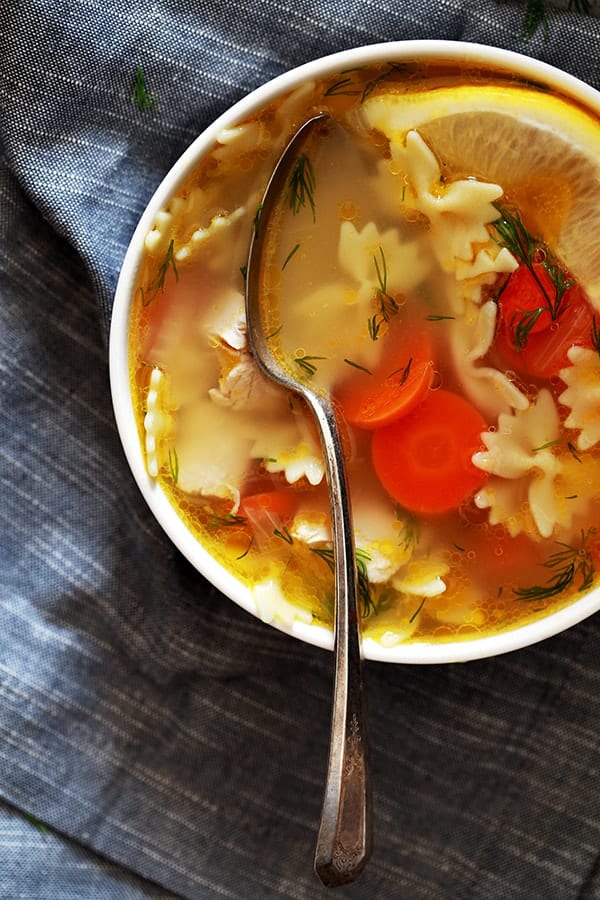 Ingredients
2 tablespoons olive oil
5 carrots, sliced
1 onion, chopped
12 cups chicken broth
6 cups water
salt and pepper
2 pounds boneless, skinless chicken breasts
1 pound pasta
0.66 ounces fresh dill
2 lemons, juiced
Instructions
In a large pot, heat olive oil over medium heat. Add carrots and onion and saute for 2-3 minutes or until beginning to soften.
Add chicken broth and water and bring to a boil. Season with salt and pepper.
Add chicken breasts and reduce to a simmer, cooking chicken for 10-12 minutes or until cooked through. Remove chicken and set aside.
Bring broth back to a boil and add pasta. Cook according to package directions until al dente.
Meanwhile, chop chicken into bite-sized pieces.
When pasta is al dente, add chicken back to pot. Stir in chopped dill and lemon juice.
7.6.4
122
https://melaniemakes.com/blog/2014/04/lemon-dill-chicken-noodle-soup.html
Melanie Bauer | Melanie Makes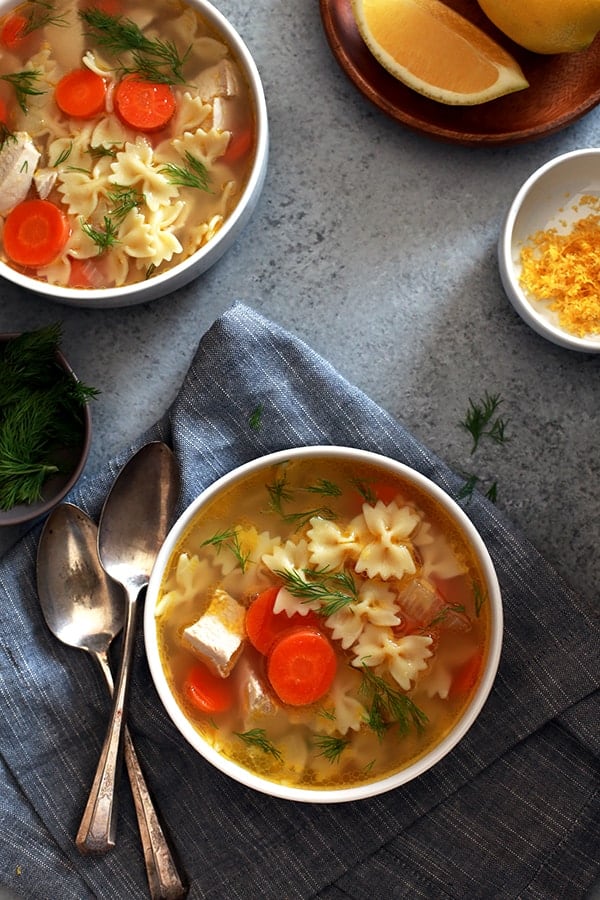 Not only is my Lemon Dill Chicken Noodle Soup a snap to make, but my friends at Le Creuset want to make it even easier by giving you a chance to win a 5.5 quart dutch oven! That huge white pot photographed with this recipe? That's my huge 9 quart Le Creuset dutch oven that I use 2-3 times each week in my own kitchen. Hands down the piece of cookware I use the most in my own kitchen.
See the giveaway widget below to enter – good luck!
Looking for more great soup recipes?