These Shrimp and Bacon Stuffed Deviled Eggs are going to go fast.  Double the recipe, my friends.  The traditional deviled egg goes upscale with the addition of shrimp and bacon, becoming an instant dinner favorite.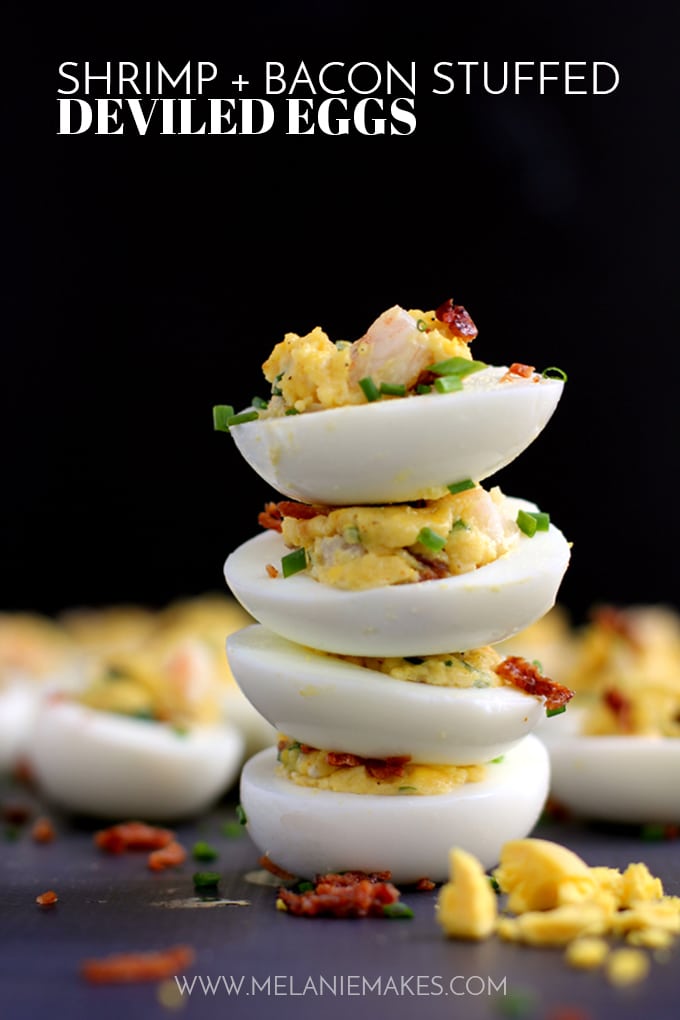 Keep in touch!  Subscribe to receive Melanie Makes recipes direct to your inbox.
The countdown to Easter is on.  It's less than two weeks away people!  And no matter how you celebrate, if you gather around a table to share a meal with friends and family, I would make a quite educated guess that there will be deviled eggs served.  Am I right?  Thought so.  I mean, is there a better side dish for such a spring holiday?  I think not!  So instead of the ordinary, why not put forth a little extra effort – key word, LITTLE – and dress things up a bit with these Shrimp and Bacon Stuffed Deviled Eggs.
Side note: In case you'd like to serve something more than deviled eggs for your holiday meal, they pair well with my Slow Cooker Honey Mustard Ham and my Cheesy Corn Casserole.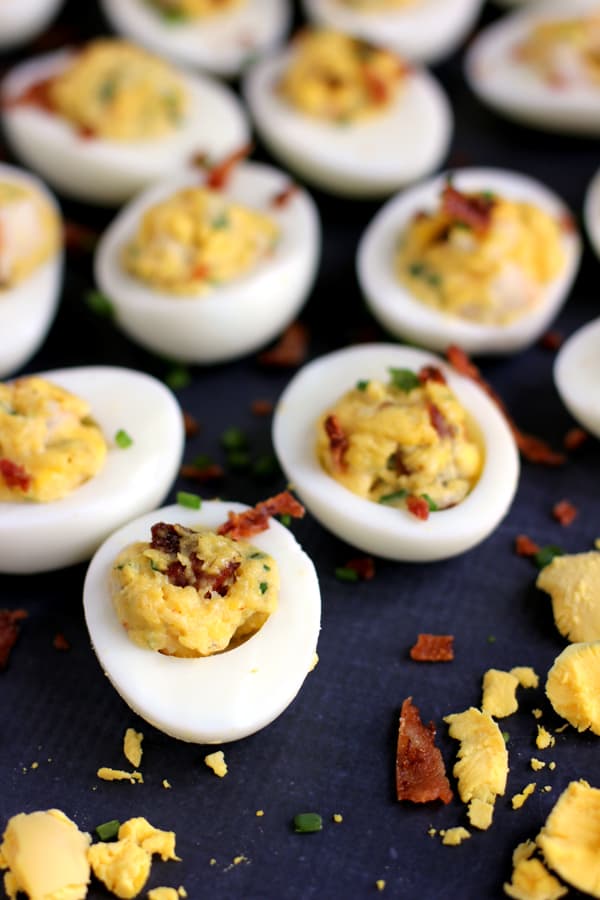 While the traditional and expected are fine and well, I wanted to dress it up a bit.  You know, with shrimp.  And bacon.  Because really, I'm married to a guy who has decided that making his own bacon is how he'd like to spend the two seconds of free time he has each week.  This is also how my daughters know what pig belly is, but I digress…
Simply put, in our home, we believe you can never go wrong with the addition of bacon to a dish.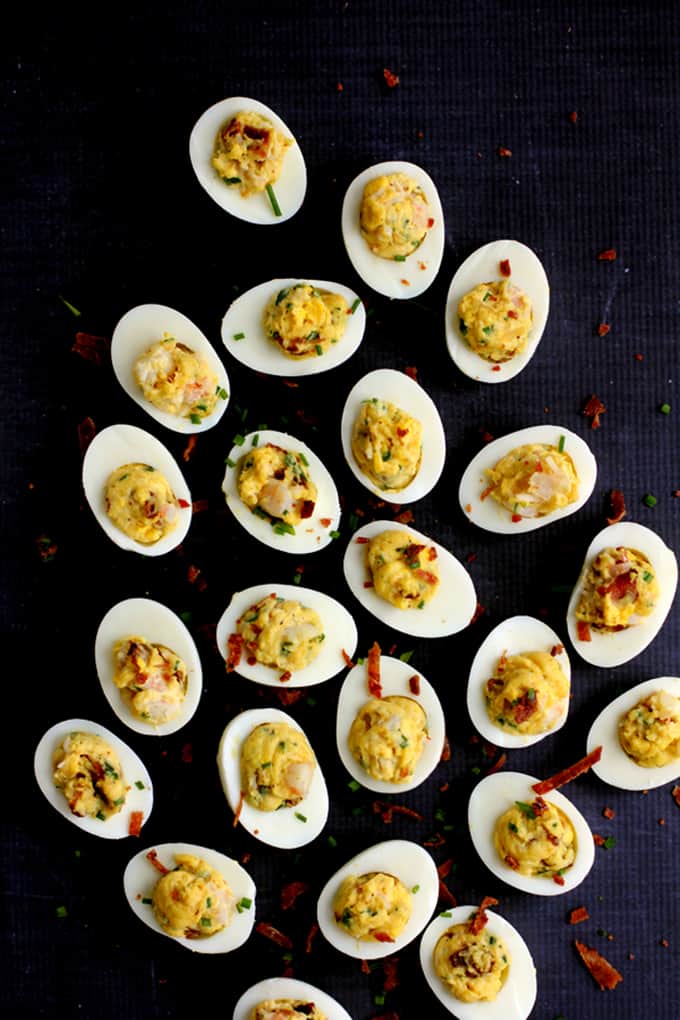 I first made these Shrimp and Bacon Stuffed Deviled Eggs during our first year in Madison.  We were away from family and decided to invite Andy's chief resident and wife over for dinner.  It seems like eons ago as they now have three children as do we.  That's something I love about spending so much time in the kitchen.  I associate dishes with who I've shared them with.  And meals are always best when gathered with friends and family.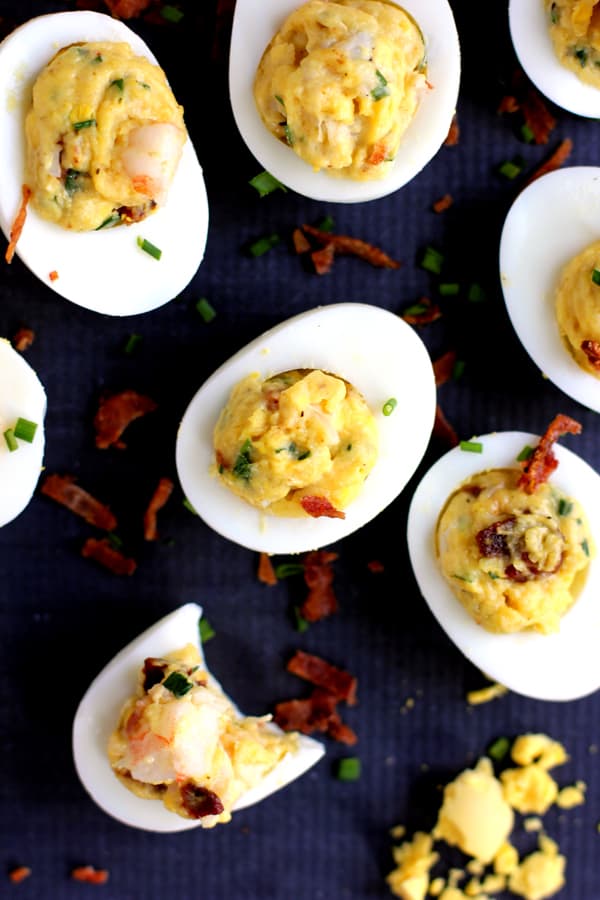 These Shrimp and Bacon Stuffed Deviled Eggs are just as their name implied, stuffed with all the good stuff!  Spiked with mayo, mustard and a pinch of cayenne and sprinkled with parsley and chives.  These eggs are definitely holiday ready!
Melanie Bauer
Shrimp and Bacon Stuffed Deviled Eggs
15 minPrep Time
20 minCook Time
35 minTotal Time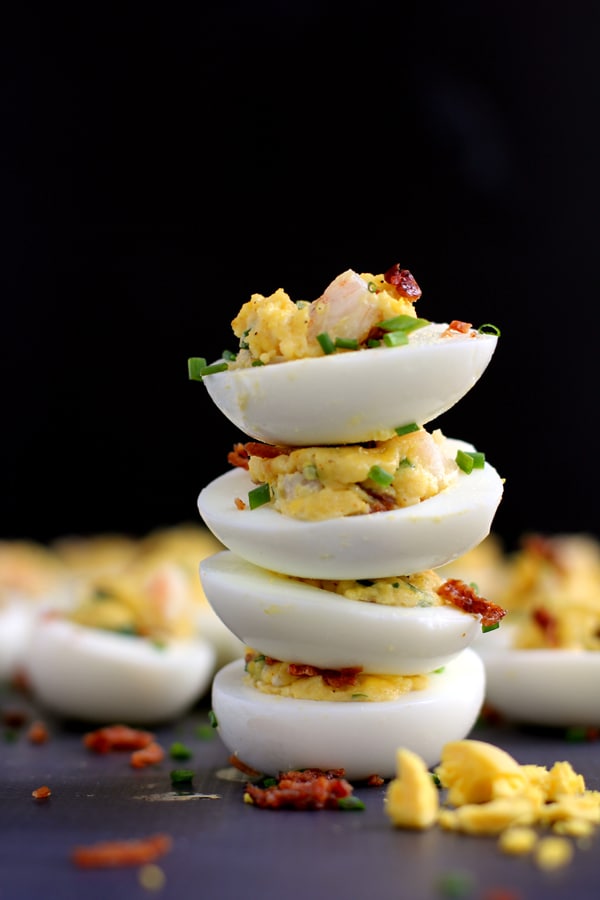 Ingredients
12 hard boiled eggs, shelled
1/3 cup instant potato flakes
1/3 cup mayonnaise
1 tablespoon dijon mustard
1/4 teaspoon salt
1/4 teaspoon pepper
pinch cayenne pepper
2 tablespoons parsley, chopped
2 tablespoons chives, minced
3/4 cup cooked shrimp, peeled and chopped
5 slices bacon, cooked and crumbled
Instructions
Cut cooked eggs in half lengthwise and remove yolks.
Mash together 8 yolks in medium bowl, reserving remaining yolks for another use. Stir in potato flakes and all other ingredients through chives. Fold in shrimp and crumbled bacon.
Spoon approximately 1 heaping tablespoon of yolk mixture into each egg white half. Garnish with additional chives and bacon, if desired.
7.6.4
116
https://melaniemakes.com/blog/2014/04/shrimp-and-bacon-stuffed-deviled-eggs.html
Melanie Bauer | Melanie Makes
Did you notice anything unusual in the ingredient list?  Perhaps the instant potato flakes?  Something I rarely have on hand except for this dish but they lend such a great texture to the filling of these eggs.  They also work to thicken it a bit as well.  Perfect!  To make things a little less messy, I like to spoon the filling into a pastry bag and pipe into each egg white halve but definitely feel free to just spoon it in as well.  Your choice.  They taste just as amazing either way.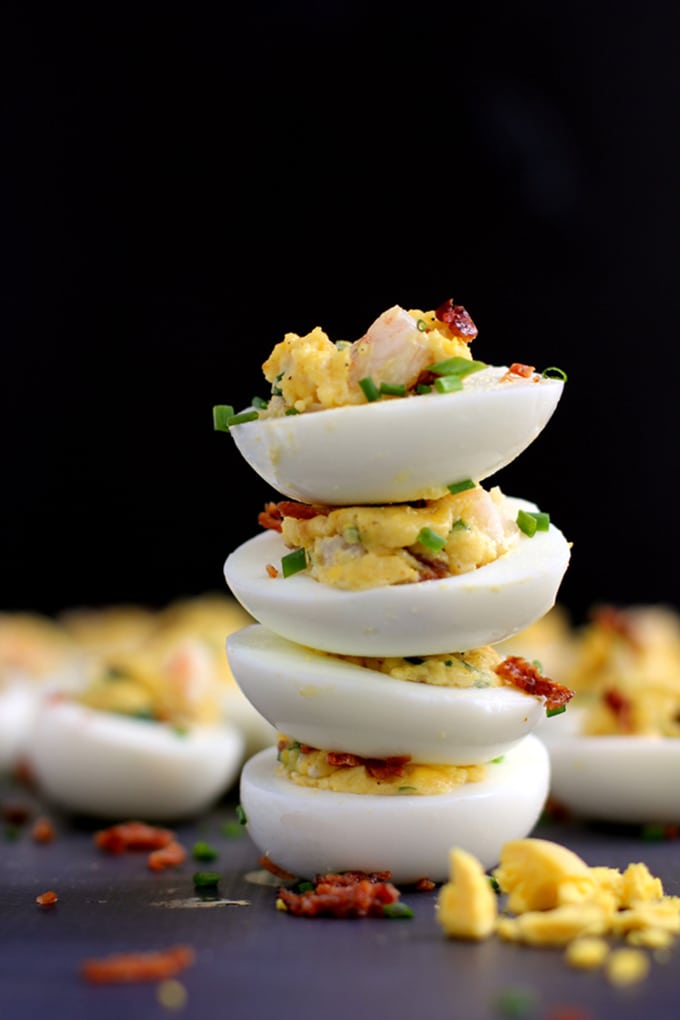 If you're asked to bring a side dish or appetizer to your next holiday gathering, you can bet that these Shrimp and Bacon Stuffed Deviled Eggs are going to be well received.  So much better than the plan and traditional and yet not difficult whatsoever!
Looking for more great deviled egg recipes?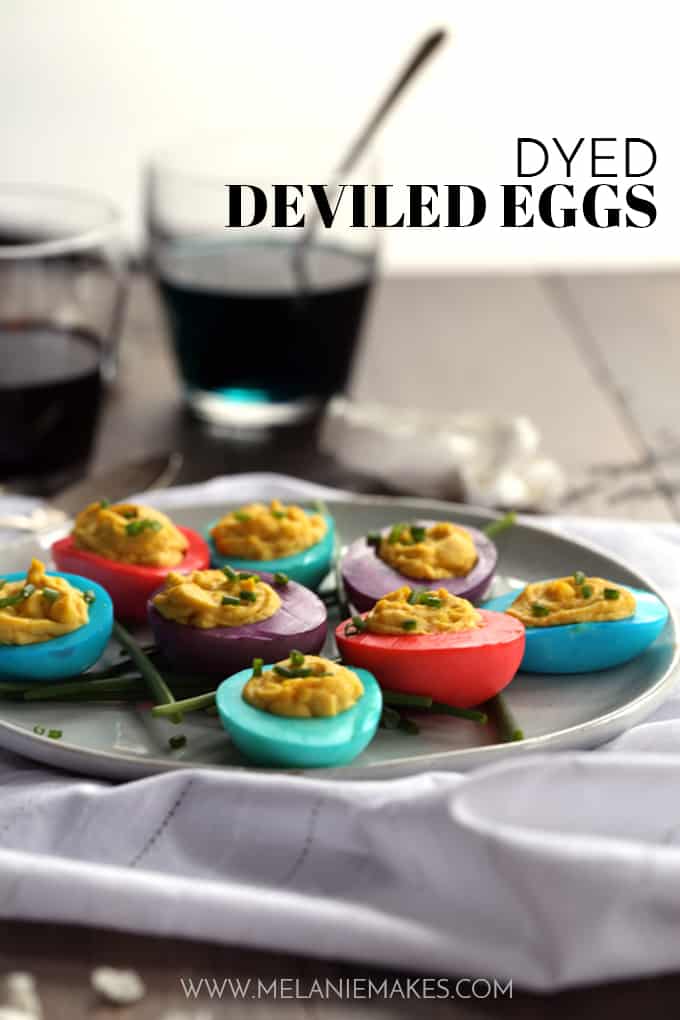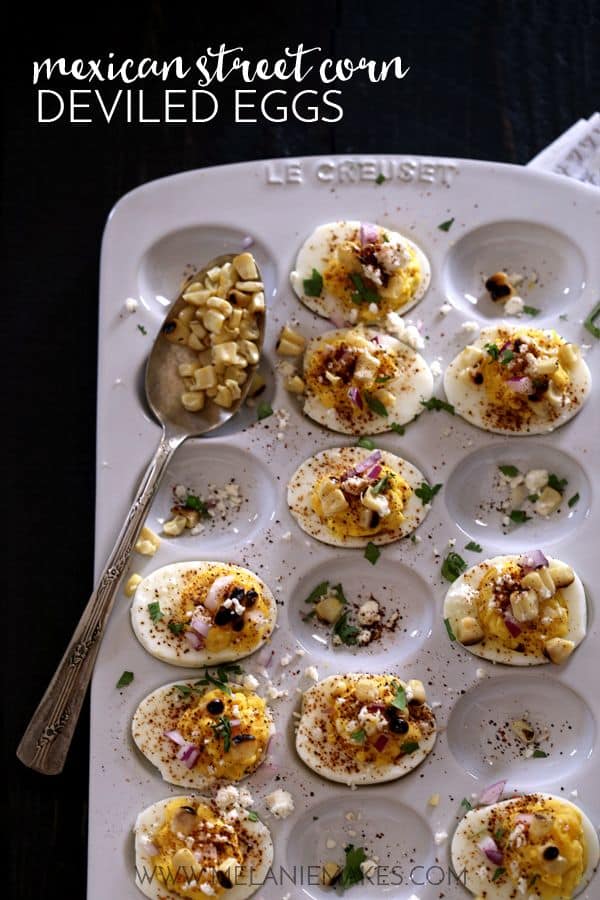 More delicious deviled egg recipes from fellow foodies:
Jalapeno Popper Deviled Eggs | NeighborFood
Sriracha Deviled Eggs | The Food Charlatan
Caesar Deviled Eggs | The Cookie Writer