These Angel Food Cake S'mores Skewers are the perfect adult spin on a childhood favorite.  A perfectly toasted marshmallow is skewered between two pieces of angel food cake and topped with a strawberry before being drizzled with a luscious dark chocolate sauce spiked with wine.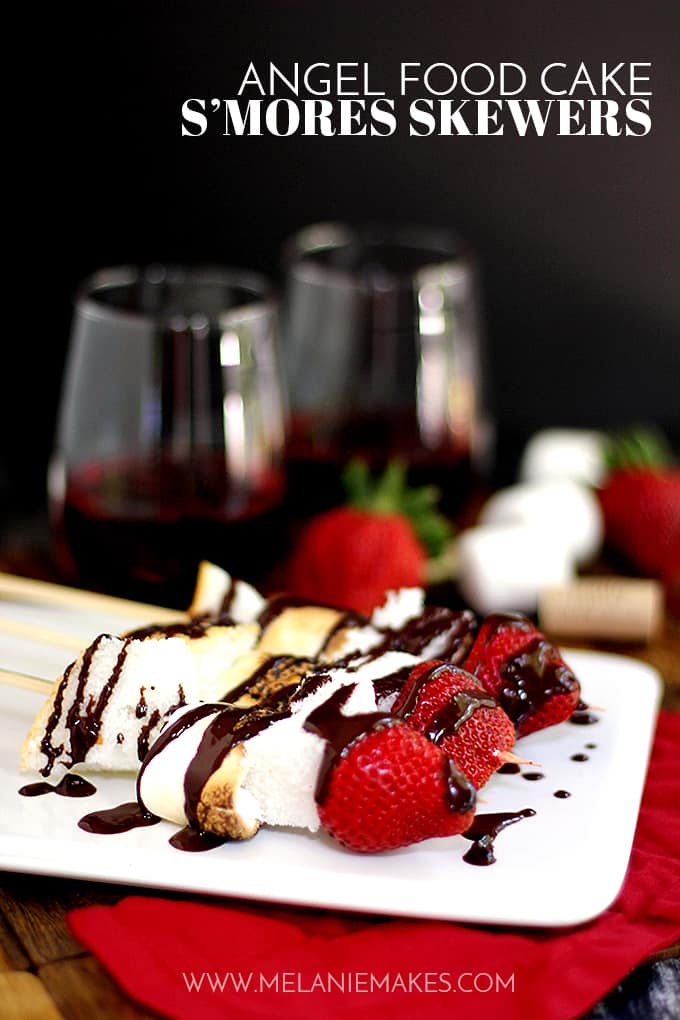 Keep in touch!  Subscribe to receive Melanie Makes recipes direct to your inbox.
If there's one guy that deserves a treat this Father's Day, it's my husband.  I hereby admit to adding a novel's worth of projects to his honey do list the last couple of weeks.  Our yard has never looked better and we're definitely outside more than we are inside these days.  And lucky for him, all of his efforts were the inspiration behind these out of this adult Angel Food Cake S'mores Skewers.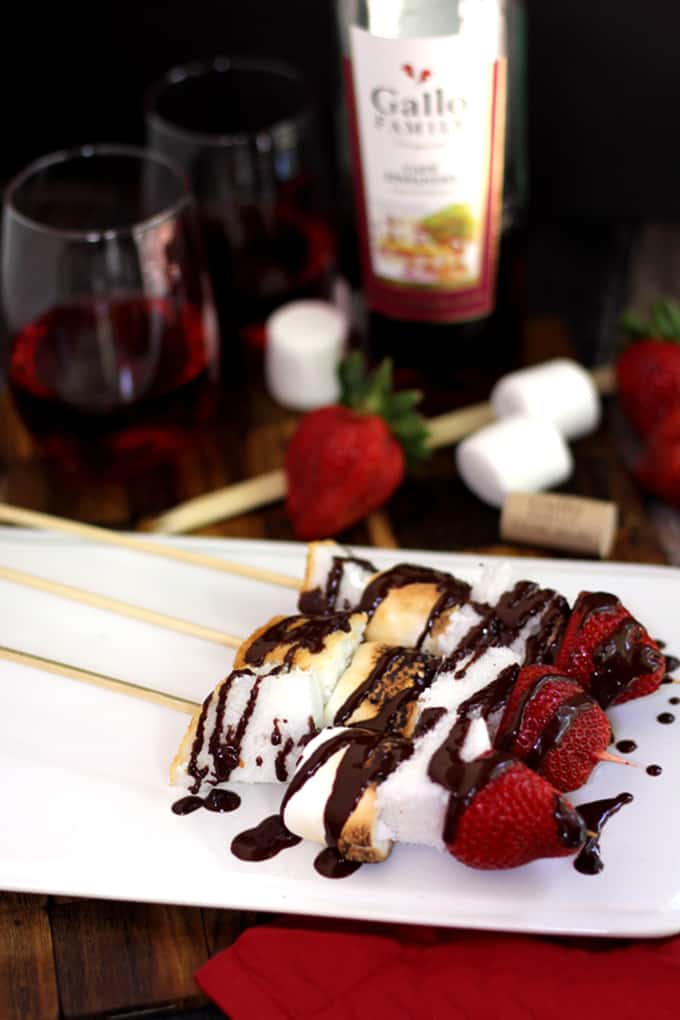 It all started with a delivery of 7 cubic feet of mulch.  Do you know what that looks like?  Picture a dump truck with it's bed full and having it dumped into the middle of your driveway.  Good times!  Andy's been wheelbarrowing – yes, I've now made that a verb – into the various flower beds in both the front and back.  Including a new bed he dug out when I got a whim that it would make the edge of the patio look better.
Then there was ordering, delivery and beginning installation of a retaining wall in our front yard.  So that our sloping to the street yard didn't look like it went from grass to dirt to sidewalk, but looked a bit more intentional.
But I haven't mentioned the best part!  The part that we added to our must-do list last Summer after moving into our home.  A fire pit!  The materials for it were also delivered with the retaining wall rock and sand.  (Thankfully one of our neighbors was out of town the week everything was delivered so she didn't think we'd absolutely lost our mind.)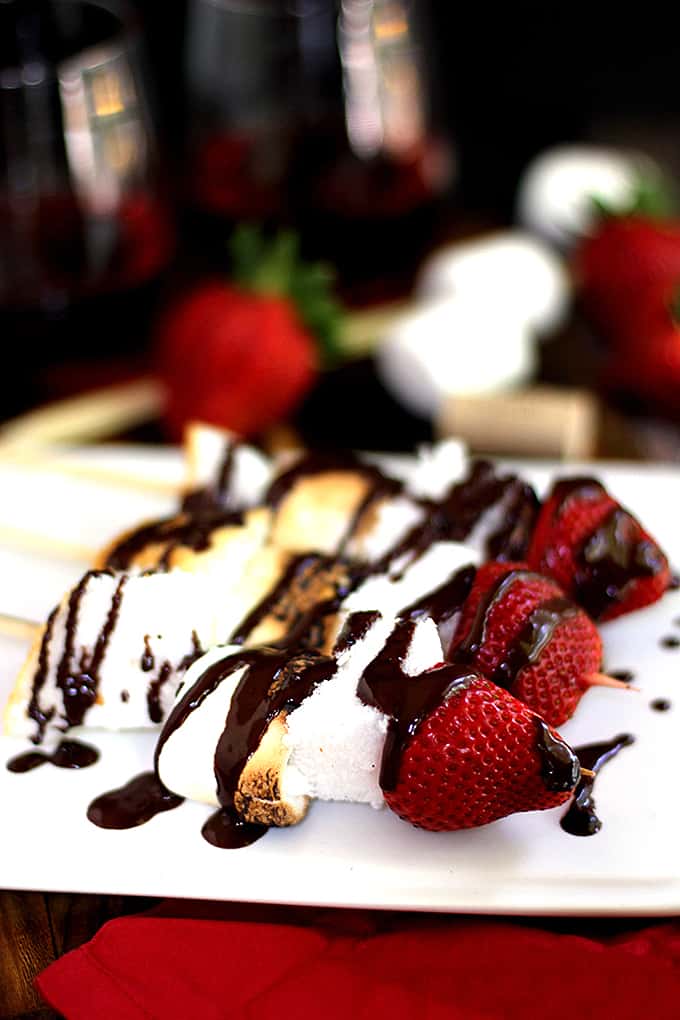 And what does a fire pit mean?  Say it with me – S'MORES!  I seem to have a bit of a dessert crush on all things s'mores related.  My Peanut Butter Cup Stuffed S'mores Brownies are one of my most decadent and over the top recipes.  And then there's my S'mores Stuffed Chocolate Krispie Treats which are always a hit with kids and adults alike.  But don't forget about my No Bake Double Chocolate S'mores Pie.  Talk about minimal effort for maximum taste!
But I've upped the S'mores ante with these Angel Food Cake S'mores Skewers!  A perfectly toasted marshmallow is skewered between two pieces of angel food cake and topped with a strawberry before being dipped into a luscious dark chocolate sauce spiked with red wine.  Only one thing could make this dessert better.  Toasting the marshmallows outside on our new fire pit after we've put the kids to bed!
Looking to make these Angel Food Cake S'mores Skewers even more special?  Try substituting this tropical 3 Ingredient Pineapple Angel Food Cake or make things more decadent with this Chocolate Angel Food Cake.  And if you want picture perfect cake cubes for your skewers you simply must know How to Slice Angel Food Cake!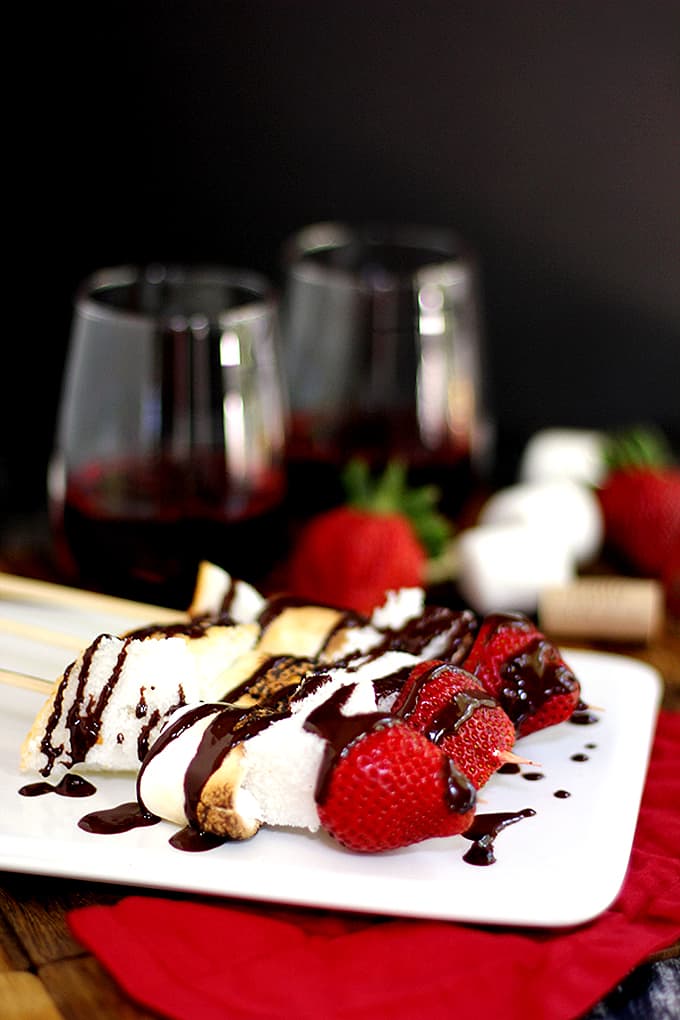 Ingredients
3/4 cup red wine
3/4 cup heavy cream
2 cups dark chocolate chips
angel food cake, prepared
jumbo marshmallows
1 quart strawberries, washed and trimmed
Instructions
In a small saucepan, bring wine to a simmer. Stir in heavy cream and dark chocolate chips and stir until combined. Remove from heat.
Cut angel food cake into large cubes and place one cube on a skewer.
Roast marshmallow on a separate skewer and toast until desired shade of brown. Place on skewer with cake and top with an additional cake cube.
Top second cake cube with a strawberry and drizzle skewer with chocolate wine sauce.
Repeat with remaining cake, marshmallows and strawberries.
7.6.4
132
https://melaniemakes.com/blog/2014/06/angel-food-cake-smores-skewers.html
Melanie Bauer | Melanie Makes