Not one, not two, not three, but FOUR bananas are packed into a single loaf of this Chocolate Chip Walnut Banana Bread.  A bread absolutely bedazzled with chocolate chips and walnuts.  In other words, I dare you to not fall in love with it upon first bite!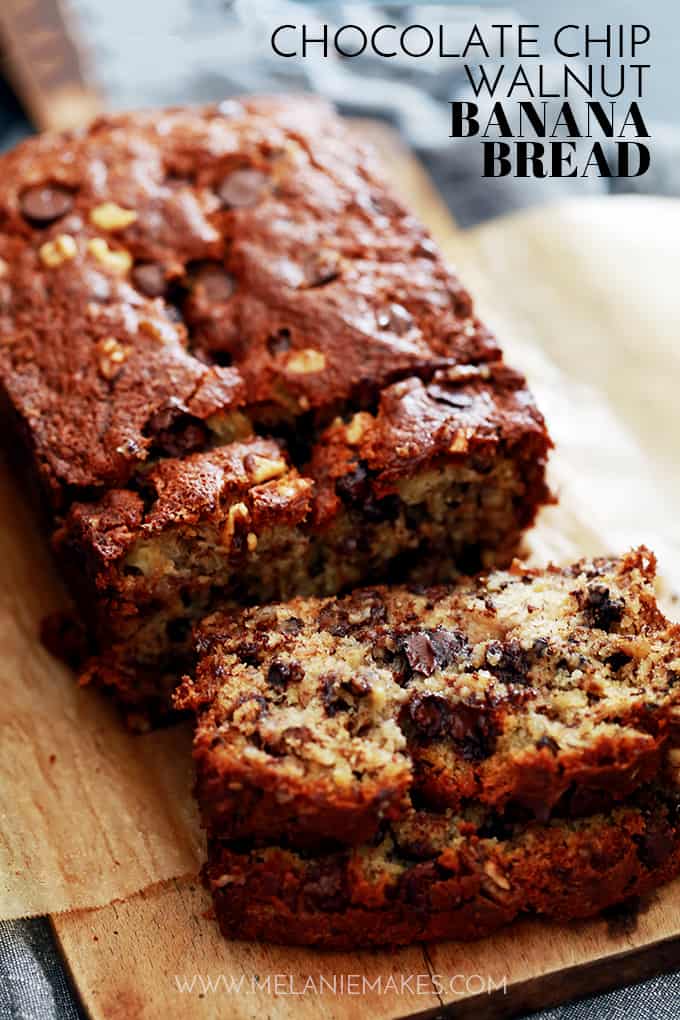 Keep in touch!  Subscribe to receive Melanie Makes recipes direct to your inbox.
Not one.  Not two.  Not three.  FOUR bananas are packed into a single loaf of this delicious bread.  That's what gives it it's beyond high moisture content.  This Chocolate Chip Walnut Banana Bread is rich and decadent.  Just like any treat should be if you ask me!  The fact that it has some bananas thrown in for good measure is just an added benefit.  And because of said bananas, that means this is totally an appropriate breakfast food!  Don't you like how my mind works?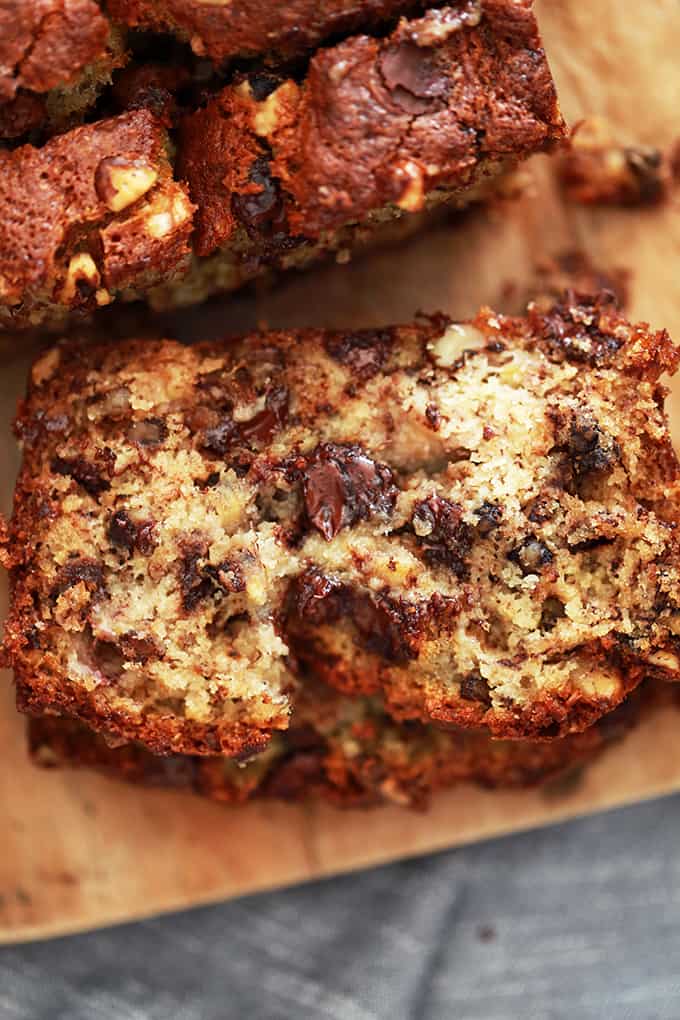 I love adding bananas to baked goods.  The flavor and moisture they add is just second to none!  I mean, take a bite of my Banana Chocolate Chip Fluffernutter French Toast Casserole or Coconut Banana Bread Donuts and you'd be shaking your head in agreement in no time!
And yes, I know, I know.  Everyone says their banana bread is the best, but I'm here to set the record straight.  THIS is the best banana bread recipe.  I actually order large amounts of bananas to sit and turn an ugly shade of brown in my fruit bowl just so I can make this Chocolate Chip Walnut Banana Bread.  You'll find yourself sitting in your kitchen, drumming your fingertips on the counter begging your bananas to ripen so that you can make a loaf.  Yes, it really is that good.  Promise!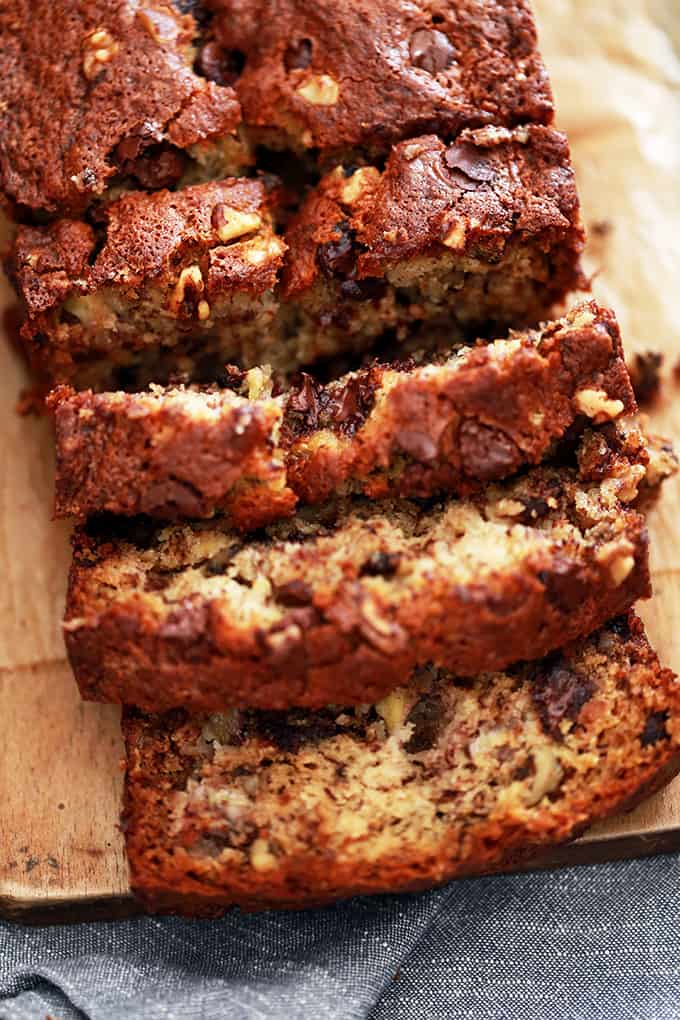 This Chocolate Chip Walnut Banana Bread has it all.  A moist and comforting banana bread base is bedazzled with chopped walnuts and chocolate chips.  What emerges from the oven is nothing short of amazing.  That melty chocolate gets me every time!  I typically make two loafs at a time as the first is devoured so quickly.  Or if you have more self-restraint that I do – kudos to you! – this bread also freezes beautifully.
SIDE NOTE: If you're looking for an autumn take on this recipe, check out my Chocolate Chip Walnut Pumpkin Bread.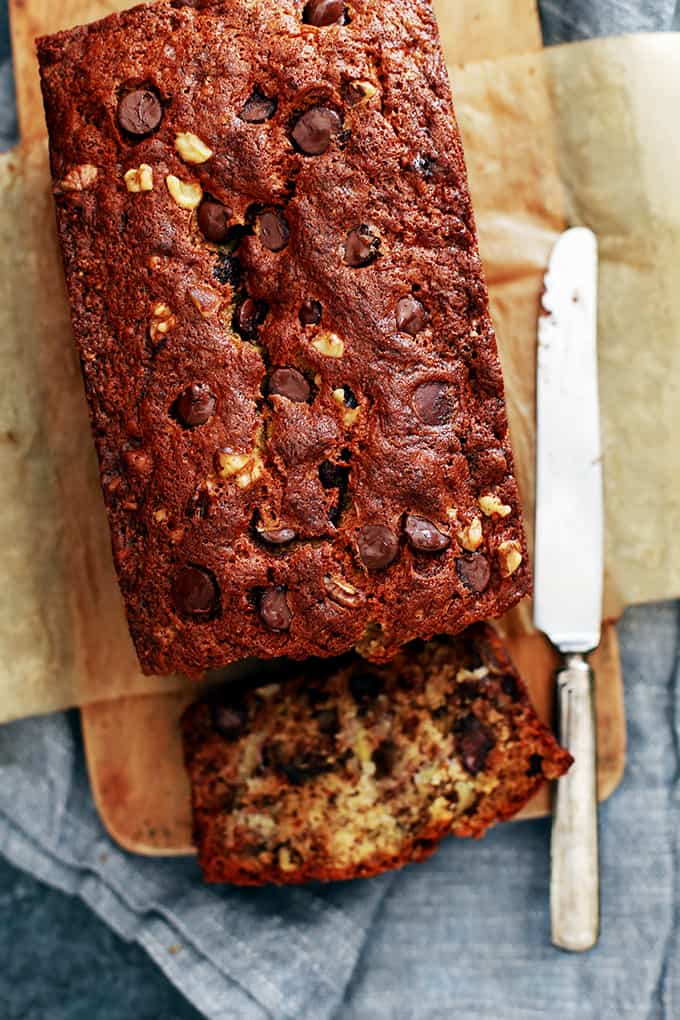 My Chocolate Chip Walnut Banana Bread is perfect to share and makes a great contribution to bake sales – I speak from experience!  I dare you to find someone who doesn't instantly fall head over heels in love with this bread upon first bite.  I just recommend serving with an ice cold glass of milk.  They complement each other perfectly!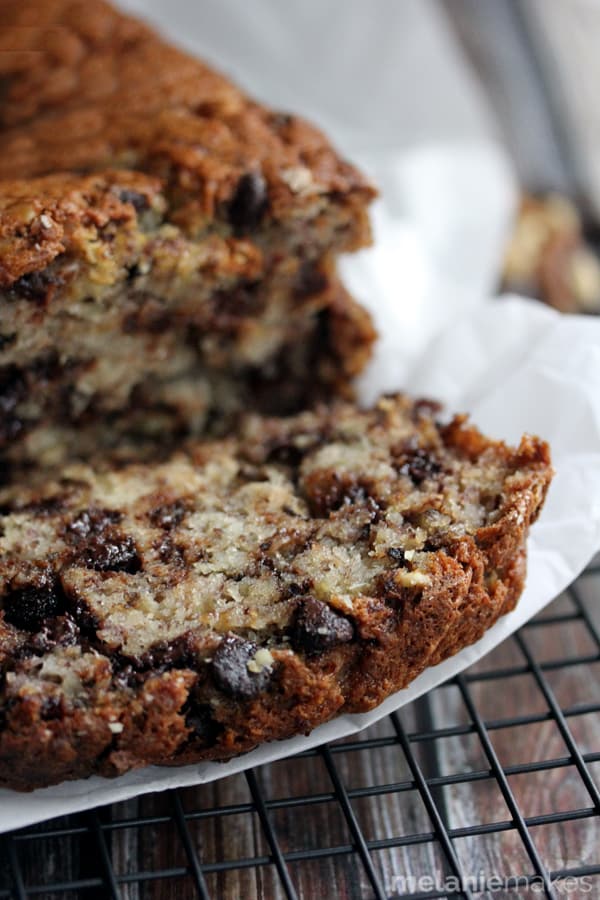 Ingredients
1/2 cup butter, softened
1 cup sugar
2 eggs, beaten
4 ripe bananas
1-1/2 cups flour
1 teaspoon baking soda
1/2 teaspoon salt
1 teaspoon vanilla
1 cup chopped walnuts
1 cup chocolate chips
Instructions
Preheat oven to 350 degrees.
In the bowl of an electric mixer, cream together butter and sugar.
Add eggs and bananas and mix until well combined.
Add flour, baking soda, salt and vanilla and mix until just combined.
Fold in walnuts and chocolate chips.
Pour batter into greased loaf pan.
Bake for 55 minutes. If beginning to brown to quickly, loosely tent with foil.
Turn oven off and leave bread in oven for additional 15 minutes.
Allow bread to cool completely before removing from loaf pan to serve.
7.6.4
183
https://melaniemakes.com/blog/2014/10/chocolate-chip-walnut-banana-bread.html
Melanie Bauer | Melanie Makes
Looking for more delicious banana recipes?  I have no doubt you'd love these insanely amazing Banana Nut Cinnamon Rolls, this old fashioned Homemade Banana Pudding or these super easy and delicious Copycat Trader Joes Gone Bananas.
—–
This recipe first appeared in my monthly contributor post at My Organizing Junkie, here.