This Slow Cooker Cornbread and Sausage Stuffing knocks the socks off anything you'd buy from a box at the grocery store, yet is just as easy to prepare.  Cornbread, sausage, celery, onion and sage are are the stars of this Thanksgiving staple that's cooked in your slow cooker to free up valuable oven real estate.
Keep in touch!  Subscribe to receive Melanie Makes recipes direct to your inbox.
If there's one thing that's a premium while preparing a holiday meal, it's insuring you have enough oven space to fit in not only the main dish but also the multitude of sides.  I learned a few years ago that it makes my day easier – and much more enjoyable! – if I find alternate cooking methods for a few sides so that oven real estate doesn't become an issue.  Enter my delicious Slow Cooker Cornbread and Sausage Stuffing.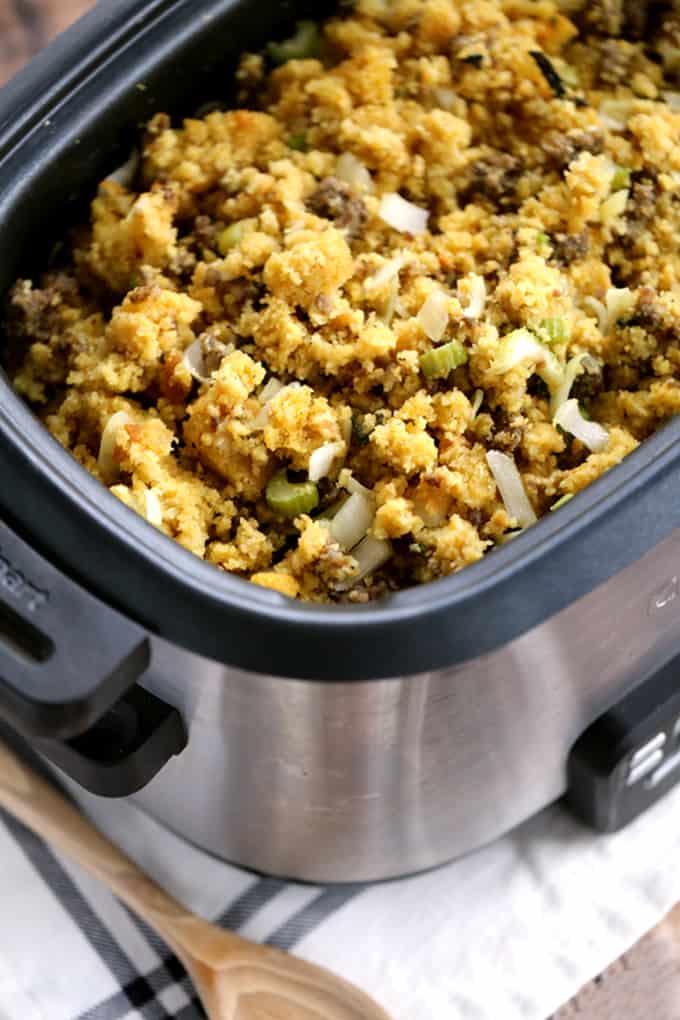 Dishes that can be made ahead?  Count me in!  Making sides in a slow cooker?  Genius!  This Slow Cooker Cornbread and Sausage Stuffing is guaranteed to be a favorite.  Not only is the cornbread made the day before, but the remaining ingredients are simply added to the slow cooker and a few hours later, Thanksgiving staple side dish awaits.  The whole process couldn't be easier and it definitely puts my mind at ease and allows me to focus on other tasks.  You know, like basting a 20 pound turkey every 30 minutes throughout the day.
You will always find this stuffing on my Thanksgiving table alongside my Make Ahead Sweet Potato Casserole and Twice the Onion Green Bean Casserole.  A trifecta of holiday goodness, my friends.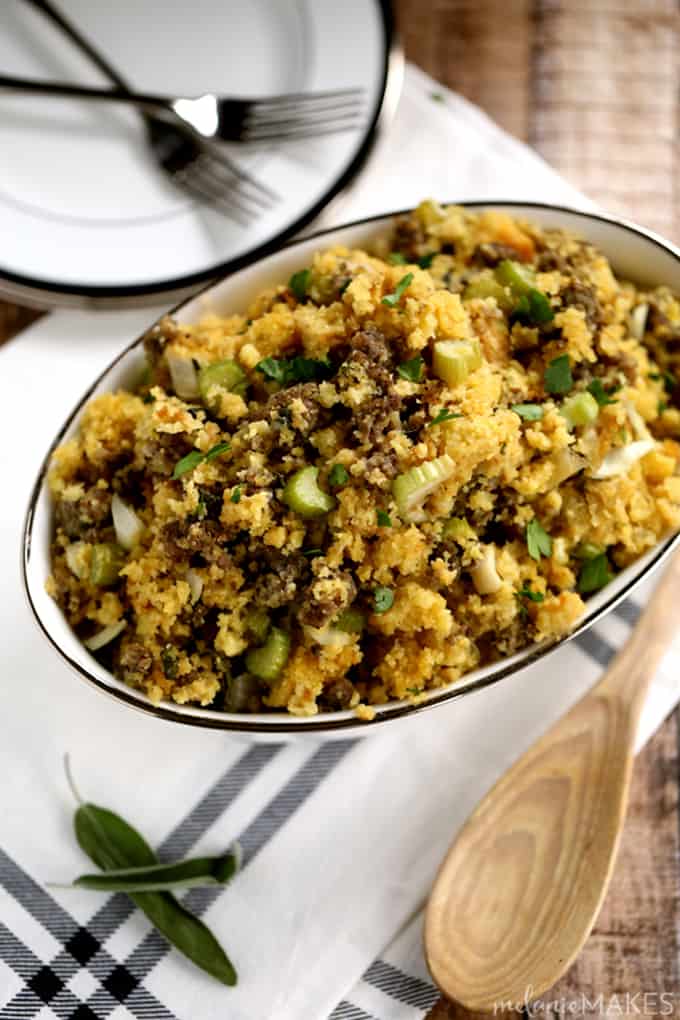 My Simple Sweet Cornbread is the base of this hearty Thanksgiving staple.  Sausage, onion, celery and sage act as co-stars as everything is stirred together before taking a two hour sauna in the slow cooker.  The end result is a stuffing that knocks the socks off anything you'd buy from a box at the grocery store, yet is just as easy.
SIDE NOTE: If you're looking for an amazing slow cooker, I can't recommend the one I chatted about in this Slow Cooker Pork Roast and Cherries recipe enough.  Not only is in nonstick which makes clean-up incredibly easy, it also browns and sautes which means you can brown the sausage directly in the slow cooker.  No skillet or stove top required!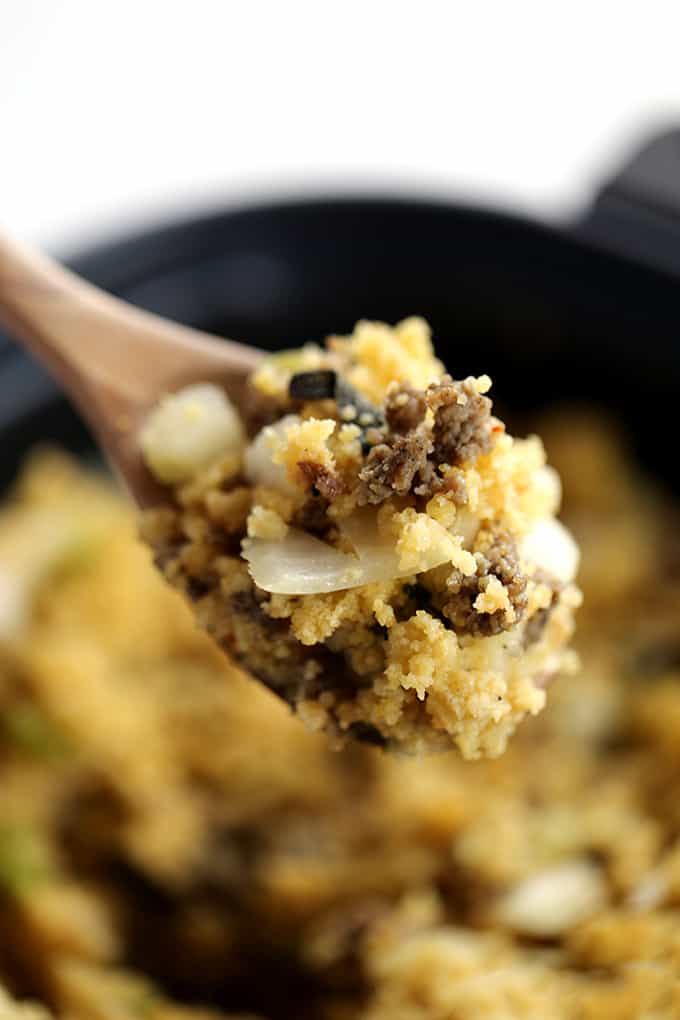 Do yourself a favor and ease your stress level of preparing your holiday meal by adding my Slow Cooker Cornbread and Sausage Stuffing to your menu.  Not hosting the big meal?  Volunteer to bring this side and be a hero for the one manning the kitchen!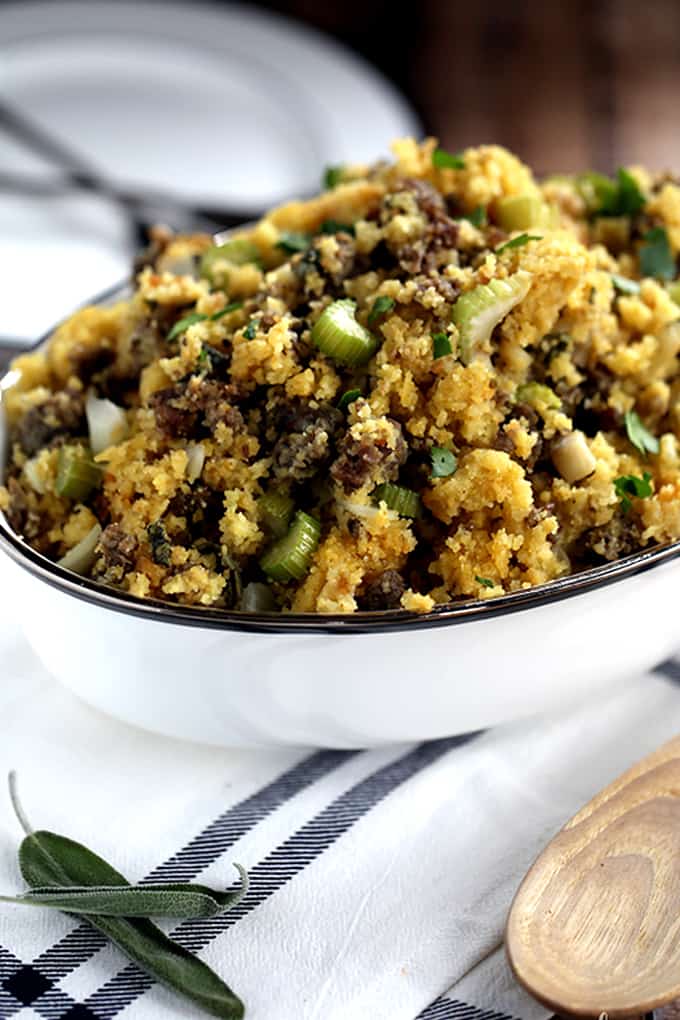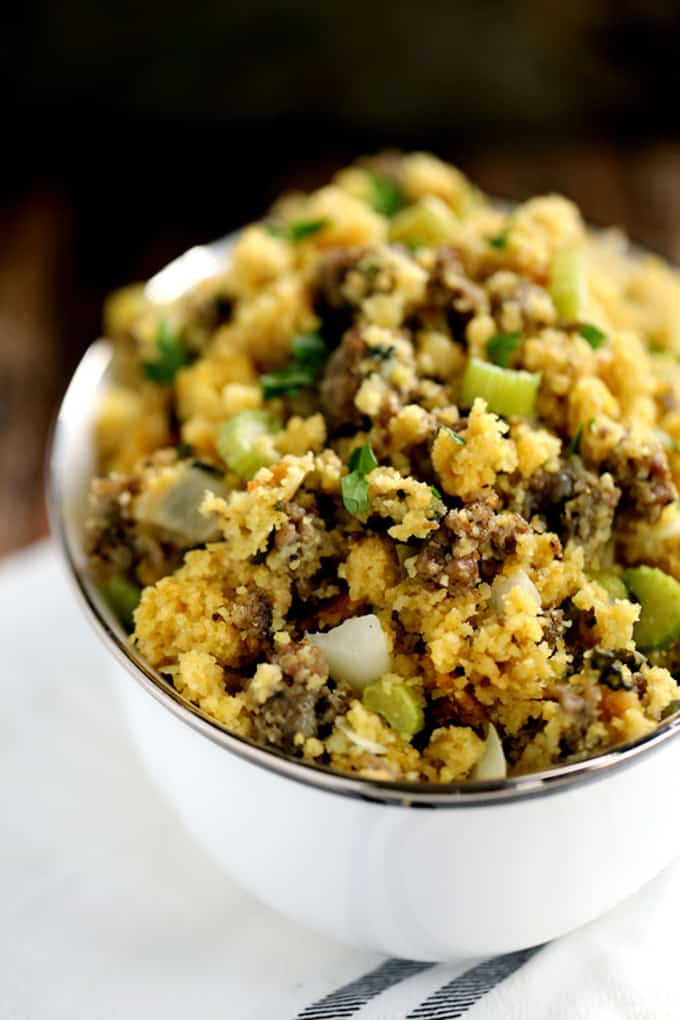 Ingredients
1 recipe Simple Sweet Cornbread , prepared
1 pound pork sausage
1 large onion, chopped
4 stalks celery, chopped
1/4 cup chopped fresh sage
3 large eggs, lightly beaten
1/4 cup melted butter
2 cups chicken broth
Instructions
Prepare cornbread a day ahead and allow to sit, uncovered at room temperature.
Cut cornbread into approximately 1" cubes and add to 6 quart slow cooker.
In large skillet, cook sausage over medium-high heat, stirring often until browned and cooked through. Pour over cornbread.
Add remaining ingredients to slow cooker and gently stir to combine as to not completely break up all of the cornbread cubes.
Cook on HIGH for 2 hours.
7.6.4
293
https://melaniemakes.com/blog/2015/11/slow-cooker-cornbread-and-sausage-stuffing.html
Melanie Bauer | Melanie Makes
If you're lucky to find yourself with any leftover Slow Cooker Cornbread and Sausage Stuffing, why not give one of these great recipes a try?  These Easy Leftover Stuffing Stuffed Mushrooms would make a great appetizer and these Turkey Stuffing Rollups would make for a super easy dinner.  These Cheesy Breakfast Stuffing Cakes would make for a delicious breakfast or brunch the morning after Thanksgiving as well.