With just 15 minutes of prep work, my five ingredient Slow Cooker Honey Mustard Ham allows you to spend time with friends and family instead of tethered to your kitchen.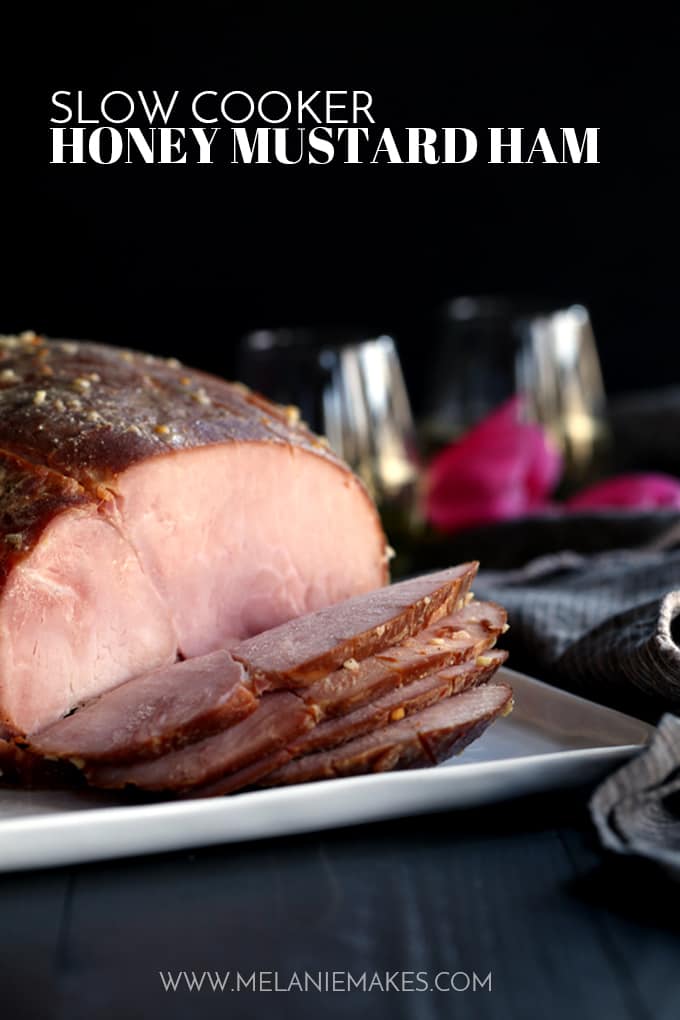 Keep in touch!  Subscribe to receive Melanie Makes recipes direct to your inbox.
Friends, I've done it.  I've created the easiest ever holiday main dish option ever.  EVER.  This Slow Cooker Honey Mustard Ham is so incredibly easy, you don't even need to wait for a special occasion to enjoy it.  "Hooray!  It's Tuesday!  Let's celebrate with ham!"  I swear that's what you'll be saying when the first bite of this succulent ham crosses your lips.  Another reason to love this ham?  It gives you time to prepare some amazing side dishes like my Cheesy Corn Casserole, Dyed Deviled Eggs and Twice the Onion Green Bean Casserole.  Friends, it's an Easter feast in the making!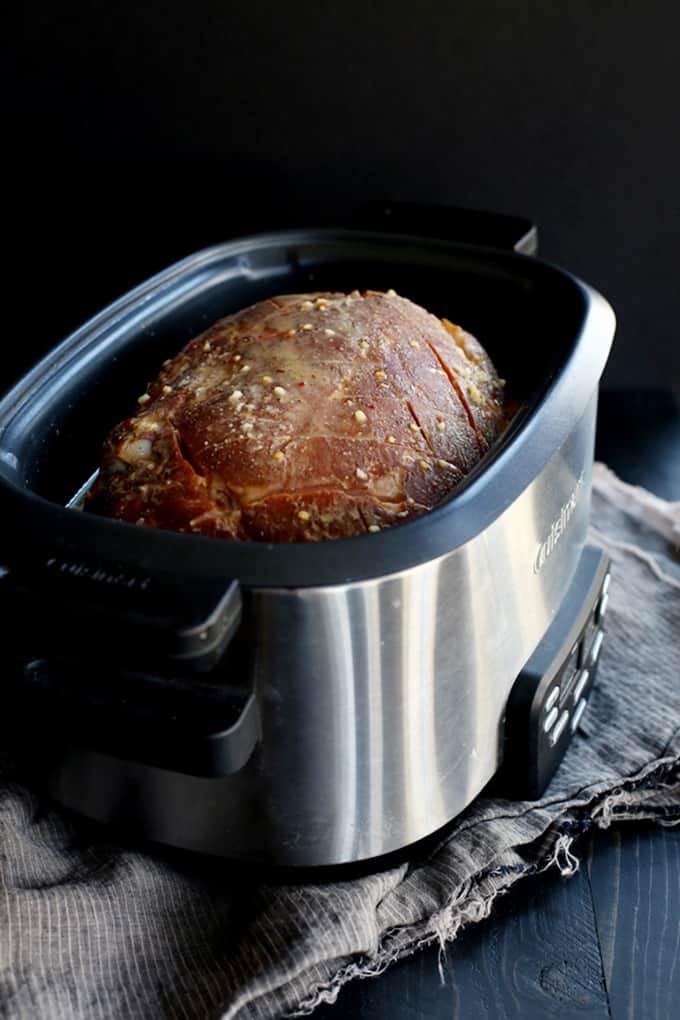 This is where I also need to admit to not even being a fan of ham.  Until now.  This Slow Cooker Honey Mustard Ham is so juicy and full of flavor that it was hard not to become immediately smitten.  It was not, however, hard to not eat entirely too much as that's exactly what I did when I held an impromptu trial run of Easter dinner this past weekend when we had family visiting.  Ham is pretty much required at Easter celebrations, is it not?  My thoughts exactly!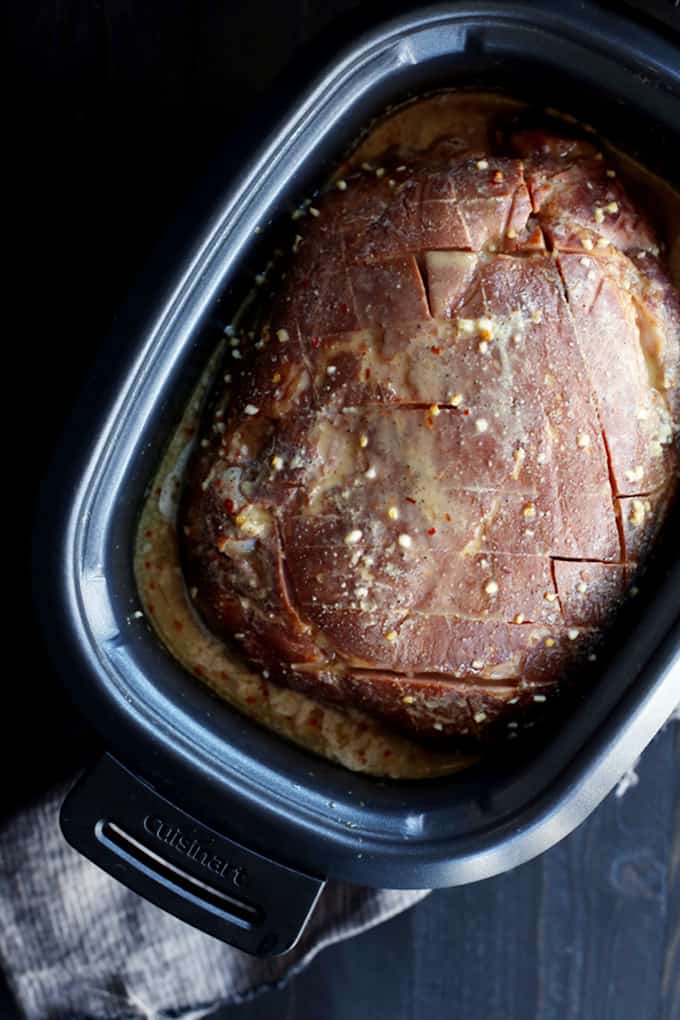 I think it took me a whole 15 minutes to prepare a 15 pound ham.  That's a lot of ham!  Minimal prep work for a whole lot of deliciousness.  I love it when things work out like that!  I think I spent the most time trimming the bottom of my ham flat so that it would sit nicely in my slow cooker and allow the lid to close correctly.  The ham that I trimmed got cubed and frozen for future Bridge Brunch Casserole.  One of our favorites for breakfast or brunch.
After your ham is nicely situated in your slow cooker, all that's left is scoring it with a knife and then slathering it in a delicious honey mustard mixture.  Scoring your ham not only makes it look pretty, but it also allows all of that delicious honey mustard flavor to penetrate deep into the ham instead of just sitting on top and pouring down the sides.  Push a few buttons on your slow cooker and you're set to enjoy the day with family instead of slaving away in the kitchen.
SIDE NOTE: If you're looking for a great slow cooker, this one is my favorite and the one that I used for this recipe.  It not only is a slow cooker, but it also browns and steams.  It's pretty much the slow cooker of my dreams.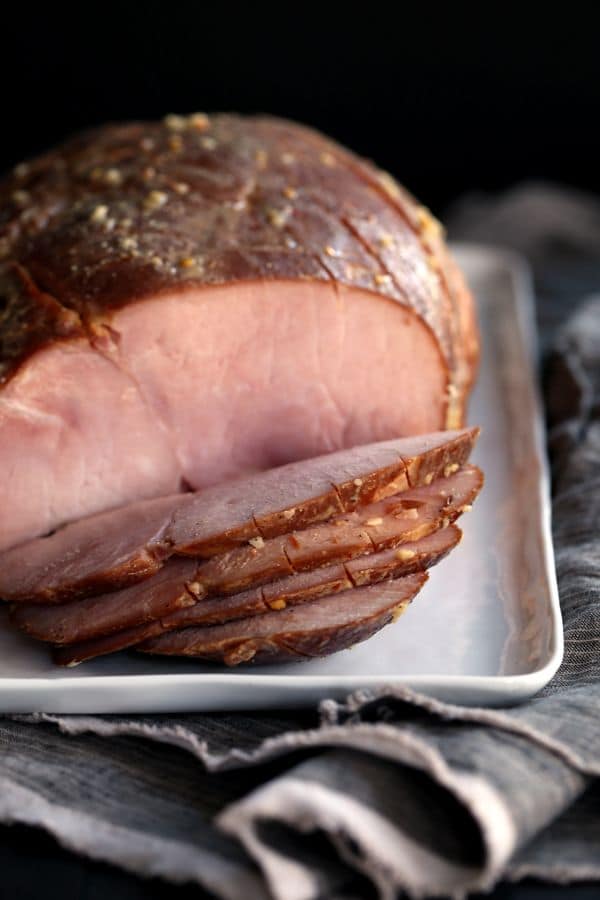 A five ingredient holiday ham that's truly hands off?  With just 15 minutes of prep work, my Slow Cooker Honey Mustard Ham is ready to allow you to spend time with friends and family instead of tethered to your kitchen.  The key ingredient that's making this dish so easy?  Robert Rothschild Farm's Raspberry Honey Mustard.  There's a reason why this mustard is a seven-time – SEVEN! – medal winner at the Napa Valley Mustard Competition.  Red raspberry vinegar and raspberry puree make this mustard one of a kind and the perfect choice for this dish.  It's whisked together with garlic, ground pepper and red pepper flakes to make a glaze that's just a bit sweet, unlike those sickeningly sweet brown sugar glazed hams that you're used to.  You know, the ones I never liked!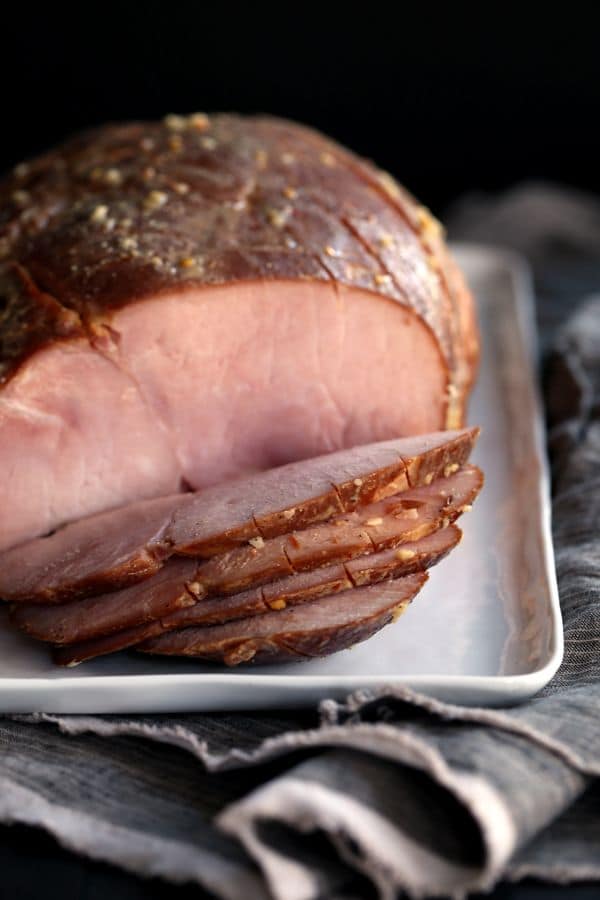 Ingredients
Instructions
Place ham in 6 quart slow cooker. If necessary, trim ham to fit comfortably so that the lid will fit without touching the ham.
Using a knife, score ham by making diagonal cuts approximately 1" apart on the surface of the ham. The end result will give you the shape of diamonds on the top of the ham.
In a small bowl, stir together Raspberry Honey Mustard, garlic, ground pepper and red pepper flakes.
Pour mustard mixture over the top of the ham slowly, allowing it to go into the crevices of the score lines.
Cook ham on LOW for 4-5 hours or until warmed through, basting ham approximately every hour with the liquid at the bottom of the slow cooker.
Remove ham from slow cooker to serving platter and slice to serve. If desired, serve remaining mustard mixture on the side.
7.6.4
317
https://melaniemakes.com/blog/2016/03/slow-cooker-honey-mustard-ham.html
Melanie Bauer | Melanie Makes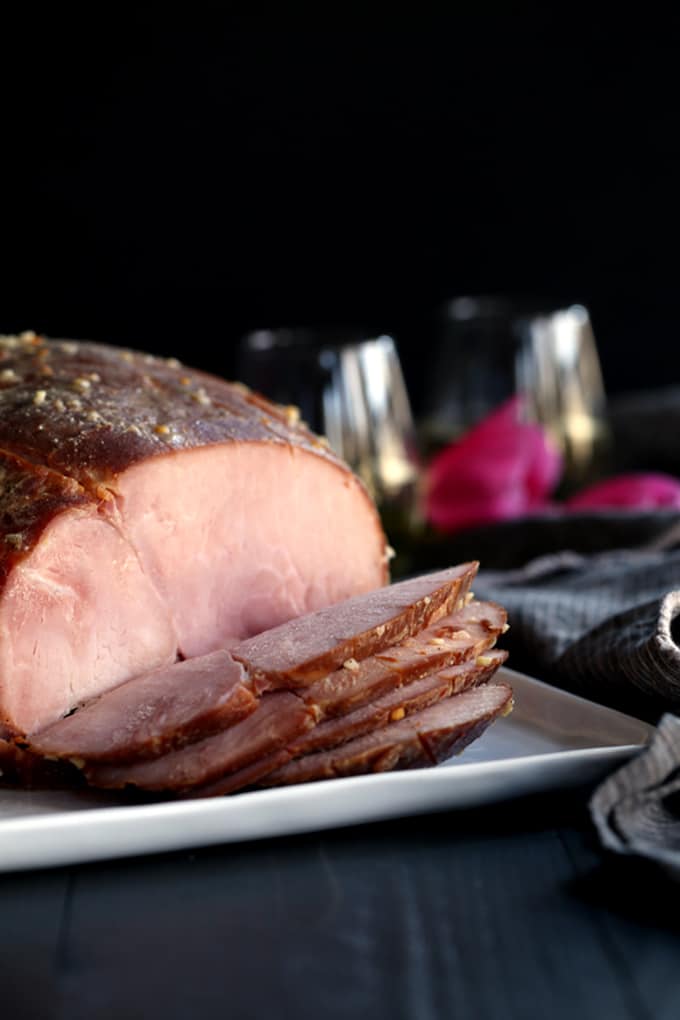 With Easter less than a month away, hopefully your mind is now at ease.  My Slow Cooker Honey Mustard Ham is set to be the star of your dinner table and with minimal work required.  No need to tell anyone just how easy it was to prepare!
—–
This recipe was written in partnership with Robert Rothschild Farm.  As always, all thoughts and opinions are my own.   Thank you for supporting this brand that allows me the opportunity to create content for Melanie Makes.