These six ingredient Easy Cheesy Hash Brown Potatoes take just 10 minutes to prepare and are destined to become your favorite side dish! Diced hash brown potatoes are smothered in a blanket of cheese and Greek yogurt before being topped with even more cheese and a crispy, buttery cornflake topping.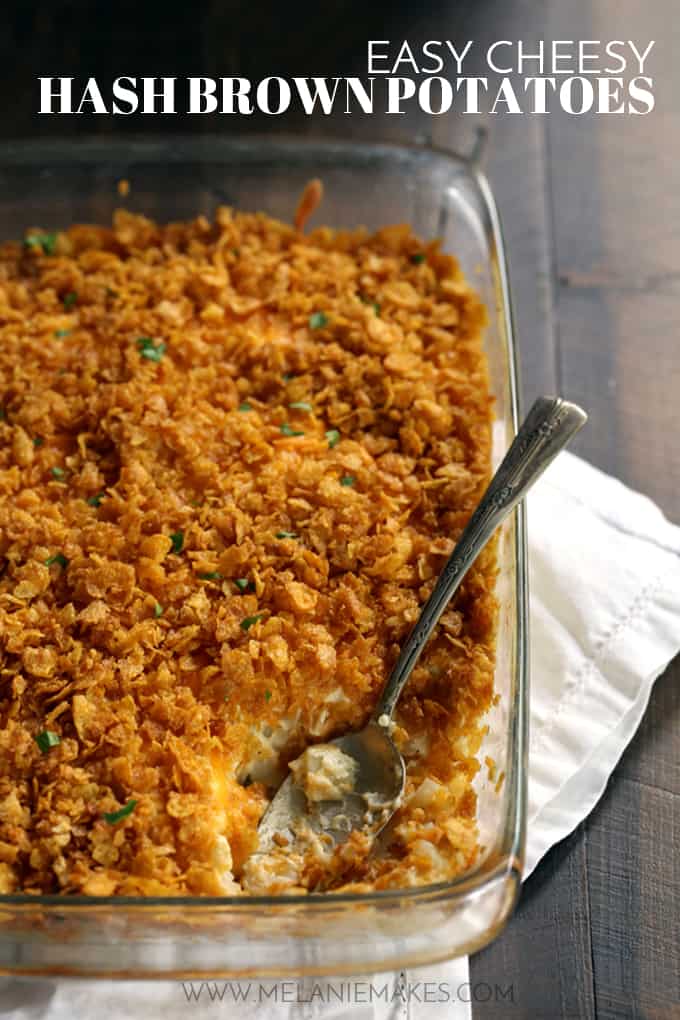 Keep in touch!  Subscribe to receive Melanie Makes recipes direct to your inbox.
It seems like just yesterday I was counting down that we had eight weeks of school left.  Suddenly, I blinked, and now we're just two weeks away from the beginning of summer vacation.  Insert mild panic attack here.  I'm panicking because that means we're moving across the country in a month and I still feel like I have an entire house to pack.  Insert a baby that doesn't stay in one place long and you'll see why I might be just a bit stressed.  In the meantime, I'll simply focus on the beginning of summer barbecue season ahead and my comforting Easy Cheesy Hash Brown Potatoes.  These Glazed Pearl Onions and Cheesy Corn Casserole are also perfect summer side dishes.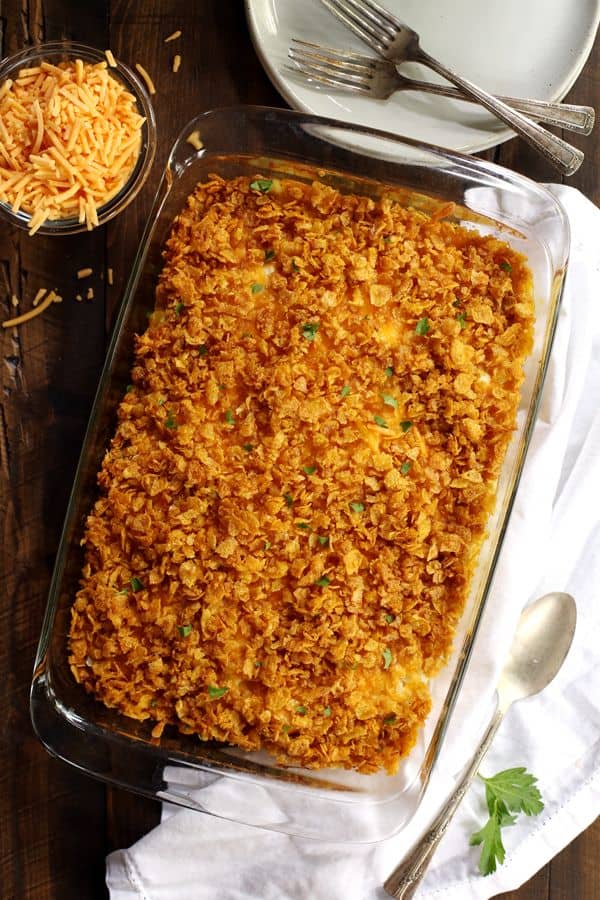 These potatoes began as a family recipe that I've tweaked until it's absolutely perfect.  The original recipe came from my Aunt Ruthie, the one of Aunt Ruthie Mashed Potato fame, and I love that although I've made it my own, I think of her each and every time I make them.  The original recipe contained onion, and although I'm an absolute onion fanatic, if you're not careful to chop them finely, they always tend to be a bit crunchy.  Not cool.  And I'm also usually not careful.  I've also swapped Greek yogurt for the originally called for sour cream and doubled the amount of crunchy cornflake topping.  Because seriously, less is never more in my book!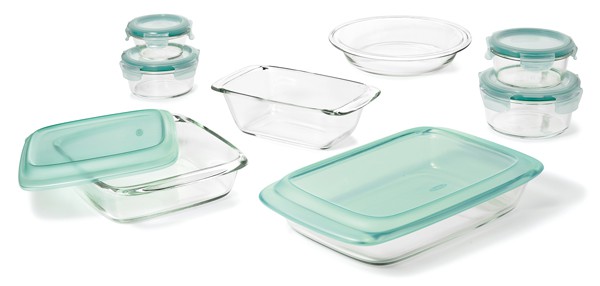 When my friends at OXO introduced their 14 Piece Glass Bake, Serve & Store Set, I knew I had to give it a try.  The push I needed to finally share this recipe with you!  I've long since kicked plastic storage containers to the curb in our kitchen and with six people in our family, we can never have enough glass baking and storage pieces in our cabinet.  As a self-proclaimed OXO fanatic, these new products are just as amazing as all the other OXO products that fill my kitchen.  I love the raised lid on the bakeware that doesn't smoosh (technical term alert!) what I've baked but particularly fell head over heels for the wide handles that allow you to comfortably carry a recipe from oven to table, even when wearing bulky oven mitts.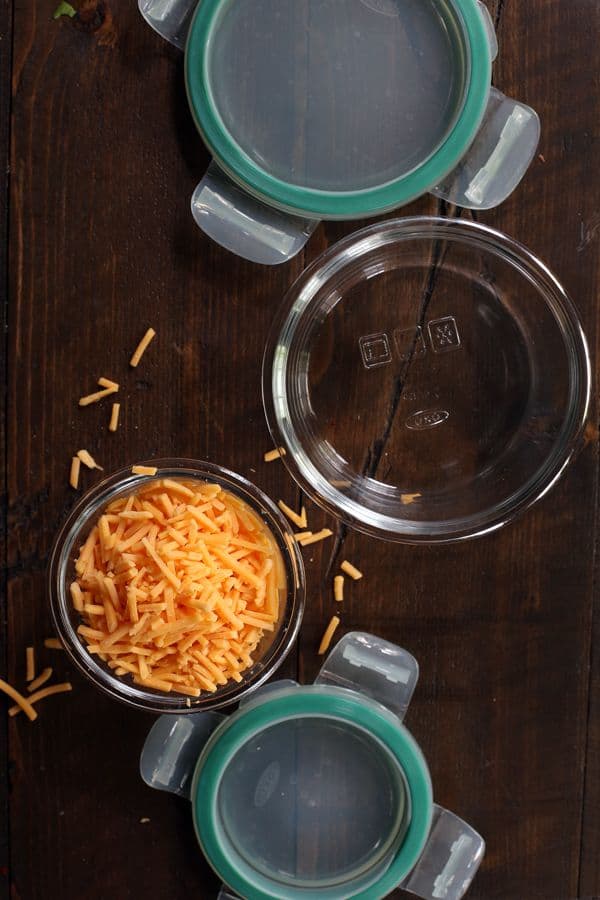 And check out these lids!  While the lids are plastic, they command an amazing seal on these glass storage bowls.  Even after releasing the tabs, it remains held into position until you pop off the top.  Perfect for holding ingredients as you prepare a recipe or for storing leftovers, should you be lucky enough to have any!
But back to these rich and delicious six ingredient Easy Cheesy Hash Brown Potatoes!  Diced hash brown potatoes are smothered in a blanket of cheese and Greek yogurt before being topped with even more cheese (I did live in Wisconsin for 7 years.  It tends to have a lingering cheese effect.) and a crispy, buttery cornflake topping.  Dare I say they'll be your new favorite side dish?  They're also the one and only reason I always have a box of cornflakes on hand at all times.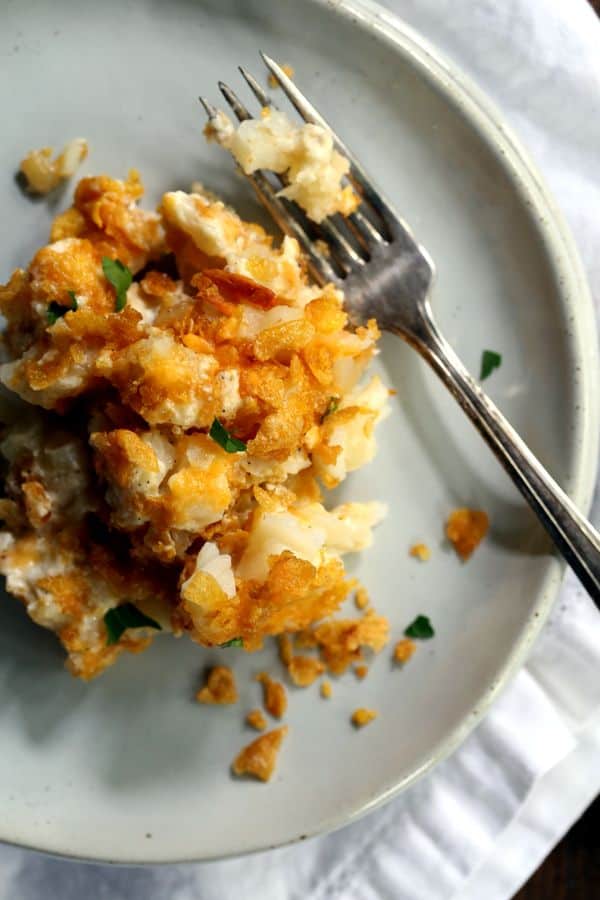 Melanie Bauer
Yields 12 servings
Easy Cheesy Hash Brown Potatoes
10 minPrep Time
60 minCook Time
1 hr, 10 Total Time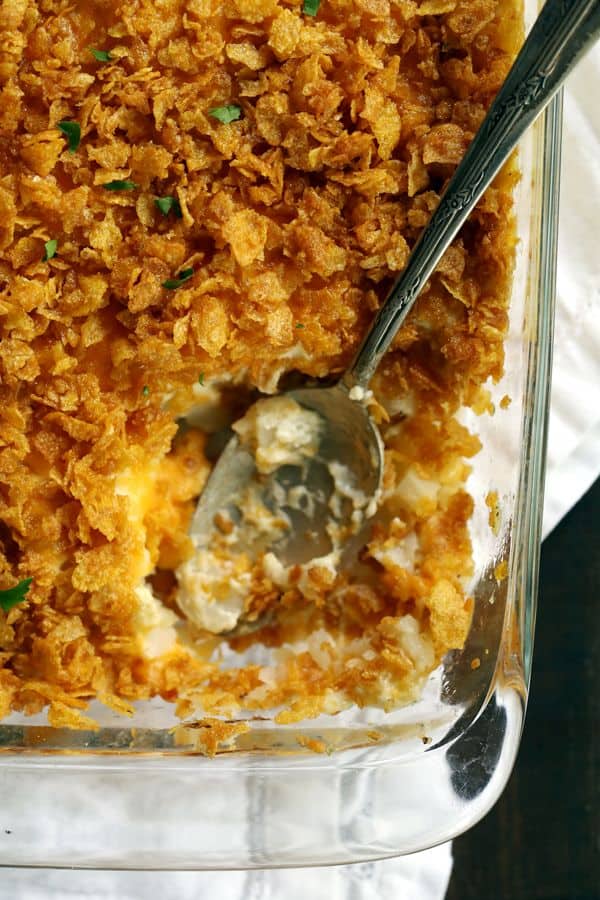 Ingredients
32 ounces frozen diced hash brown potatoes
2 tablespoons butter, melted
1 10.75-ounce can cream of chicken soup
1 cup plain Greek yogurt
1 teaspoon salt
1/2 teaspoon pepper
3 cups shredded cheddar cheese, divided
4 cups crushed corn flakes
8 tablespoons (1 stick) butter, melted
chopped fresh parsley or chives to garnish, if desired
Instructions
Preheat oven to 350 degrees.
In a 9x13 baking dish, spread hash brown potatoes into a single layer.
In a small bowl, stir together 2 tablespoons melted butter, soup, yogurt, salt, pepper and 1-1/2 cups cheese. Spread mixture evenly over potatoes.
Spread remaining 1-1/2 cups cheese over soup mixture evenly.
In another small bowl, stir together corn flakes and 8 tablespoons melted butter. Spread evenly over shredded cheese.
Cover baking dish with foil and bake for 45 minutes.
Remove foil and bake for an additional 15 minutes to allow cornflakes to become crispy.
If desired, garnish top of potatoes with chopped fresh parsley or chives prior to serving.
7.6.4
333
https://melaniemakes.com/blog/2016/05/easy-cheesy-hash-brown-potatoes.html
Melanie Bauer | Melanie Makes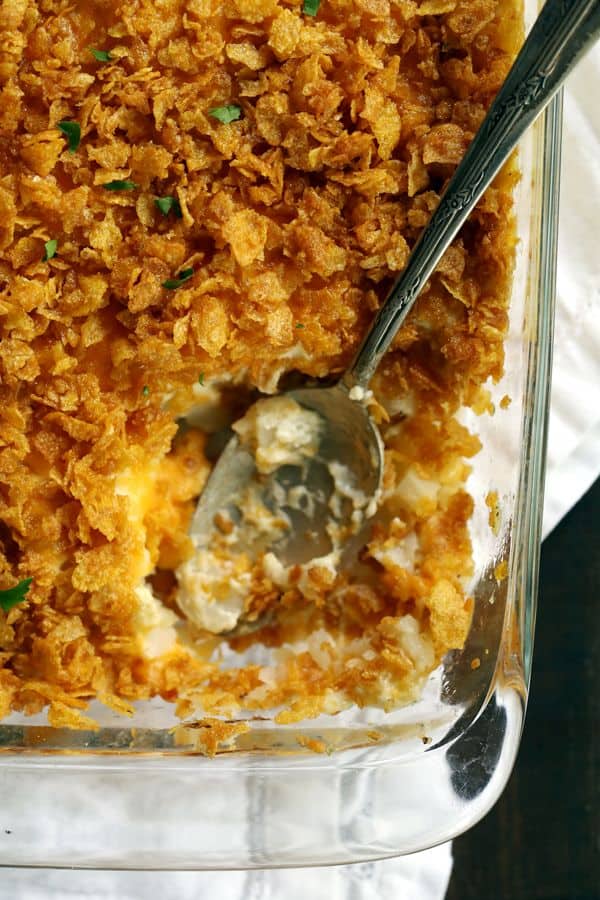 These Easy Cheesy Hash Brown Potatoes are absolutely dreamy!  They've even been known to act as a bartering agent when I need a babysitter.  A simple text to my sister-in-law asking if she'll watch the menagerie while I run out and alluding to the fact that I have a 9×13 pan of potatoes waiting for her is all that it takes to have her on her way in a hurry!  In fact, I might need an extra set of these OXO glassware so that I always have a 9×13 pan available for potatoes.
Looking for more great potato side dishes?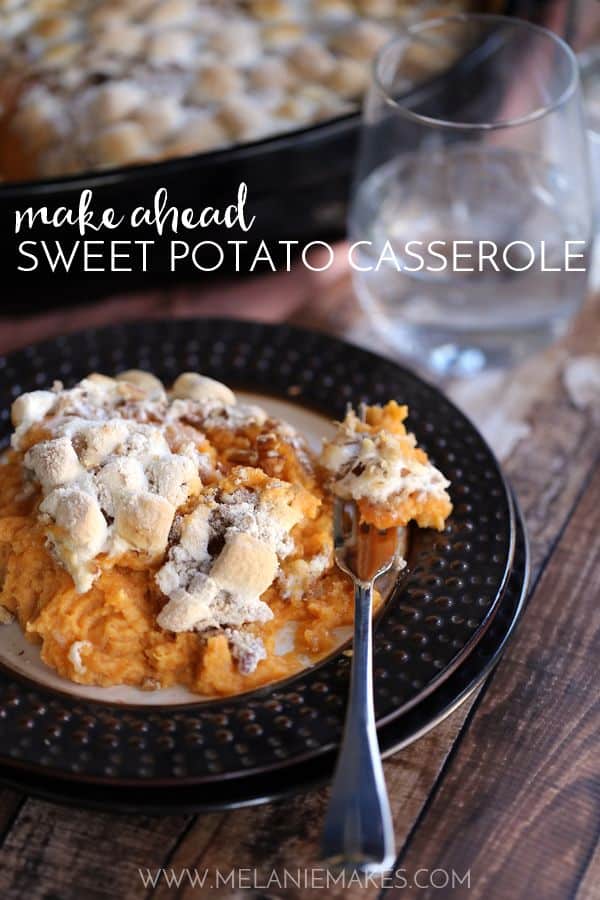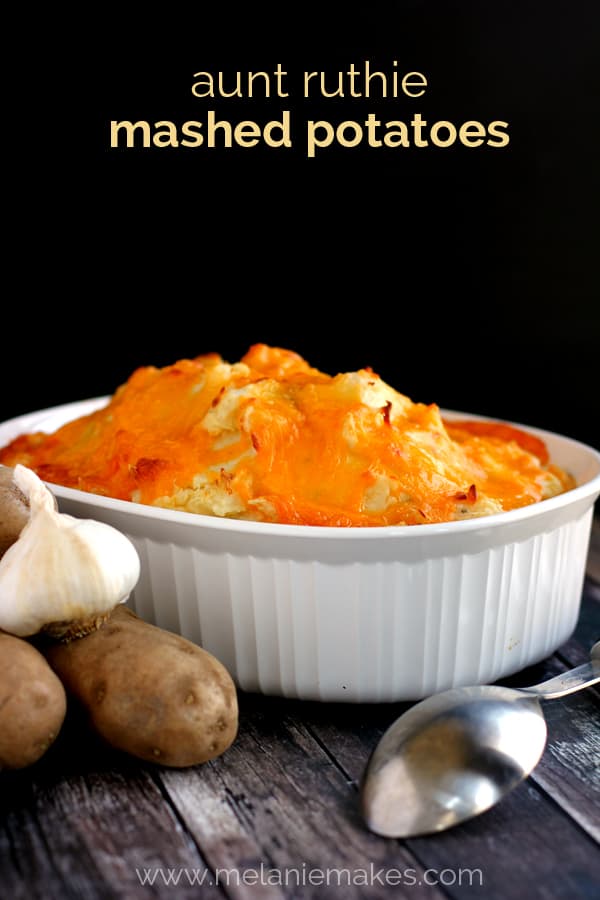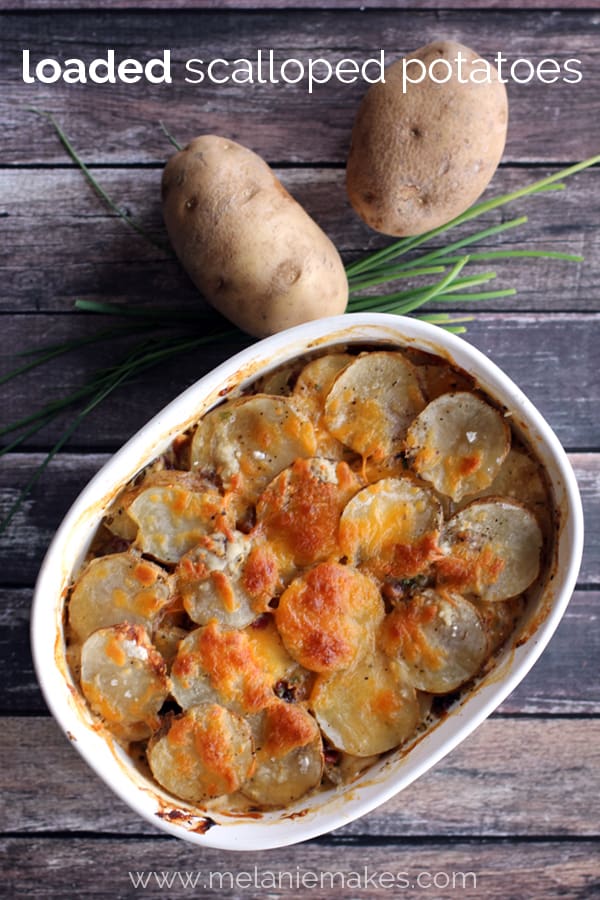 —–
I received product from OXO to create this recipe but received no further compensation.  As always, all thoughts and opinions are my own.   Thank you for supporting this sponsor that allows me the opportunity to create content, such as this, for Melanie Makes.