My Kefir Horchata is a refreshing spin on the traditional Mexican drink made with rice, vanilla, and cinnamon. A great balance for spicy foods, enjoy it served over ice.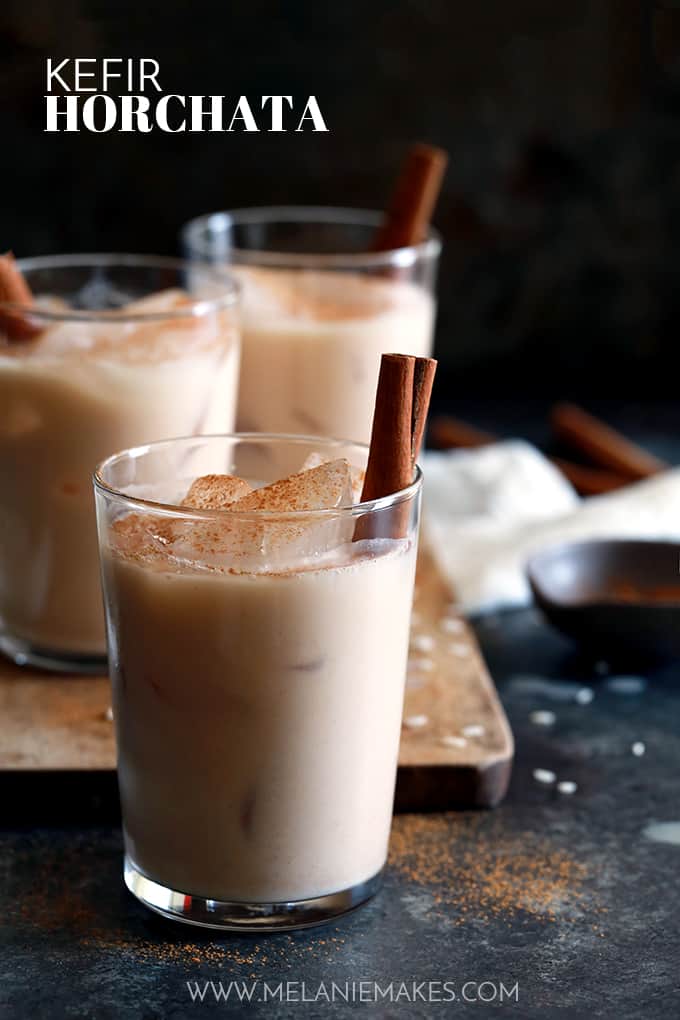 This recipe was written in partnership with Nancy's Yogurt.  As always, all thoughts and opinions are my own.  Thank you for supporting this brand that allows me the opportunity to create content for Melanie Makes.
Keep in touch!  Subscribe to receive Melanie Makes recipes direct to your inbox.
Just after we moved to Colorado last year, we discovered a Cafe Rio in town.  It was almost a legend of sorts as I had heard about this restaurant from so many friends that I couldn't wait to try it.  Not only did they serve quick and delicious Mexican food, but they also introduced my then 8 year old to horchata.  It was like love at first drink.  That is until, for some unexplained reason, our local franchise shut its door and we've been horchata-less for months.  Of course, I decided to take things into my own hands and get a little creative by making my Kefir Horchata.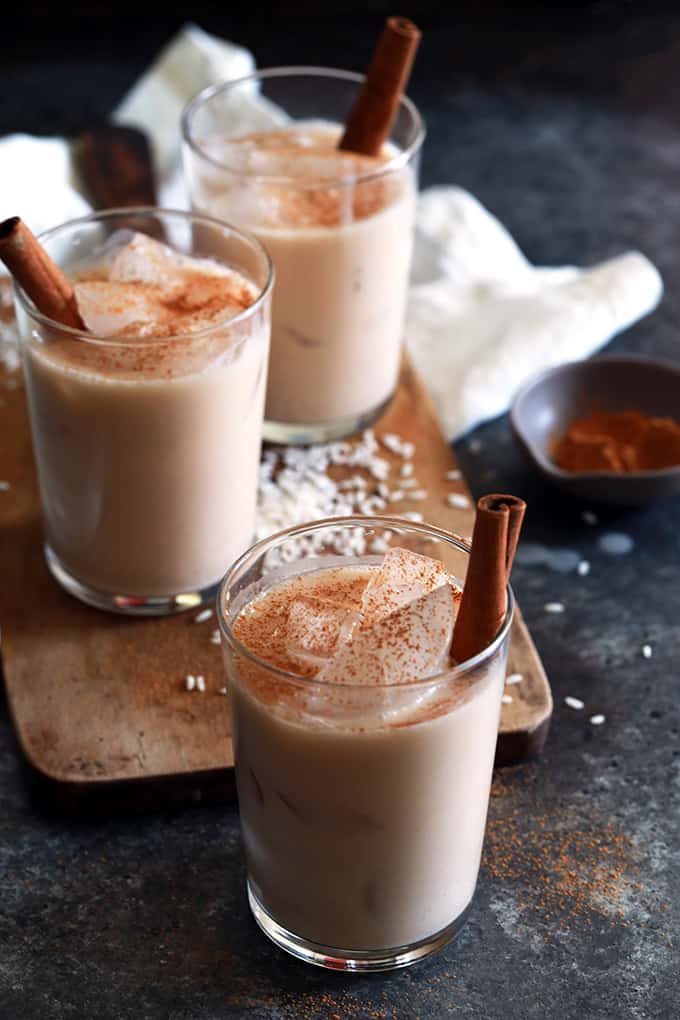 Horchata, you ask?  There are several varieties of horchata around the world but a Mexican horchata is a drink made from ground rice, sometimes with vanilla and always with cinnamon.  It's also incredibly easy!  Basically if you can operate a blender and have a strainer you're golden.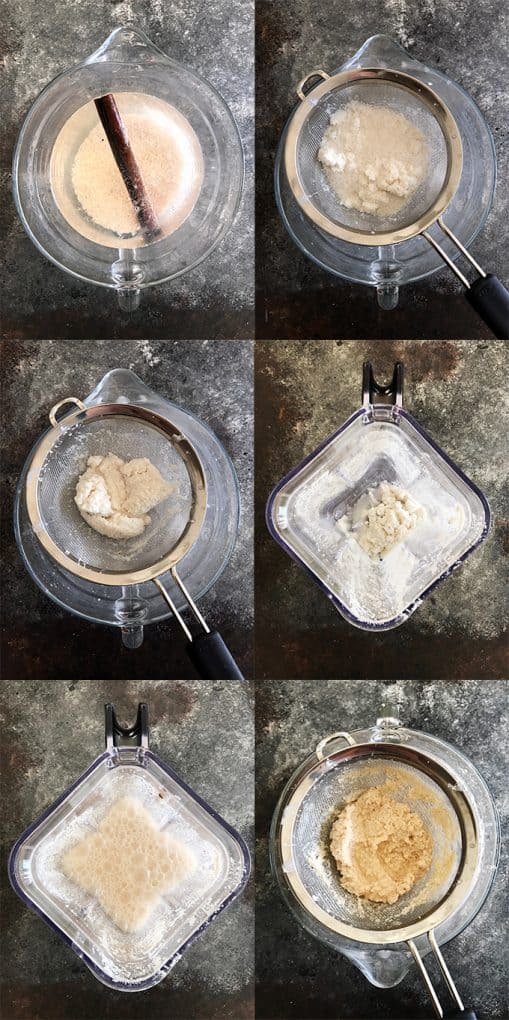 First things first, you'll add rice water and a cinnamon stick to a bowl and allow it to sit overnight.  Easy, right?  The next morning, you'll discard the cinnamon stick and pour the rice and water mixture into your blender.  After blending, you'll strain the mixture through a fine mesh sieve to catch all of the remaining rice solids.  The rice solids and a cup of the rice water mixture then go back into the blender and then – you guessed it! – the mixture is strained again.  The rice solids are then added back to the blender with all the flavor agents you're using before being blended one last time.  And strained one last time.  That's all there is to it!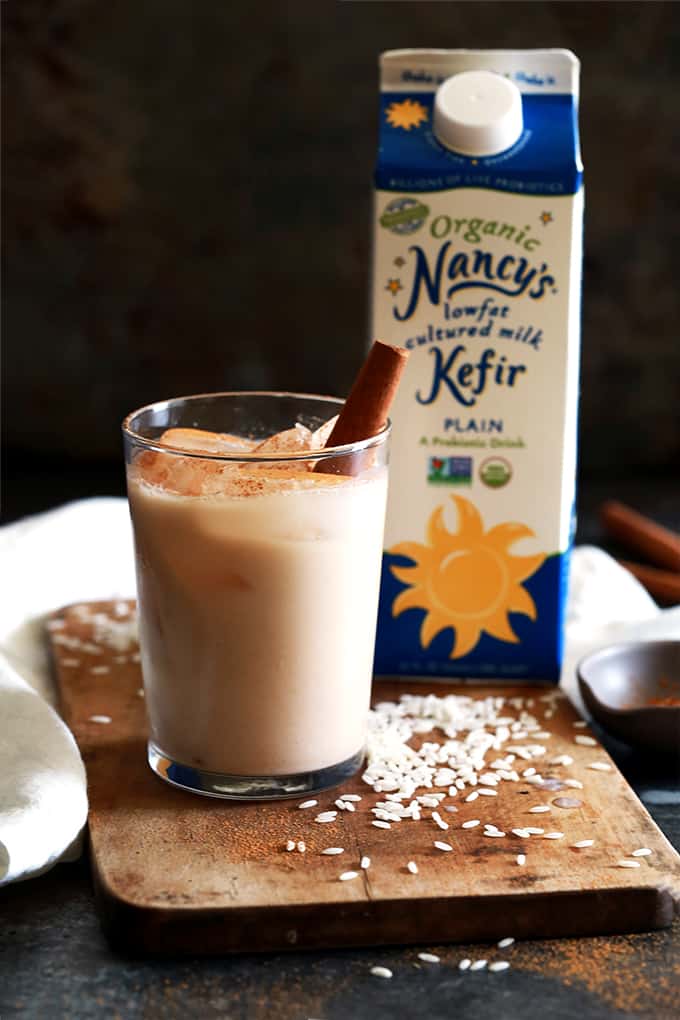 The difference between my Kefir Horchata and a traditional recipe is that I'm replacing the milk often used with kefir, a fermented milk drink, that has become popular as of late to use in smoothies and smoothie bowls.  Specifically, I'm using Nancy's Organic Plain Lowfat Kefir.  In the last six months, I've pretty much become Nancy's biggest fans.  Not only are their products incredibly delicious, but the people behind the brand are just as incredible.  A definite rarity these days!  I've used their products in my weekend must-have Yogurt Waffles and my ultra-comforting Creamy Baked Double Cheese and Spinach Dip.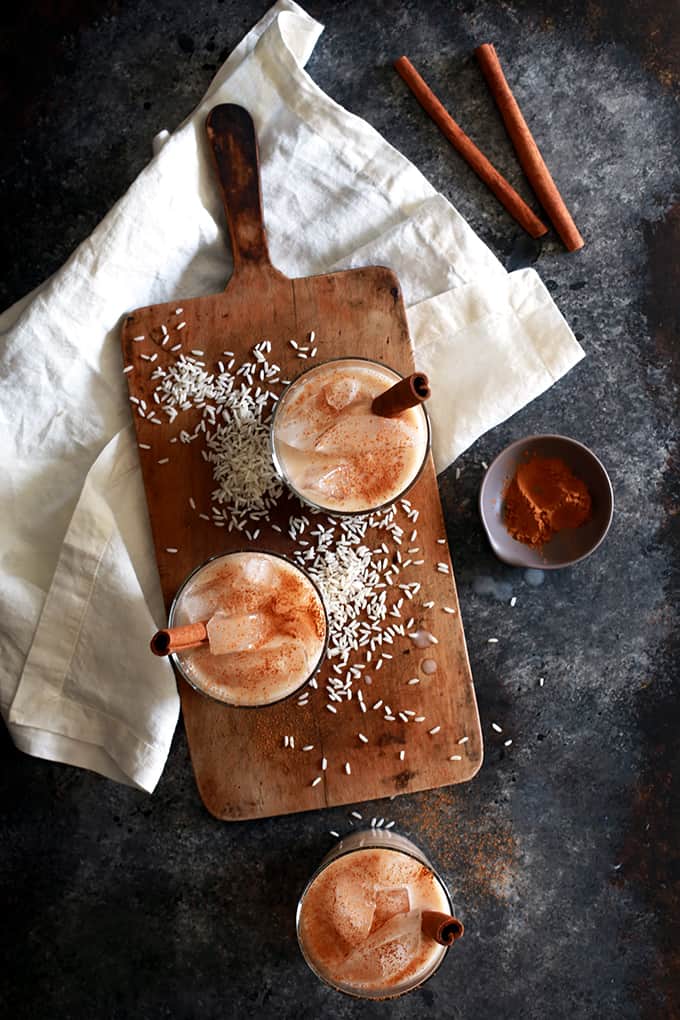 Nancy's Kefir is a delicious, organic, probiotic drink made with fresh organic milk and billions of live probiotics per serving. Sweetened with organic agave and made without thickeners or colorings.  That's why I love Nancy's.  I know that they aren't going to inflate their products with a bunch of extra non-necessary ingredients.  Instead, my Kefir Horchata becomes a drink that I'm happy to serve my children because of the additional nutritional value over a traditional recipe.  My children ignore the fact that it might be good for them and instead simply love that I serve it to them with a cinnamon stick garnish that they use for a straw.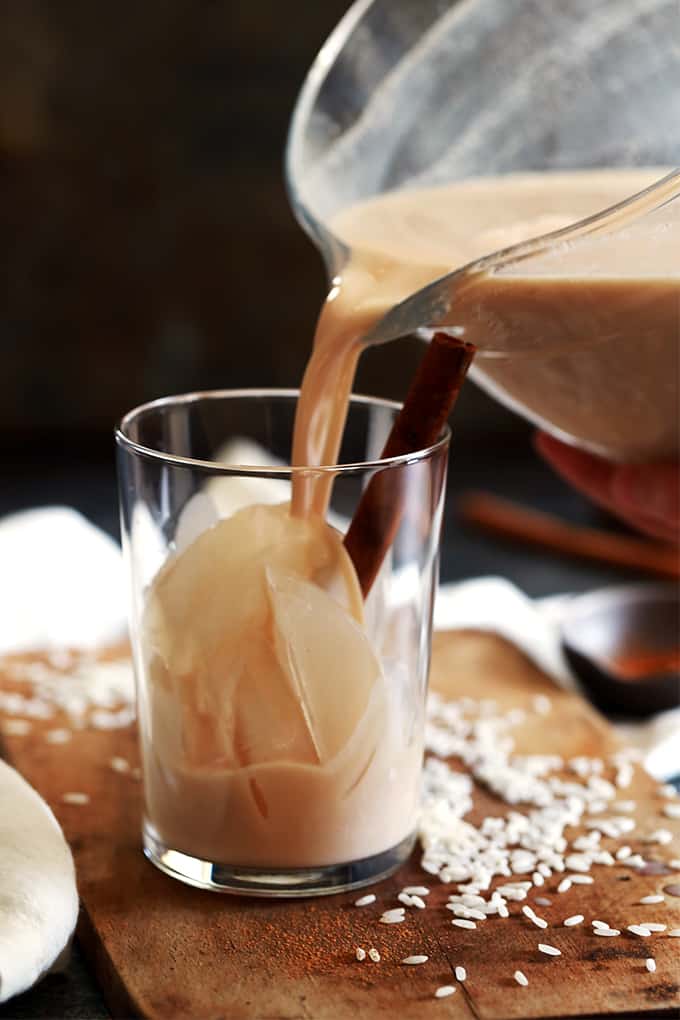 Sure this drink is delicious as is, I should know, my four children and I downed an entire batch in a single afternoon last week when temperatures soared.  My Kefir Horchata is a refreshing spin on the traditional Mexican drink made with rice, vanilla, and cinnamon. A great balance for spicy foods, enjoy this served over ice.  The milk base also makes it the perfect accompaniment to food that might be a bit spicy, like my Slow Cooker Lentil and Brown Rice Tacos, as it cools your mouth down.  You could plan an entire fiesta and also include these easy Slow Cooker Refried Beans, tender Shredded Mexican Beef and this decadent Mexican Flan Cake.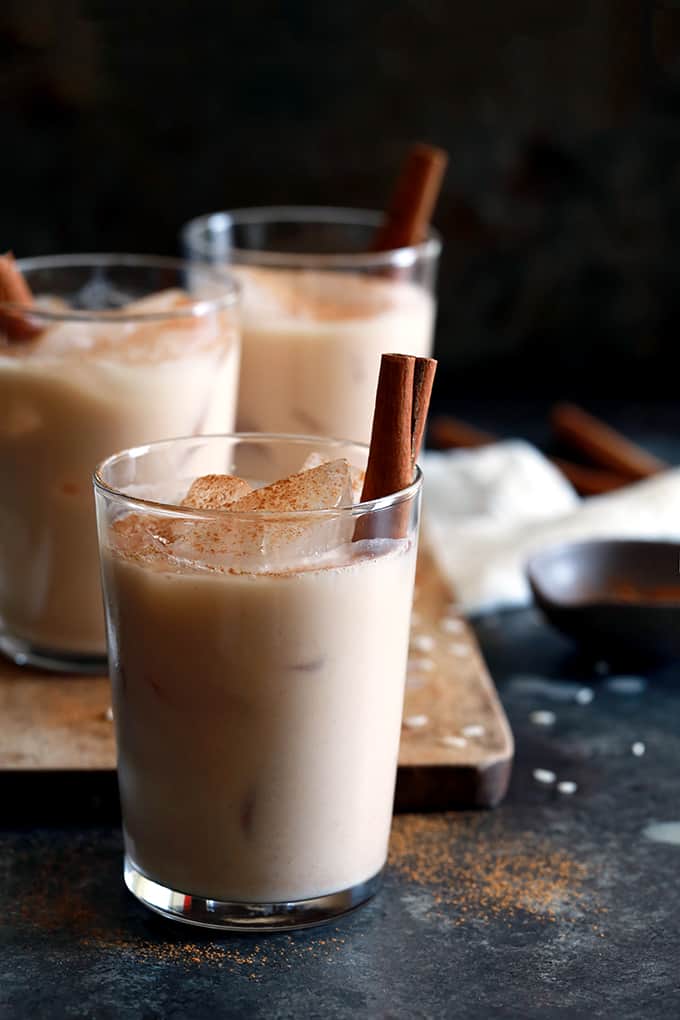 Ingredients
1 cup white rice
1 cinnamon stick
5 cups water, divided
1 teaspoon vanilla
2 teaspoons cinnamon
1/2 cup honey
cinnamon sticks and additional ground cinnamon to garnish, if desired
Instructions
In a large bowl, add rice, cinnamon stick and 4 cups of water. Cover and allow to soak overnight.
Remove cinnamon stick and add the rice and water mixture to a blender carafe and blend until smooth. (There will be rice solids remaining.)
Pour the contents of blender through fine mesh strainer, into a pitcher. Reserve rice solids.
Add rice solids back to blender carafe with 1 cup of horchata mixture from pitcher.
Blend again. (There will be rice solids remaining.)
Strain contents of blender through strainer into pitcher again, reserving rice solids.
Add rice solids back to blender carafe.
Add Kefir, 1 cup of water, vanilla, cinnamon and honey to blender carafe.
Blend until mostly smooth.
Strain the contents of blender carafe through strainer into the pitcher and discard the remaining rice solids.
Whisk the horchata mixture in pitcher thoroughly and chill until cold.
Serve over ice.
If desired, garnish with cinnamon stick and dusting of cinnamon.
Notes
Kefir Horchata will separate if not consumed immediately. Simply whisk until completely combined and enjoy!
7.6.4
418
https://melaniemakes.com/blog/2017/06/kefir-horchata.html
Melanie Bauer | Melanie Makes