These four ingredient Peanut Butter Pasta and Jelly Meatballs are perfect for lunch boxes or a fun and quick weeknight meal.  Garnished with green onions, peanuts and sesame seeds, this recipe packs a flavorful punch in just 20 minutes.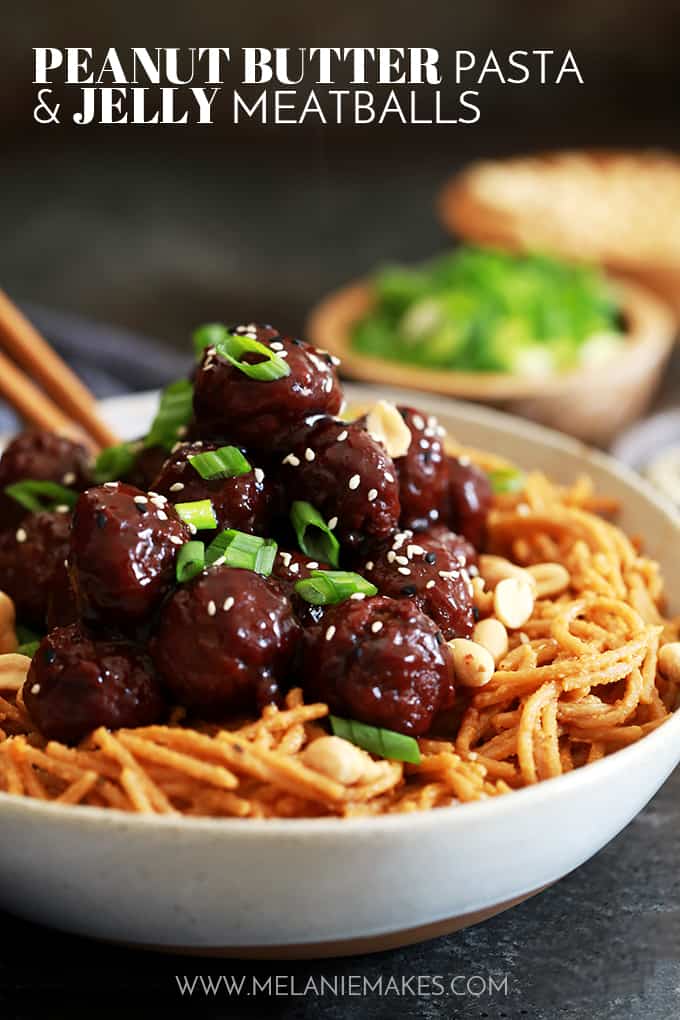 This recipe was written in partnership with Peanut Butter and Co. and Crofter's.  As always, all thoughts and opinions are my own.  Thank you for supporting these brands that allow me the opportunity to create content for Melanie Makes.
Keep in touch!  Subscribe to receive Melanie Makes recipes direct to your inbox.
Two weeks into the back-to-school game and I'm already about to lose my mind with my two middle children.  Also known as the pickiest eaters on the planet.  I thought it was bad when I was just making lunch for one of them last year, but now with two picky eaters to cater to five days a week for lunch, I am already so over it.  If these two had their way, they'd be taking macaroni and cheese or a peanut butter and jelly sandwich every day of the week.  And I'm here to say that's so NOT going to happen.  Instead, I've attempted to combine their two lunch loves into a protein packed meal of Peanut Butter Pasta and Jelly Meatballs.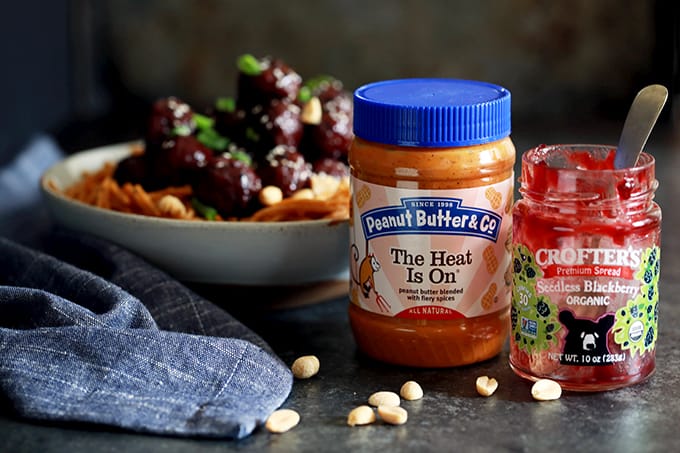 This recipes is not only perfect for a school lunch, but also a fun and super quick dinner idea as well.  The two main players are every kid's favorite, peanut butter and jelly.  Only this time, with the flavor quotient multiplied by a thousand.  The peanut butter in this case is Peanut Butter & Co.'s The Heat Is On peanut butter.  This peanut butter is blended with fiery spices like cayenne pepper and chili powder.  And lest you think that your picky children – along with mine! – will turn their nose up to these flavors, I've tamed the heat to this Peanut Butter Pasta and Jelly Meatballs with Crofter's Organic Blackberry Premium Spread.  The heat and sweet flavors combine for an absolute winning flavor.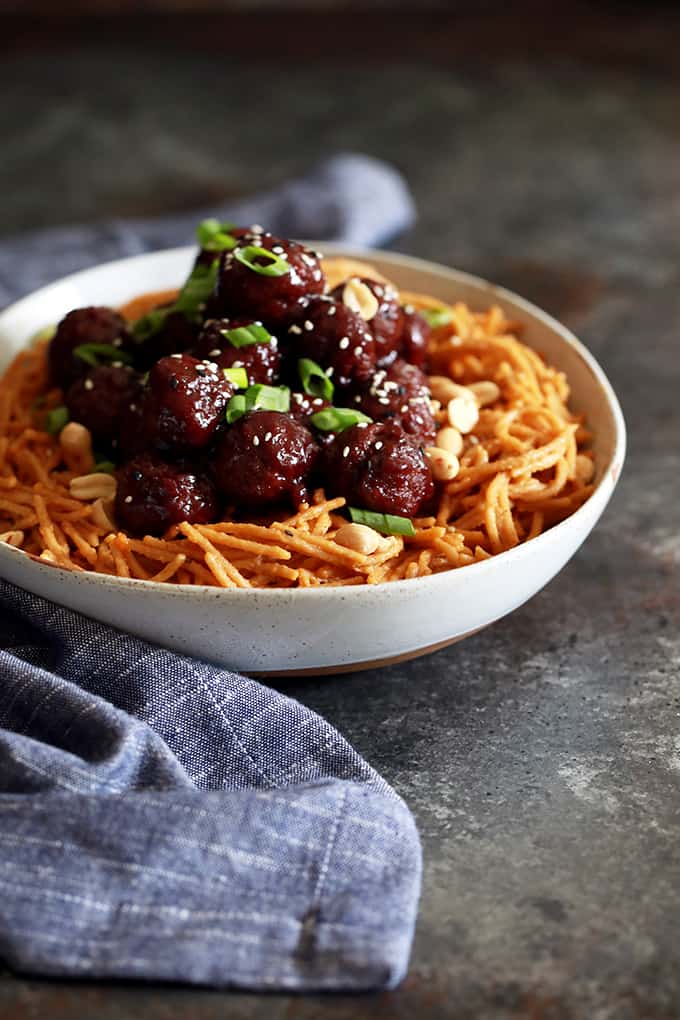 The inspiration behind this four ingredient recipe was the awesome thai noodles that you can order at restaurants that have the amazing peanut sauce.  My Peanut Butter Pasta and Jelly Meatballs have even more flavor, but so much less work.   As the Peanut Butter & Co.'s The Heat Is On peanut butter already has the necessary spices in it, you're simply stirring it into warm pasta.  At the same time, you're warming the Crofter's Organic Blackberry Premium Spread in a saucepan and then adding the meatballs to heat through.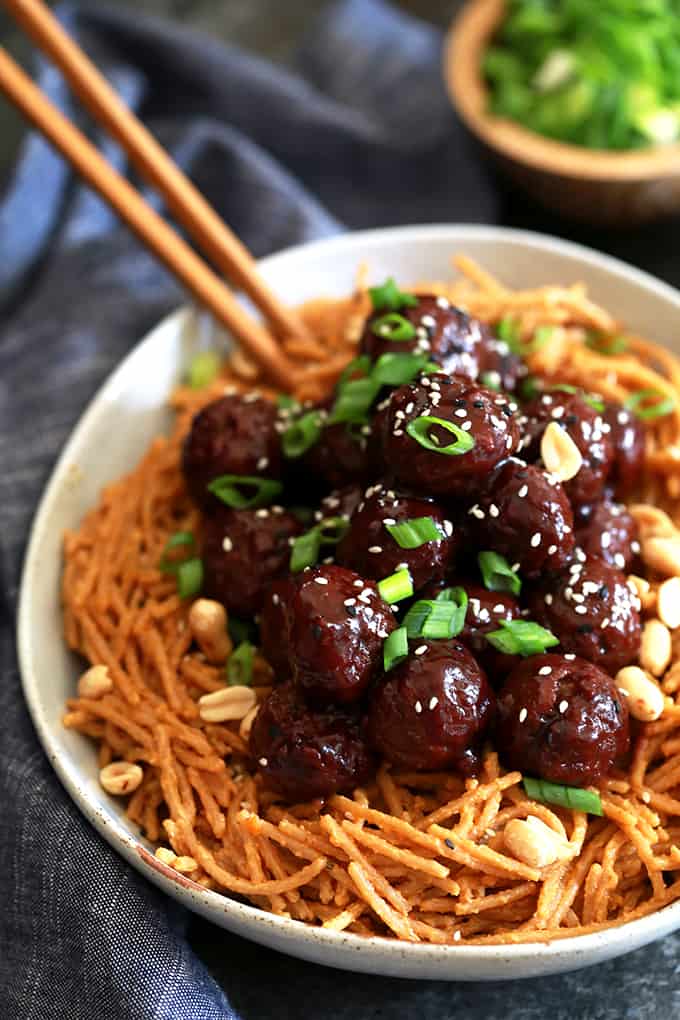 Pasta, peanut butter, frozen meatballs and jelly.  Likely items that you have in your freezer and pantry already!  Of course, if you have a few minutes to spare, homemade meatballs like my Easy Baked Meatballs would be a great substitution.  When the two picky eaters in question walked through the kitchen when I was making this recipe, they were in awe that I was really cooking meatballs in jelly.  My seven year old daughter even commented after her first few bites that she was sure that she wasn't going to like the blackberry flavor of the fruit spread – told you she was picky! – but in fact, she loved it.  Gold star for this mama!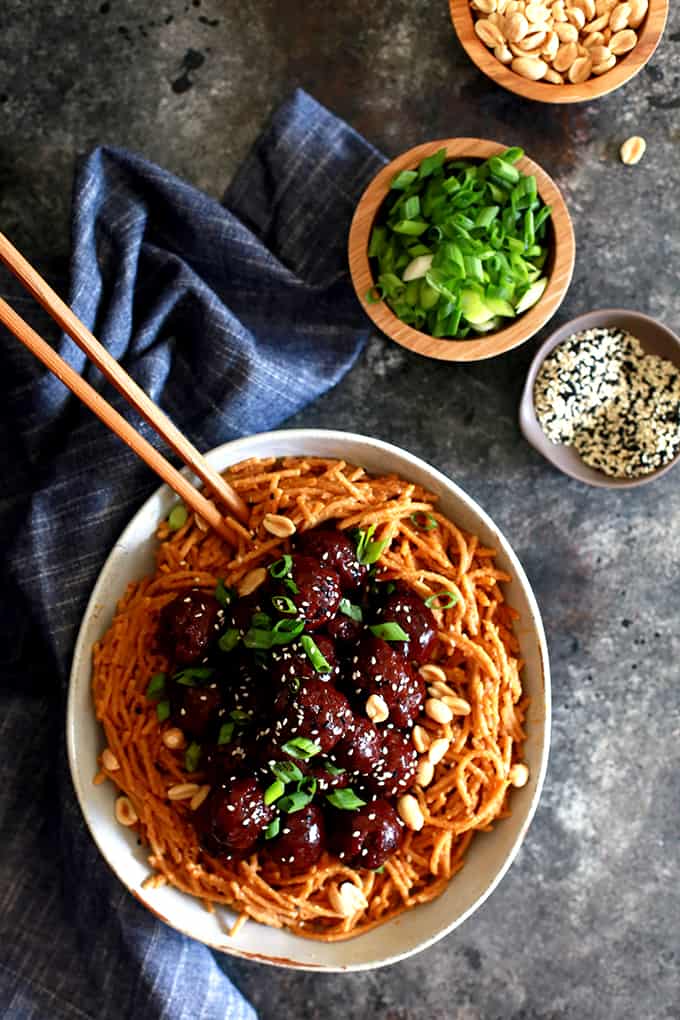 But now for the part that really made me the school lunch hero.  The toppings!  After serving my children, I then passed around bowls of sesame seeds, peanuts and chopped green onions.  They had so much fun decorating their lunch and making designs with the ingredients trying to outdo their siblings.  And then, the best part – they ate it.  THEY ATE THEIR LUNCH.  Bonus points were earned for letting them attempt to eat their lunch with chopsticks.  Even the picky eaters enjoyed their Peanut Butter Pasta and Jelly Meatballs.  School lunches have been saved for the year!
To make things even easier, make this recipe on a Sunday to prep for the week ahead.  It reheats beautifully and then can stay warm in a thermos or hot cold container in your child's lunchbox until lunch time arrives.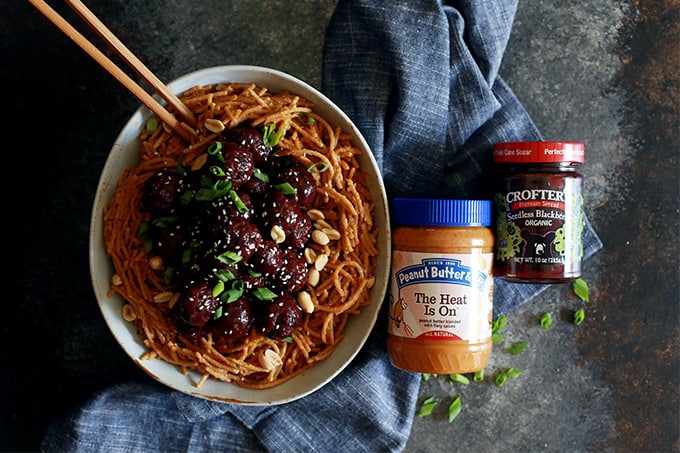 I can't wait for you to give this Peanut Butter Pasta and Jelly Meatballs a try and here's your chance to win the necessary ingredients!  You have a chance at winning a year's supply of Peanut Butter & Co. peanut butter and a year's worth of Crofters Organic fruit spreads – everything you need for plenty of packed lunch options.  Click here to enter this amazing giveaway.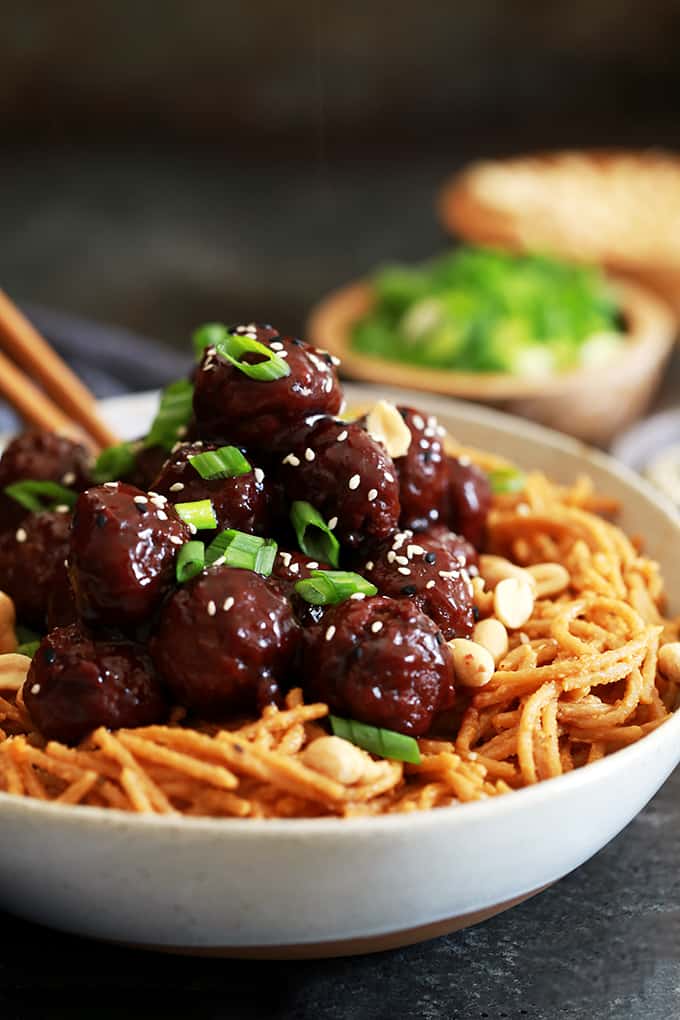 Ingredients
Peanut Butter Pasta

16 ounces pasta
1/3 cup reserved pasta water
1/3 cup Peanut Butter & Co. The Heat Is On peanut butter

Jelly Meatballs

1 10-ounce jar and Crofter's Organic Blackberry Premium Spread.
1 10-ounce package frozen meatballs

Garnish

sesame seeds
sliced green onions
peanuts
Instructions
Peanut Butter Pasta

Prepare pasta to al dente according to package directions.
Return pasta to warm pan and stir in reserved pasta water and Peanut Butter & Co. The Heat Is On peanut butter.
Stir together until peanut butter is melted and all ingredients are well combined.

Jelly Meatballs

Add Crofter's Organic Blackberry Premium Spread to a small sauce pan over medium-low heat.
Stir occasionally until completely melted.
Add meatballs to pan and stir to cover with melted blackberry spread.
Cover and cook for approximately 20 minutes, stirring occasionally, until completely warmed through.

Garnish

To serve top each serving of pasta with meatballs.
Garnish with sesame seeds, sliced green onions and/or peanuts.
7.6.4
427
https://melaniemakes.com/blog/2017/08/peanut-butter-pasta-and-jelly-meatballs.html
Melanie Bauer | Melanie Makes