The flavors of your favorite Girl Scout cookie transformed into Chocolate Cinnamon Samoa Sundaes. Scoops of chocolate cinnamon ice cream studded with flecks of hardening chocolate, swirls of caramel and pieces of toasted coconut and then topped with streams of additional chocolate and caramel. Who needs cookies when you can have ice cream?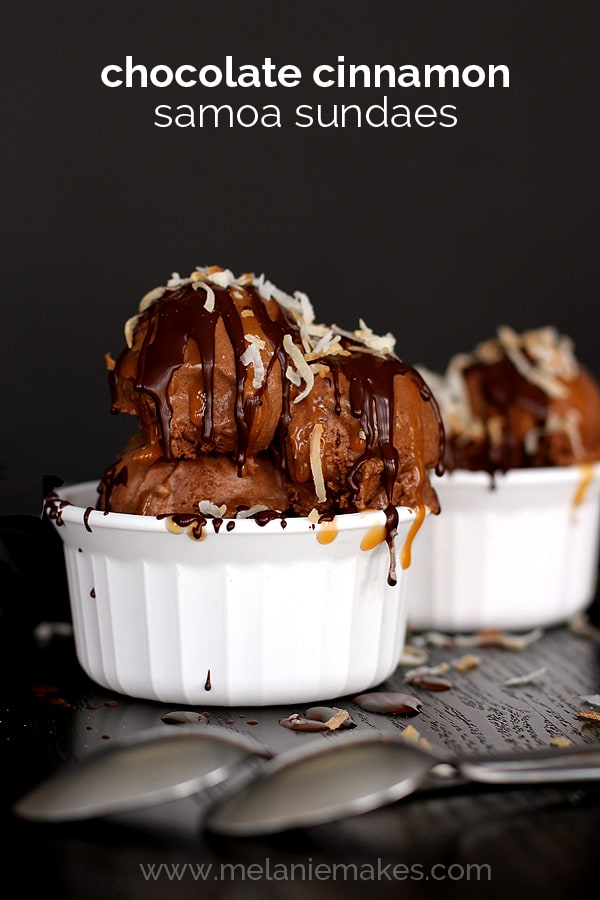 It's that time of year. You know, when elementary-aged girls wearing sashes littered with badges arrive at your doorstep selling their delicious cookies. Except… wait! I haven't seen any of these girls! A cookie order form has not been thrust into my face. Mayday! Mayday! I don't have any cookies!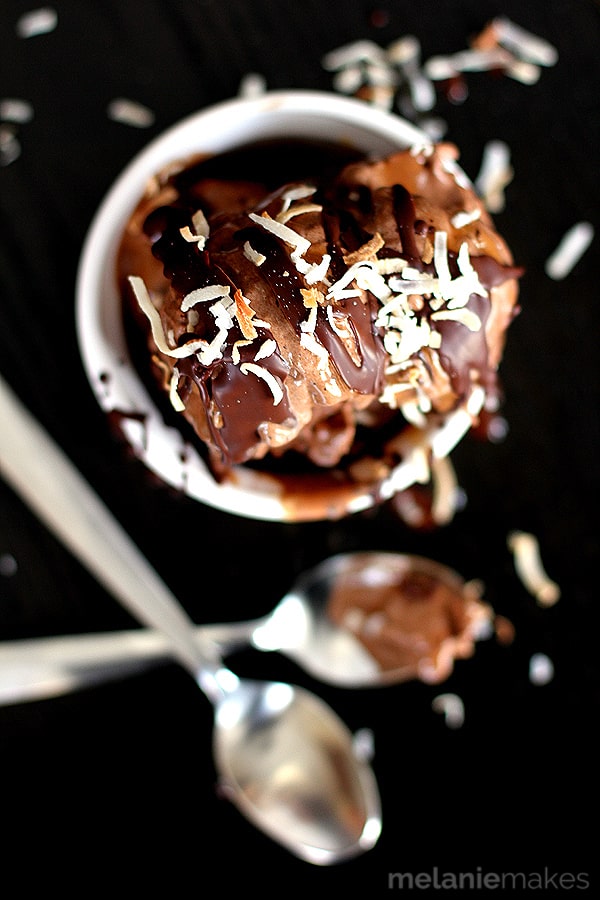 In the third recipe of my series with Melissa of Lulu the Baker, I selected the three ingredients that we both would be using to create with this month. I selected chocolate, caramel and coconut. Sound like any cookie you know of? I took it upon myself to combine the flavors of my favorite boxed cookie into a deliciously decadent ice cream sundae that I can enjoy year round. And yes, I am patting myself on the back right about now.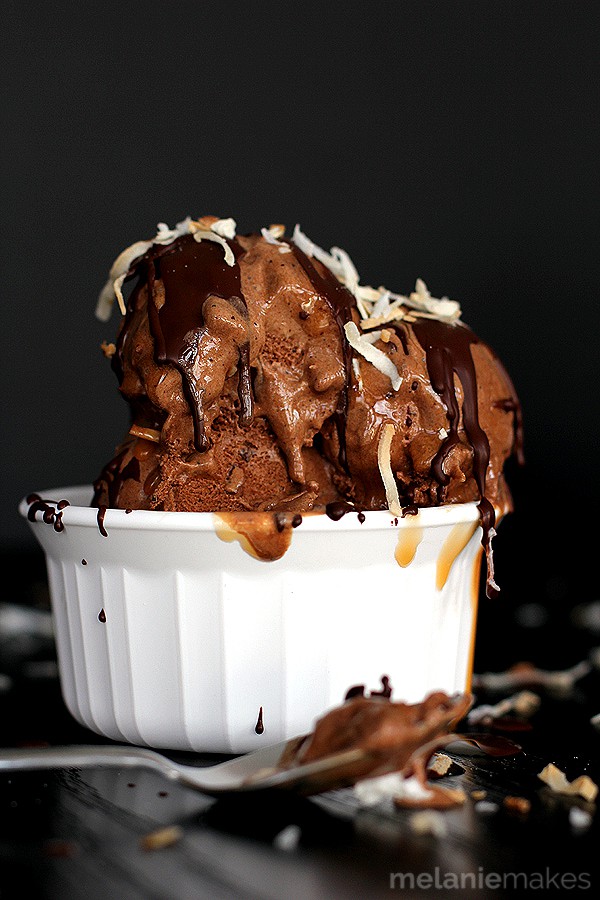 Since I was going to the trouble of creating my own homemade ice cream, I decided to put my spin on things and make a chocolate cinnamon base. It's a flavor combination I just can't seem to get enough of right now. After mixing the base and before freezing, I layered the ice cream with hardening chocolate, caramel and toasted coconut. Layers upon layers of flavor.
And just because you can't ever have too much of a good thing, before serving I topped each scoop with additional hardening chocolate, caramel and toasted coconut. So good!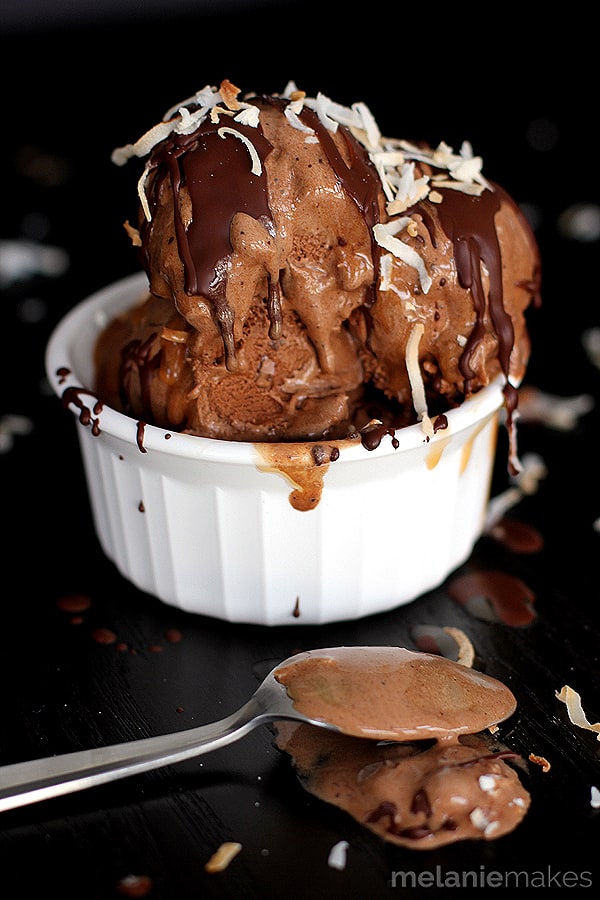 Melanie Bauer
Yields 5 servings
Chocolate Cinnamon Samoa Sundaes
4 hr, 30 Prep Time
10 minCook Time
4 hr, 40 Total Time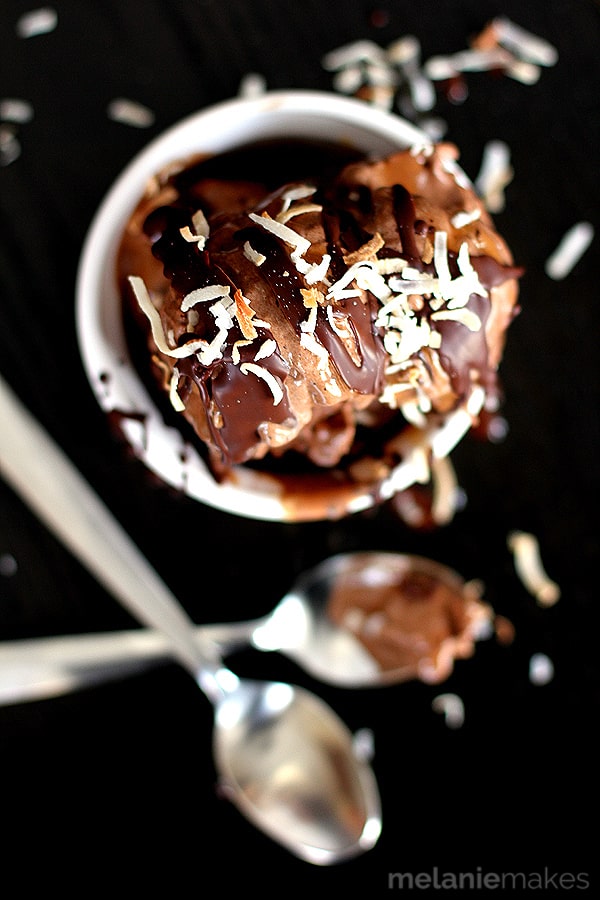 Ingredients
1 ounce unsweetened chocolate
1/4 cup cocoa
1-1/2 cups milk
2 eggs
3/4 cup sugar
1 cup heavy cream
1 teaspoon vanilla
1 tablespoon cinnamon
2/3 cup bittersweet chocolate chips
1/4 cup coconut oil
2 cups caramel sauce
2 cups coconut, toasted
Instructions
In a double boiler over simmering water, melt unsweetened chocolate. Gradually whisk in cocoa until smooth.
Slowly whisk in milk until smooth. Remove from heat and allow to cool completely.
In the bowl of an electric mixer, whisk eggs until light and fluffy.
Whisk in sugar, 1/4 cup at a time until completely blended. Add heavy cream and vanilla and whisk together until combined.
Pour chocolate mixture into cream mixture and add cinnamon. Whisk together until combined.
Transfer mixture to ice cream maker and freeze following manufacturer's instructions.
Meanwhile, in a medium-sized bowl, combine chocolate chips and coconut oil and microwave for 45 seconds to create hardening chocolate. Stir to combine.
When ice cream mixture is complete, layer in a shallow container 1/3 of ice cream, 2 tablespoons of hardening chocolate, 2 tablespoons caramel sauce and 2 tablespoons toasted coconut. Repeat until you've completed three layers of ice cream.
Freeze for 4 hours before serving.
To create sundaes, in a bowl add scoops of ice cream and top with additional hardening chocolate, caramel sauce and toasted coconut.
7.8.1.2
106
https://melaniemakes.com/chocolate-cinnamon-samoa-sundaes/
Melanie Bauer | Melanie Makes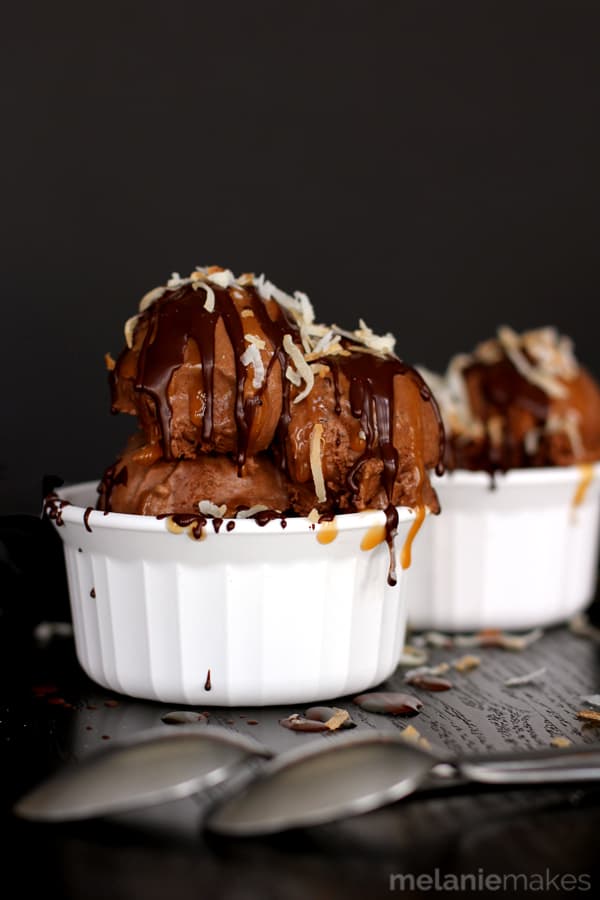 I'm sad to say that this ice cream didn't last long in our house. As in, one after nap serving for each of the five of us. Next time I'll definitely make a double batch. Or not share. Not sharing would be a lot easier.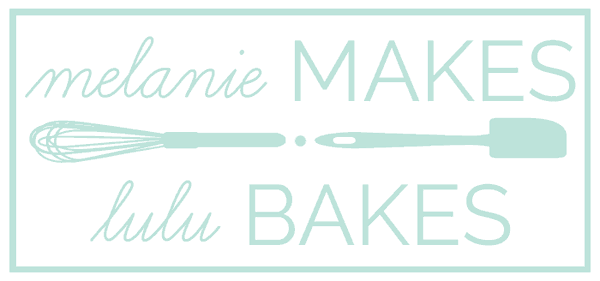 Check out what Melissa created with the same three main ingredients, here.