Looking for the perfect indulgent breakfast, brunch or even dessert? These waffles fit the bill for all of the above! Not too sweet and perfect when topped with whipped cream and strawberries, these Chocolate Yogurt Waffles are a great choice any time of day.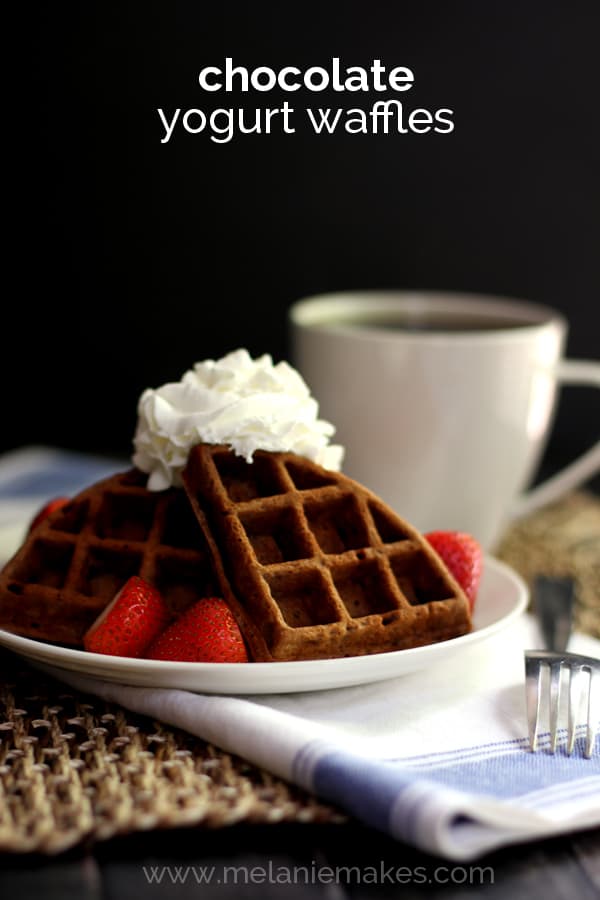 I've mentioned before that my middle child has been affectionally dubbed the "carb queen" of our household. Waffles, pancakes and french toast are her love language and if she can have all three on the same day – exactly what she requested this year for her birthday – then it's pretty much the best day ever in her book. She often requests waffles if I ask what she'd like to eat for a meal and on occasion, I'm happy to oblige.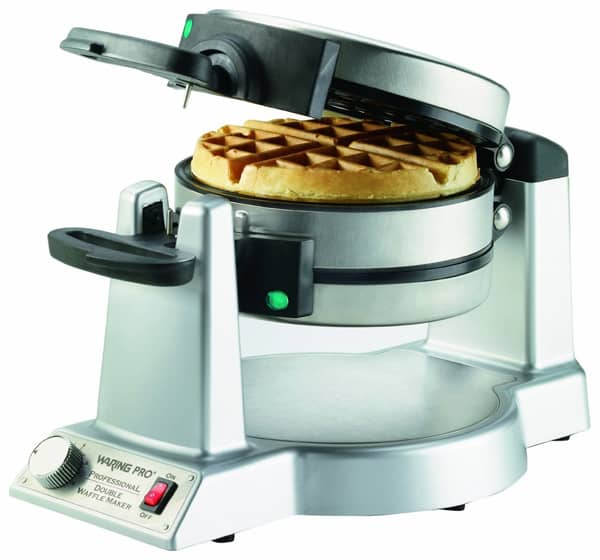 I say on occasion, as making waffles for our family of five is a time consuming process. It's not the making of the waffle batter, it's the actual time in the waffle maker that makes a waffle feast a total drag. By the time I've made everyone a waffle and then perhaps a second, it's been almost an hour and then I'm finally able to make myself a waffle.
Until now… I knew there had to be a better way to make waffles than by using the belgian waffle maker I had received as a wedding gift nearly 12 years ago. I've found the answer in this Professional Double Waffle Maker from Waring Pro. Friends, I love this waffle maker so much it's earned a spot of counter top real estate – and believe me, I rarely let any appliance sit out on a daily basis!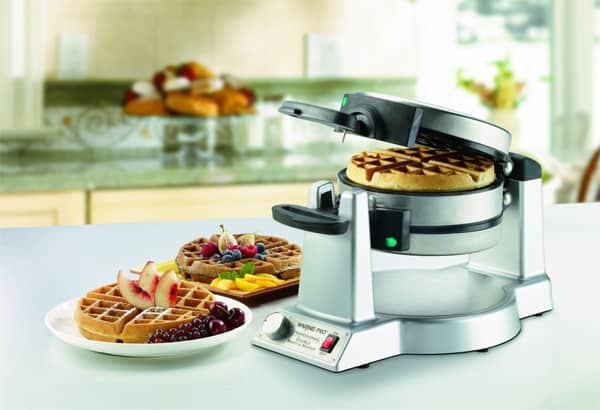 I can now make TWO waffles at once! Picture me making breakfast for twice as many people in half the time. If you pictured me with a great big smile on my face as I'm actually getting to eat WITH my family instead of watching them enjoy their waffles while I'm still in the kitchen making yet more waffles, you'd be right!
No more constantly lifting the lid of the waffle maker to see if it has completed cooking! After selecting the level of brownness you prefer for your waffle – that would be level 5 for me, crisp! – the waffle maker sounds an alert letting you know when your waffle is cooked to your preference. How many times have I neglected a waffle until it's too far gone because I was tending to other things trying to get breakfast on the table? Too many! This simple feature is life changing!
Also life changing? The measuring cup included with the waffle maker that lets you put the exact amount of batter needed each and every time without batter overflowing everywhere. (Not that I've ever done that.) Simply by using this cup, clean up time after waffles is now a breeze.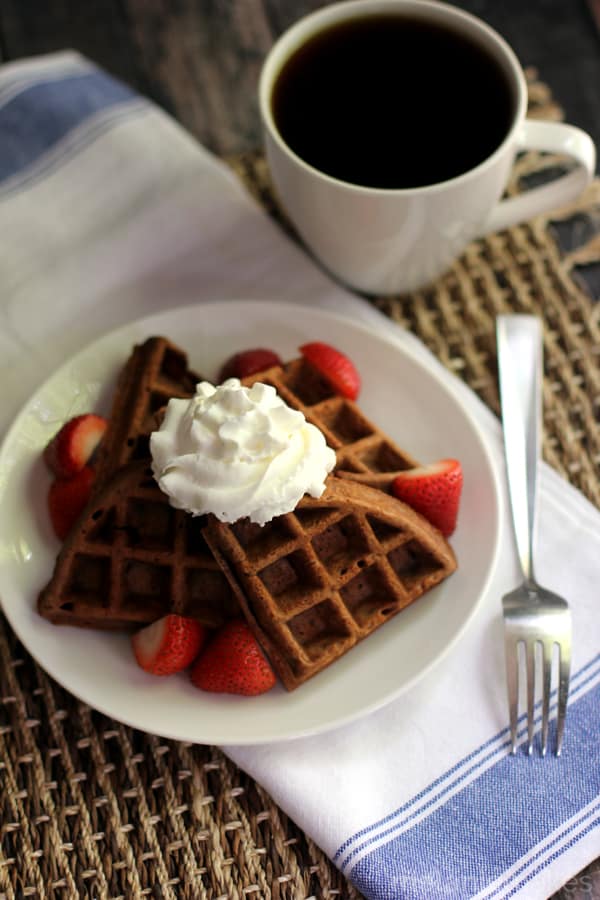 Not only did I use our new Waring Pro waffle maker for our favorite Yogurt Waffles and my Raspberry Lemon Meringue Waffles, but I also created a new waffle that's perfect for an indulgent breakfast or brunch or even dessert. Not too sweet and perfect when topped with whipped cream and strawberries, these Chocolate Yogurt Waffles are a great choice any time of day!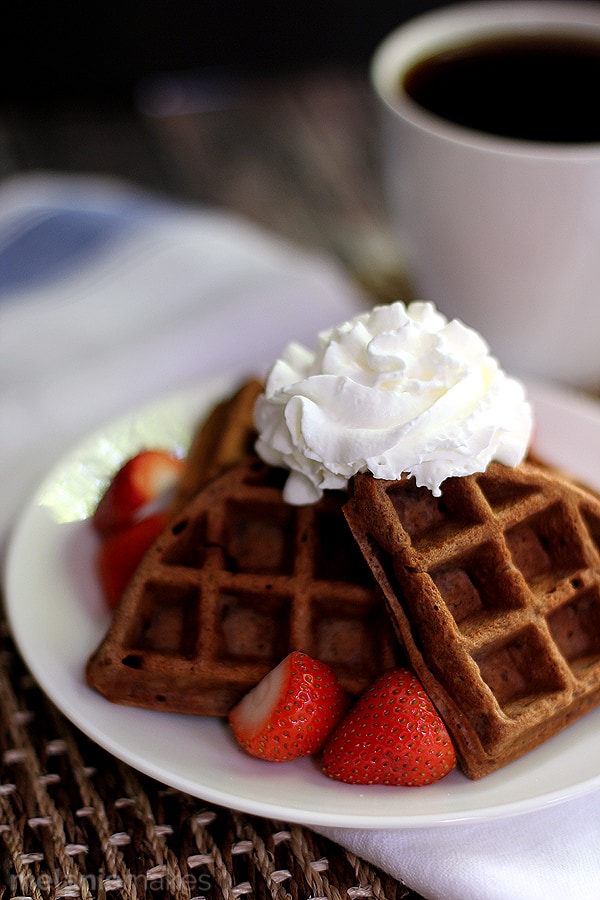 Melanie Bauer
Yields 5
Chocolate Yogurt Waffles
15 minPrep Time
2 minCook Time
17 minTotal Time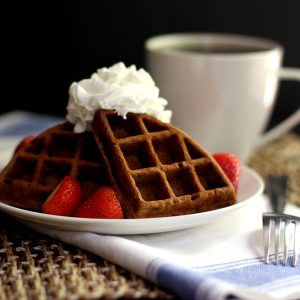 Ingredients
1-1/2 cups flour
1/4 cup cocoa
1/4 cup sugar
1 tablespoon baking powder
1/2 teaspoon salt
1/2 cup butter, melted
1 cup milk
1/2 cup plain yogurt
2 tablespoons hot fudge ice cream topping
3 eggs
Instructions
Whisk flour, cocoa, sugar, baking powder and salt in a large bowl to combine.
Make well in center and add melted butter, milk, yogurt, hot fudge and eggs. Whisk to combine, just until smooth.
Heat waffle iron and spray with non-stick spray. Ladle batter onto waffle iron and close.
Cook until waffle is golden brown.
7.8.1.2
151
https://melaniemakes.com/chocolate-yogurt-waffles/
Melanie Bauer | Melanie Makes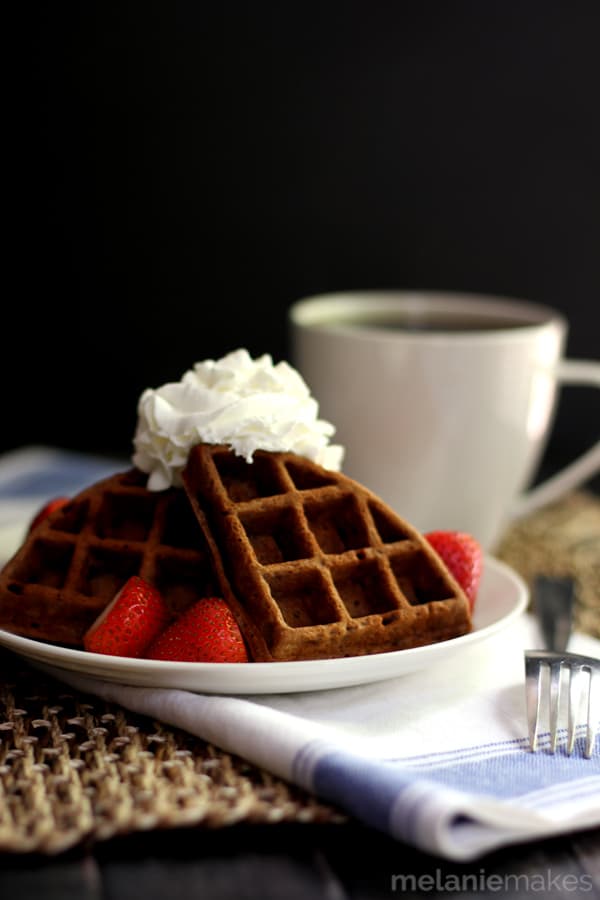 So what do you say? Chocolate Yogurt Waffles for a crowd in just minutes. Are you in?
(This is where you nod your head yes.)
—–
I received this waffle maker from Waring Pro free of charge but received no further compensation. As always, all thoughts and opinions are my own. Thank you for supporting this sponsor that allows me the opportunity to create content, such as this, for Melanie Makes.