Not too sweet and with a hint of spice, these Ginger Carrot Cakes with Cream Cheese Glaze are the perfect Easter or Springtime treat. Forget storing or serving a multiple layer cake! These mini cake loafs are perfectly portioned for a single serving.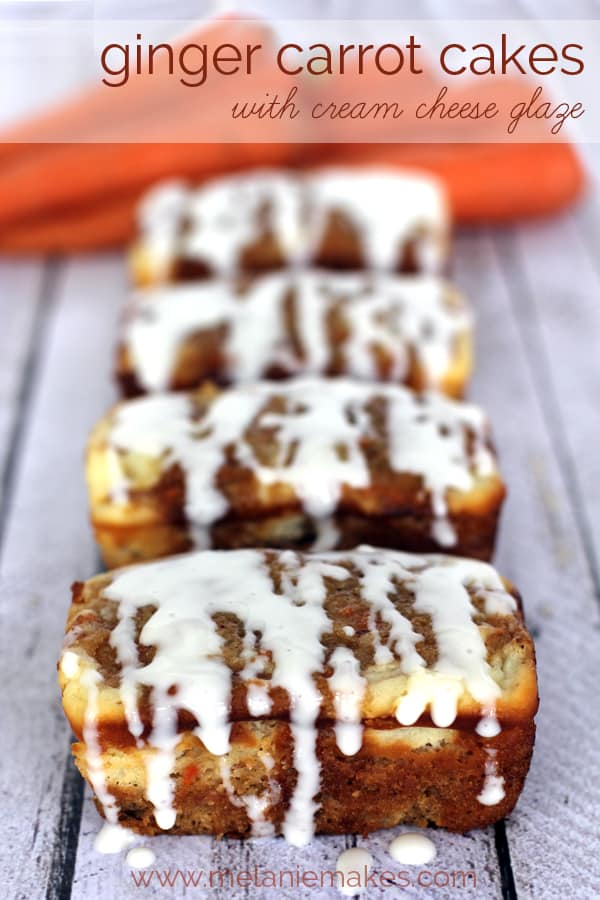 I love carrot cake. L-O-V-E. Hands down my absolute favorite. That says a lot considering I'm not the world's biggest fan of cake. And with Easter just around the corner, I thought it fitting to create a new recipe when Andy's parents visited last week. But not a huge cake. Sometimes those two layer cakes are just down right daunting. So much to eat. Difficult to store. You get the gist. Instead, I went with mini loaf cakes. Forget mini loaves of bread, mini loaf cakes are where it's at!
With these smaller sized cakes, they made serving them so easy! Everyone gets their own cake. No cutting slices that will topple over or anything of the sort. One cake per person. Or two. Whatever you'd like, I'm not going to judge.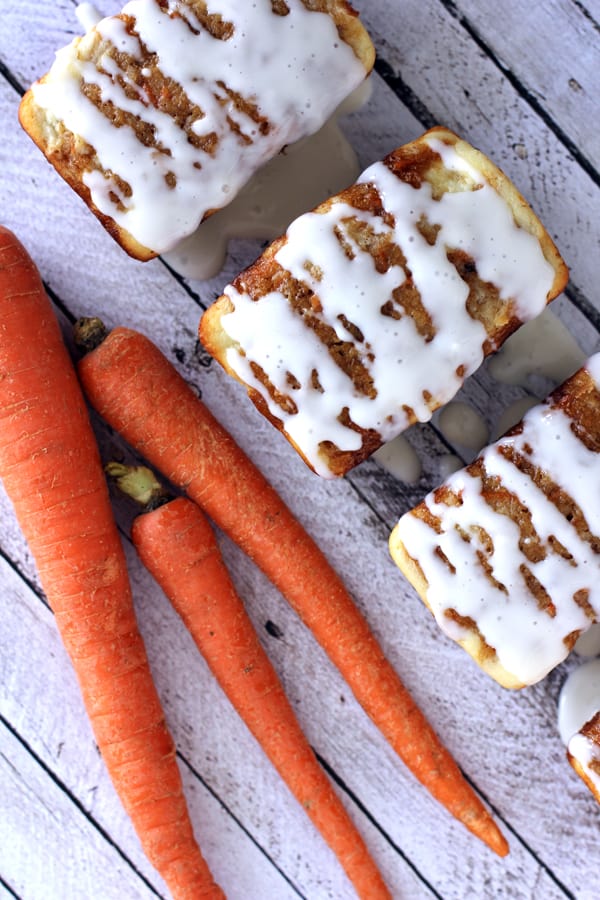 What I did with these cakes is to try to cut the sweetness often associated with carrot cake and the cream cheese frosting that it's often adorned with. Instead, these cakes contain a hint of spic from the addition of ginger to the cake batter. It's amazing how a small amount of ginger can create a big wow factor! If you're feeling especially daring, double the ginger for even more spice.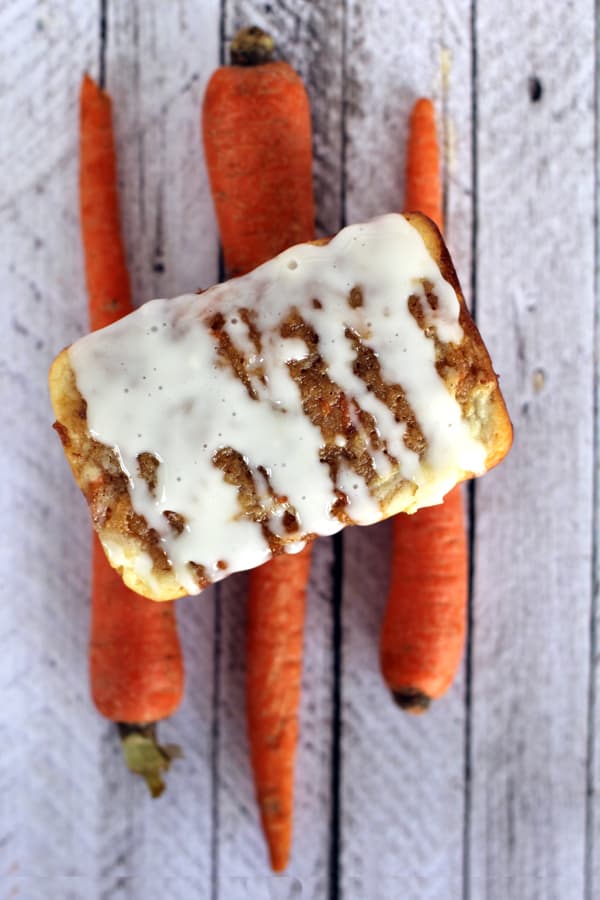 I also swapped out the traditional frosting for a cream cheese glaze. Although I love frosting as much as the next person, I wanted the focus to remain on the cake itself. This glaze is the perfect consistency to drizzle across the top and let drip down the sides. So pretty!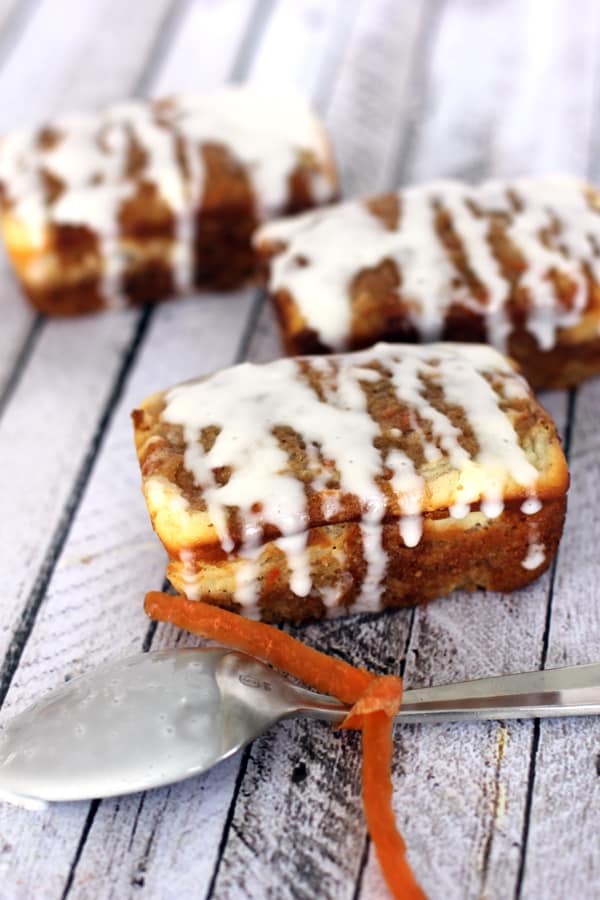 And to prove that I really do love cream cheese, I created a faux marbeling in the cake by simply layering cake batter with a cream cheese mixture and then topping it with more cake batter. No toothpick swirling here, my friends! Instead, the cake batter layers use a handy thing called gravity to push the cream cheese between it around. I love that no two cakes look alike but they're all equally delicious!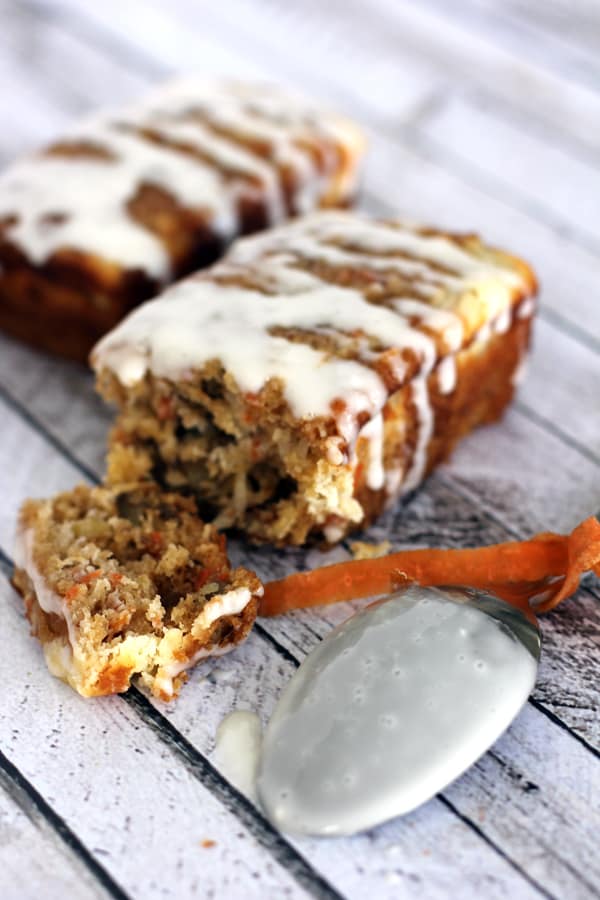 Yields 16 mini loaf cakes
Ginger Carrot Cakes with Cream Cheese Glaze
20 minPrep Time
25 minCook Time
45 minTotal Time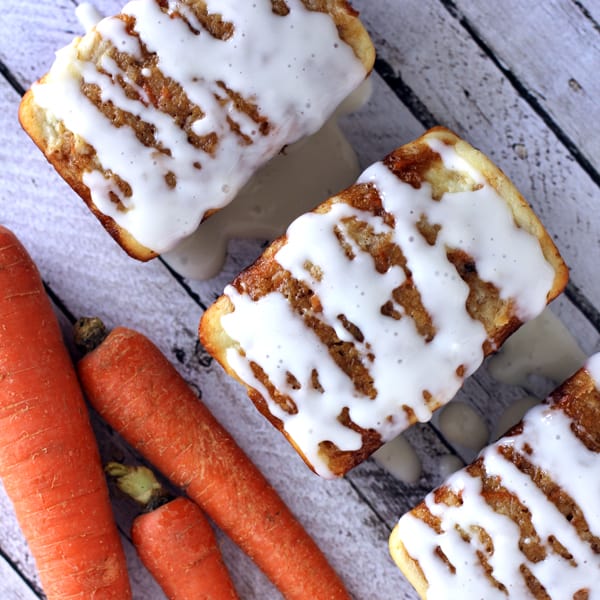 Ingredients
Ginger Carrot Cake

1 1/4 c applesauce
2 c sugar
3 eggs
2 c flour
1 tsp baking soda
1 1/2 tsp baking powder
1/2 tsp salt
1 tsp cinnamon
1/4 teaspoon ginger
2 c shredded carrots
1 c coconut
1 c chopped walnuts
1 tsp vanilla
1 cup crushed pineapple, NOT drained

Marbelized Cream Cheese Layer

8 oz. cream cheese, softened
1/4 cup sugar
1 egg

Cream Cheese Glaze

8 oz. cream cheese, softened
1 cup powdered sugar
2 teaspoons vanilla
1/2 cup milk
Instructions
Preheat oven to 350 degrees. Preparing mini loaf pan by spraying with vegetable oil.

Ginger Carrot Cake

In bowl of electric mixer, combine applesauce, sugar and eggs.
Add flour, baking soda, baking powder, salt, cinnamon and ginger and mix until just combined.
Stir in remaining ingredients.

Marbelized Cream Cheese Layer

Stir together ingredients in small bowl until smooth
In greased mini loaf pans, in each well add approximately 1-1/2 tablespoons of cake batter. Top with 1 tablespoon cream cheese mixture and then another 1-1/2 tablespoons cake batter.
Bake for 23-25 minutes or until toothpick inserted in center comes out clean. Let cool completely.

Cream Cheese Glaze

In bowl of electric mixer, cream together cream cheese and powdered sugar.
Add vanilla and milk and mix until combined.
When cakes are cool, drizzle with cream cheese glaze.
7.8.1.2
38
https://melaniemakes.com/ginger-carrot-cake-with-cream-cheese-glaze/
Melanie Bauer | Melanie Makes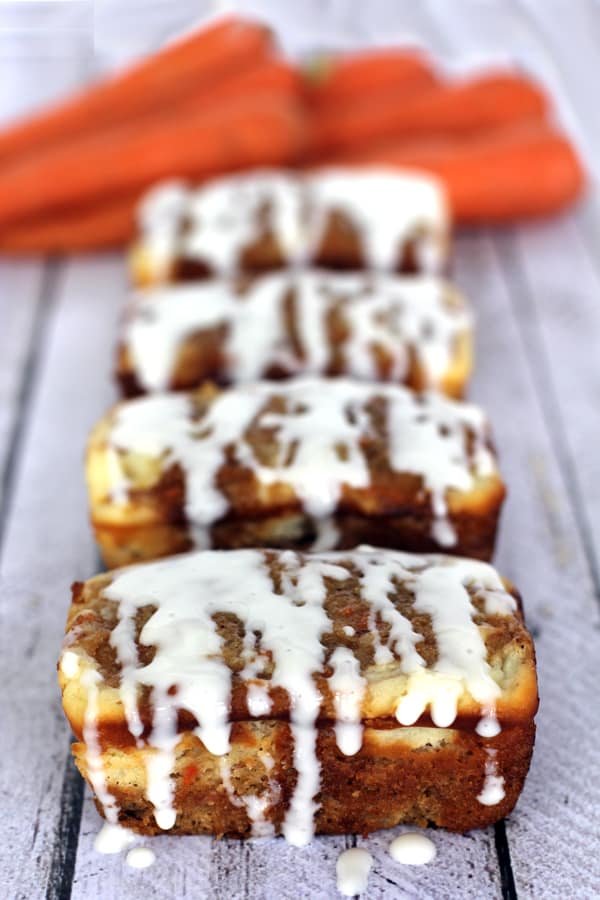 But we haven't talked about my most favorite part of this recipe yet! These make the most perfect gift for neighbors, teachers, friend, the mailman – whomever! – for Spring or Easter.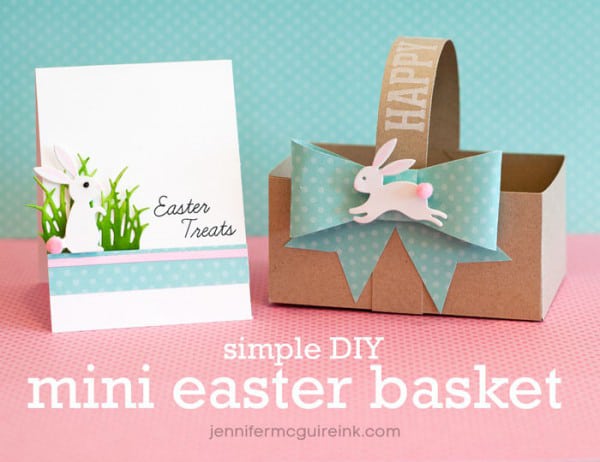 Don't believe me? Check out how my uber-talented friend Jennifer packaged them!
That basket, perfectly sized to fit the mini cake loaf? The most adorable thing ever! As if I wouldn't absolutely love anyone that brought me cake, but if they brought it packaged like this they might just become my new best friend! Those pink pom pon bunny tails are just too much. I couldn't keep the hands of two little girls away!
You can find instructions on how to create Jennifer's amazing mini card and basket here.