I'm stepping back from Melanie Makes for a few weeks to enjoy a maternity leave of sorts with our new arrival. In the meantime, I'm thrilled to be sharing recipes from some of my favorite food bloggers who I'm also lucky enough to call friends. Today, Taylor from Food Faith Fitness is sharing an easy weeknight meal that will definitely be making it's way to our weekly menu plan!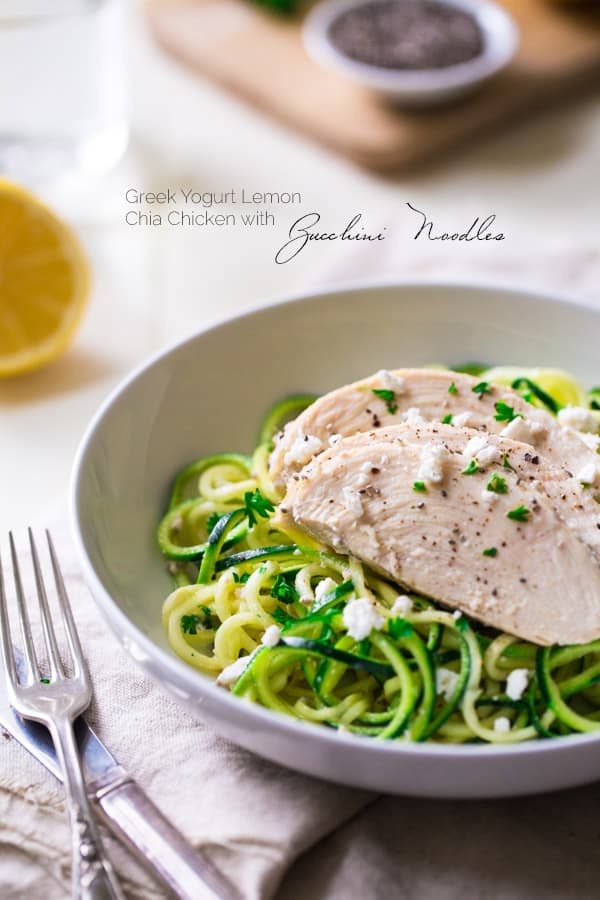 Well hi there people from the space on the interwebz that we know and love as "Melanie Makes!" My name is Taylor and I blog over at Food Faith Fitness, a blog about (mostly) healthy recipes and thoughts on fitness, health, faith and life! I'm SUPA pumped up to be helping my good friend Melanie out by guest posting here today!
BUT, you didn't come here to chat amIright? You came here to EAT, so let's face plant right into this SUPER easy, weeknight recipe. You in?
Good. I knew there was a reason why I liked you already.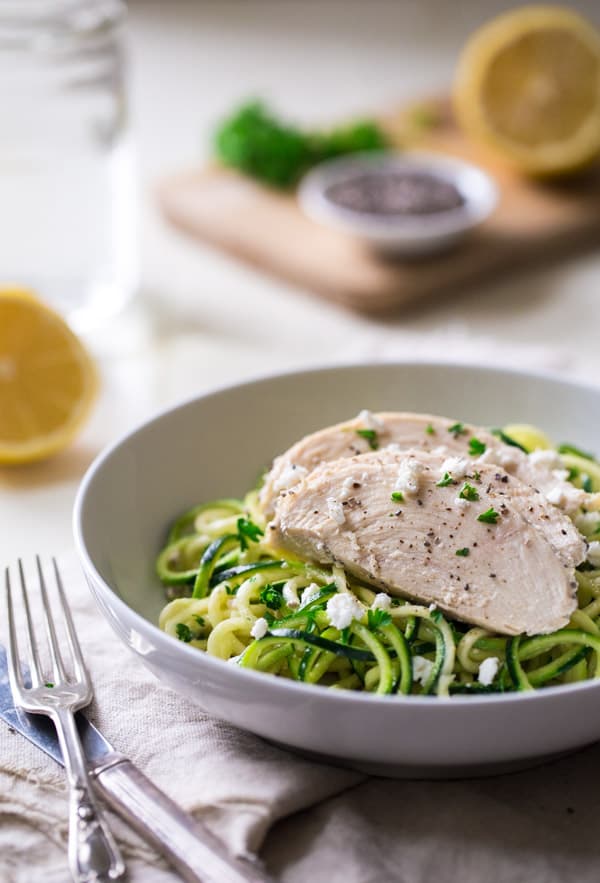 First, I want to ask you peeps a question. Do you have a spiralizer? YES? AWESOME! No?! Do you live under a rock??? Drop everything you're doing RIGHT NOW (and yes, that means, going to work. Just tell them I told you to do it. You'll be fine) and go buy one.
They will literally change your view on all things vegetal. And, in turn, change your view on the WHOLE WORLD.
That might be kind of an exaggeration. But, you understand.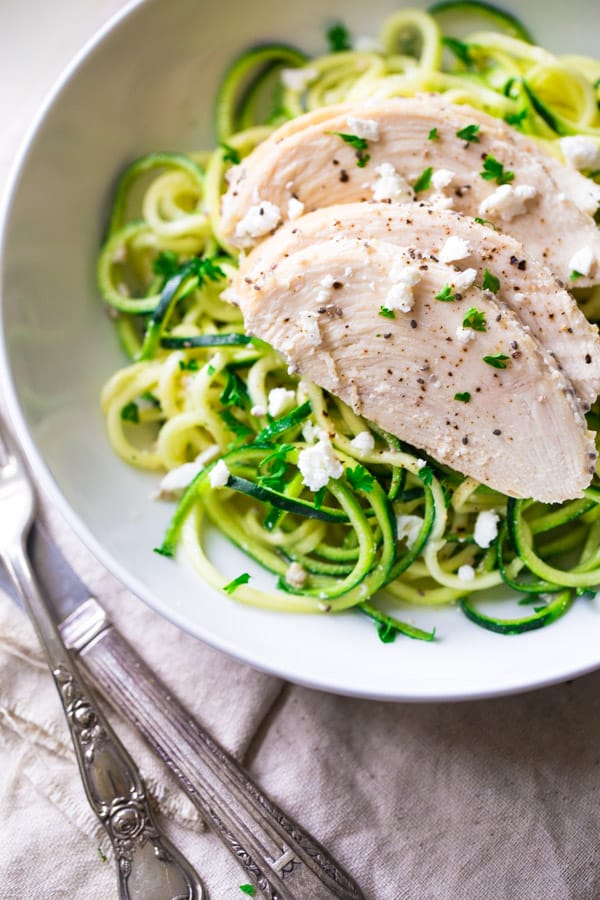 Anyway.
Plus, you'll need one to make this recipe. I mean, you could make zucchini noodles on a mandolin, but it's just not as fun. And they just aren't as pretty.
You know we eat with our eyes first. TRUTH.
Now that we've established that there are bright green, pretty spirals of squashy vegetable beautiosity (spell check is yelling at me for that one) let's talk about what is sitting ON TOP of 'em.
Pretty much the easiest and healthiest chicken marinade you'll ever make. It's just Greek yogurt (did you notice the protein ON protein action? Protein SQUARED!) with lemon juice, olive oil and CHIA seeds.
It's like a SUPERFOOD version of the classic lemon and poppy seed combo that I know your taste buds adore.
Once you have that mixed up, just let your chicken swim around in it (well, as much as a chicken breast can swim, I suppose) for a few hours, pop it in the oven and BAM! That marinade turns into a healthy-yum-packed creamy sauce to go on above mentioned zoodle (zucchini + noodle) spirals.
Follow all o' dat up with some more fresh squeezed lemon juice, parsley and a wee bit of feta cheese (what is dinner without cheese, amIright?) and you're basically winning the nutritious dinner maker award of the year award.

Food Faith Fitness for Melanie Makes
Yields 2
Lemon Chia Chicken Zucchini Noodles
10 minPrep Time
30 minCook Time
40 minTotal Time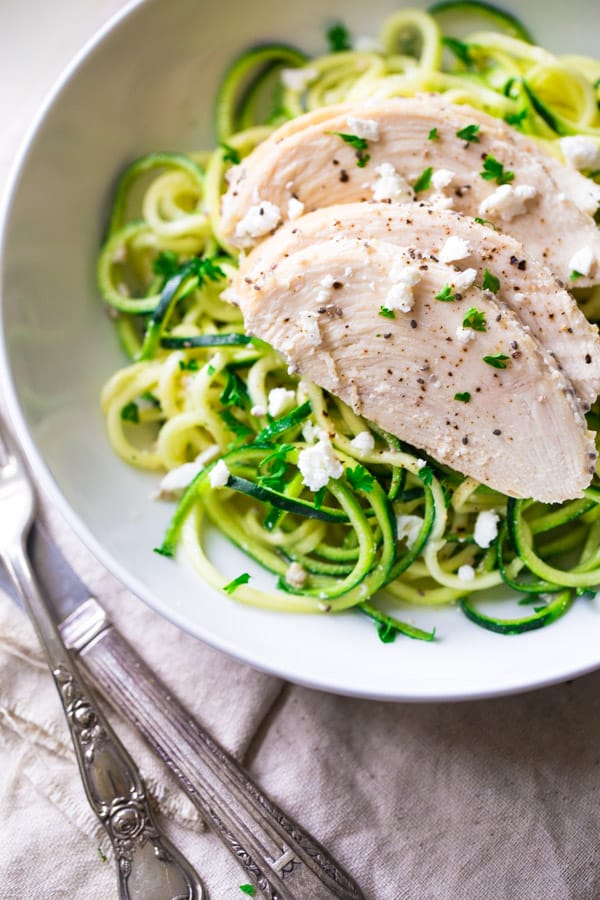 Ingredients
1/4 Cup Plain, Non-fat Greek yogurt
3 Tbsp Fresh Lemon Juice + additional for drizzling
2 tsp Honey
3/4 tsp Chia Seeds
1 tsp Olive Oil + additional for drizzling
3/4 tsp Garlic, minced
Salt/Pepper
8 Oz Chicken breast
2 Large Zucchinis (or 3 medium)
1/3 Reduced-fat Feta cheese
Minced Parsley, for garnish
Instructions
In a medium bowl, whisk together the Greek yogurt, 3 Tbsp of lemon juice, honey, Chia seeds, 1 tsp Olive Oil, garlic and a pinch of salt and pepper. Place the chicken into the bowl and spoon the mixture over-top so it is well covered. Cover the bowl and refrigerate for at least 2 hours.
Once the chicken has marinated, heat you oven to 350 degree and pour the chicken, along with the yogurt mixture into a small baking dish. Bake until the chicken is no longer pink throughout, about 25-30 minutes. Cover and set aside for 5 minutes to let the meat rest.
While the chicken cooks, spiralize the zucchini noodles using the 3mm blade of your spiralzer (you can also use a mandolin if you don't have a spiralzer.) Place the noodles into a strainer and set over top of a medium bowl. Lightly sprinkle the zucchini noodles with salt and let strain for 30 minutes to release the water, stirring around every so often.
To assemble:
Squeeze out as much remaining liquid from the zucchini noodles as you can and place into a bowl. Drizzle with a little bit of olive oil and squeeze of fresh lime juice. Toss to evenly coat and divide between two plates.
Place the chicken on top of the zucchini noodles and whisk the sauce until it begins to come together (it will be a little clumpy) divide the sauce over top of each plate.
Sprinkle with feta cheese, parsley and DEVOUR.
7.8.1.2
228
https://melaniemakes.com/lemon-chia-chicken-zucchini-noodles/
Melanie Bauer | Melanie Makes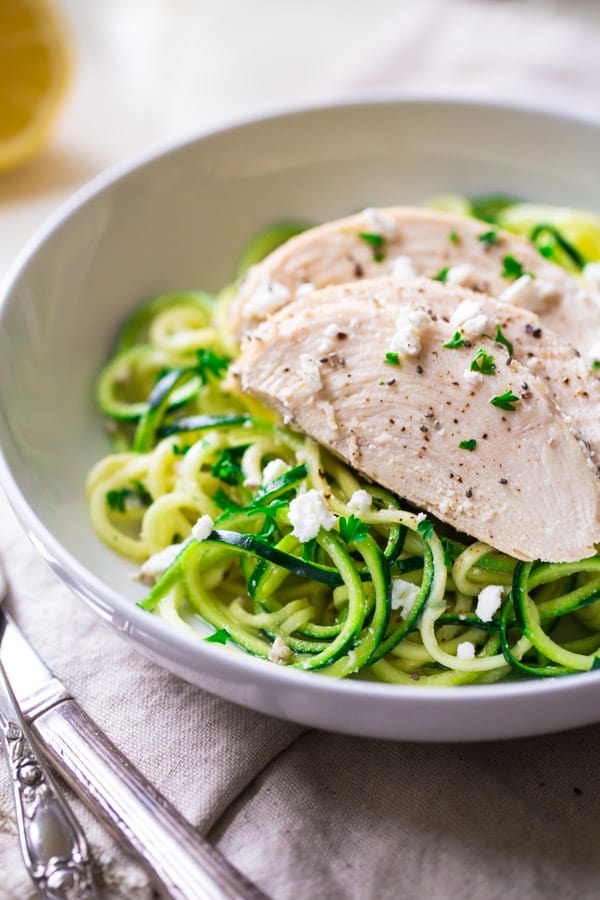 It's a thing, I promise.
I don't know about you, but just looking at ALL. THE. GREEN makes my body feel VIBRANT and HEALTHY and FRESH.
You know what they say.
Winner winner chicken dinner.
Had to.
Looking for more recipes featuring lemon?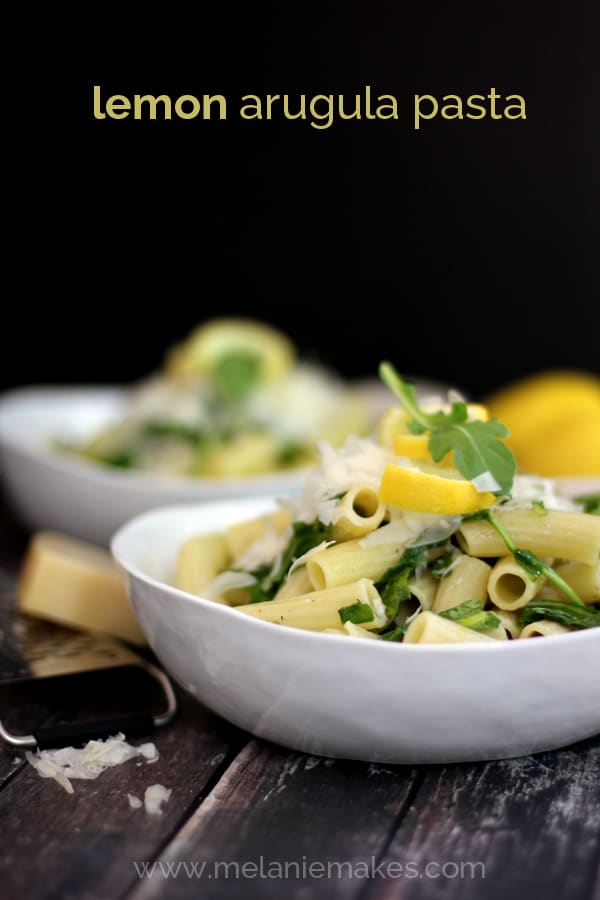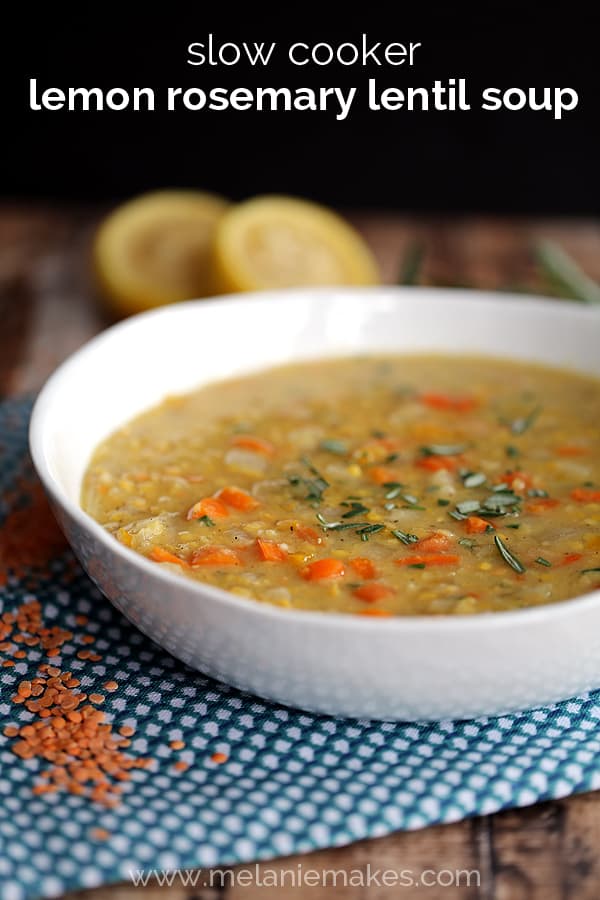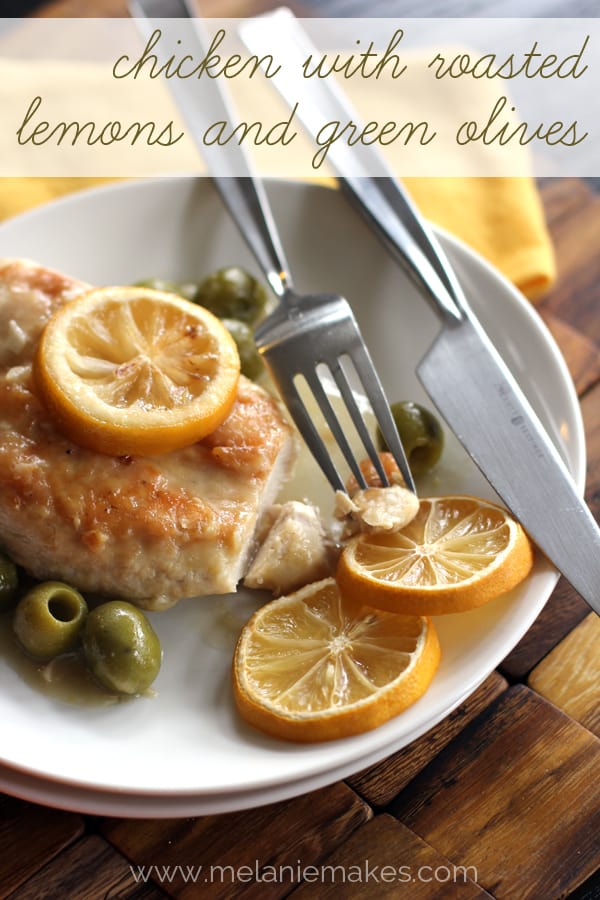 More great recipes from Food Faith Fitness:
Paleo Oven Baked Ribs with 5 Spice and Honey Garlic Glaze
Ranch Greek Yogurt Chicken with Bacon and Cheese
Steak Salad with Balsamic Vinegarette