Rich and decadent, this Mocha Hot Fudge Sauce is so much better than store bought and insanely easy to create.  Instant coffee is the secret ingredient that makes this sauce not too sweet, but oh so delicious!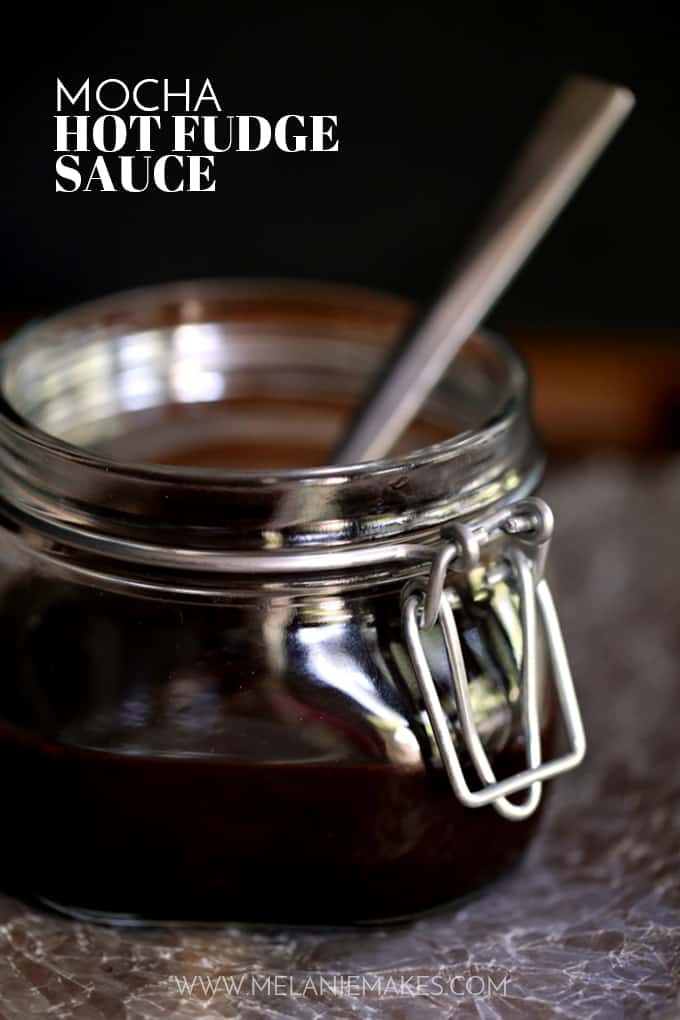 I received product from Rodelle to feature in this recipe.  As always, all thoughts and opinions are my own.   Thank you for supporting this sponsor that allows me the opportunity to create content, such as this, for Melanie Makes.
Keep in touch!  Subscribe to receive Melanie Makes recipes direct to your inbox.
I always joke with our two oldest daughters that I'm the one in the house that makes the rules.  Most times they're not a fan of my rules, like they having to do their chores each day, but this rule I think they'll be okay with.  I hereby decree that a jar of Mocha Hot Fudge Sauce must be in our fridge at all times.  Having a bad day?  Mocha Hot Fudge Sauce to the rescue!  Want to celebrate?  There's a jar of Mocha Hot Fudge Sauce waiting in the wings.  Looking for an answer to all of life's questions?  I have no doubt that Mocha Hot Fudge is what you're looking for.
Okay, so maybe that last one is going a little overboard…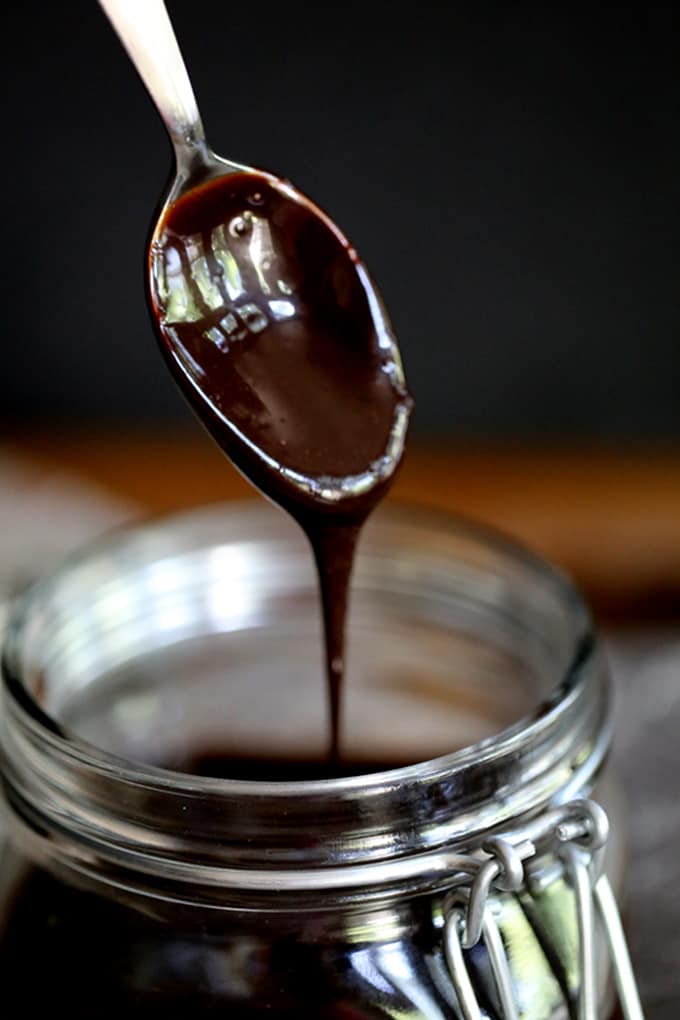 And why is this Mocha Hot Fudge sauce the best around?  Because I'm the boss and I said it was!  As my son would say, "Jo-king!"  This sauce is better than it's counterparts as it's not too sweet, thanks to the addition of instant coffee.  It's rich and decadent and you'll find yourself wanting to take a spoon and stand with the refrigerator door open as you steal a bite out of the jar.  And yes, I speak from personal experience.  This Mocha Hot Fudge Sauce helps me lick my wounds when my baby girl decides that she will, yet again, not be taking a nap.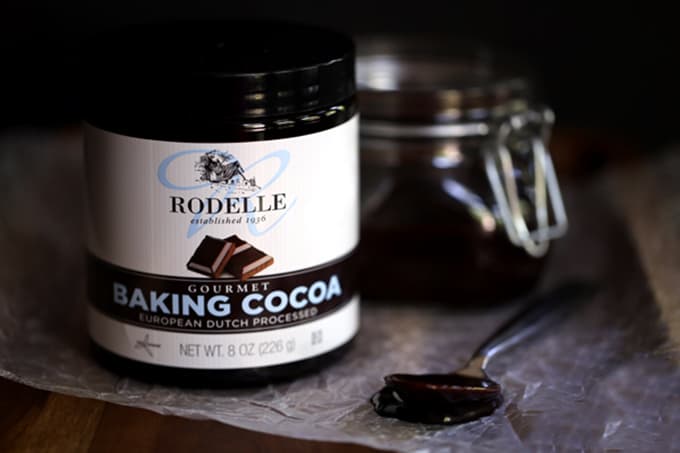 The secret to this amazing sauce is two different types of chocolate, both unsweetened chocolate and dutch processed cocoa.  Specifically Rodelle Gourmet Baking Cocoa.  I'm so smitten with this cocoa I have it on Amazon subscription.  Oh yes, you can have cocoa delivered to your house on whatever time frame you choose!  Rodelle's baking cocoa has one of the highest levels of cocoa butter of any on the market which ensures it's superior chocolate flavor.  When you open the container and compare the color of it with whatever brand you've been using, your mouth will drop.  The Rodelle cocoa is so dark compared to the lighter, almost tan, color of other cocoas.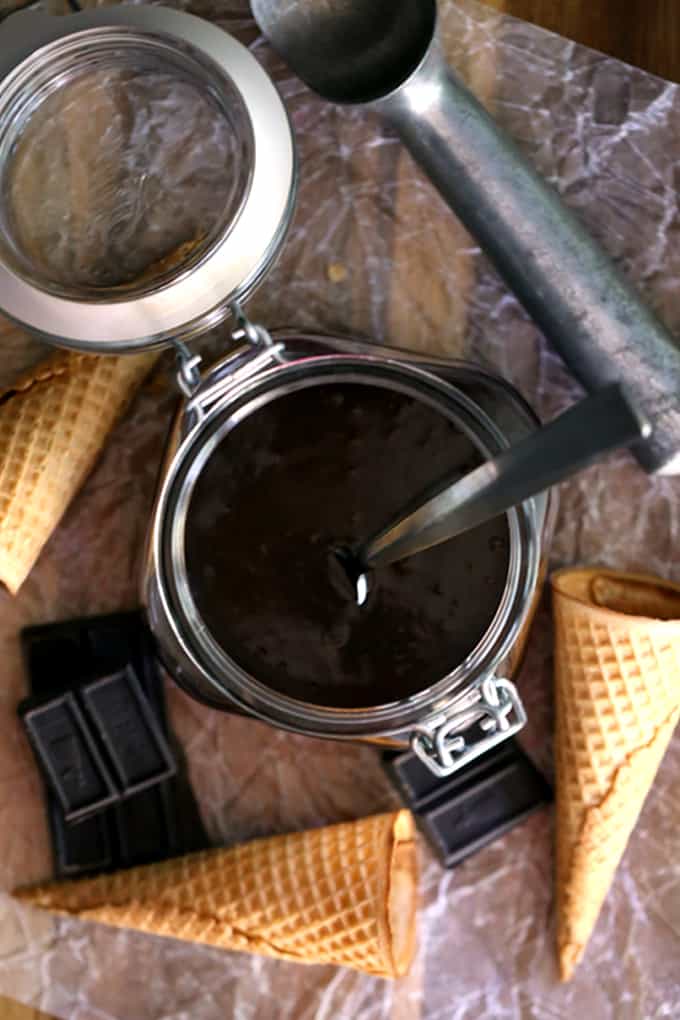 This Mocha Hot Fudge Sauce is obviously amazing by the spoonful and on ice cream, but it's also my secret ingredient to some of my other dessert recipes as well.  My Mocha Coconut Frappuccinio Pie is not only a Starbucks copycat in pie form, but it also pairs my Mocha Hot Fudge Sauce with coffee flavored ice cream for it's out of this world flavor.   My Coffee and Donut Ice Cream with Mocha Hot Fudge Swirl also uses this hot fudge sauce as an extra layer of flavor.  The more chocolate the better, right?  I'm also thinking it would be a great addition to my delicious Hot Fudge Ice Cream Pie.  A more grown up version that's less sweet and even more delicious!
In fact, this Mocha Hot Fudge Sauce would be a great substitute to any recipe calling for a store bought sauce.  Like these truly decadent Slow Cooker Hot Fudge Turtle Brownies, this to good to be true Mile High Fudge Brownie Pie and this gorgeously layered Hot Fudge Caramel Ice Cream Bar Cake.
Melanie Bauer
Yields 1 quart
Mocha Hot Fudge Sauce
5 minPrep Time
45 minCook Time
50 minTotal Time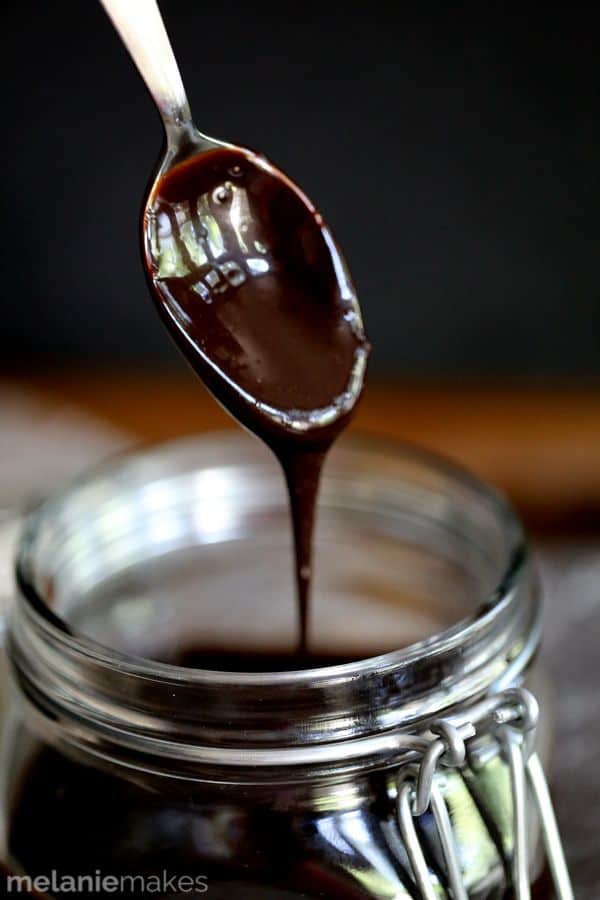 Ingredients
1/2 cup butter
4 ounces unsweetened chocolate
5 teaspoons instant coffee
3/4 cup Rodelle Gourmet Baking Cocoa
2 cups sugar
1/2 cup milk
1/2 cup whipping cream
Instructions
In the top of of a double boiler, over simmering water, add butter, chocolate and instant coffee. Stir frequently until melted and combined.
Add cocoa to butter mixture and whisk until combined.
Stir in sugar in 1/2 cup increments. Stirring occasionally, cook for 20 minutes.
Stir in milk and whipping cream until completely combined. Continue cooking and stirring occasionally until sugar is completely dissolved and sauce is smooth.
Notes
7.8.1.2
268
https://melaniemakes.com/mocha-hot-fudge-sauce/
Melanie Bauer | Melanie Makes