As part of a sponsored post for Collective Bias®, I created these Rosemary and Olive Oil Cornbread Bites using STAR Usage Pairings Olive Oil.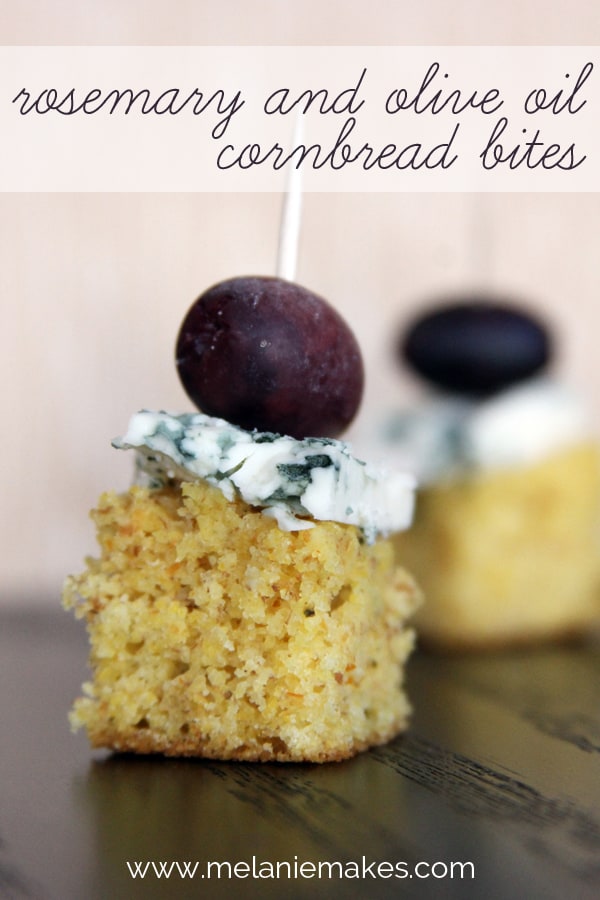 Looking for the perfect – easy! – appetizer for your next holiday gathering? These Rosemary and Olive Oil Cornbread bites are just that. A savory cornbread is paired with blue cheese and kalamata olives to create the essence of a cheese plate in a single bite.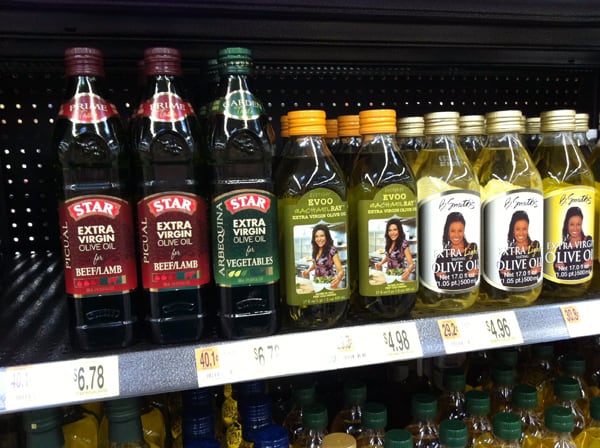 A great recipe starts with great ingredients and this recipe is no different. A quality olive oil is necessary to lend the fruity flavor necessary for the cornbread to be something extraordinary. On the shelves at Walmart, STAR Usage Pairings Olive Oil makes selecting the right olive oil easy. There are three distinct and different olive oils, each for a different use :
For this meatless recipe, the Arebequina oil was the right choice for its very smooth, slightly almond flavor, with touches of green apple.
Rosemary and Olive Oil Cornbread Bites
All of the goodness of a cheese plate in a single bite. This easy to make appetizer is the perfect choice for your next party or get together.
20Prep Time
25Cook Time
45Total Time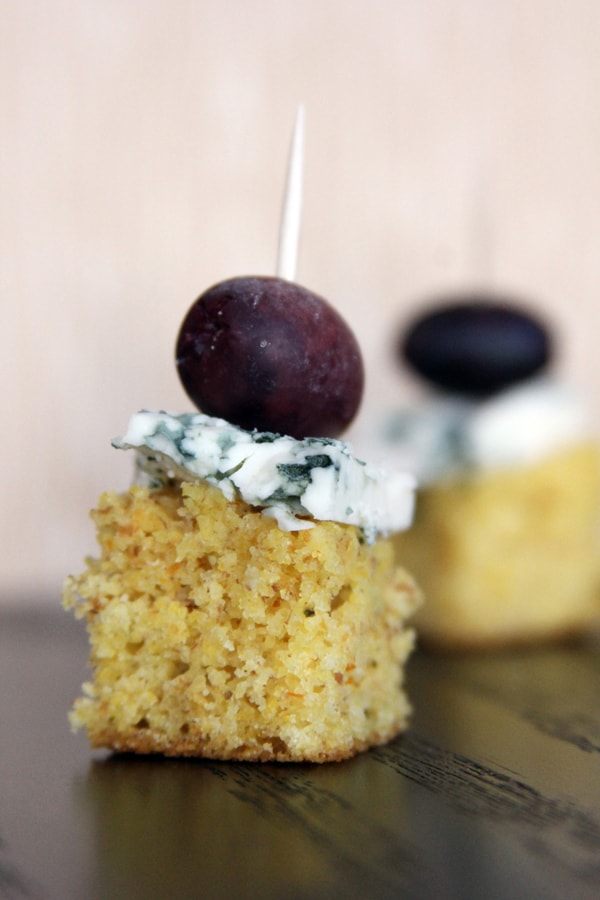 Ingredients
3/4 cup white flour
1/4 cup whole wheat flour
1 cup cornmeal
1 teaspoon baking powder
1 teaspoon baking soda
1/2 teaspoon salt
1/3 cup olive oil
1 cup buttermilk
1 egg
2 tablespoons fresh rosemary, chopped
1/2 pound blue cheese
16 oz. kalamata olives, pitted and drained
Instructions
For cornbreadPreheat oven to 350 degrees.

Whisk together flours, cornmeal, baking powder, baking soda and salt.
Add all other ingredients and stir together just until moistened.
Pour into greased 8"x8" pan and bake 20-25 minutes until a toothpick inserted comes out clean.

To assemble cornbread bitesAfter cornbread has cooled, cut into 1" cubes.

Top each cube with piece of blue cheese and then an olive, holding all three pieces together with a toothpick.
Notes
Don't have buttermilk? Pour 1 tablespoon of vinegar into a 1 cup measuring cup and then fill the rest of the cup with milk. Let sit for five minutes before using in recipe.
7.8.1.2
390
https://melaniemakes.com/rosemary-and-olive-oil-cornbread-bites/
Melanie Bauer | Melanie Makes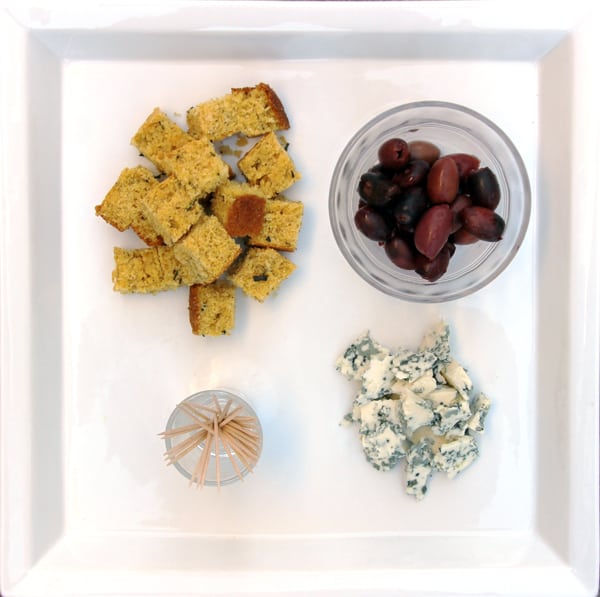 After you've made the cornbread and cut it into cubes, it's time to gather the remaining ingredients and prepare to assemble.

A cube of savory cornbread, topped with blue cheese and then topped with a kalamata olive. Perfect. These appetizers look time consuming but they're so quick and easy to put together, my five year old could help with the process.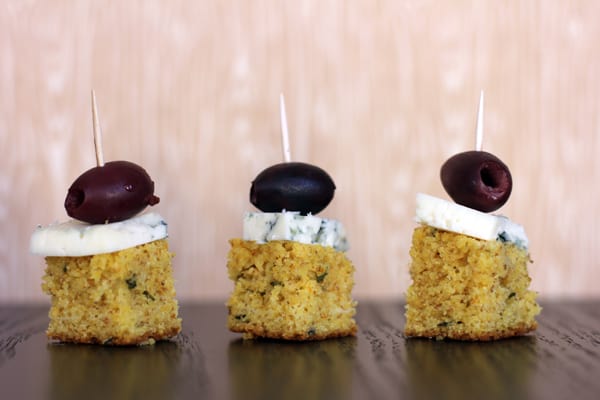 The end result is a cheese plate in a single bite – salty olive, creamy cheese and subtly sweet and fruity cornbread. Sure to please anyone you serve them to.
For your chance to win a set of three STAR Useage Pairing Olive Oils, visit their Facebook page.