Thick, hearty pieces of Italian Bread are soaked in a traditional egg and milk mixture and then stuffed with a fruit mixture including raspberries and peaches that have soaked overnight in a summer sangria. You want a reminder of a Summer evening served at the breakfast table? This is your dish.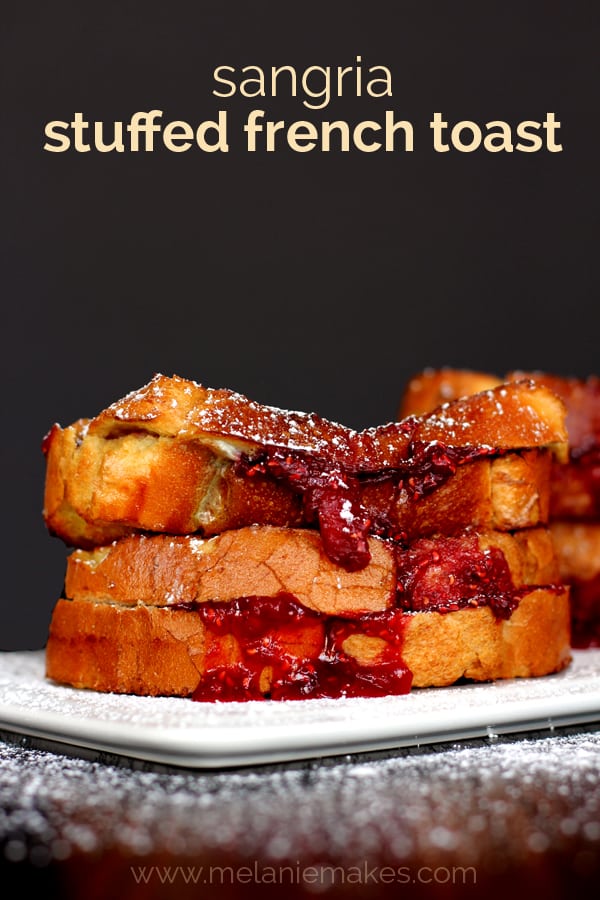 It's hard to believe that we've been in Cleveland for nine months now. It seems like we just got here, yet we've been here all along. This Spring will be our last season to experience for the first time in our new city. After a long and seemingly never ending Winter, I'm more than ready for the warmer temperatures and a chance to get outside.
Today's Sunday Supper theme is The Best Recipes Always Tell A Story and I believe this recipes does just that. A story of friendship and the expectation of warmer months to come featuring Gallo Family Vineyards' Sweet White Blend.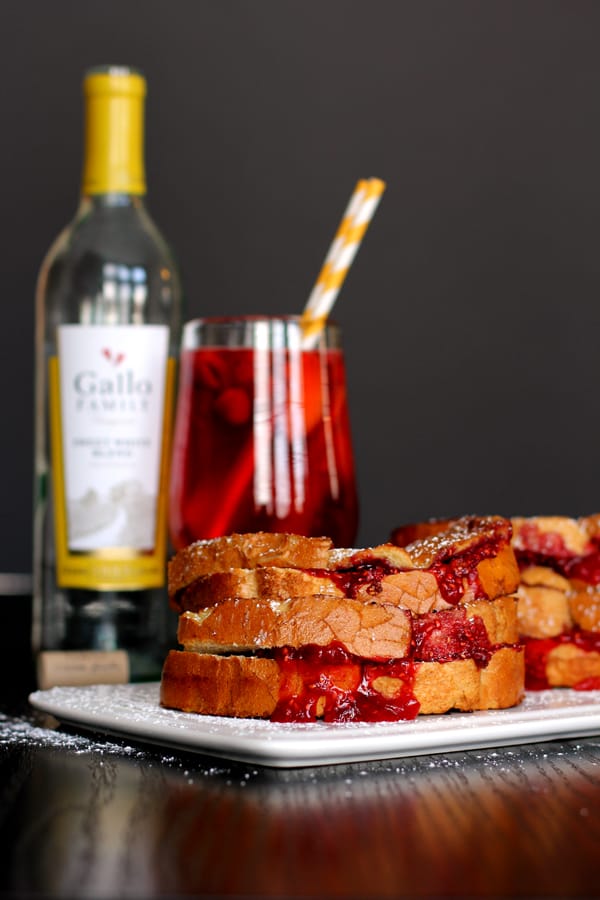 When we lived in Madison, Spring meant that we were able to see our neighbors for the first time in months. Even though we lived in a condo and shared adjoining walls with two other units, because of the weather we rarely saw our neighbors during the colder months. When the temperatures began to warm, it drove everyone outside onto the driveway to catch up on everything that had been going on since the last time we were together.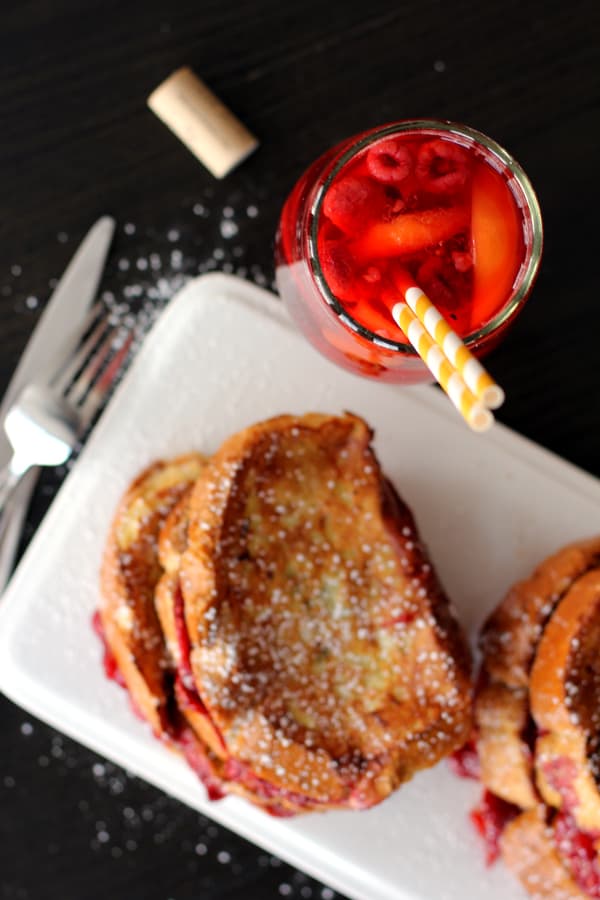 These neighborly get togethers always seemed to include food and drink of some type. Whether it was someone sharing a couple of bottles of beer from the fridge in their garage to something a bit more involved, it was always made better by the company you shared it with.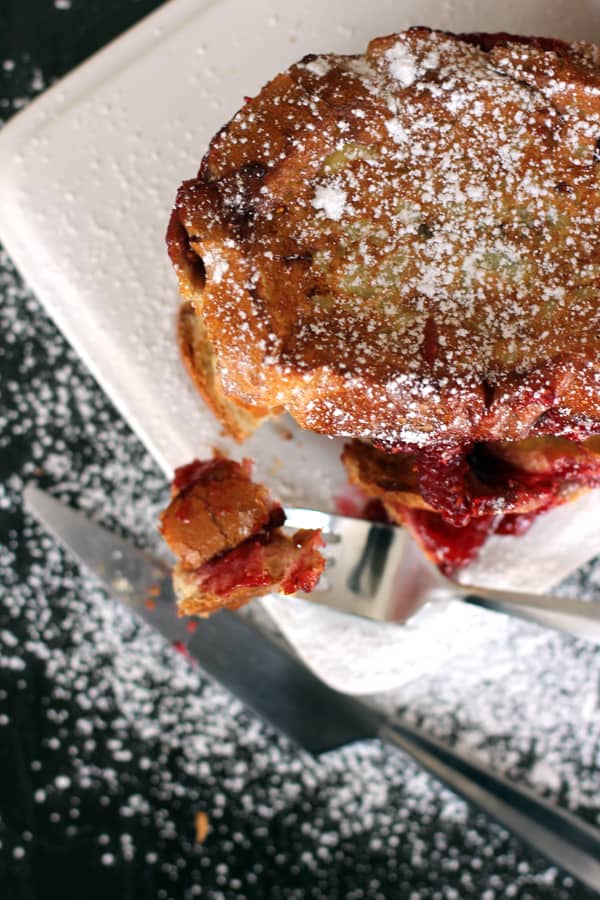 Our neighbors, Cindy and Paul, were also foodies. We loved to compare recipes and share our latest creations. It wasn't rare for us to text one another to announce we had dessert to share and we'd meet them outside in 10 minutes. We didn't dare go the two doors down to deliver as it tended to set their dog Buddy into a barking frenzy. The same could be same for them and our three sleeping children. Oh the life of condo living!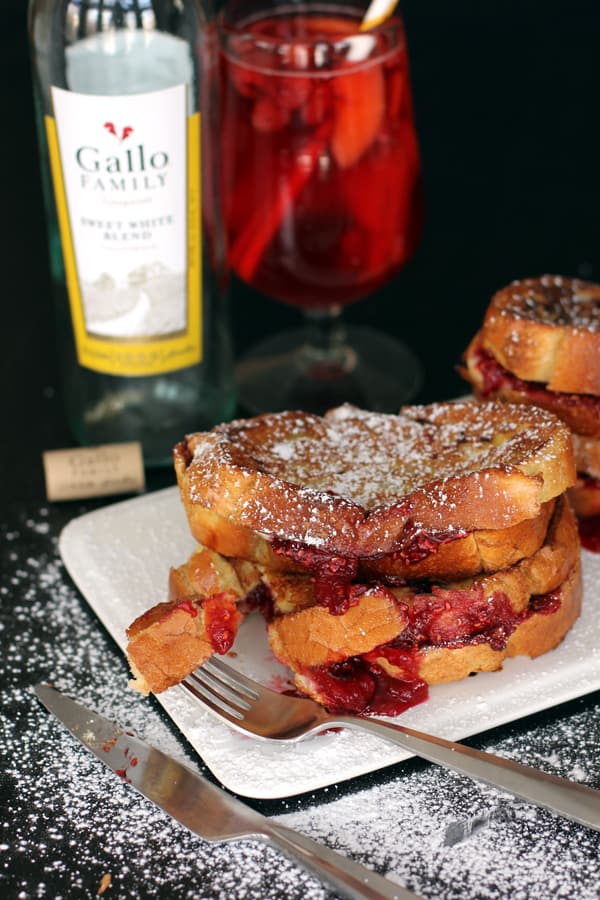 One of the drinks that I made to share our first or second year in Madison was a pitcher full of sangria. A great wine, fresh fruit – a sign of warm weather and many more driveway conversations to come. A signal that Winter was over! As much as I love Sangria, the weather isn't really cooperating this year to make a pitcher and sit outside on our patio. Instead, I was left to my own devices and created a comforting breakfast or brunch dish featuring this wine and fruit drink that you can easily enjoy in the warmth of the indoors.
And did I mention this recipe is a two for one? You'll not only have something to eat but you'll also have a glass of sangria to wash it down with, too!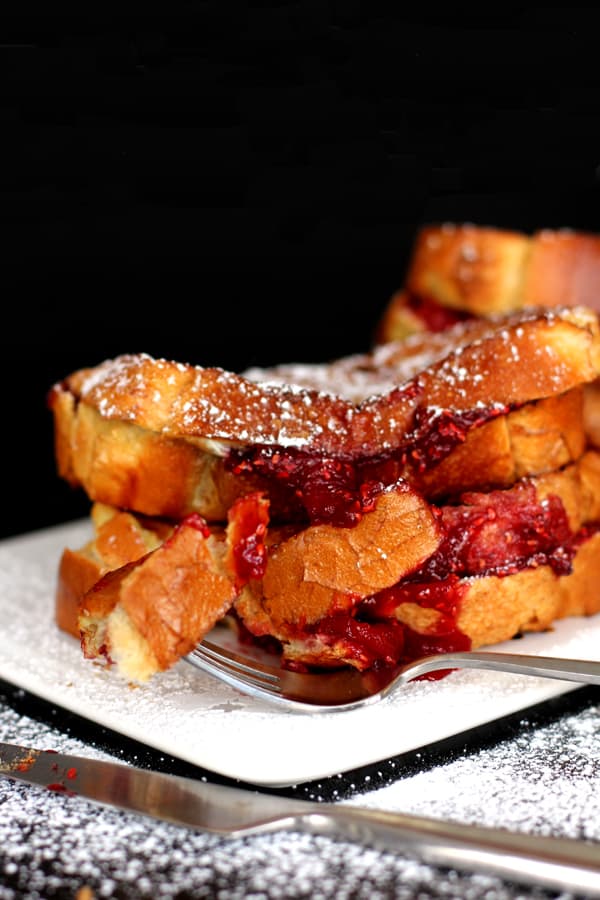 Thick cut slices of bread stuffed with Sweet White Blend soaked raspberries and peaches that are then baked – Yes! Baked! – to glorious perfection. A dusting of powdered sugar is the perfect finishing touch.
Popping the cork to this wine is like inhaling the scents of Summer. I love the light, sweet taste it infuses into the fruit.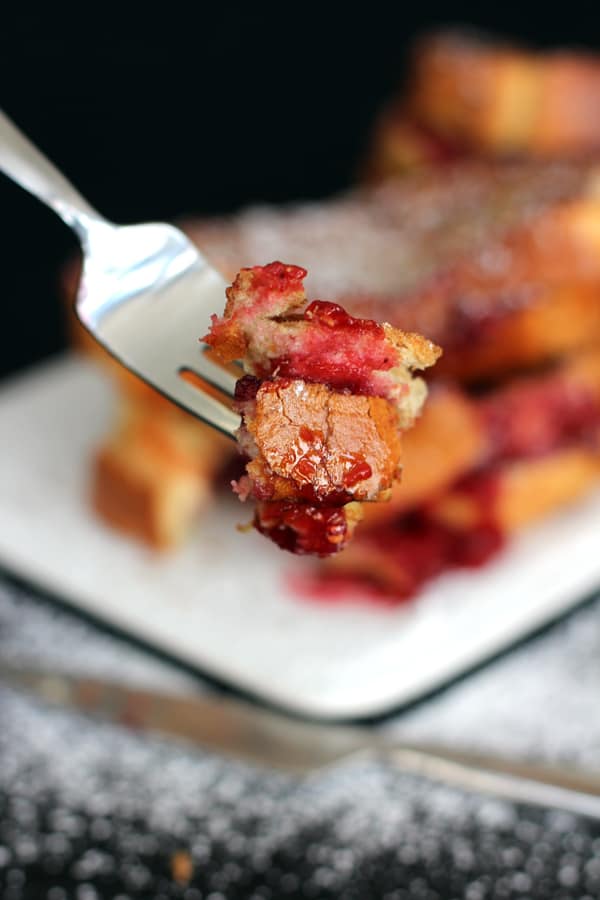 Yields 4
Sangria Stuffed French Toast
15 minPrep Time
16 minCook Time
28 minTotal Time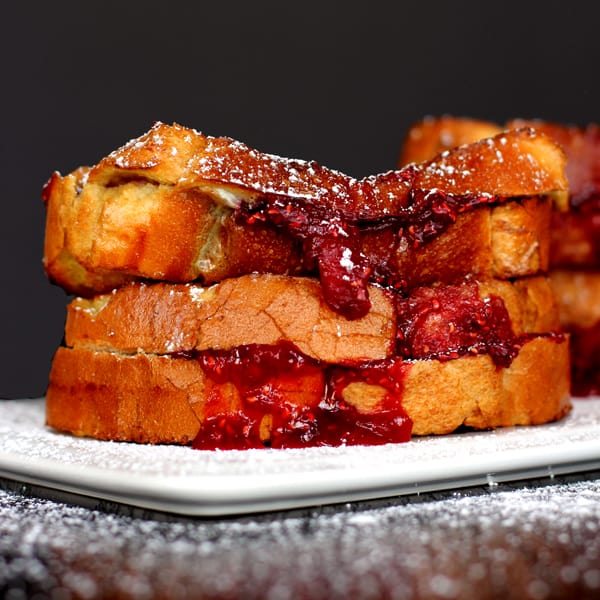 Ingredients
Sangria

750 mL bottle Gallo Family Vineyards Sweet White Blend wine
4 ounces peach liqueur
16 ounces frozen raspberries
16 ounces frozen peaches
16 ounces club soda, optional

French Toast

1/2 cup peach preserves
1/2 cup raspberry preserves
1 tablespoon water
2 teaspoons cornstarch
8 slices French or Italian bread
4 eggs
1 cup milk
1/2 teaspoon vanilla
pinch of nutmeg
powdered sugar
Instructions
Sangria

In a large pitcher, add wine, peach liqueur and frozen fruit.
Refrigerate overnight to allow flavors to meld together.

French Toast

Preheat oven to 425 degrees.
In a small saucepan, add half of fruit from sangria with slotted spoon.
Over medium heat, add peach and raspberry preserves and bring to a simmer. Allow to simmer for 10 minutes.
In a small bowl, whisk together water and cornstarch and then stir into fruit mixture. When thickened, remove from heat.
In a shallow bowl, combine eggs, milk, vanilla and nutmeg. Dip four slices of bread into mixture and place coated side down on a parchment or silicone mat covered baking sheet,
Spoon fruit mixture on top of bread.
Coat remaining four slices of bread in milk mixture and place coated side up over fruit mixture.
Bake for 10 minutes until lightly brown and then carefully flip to brown other side.
Bake for an additional 6 minutes.
Remove and plate immediately, serving with any remaining fruit mixture and powdered sugar.
Before serving Sangria to enjoy as a cocktail, add a bit of club soda to each glass for a bit of fizz.
7.8.1.2
34
https://melaniemakes.com/sangria-stuffed-french-toast/
Melanie Bauer | Melanie Makes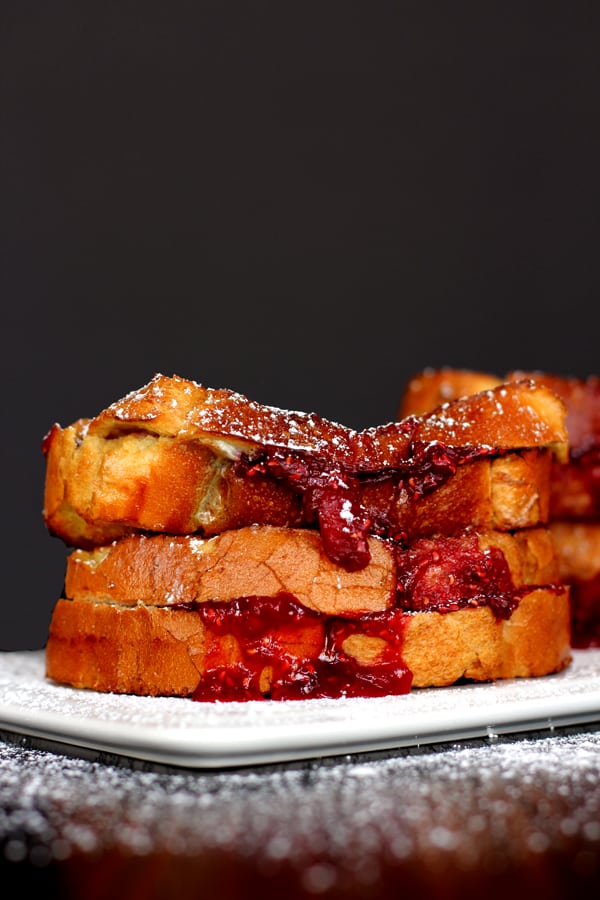 I can't think of a better way to celebrate a friend and the soon-to-be rise of temperatures – hopefully! – than with a serving of this Sangria Stuffed French Toast. After one bite, I think you'll agree!
Be sure to check out the other amazing recipes featuring Gallo Family Vineyards' Merlot and Sweet White Blend wines for this week's Sunday Supper:
Brunch:
Mains and Sides:
Beverages and Desserts:
—–
Compensation was provided by Gallo Family Vineyards via Sunday Supper, LLC. The opinions expressed herein are those of the author, and are not indicative of the opinions or positions of Gallo Family Vineyards.