As part of a sponsored post for Collective Bias®, I created this Seven Layer Taco Dip Burger featuring Philadelphia cream cheese. #SpreadTheFlavor #CollectiveBias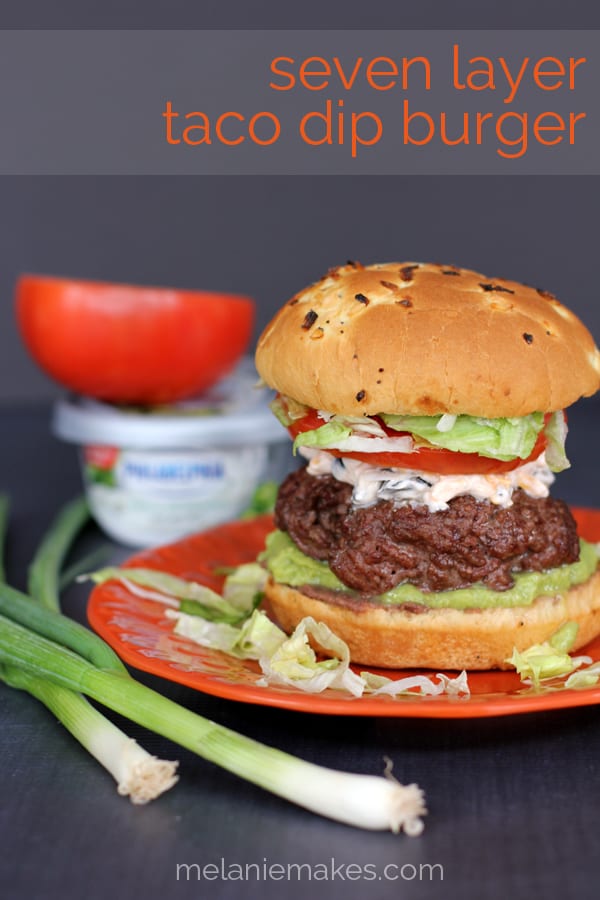 If there's one appetizer I love more than any other, it's Seven Layer Taco Dip. I mean, what's not to love? Layer, upon layer, upon layer – you get the gist! – of my favorite Mexican flavors that use a tortilla chip as a means of delivery. I'm smitten! I'm also then left with a heavy feeling in my stomach after eating way more than my share.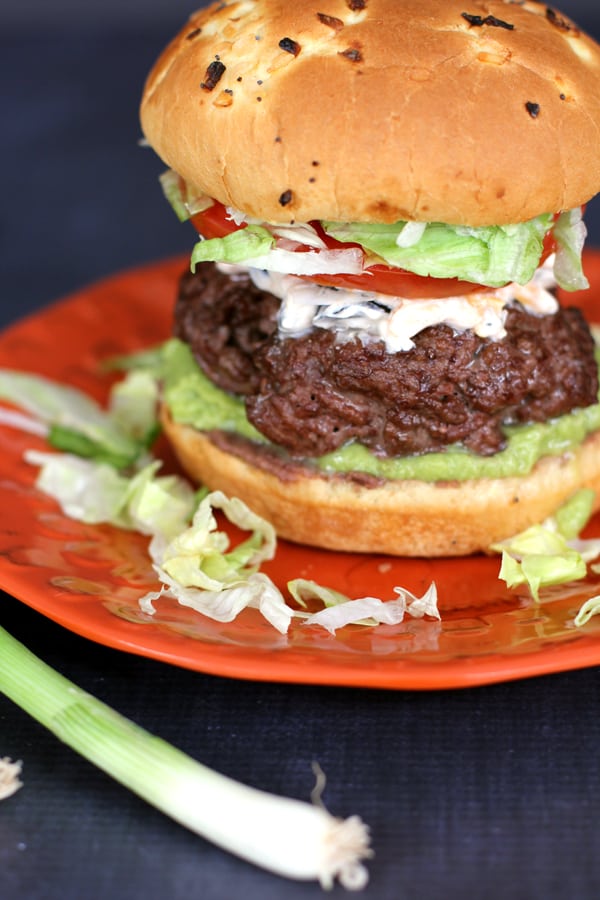 Until now! A few weeks ago as I was cleaning the house in preparation for one of the girls' birthday parties, I came up with the idea of putting all of the goodness of my favorite dip into burger form. Yes, I do think of odd things such as these when doing chores around the house . And yes, I think the eternal Cleveland winter has me longing for grilling burgers outside in the sunshine. Combine the two and I was on the path to recipe greatness!
I hadn't been able to shake the idea since and last week, when I spied Philadelphia Jalapeno Cream Cheese while at Walmart, I knew I'd found my inspiration to make this burger a reality.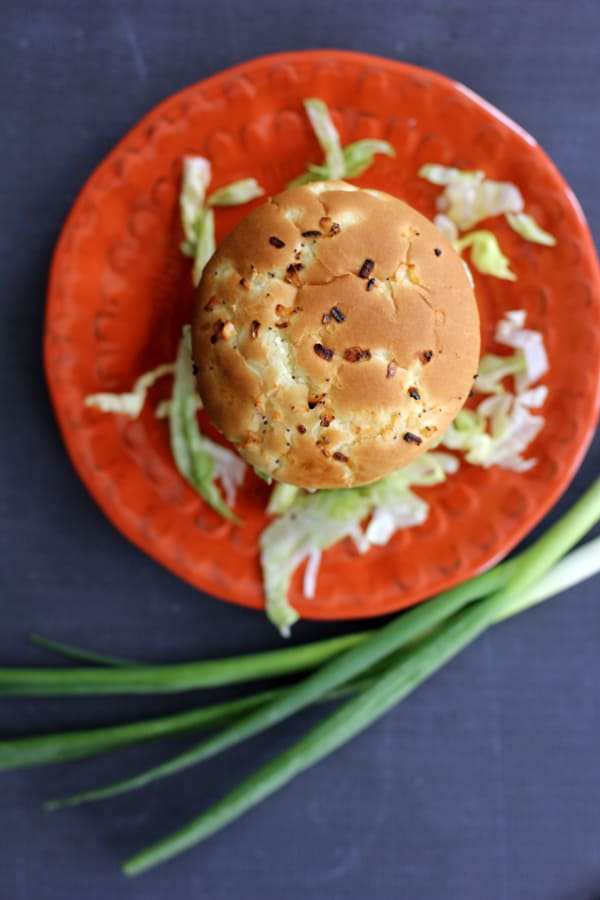 A lean ground beef burger with a surprise filling of Philadelphia Jalapeno cream cheese on a toasted bun topped with all of the traditional flavors of my beloved taco dip. Score!
Let's take a close at all this burger has to offer, shall we? Here's a peek at each layer as I built my amazingly delicious burger:
toasted onion bun
refried black beans
avocado
lean ground beef burger stuffed with Philadelphia Jalapeno cream cheese
plain Greek yogurt mixed with green onions, chopped black olives and shredded cheddar cheese
sliced tomato
fresh salsa
shredded lettuce
toasted bun
I definitely tried to make this burger a better choice than the appetizer it was inspired by by choosing lots of fresh vegetables and swapping out sour cream for Greek yogurt. You can definitely use traditional refried beans instead of the black bean variety that I used. I just happen to prefer that kind.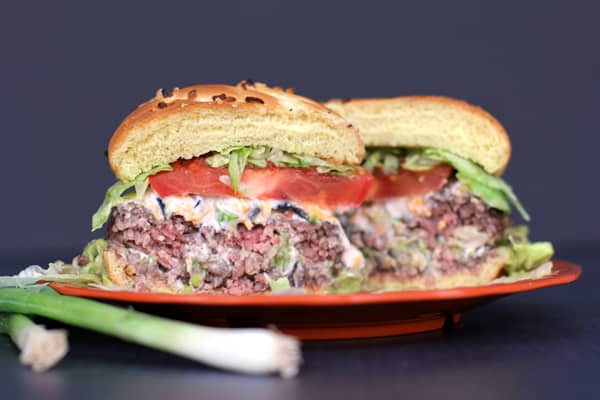 Yields 4 burgers
Seven Layer Taco Dip Burger
15 minPrep Time
15 minCook Time
30 minTotal Time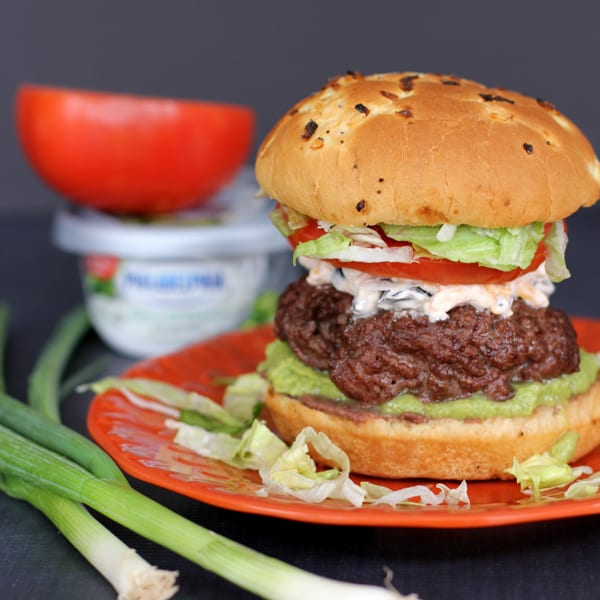 Ingredients
1 pound lean ground beef
4 tablespoons Philadelphia jalapeno cream cheese
4 hamburger buns or rolls, toasted
8 tablespoons refried black beans
1 avocado, halved, pitted, peeled and mashed
2/3 cup plain Greek yogurt
1 tablespoon taco seasoning
2 tablespoons green onions, chopped
2 tablespoons black olives, chopped
2 tablespoons cheddar cheese, shredded
1 tomato, sliced
1/2 cup fresh salsa
1 cup shredded lettuce
Instructions
Divide ground beef into four equal parts. Form four burger patties, stuffing each with a tablespoon of cream cheese. Grilled to desired temperature.
While grilling, stir together Greek yogurt, green onions, olives and cheese in small bowl. Set aside.
To assemble burger, spread approximately 2 tablespoons of refried beans on toasted bottom buns.
Divide mashed avocado evenly into four portions and spread over beans.
Top avocado with burger.
Top each burger with approximately 2 tablespoons of Greek yogurt mixture.
Add tomato slice, 2 tablespoons fresh salsa and 1/4 cup shredded lettuce.
Place top bun on lettuce to complete burger.
7.8.1.2
37
https://melaniemakes.com/seven-layer-taco-dip-burger/
Melanie Bauer | Melanie Makes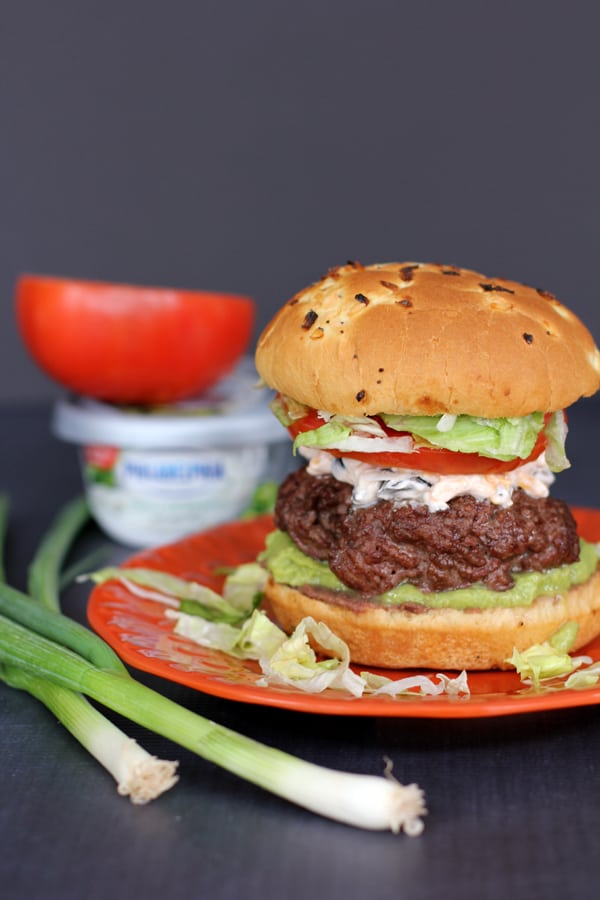 And you know what I especially love? The layer of refried beans on the bottom bun means no soggy bread – even with all the layers of goodness topping this burger.
Grab a napkin, I mean business with this burger!