With just 10 minutes of prep work required, this six ingredient Slow Cooker Pork Tenderloin with Raspberry Chipotle Sauce is one of the easiest dinner ideas to grace your table!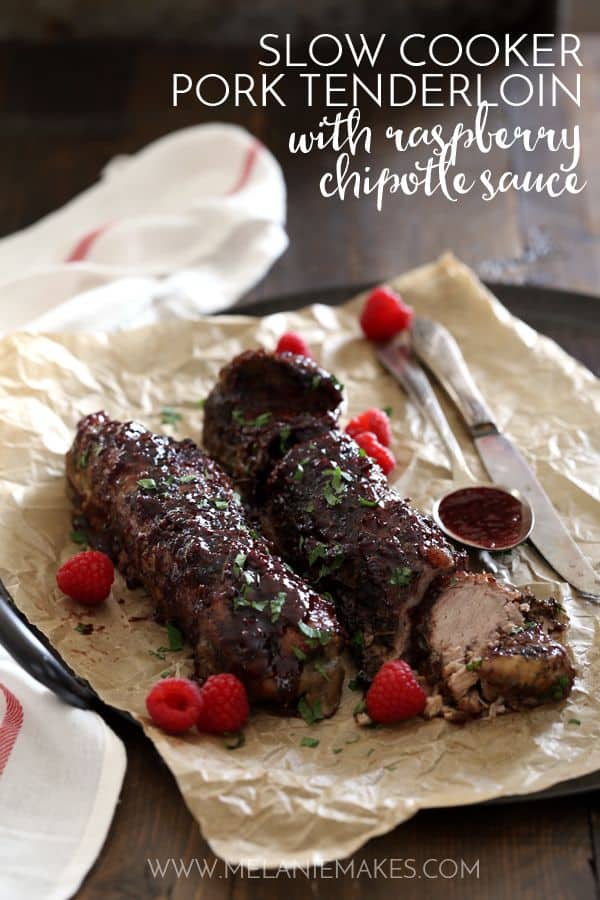 Drum roll, please! The winner for easiest dinner ever goes to this Slow Cooker Pork Tenderloin with Raspberry Chipotle Sauce. And the aroma wafting through your house as it cooks? Totally gold medal worthy. While testing this recipe, I started it around breakfast time and by lunch, my menagerie was constantly asking what was cooking and if it was going to be our dinner. Let's give a gold medal to this mama while we're add it, shall we?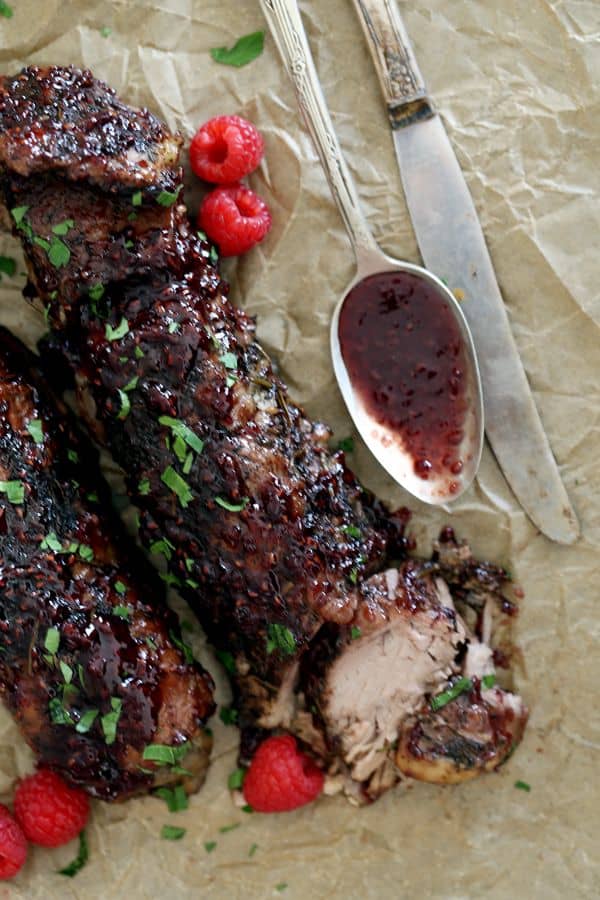 This pork tenderloin is easy enough for any weeknight yet so pretty that it's equally amazing when served to dinner guests. We'll just keep it our little secret that it's easy enough my six year old could make it. Well, if I allowed my six year old to operate the oven broiler. That's totally not going to happen anytime soon. But the slow cooker part? She could do it blind folded! Garlic and spices are stirred together and create a delicious crust on two pork tenderloins before they're cooked low and slow in the slow cooker.
SIDE NOTE: If you're looking for an amazing slow cooker, I can't recommend the one I chatted about in this recipe enough. I mean, the fact that it's non-stick and is a breeze to clean is amazing in and of itself, but it also will brown, simmer and steam as well. I have three slow cookers and this is the only one that has earned residency in my small kitchen's limited cabinet real estate.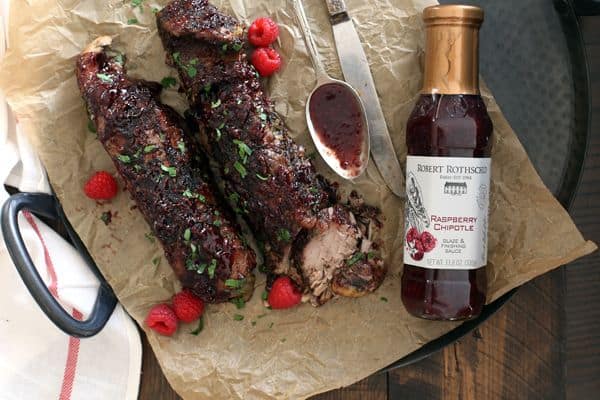 When the pork emerges from the slow cooker, it's then slathered with Raspberry Chipotle Sauce from Robert Rothschild Farm. Since we're giving them out, they should get a gold medal for this sauce, too! Sweet, sun-ripened raspberries are blended with smoky, spicy chipotle peppers. A perfect blend of sweet and spicy. Then, under the broiler it goes for just one to two minutes until the sauce caramelizes. Lather, rinse, repeat. Or rather, this is repeated on the other three sides so that you have the best of both worlds. A slow cooked pork tenderloin that also has a delicious, caramelized crust. And all with less than 10 minutes of work!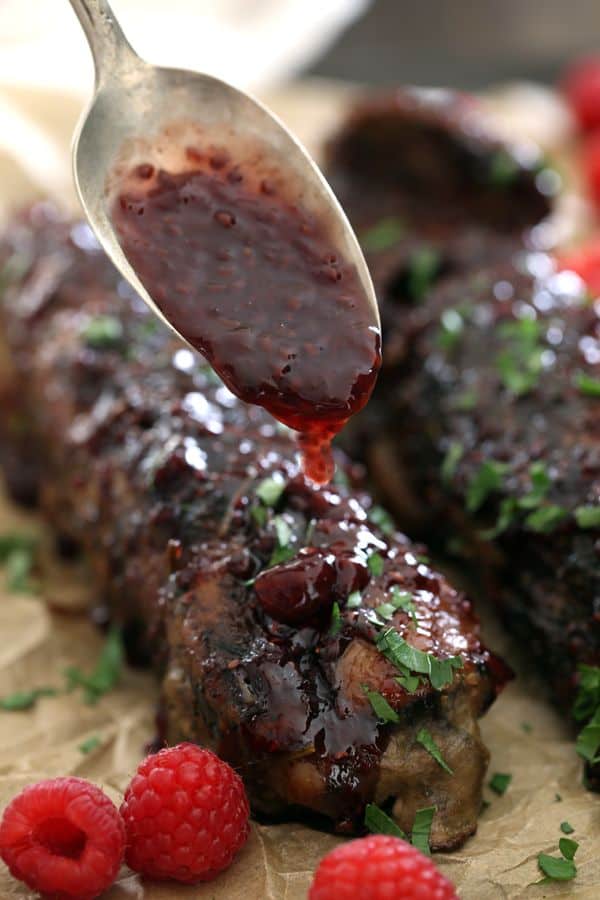 Melanie Bauer
Yields 6 servings
Slow Cooker Pork Tenderloin with Raspberry Chipotle Sauce
5 minPrep Time
4 hrCook Time
4 hr, 5 Total Time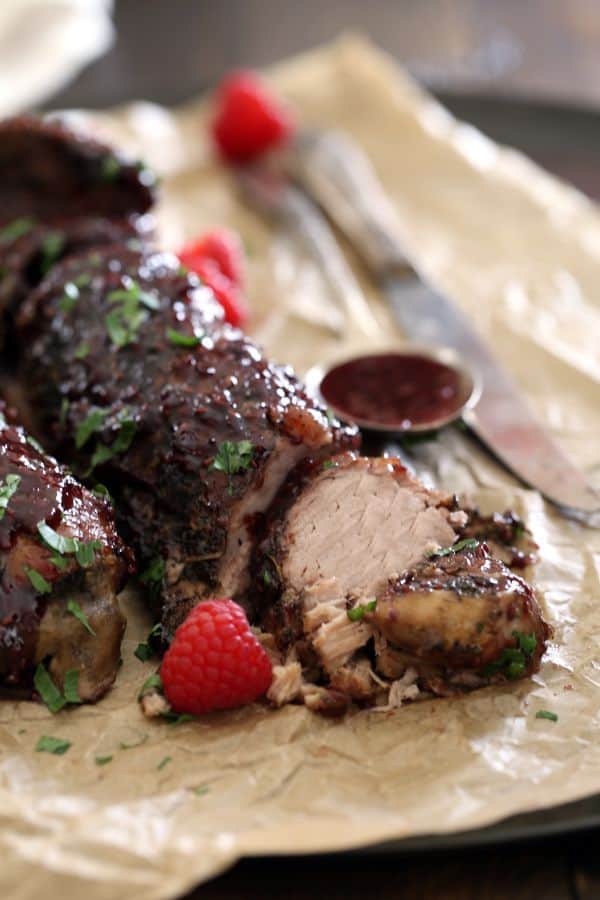 Ingredients
Instructions
In a small bowl, stir together garlic, rosemary, thyme, sage, salt and pepper. Set aside.
In a 6 quart slow cooker, add pork tenderloins. Season both sides with garlic and spice mixture.
Cook on LOW for four hours.
Preheat broiler.
Remove pork from slow cooker to baking sheet. Spread 1/4 cup of Raspberry Chipotle Sauce on one side and place under broiler for 1-2 minutes or until caramelized.
Repeat with three additional sides.
7.8.1.2
346
https://melaniemakes.com/slow-cooker-pork-tenderloin-with-raspberry-chipotle-sauce/
Melanie Bauer | Melanie Makes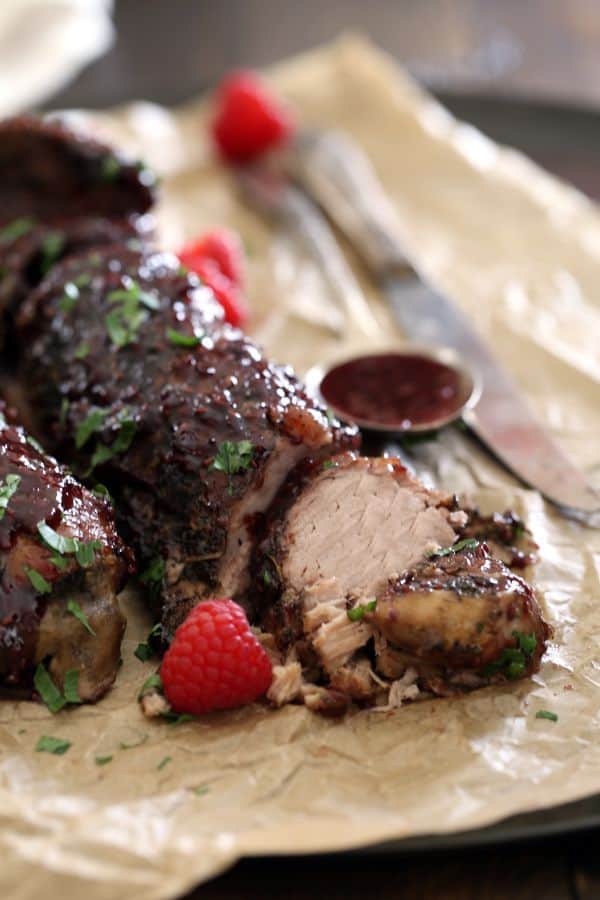 Feel like joining the gold medal club? I thought so! You're destined to be at the top of the podium when this Slow Cooker Pork Tenderloin with Raspberry Chipotle Sauce is on the dinner menu. And yes, I'll freely admit that I've been watching too much Olympic coverage this summer. Thus the medal analogies.
Although I think I'm way more likely to win a medal for making dinner than the pole vault. I mean, my mind just can't even comprehend how you compete in that event!
Looking for more great pork recipes?