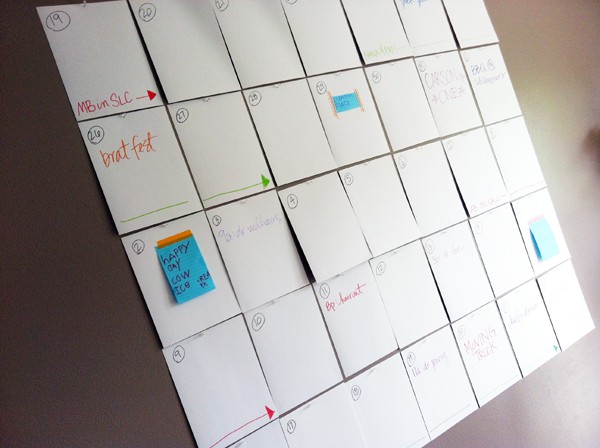 the blog has suffered a bit this week. i'm attempting to pack a few boxes each day and then there's also the handsome boy who is trying to hit every milestone possible before his first birthday. in just the past week, he's finally sat up on his own, slept on his stomach (once!), we finally had to lower his crib mattress, crawled, is trying to pull up on things and clapped. who knows what the baby, formally referred to as lazy, will attempt next!
needless to say, things are crazy. not that they ever aren't. i like to disillusion myself and say that i'm going to be so bored once we're finally moved. riiiight.
because i'm such a visual person, as are the girls, after lunch today i created a huge wall calendar in our dining room noting everything that is going on in the next five weeks. back sides of previously printed on cardstock, markers and push pins. done. i'm sure my husband will be overjoyed to see this tonight. i don't have everything on it yet, but we're getting close. at the end of each day, we'll remove a piece of paper. anything written directly on the white paper is concrete and is happening on that day. items taped decoratively with washi tape on a day can be moved. those are fun things we want to do before heading out of town.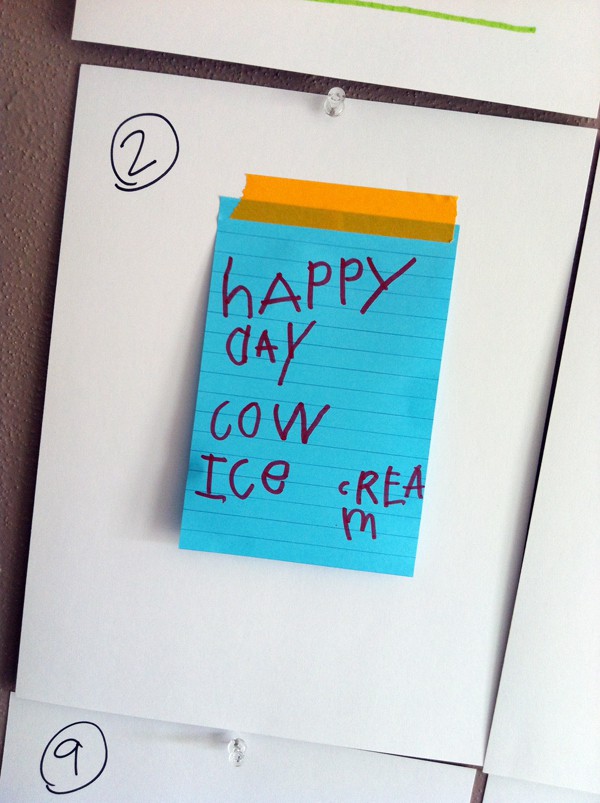 this is my favorite. the cow ice cream place, as written by camryn. twist my arm. i love that they no longer have to ask me five million times what day we're doing what. they can count the pieces of paper until that day and they know the answer. i'd ask myself why i hadn't done this sooner, but really, there's only so much wall space i've got to work with.
and i'd like to note that even though i tend to be a teeny bit – ha! – ocd about things, these pieces of paper are not straight whatsoever. heck, one isn't even laying on the wall nicely as there's a nail behind it that i've yet to pull. watch out world, it's a new me!