As part of a sponsored post for Collective Bias®, I created this Triple Cheese Chicken Fajita Cheeseburger featuring three types of Kraft cheese. #SayCheeseburger #CollectiveBias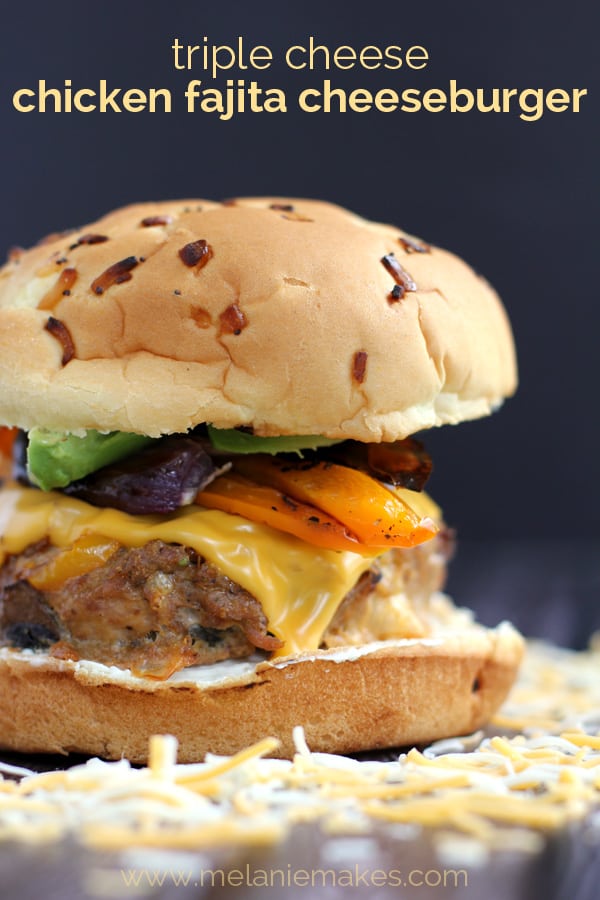 There are times, when nothing sounds better than a burger. A big, juicy cheeseburger. You know, like the kind you can order at a nice restaurant with a large patty, piled high with toppings and sandwiched between two buns. Please tell me I'm not alone.
You think this too? Whew.
But then I think, why head out to enjoy a restaurant burger when I can create exactly what I'd like in my very own kitchen. Any toppings, any burger, any condiments. The choice is all mine!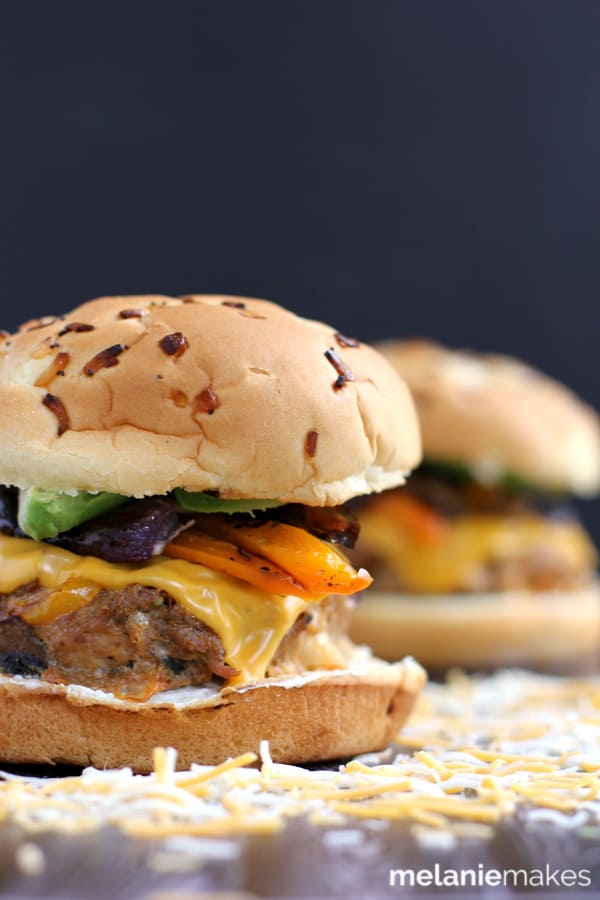 Creating a Chicken Fajita Cheeseburger has been on my personal kitchen to-do list for over a month now. A ground chicken patty studded with roasted peppers, mushrooms and onions and seasoned with fajita seasoning. And did I mention there's mashed avocado in the burger mixture for extra flavor and moisture?
But wait! There's more!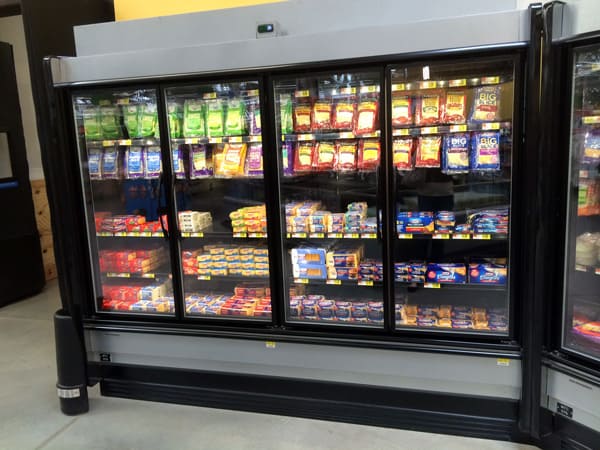 What's a great cheeseburger without cheese? In the case of my burger, three types of cheese. Count them, one, two, THREE. On a recent trip to Walmart, I was on the hunt for the perfect cheese for my Chicken Fajita Cheeseburger and instead walked away with three cheeses. If one cheese is good, than three could only be out of this world, right?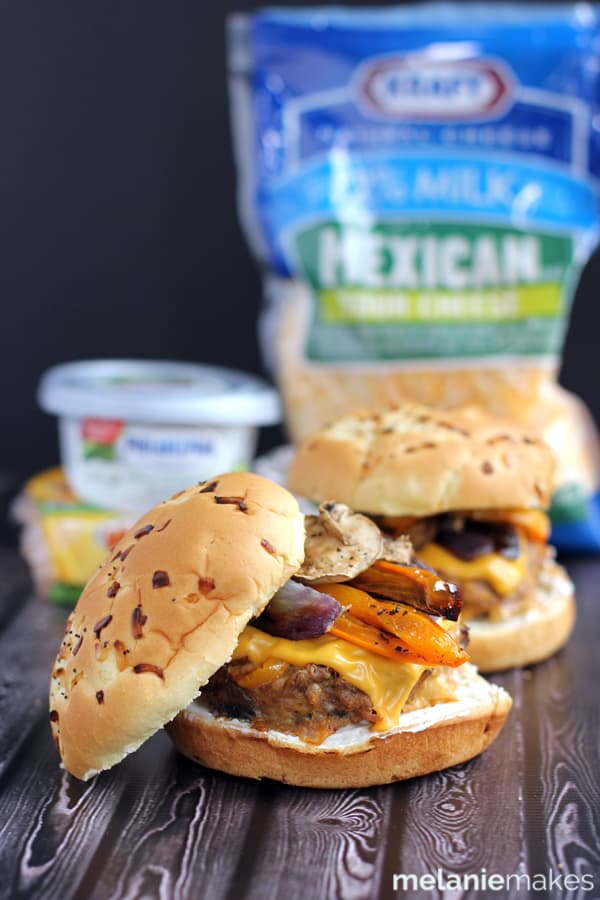 First up, my new cream cheese crush, Philly Spicy Jalapeno Cream Cheese. I first use it on my 7 Layer Taco Dip Burger and knew it would be awesome for this recipe as well. I love spreading it on both the top and bottom bun as it creates a barrier between the juicy burger and the bun. That's the one that I dislike about burgers, a soggy bun!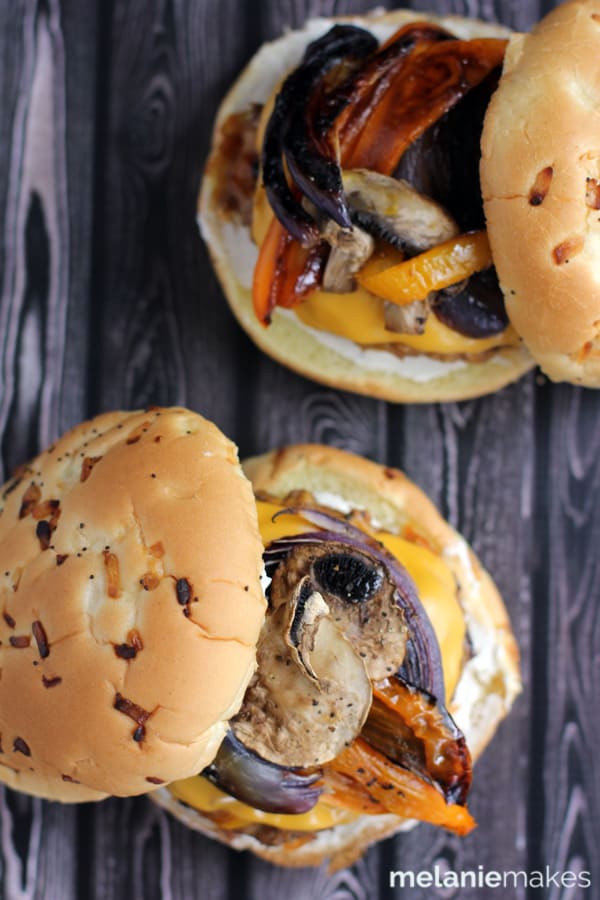 Inside the burger itself, I used Kraft Mexican Four Cheese Shreds. The cheese is shredded so finely that it just melts right into the chicken and it oozes throughout the burger while baking. So good!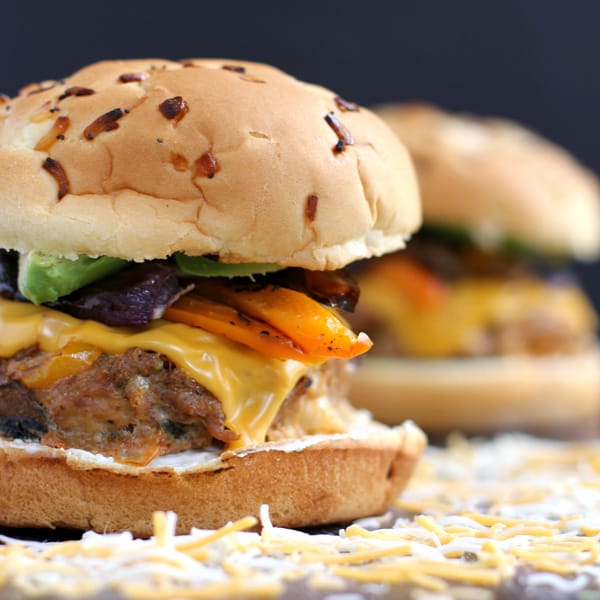 Last but not least, a Velveeta Jalapeno Cheese slice is melted over the burger. Oh the melty goodness of it all!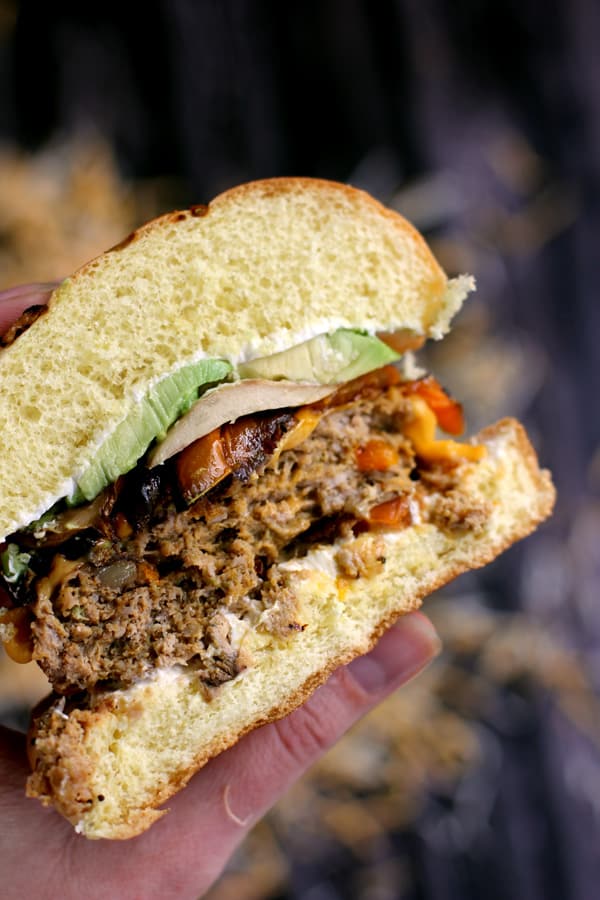 Yields 4 burgers
Triple Cheese Chicken Fajita Cheeseburger
20 minPrep Time
50 minCook Time
1 hr, 10 Total Time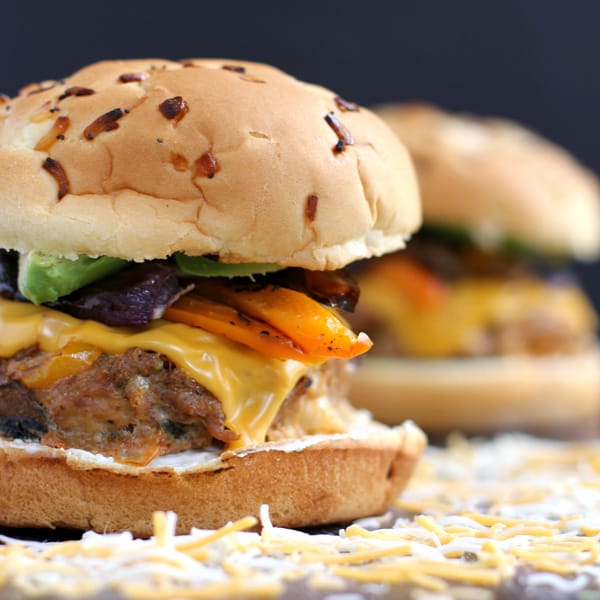 Ingredients
2 bell peppers, sliced
1 red onion, sliced
8 ounces mushrooms, sliced
1 tablespoon extra-virgin olive oil
1 pound ground chicken
1/2 avocado, mashed
1/2 cup Kraft Mexican Four Cheese Shreds
1 tablespoon fajita or taco seasoning
4 Velveeta Jalapeno Cheese Slices
Philly Spicy Jalapeno Cream Cheese
hamburger buns
Instructions
Preheat oven to 425 degrees.
Arrange peppers, onion and mushrooms in a single layer on a baking sheet lined with parchment paper or silicone mat.
Bake for 30 minutes.
In a large bowl, stir together chicken, avocado, 1 cup chopped roasted vegetables, Mexican cheese shreds and seasoning, being careful not to over mix.
Preheat oven to 375 degrees.
Shape chicken mixture into four burger patties and place on a baking sheet lined with parchment paper or silicone mat. Bake for 20 minutes.
Top each burger with a Velveeta Jalapeno Cheese Slice. Bake an additional five minutes.
Spread Philly Spicy Jalapeno Cream Cheese onto top and bottom hamburger bun. Place burger onto bottom bun and top with roasted vegetables and top bun.
7.8.1.2
51
https://melaniemakes.com/triple-cheese-chicken-fajita-cheeseburger/
Melanie Bauer | Melanie Makes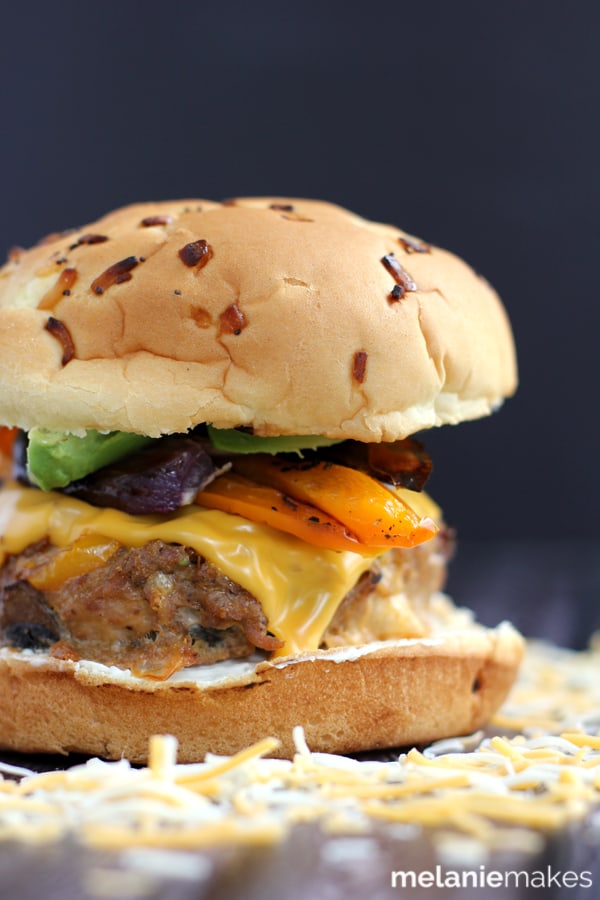 Feel free to make this burger your own by adding additional toppings as you see fit. I chose to add sliced avocados to mine. I also used onion rolls instead of a typical hamburger bun to lend the feel of a more upscale burger. It definitely didn't disappoint!