Forget the processed cheese sauce! My Ultimate Stadium Nachos use a chardonnay wine to create this creamy cheese sauce that's served alongside your favorite chips. To give a more smoky taste to this gameday treat, charred fresh jalapenos bedazzle the top of each bite.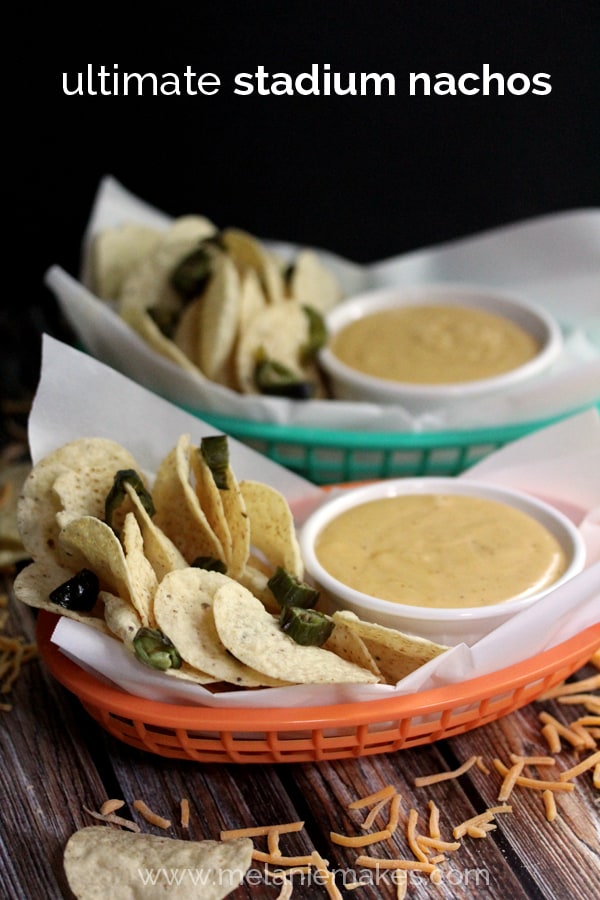 Hello. My name is Melanie and I'm addicted to nachos. You think I'm joking, don't you? Definitely not! I don't make light of any situation involving my favorite game day food.
Any trip made to a stadium involves me snagging some nachos from the concession stand before making my way to my seat. I know the three sizes – and differences between each – offered by the professional baseball team in town. And the pro football game I attended last December in sub-zero temperatures? I ate my nachos with gloved hands. (And quickly so the cheese sauce didn't freeze.)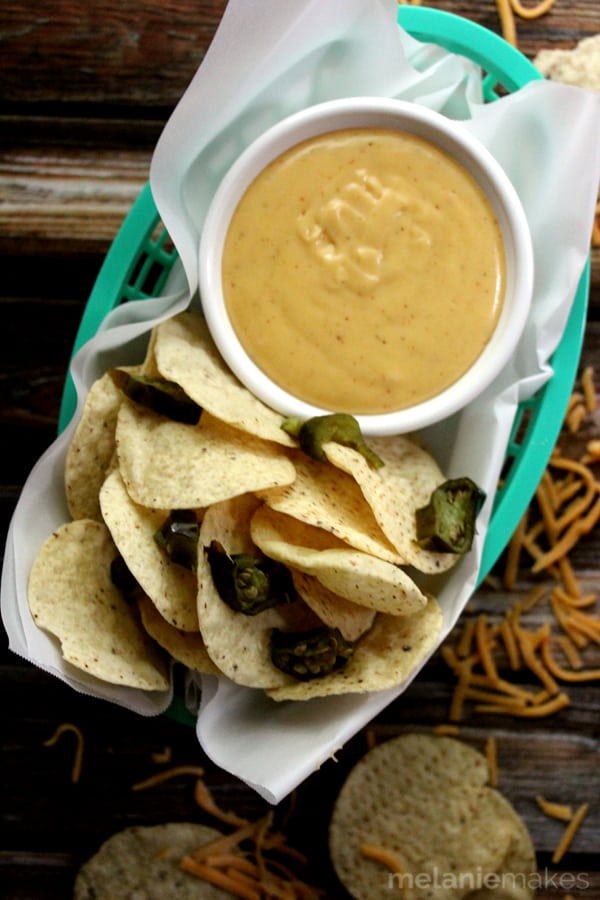 Speaking of cheese, don't you dare try to serve me nachos with shredded cheese on top. No, thank you! I prefer a cheese sauce that will get into every nook and cranny of my salty chips. I also love my nachos topped with jalapenos. My preferred ration being one jalapeno per chip. I told you I wasn't joking about my nacho love!
I'll admit though, nachos with a processed cheese sauce might not be the most good-for-you option on game day. Even if they are the most delicious! So I took it upon myself to create my own Ultimate Stadium Nachos. Ultimate not for the amount of toppings piled up on top. Those are the type of nachos that are suitable in a restaurant, but not when you're constantly up and down cheering for your team.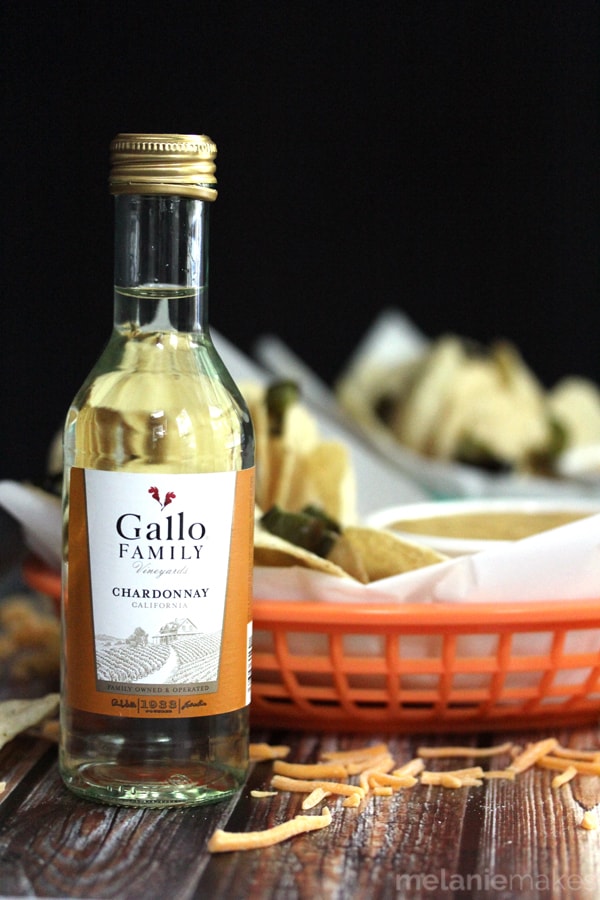 No, my nachos are ultimate in that the cheese sauce doesn't come from a can of questionable origins. Instead, I chose to make my own sauce spiked with Gallo Family Vineyards Chardonnay wine. The rich fruit and lush texture of this wine truly compliment this creamy cheese sauce. I also said good-bye to the jarred jalapenos that normally bedazzle the top of my nachos and instead topped mine with charred, fresh jalapenos to lend a more smoky taste to my dish.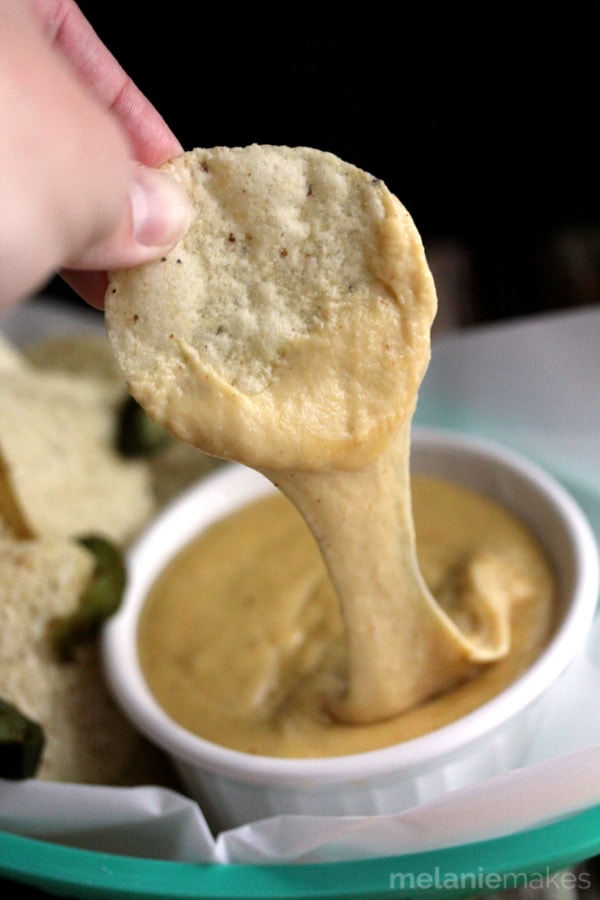 Melanie Bauer
Yields 4
Ultimate Stadium Nachos #SundaySupper
10 minPrep Time
15 minCook Time
25 minTotal Time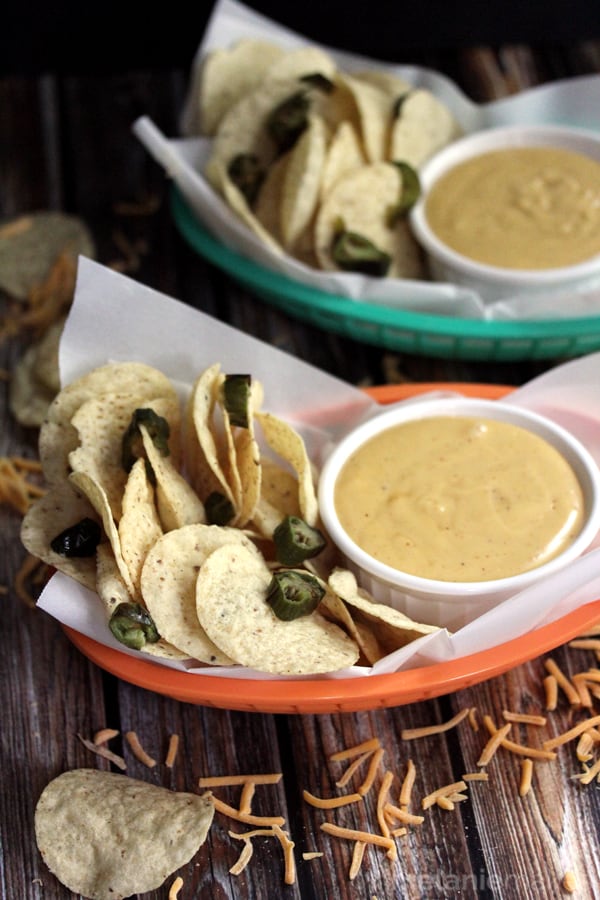 Ingredients
3 jalapenos
6 oz. Gallo Family Vineyards Charonnay
1 cup heavy cream
2 cups cheddar cheese, shredded
2 cups monterey jack cheese, shredded
2 heaping tablespoons flour
1/2 teaspoon cumin
1/2 teaspoon chili powder
Instructions
On a foil lined tray, broil jalapenos for 10 minutes until beginning to char.
Turn peppers over and broil an additional 5 minutes.
Put peppers in zip top bag and seal for 5 minutes.
With tines of a fork, scrape char from peppers and slice. Set aside.
In a medium saucepan over medium heat, add wine and bring to a simmer.
Whisk in cream until heated through.
In a medium bowl, stir together cheeses, flour, cumin and chili powder.
Whisk cheese into cream and wine until melted and combined.
Serve alongside chips topped with jalapeno peppers.
7.8.1.2
166
https://melaniemakes.com/ultimate-stadium-nachos/
Melanie Bauer | Melanie Makes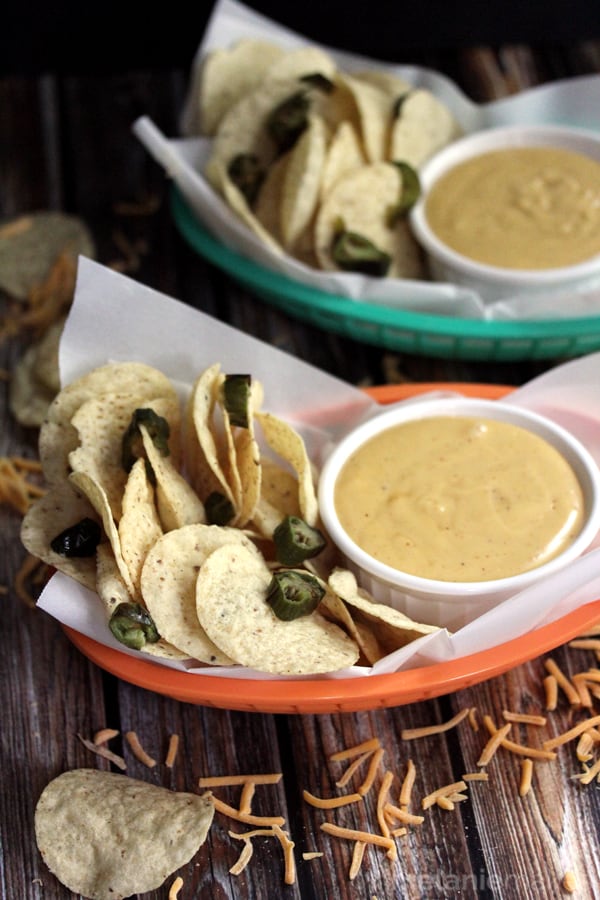 I love that I'm now able to tailgate at home and enjoy stadium style nachos anytime I'd like without the costs associated with a ticket to a game. Lucky me and now, lucky you!
Looking for additional recipes perfect for game day whether at the stadium or at home? Look no further than our Sunday Supper table:
—–
Compensation was provided by Gallo Family Vineyards via Sunday Supper, LLC. The opinions expressed herein are those of the author, and are not indicative of the opinions or positions of Gallo Family Vineyards.