The perfect marriage of a burger and pizza, this Bacon Double Cheeseburger Pizza has it all!  A ketchup and mustard based sauce, a pound of ground beef, bacon, pickles, onions and tomatoes make this pizza a winner every time.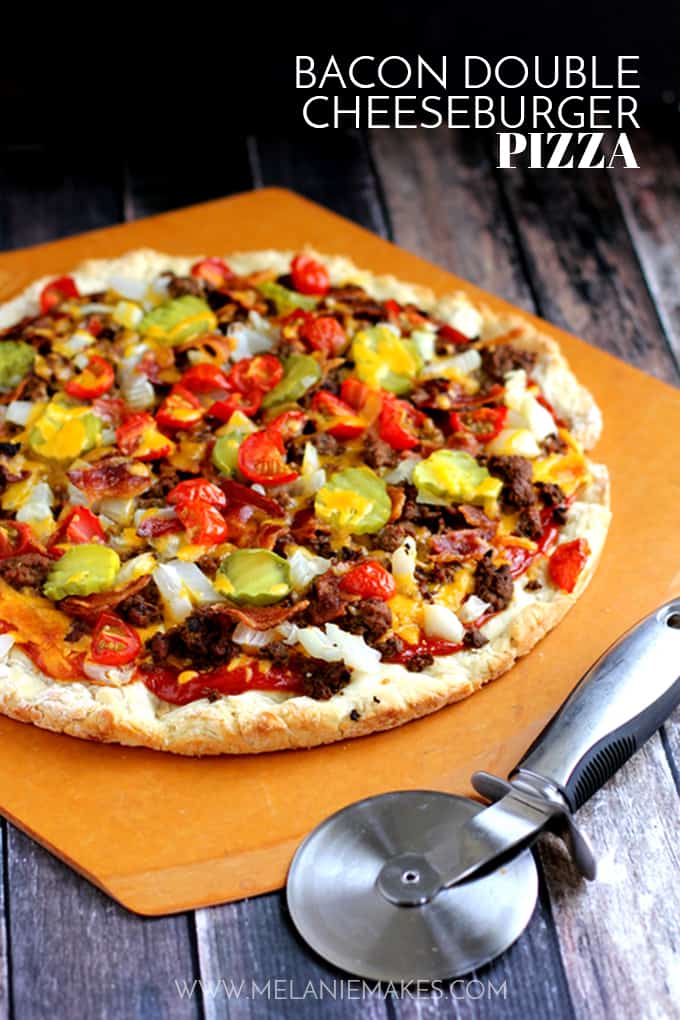 Keep in touch!  Subscribe to receive Melanie Makes recipes direct to your inbox.
When we lived in Madison and we were trying to convince Andy's sister to leave California and live closer to us, one of the many bribery tactics I used was that we could have a family dinner together every Sunday.  At that time, she'd Skype with us as we ate dinner each Sunday evening, so the thought of us actually be around the same table to catch up about our weeks was appealing to everyone.  And what do you know, it worked!  She soon moved to Madison and then followed us to Cleveland where are tradition of a weekly Sunday dinner together has continued.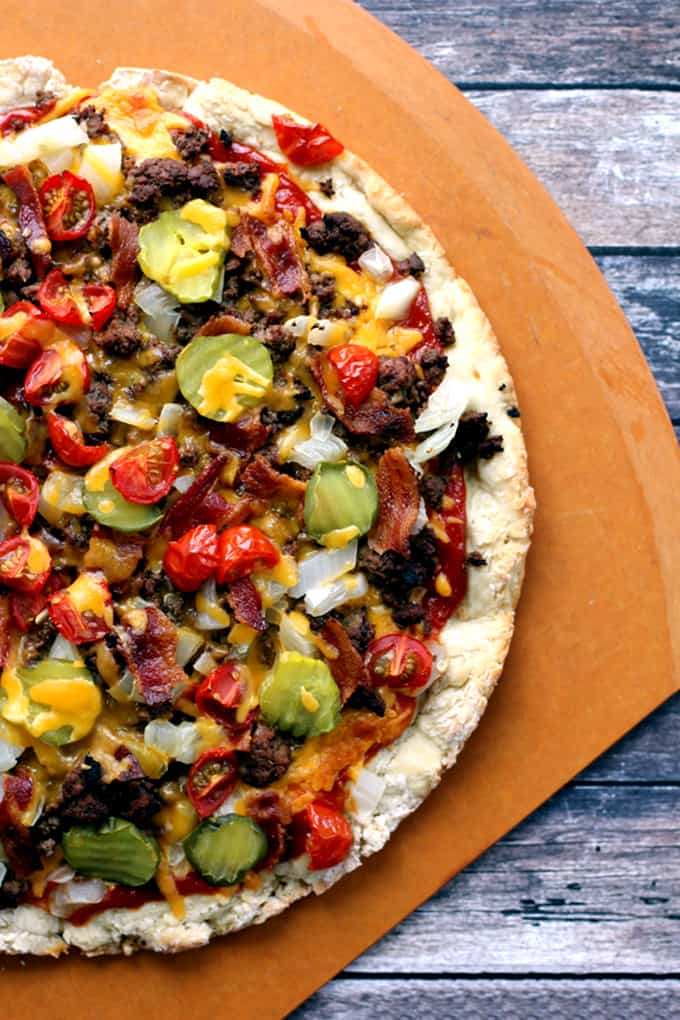 Our dinners range from going all out to something simple.  From grilling to a simmering soup or stew.  We're not picky, we simply enjoy our time together.  When it's been a long week or we've had a busy day, pizza is always an easy dinner option.  Whether is my family favorite Pepperoni Pizza Rolls or super easy Deep Dish Bubble Pizza, pizza is always a winning idea and this Bacon Double Cheeseburger is my new favorite.  A wonderful marriage of a pizza and a burger, this pie has it all!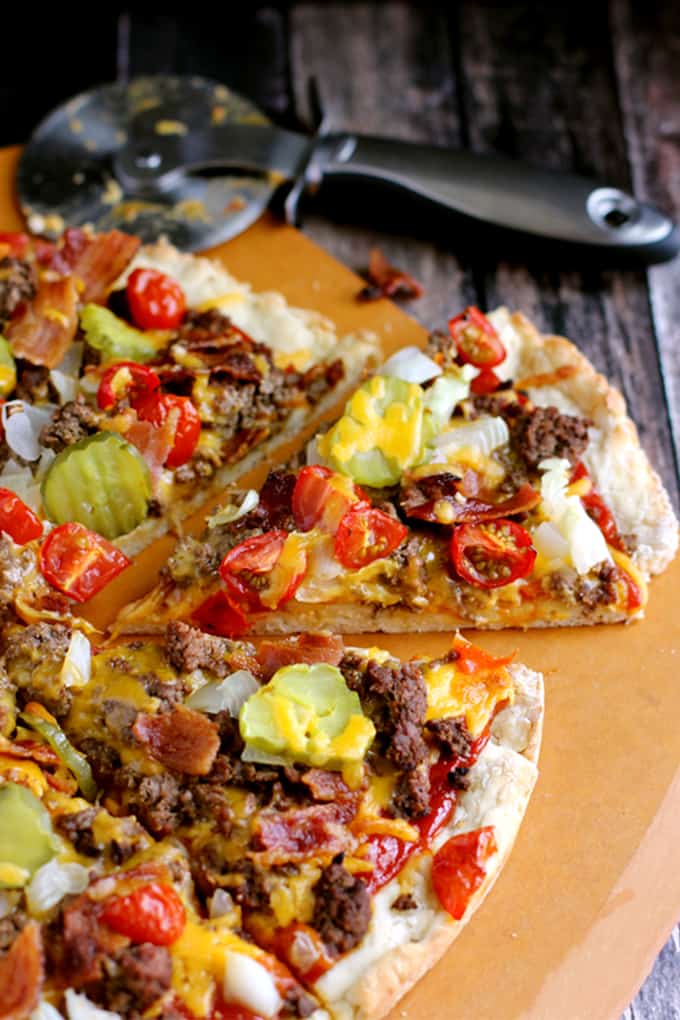 This pie starts with my Perfect Pizza Crust.  The base for all of my pizzas.  It couldn't be easier and it's quick to come together.  The dough is covered in a sauce of mustard and ketchup and and then cheddar cheese.  Up next?  A pound, yes, a POUND of ground beef.  That's why this is a Bacon DOUBLE Cheeseburger Pizza.  It's finished off with bacon, onions, tomatoes and slices of dill pickle.  The end result is nothing but delicious!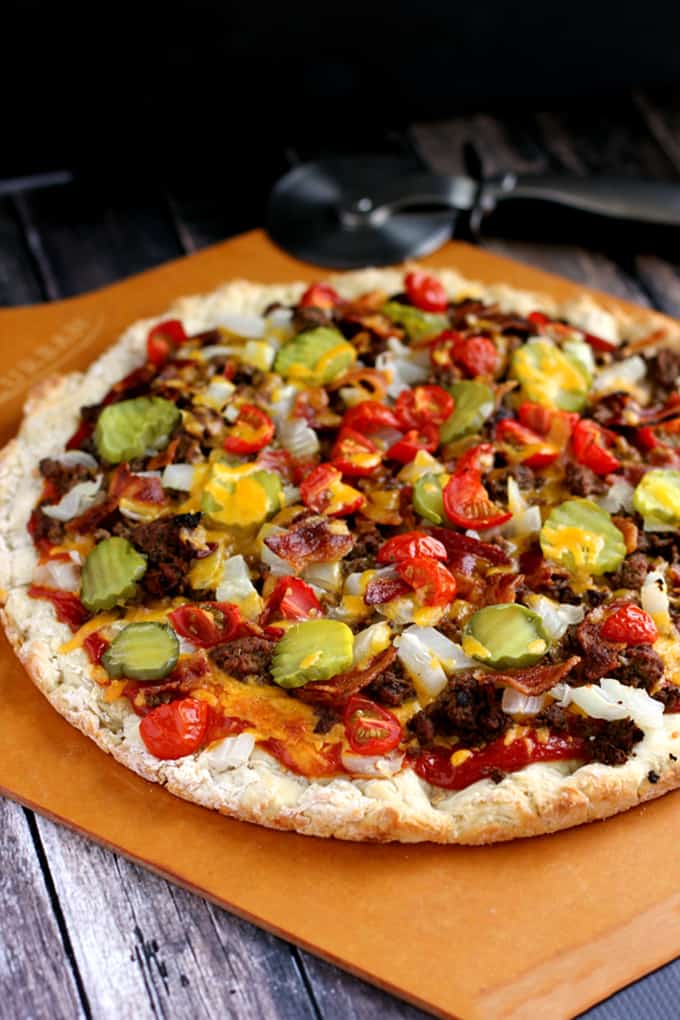 Make pizza night any night at your house with this Bacon Double Cheeseburger Pizza.  It's the perfect excuse to gather together with family, or those you just consider family, and spend some quality time together.  And pizza creativity knows no end.  This summer-y Charred Corn with Rosemary Grilled Pizza, perfect for the morning Mexican Turkey Breakfast Pizza and this Best Pan Pizza are all on our soon-to-try list for our next pizza night.
Melanie Bauer
Yields 8 slices
Bacon Double Cheeseburger Pizza
20 minPrep Time
15 minCook Time
35 minTotal Time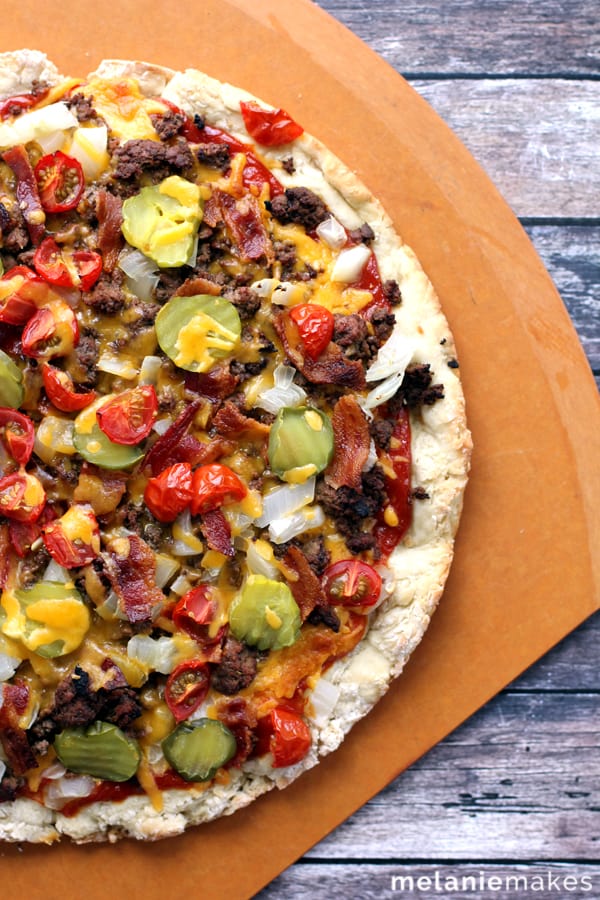 Ingredients
1 pound ground beef
1 tablespoon Worcestershire sauce
1 tablespoon ketchup
2 tablespoons mustard
2/3 cup ketchup
1-1/2 cups cheddar cheese, shredded
6 slices bacon, crumbled
1/2 medium onion, chopped
1/2 cup grape tomatoes, quartered
1/4 cup dill pickle slices
Instructions
Preheat oven to 450 degrees.
Prepare Perfect Pizza Crust per recipe instructions.
Meanwhile, brown ground beef over medium heat in large pan. Stir in Worcestershire sauce and 1 tablespoon ketchup and remove from heat.
Stir together mustard and 2/3 cup ketchup and spread over crust to act as a pizza sauce.
Sprinkle cheese over sauce and top with browned ground beef.
Top ground beef with bacon, onion, tomatoes and dill pickles.
Bake for 15 minutes, cut into slices and serve.
Notes
Want a little more cheese on your pizza? I also like to add a handful of additional cheese as it comes out of the oven and put it back in for 1 minute to melt.
7.8.1.2
128
https://melaniemakes.com/bacon-double-cheeseburger-pizza/
Melanie Bauer | Melanie Makes