Dinner is just 20 minutes away with these bright and flavorful Black Bean Tostadas with Corn Relish.  Perfect for Meatless Monday or any day you're short on time, this recipe is easily customized and can be prepped ahead to get dinner on the table in a flash.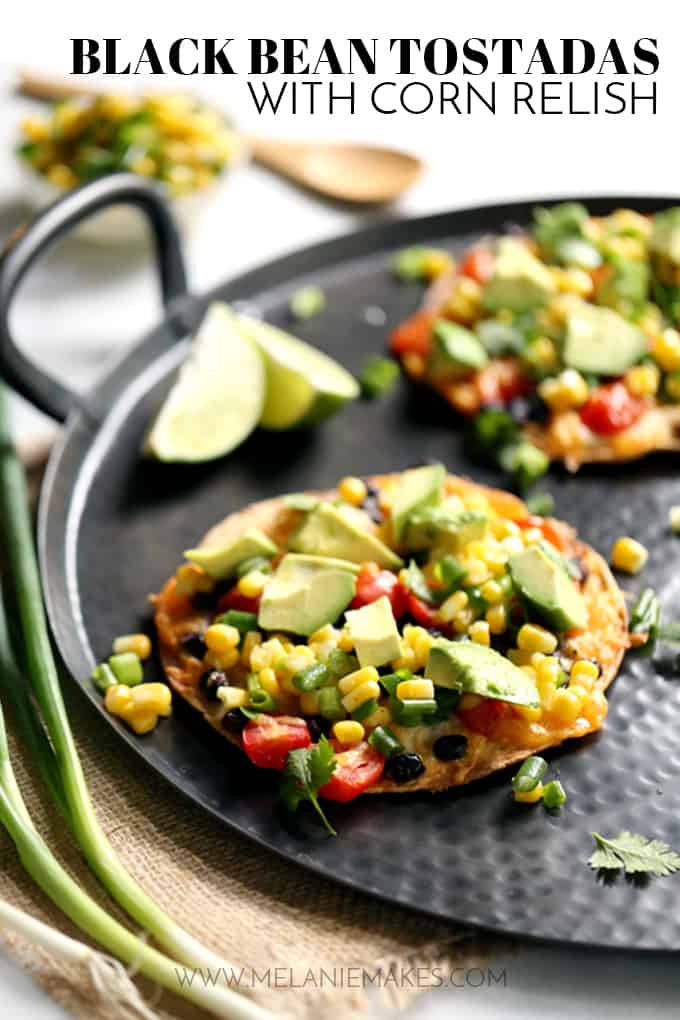 Keep in touch!  Subscribe to receive Melanie Makes recipes direct to your inbox.
Say "Adios!" to Taco Tuesday and instead usher in the reign of Tostada Tuesday!  Why not really shake things up and serve these Black Bean Tostadas with Corn Relish on a Meatless Monday, too?  That's what usually happens in our house.  We try to eat meatless one day of the week and usually it's Monday.  I love that these tostadas can be prepped ahead, are easy to customize to the tastes of each person in our family and in general just make life easier when the beginning of the week tends to be insanely chaotic.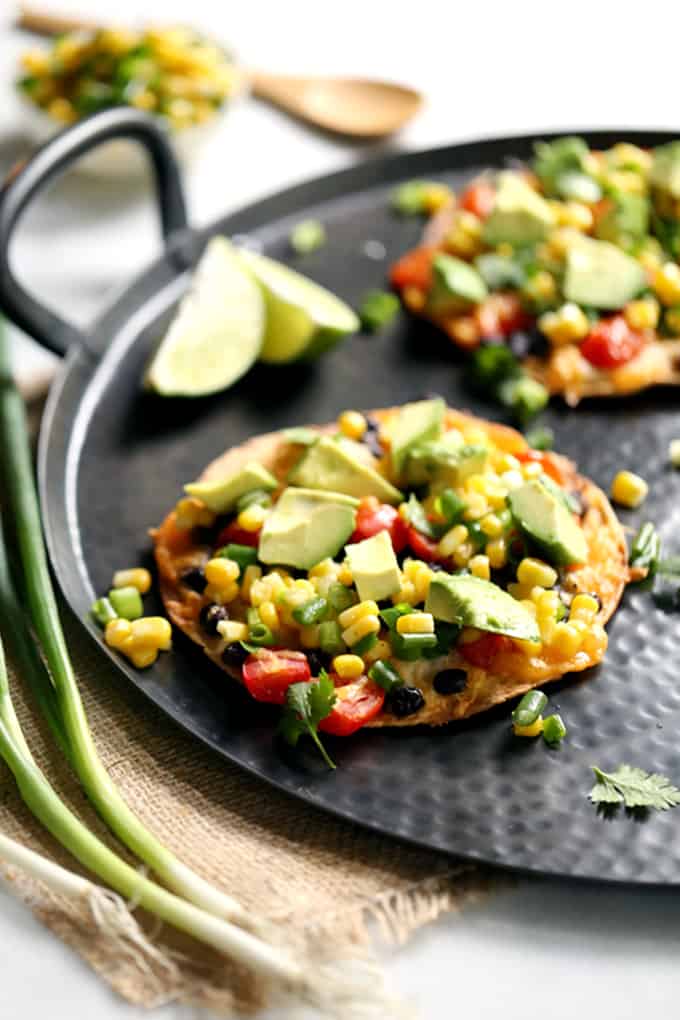 Small flour tortillas are sprinkled with black beans and cherry tomatoes before being showered with cheese.  I say the more cheese the better and that earns me major mama bonus points in our house!  The bedazzled tortillas are then slid into the oven for a few minutes before being topped with a cool corn and green onion relish and – my favorite part! – large pieces of avocado.  Sure, they could be diced small or you could even skip them as my older daughter insists – gasp! – but seriously, I could put an entire avocado on a single tostada and think life couldn't get any better.  And honestly, I may have done just that a few times in the past.  Just a few!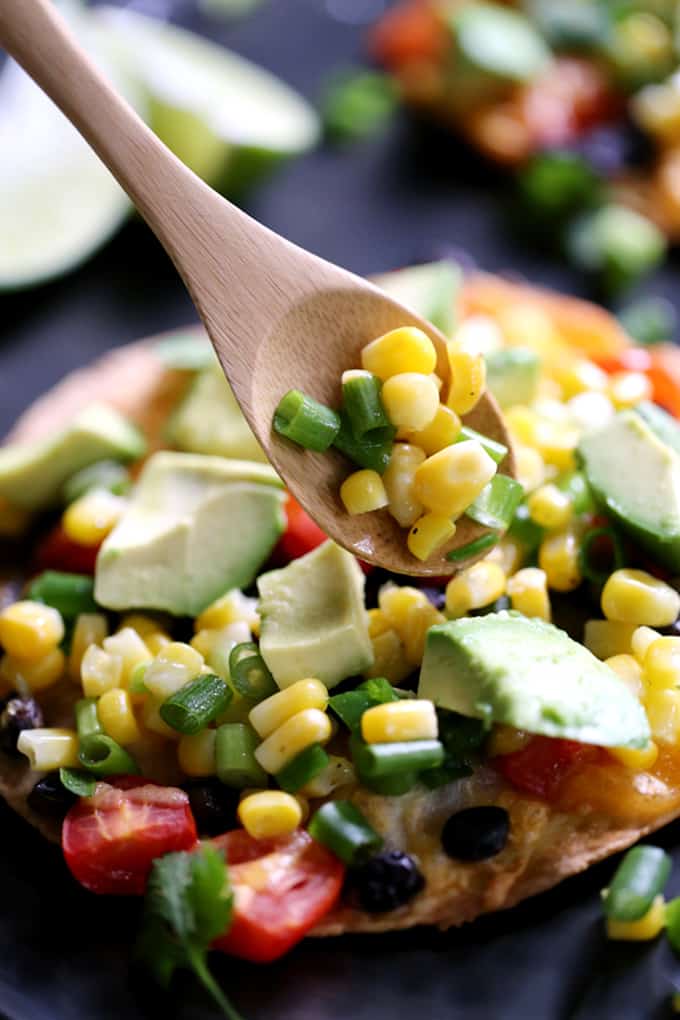 Feeling pressed for time?  Prep the ingredients the night before or earlier in the day!  Slicing the tomatoes, rinsing the black beans and stirring together the corn relish means that ingredients simply need to be pulled from the fridge and you're ready to begin tostada assembly!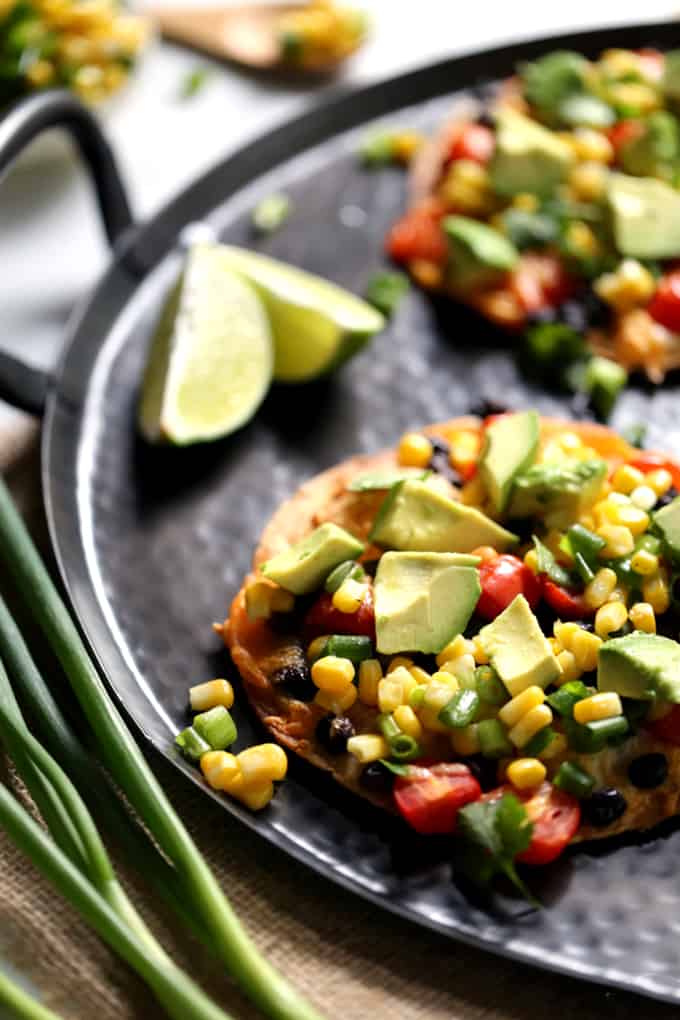 Even though these Black Bean Tostadas with Corn Relish are meatless, that doesn't mean you'll leave the table feeling hungry.  No sir!  The black beans are a quick and easy addition of protein.  The do the same for my Huevos Rancheros Sheet Pan Nachos, Southwest Carrot and Black Bean Soup and Orzo and Black Bean Salad.
As my pantry is always stocked with black beans, it's nice to have recipes like these Turkey Black Bean Enchilada Bake, Chicken, Black Bean, Avocado, and Radish Salad with Lime and Cilantro and Black Bean Pomegranate and Avocado Salsa in my back pocket to try next.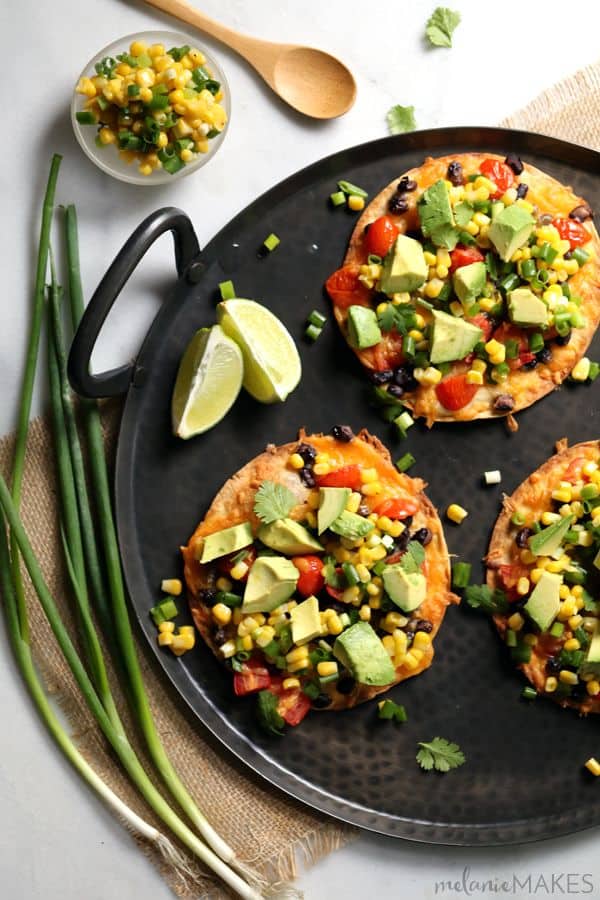 Ingredients
2 limes
2 bunch green onions
2 12-ounce bags frozen corn
1/4 cup olive oil, divided
1 quart grape tomatoes
16 ounces shredded cheddar cheese
20 small flour tortillas
2 15-ounce cans black beans
4 avocados, diced
Instructions
Preheat oven to 475 degrees.
Thinly slice green onions and add to medium bowl along with corn. Add 2 tablespoons olive oil and juice of one lime. Season with salt and pepper.
Halve tomatoes and place in small bowl.
Arrange tortillas on two parchment or silicone baking mat lined baking sheets.
Brush both sides of each tortilla with remaining oil.
Rinse and drain beans and sprinkle over tortillas. Top with tomatoes and cheese. Bake until golden, 8-10 minutes.
While tostadas are baking, peel, pit and dice avocados. Juice remaining lime and add to corn relish to taste. You can also drizzle any remaining juice over avocados to prevent browning.
Before serving, top tostadas with corn relish and avocado.
7.6.4
69
https://melaniemakes.com/blog/2013/08/black-bean-tostadas-with-corn-relish.html
Melanie Bauer | Melanie Makes