This velvety Southwest Carrot and Black Bean Soup is both hearty and satisfying and you won't want to share a single spoonful. Roasted carrots are pureed and studded with spiced black beans before being crowned with a generous tangle of fried onions and fresh cilantro.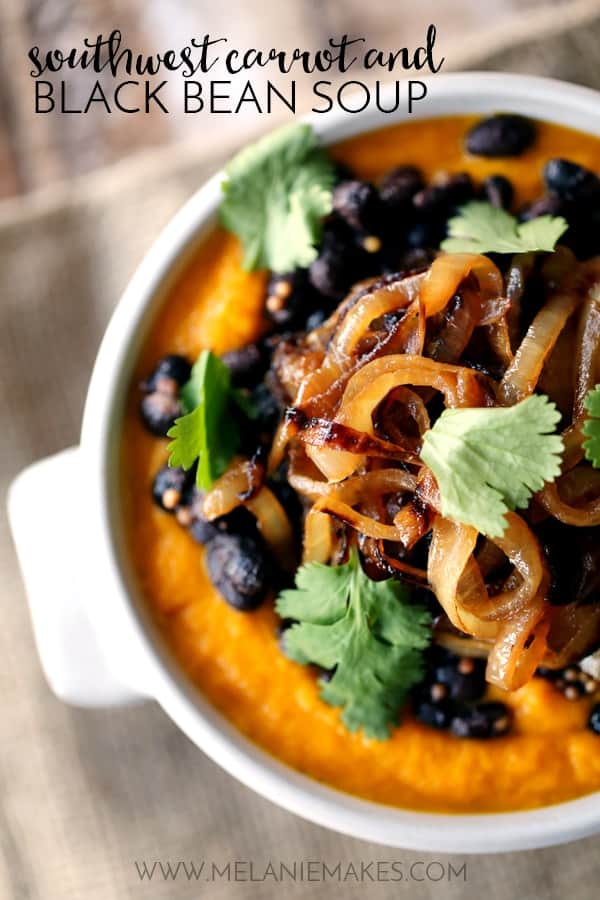 Keep in touch! Subscribe to receive Melanie Makes recipes direct to your inbox.
I'll be the first to admit it. If you ever told me I'd be making a carrot soup recipe AND then getting my husband to eat said Southwest Carrot and Black Bean Soup, I would've likely laughed. Loud. And hard. Not that I have anything against carrots, mind you, I'm a big fan. It's just that an orange soup that – as said husband noted – very much looks like baby food isn't something I'd normally be making. We tend to be hearty soup type of people.
And then I received Eat: The Little Book of Fast Food to review, because I'm an absolute sucker for cookbooks. And it really is a little book, with a marigold colored cover that feels like a book you checked out of the library when you were in elementary school. As I flipped page after page with a stack of sticky notes in hand, I marked several recipes to try, including one simply titled Carrot, Black Beans and Cilantro in the chapter called In A Bowl.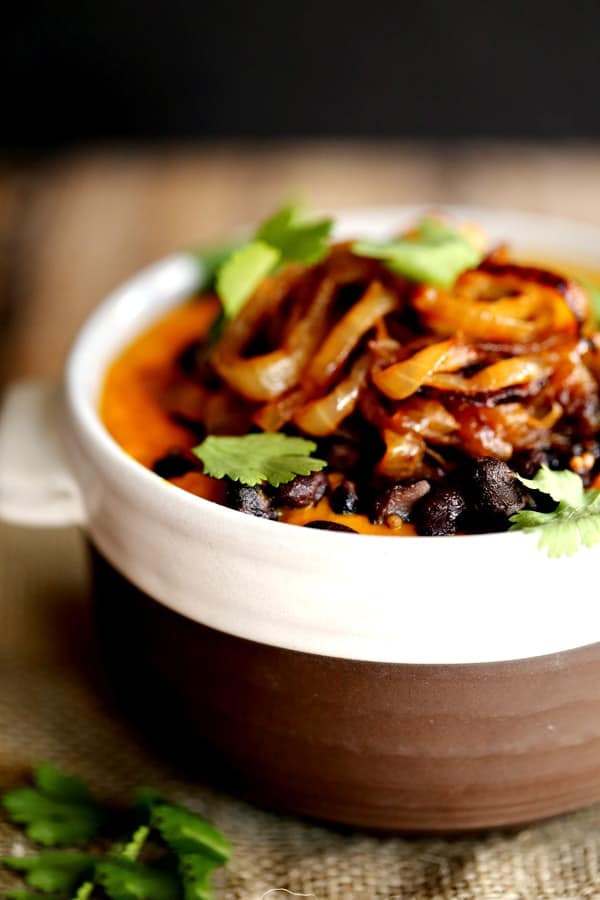 In this little book of fast food, Britain's foremost food writer presents a wholly enjoyable ode to those times when you just want to eat. Pairing more than 600 ideas for deliciously simple meals with the same elegant prose and delightful photography that captivated fans of Tender, Ripe, and Notes from the Larder, Eat is bursting with recipes that are easy to get to the table, oftentimes in under an hour: a humble fig and ricotta toast; sizzling chorizo with shallots and potatoes; a one-pan Sunday lunch. From quick meals to comfort food, Nigel Slater has crafted a charming, inspired collection of simple food—done well.
I love that this book is straight forward, non-pretentious and simply wants to help you get good, real food on your table in a reasonable amount of time. Mission accomplished. My Southwest Carrot and Black Bean Soup is adapted from the recipe mentioned previously but with a few changes to enhance flavor, adjust serving size and make for what I think makes a better work flow.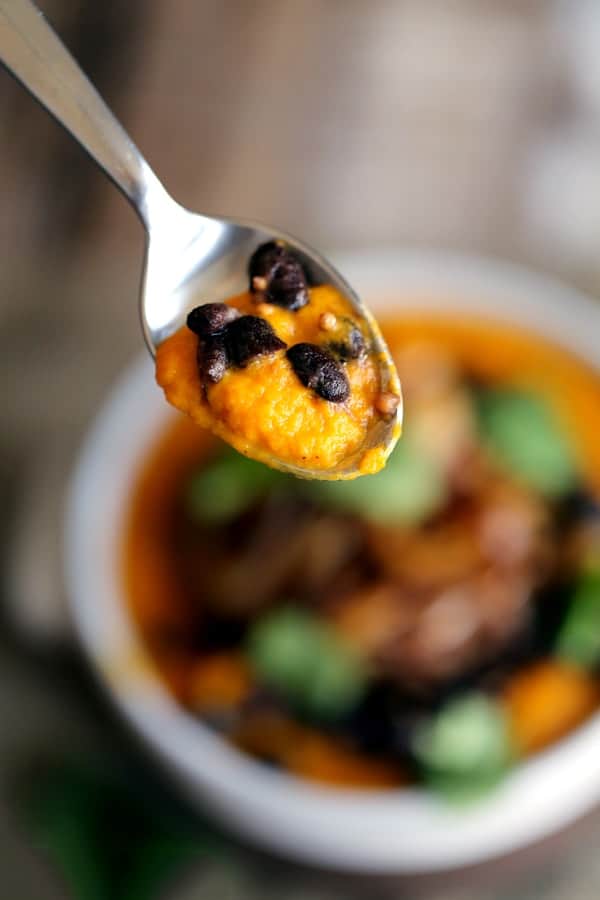 For example, the original recipe calls for boiling the carrots and instead I opted to roast them to intensify their sweet flavor. The original recipe also made for two smaller bowls of prepared soup where my version makes for two main course servings or four starter size portions. Perhaps our friends in the UK have smaller appetites, but if I'm serving my meat and potato eating husband a carrot soup for dinner, it better be the same portion size as our typical meals!
Roasted carrots are pureed and studded with spiced black beans before being crowned with a generous tangle of fried onions. A sprinkle of fresh cilantro leaves is the finishing touch. Quick, grab a spoon! This velvety soup is both hearty and satisfying and you won't want to share a single spoonful.

Melanie Bauer
Yields 2 servings or 4 appetizer servings
Southwest Carrot and Black Bean Soup
15 minPrep Time
30 minCook Time
45 minTotal Time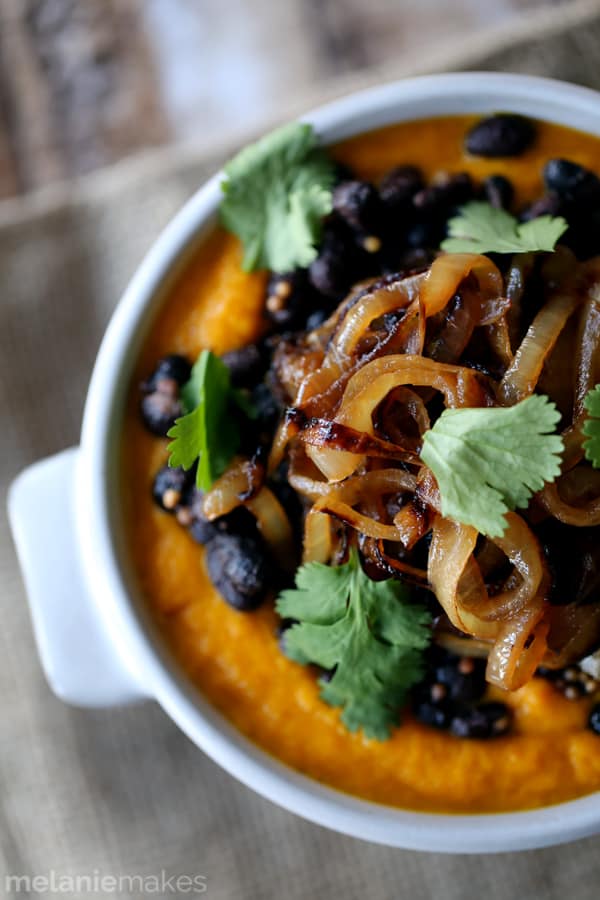 Ingredients
Carrot Puree

2 pounds carrots, washed and trimmed
2 tablespoons olive oil
1 teaspoon salt
1/2 teaspoon pepper
2-1/2 cups chicken broth

Fried Onions

2 onions, thinly sliced
4 tablespoons butter

Black Beans

4 tablespoons butter
2 teaspoons mustard seeds
2 14 ounce cans black beans, drained and rinsed
1/2 teaspoon red pepper flakes

Garnish

Cilantro
Instructions
Carrot Puree

Preheat oven to 425 degrees.
Place carrots on baking sheet, cutting any large carrots in half lengthwise so that all are a similar size.
Drizzle with olive oil and toss to coat.
Sprinkle with salt and pepper.
Roast for 30 minutes.

Fried Onions

Meanwhile, in a large saute pan, add onions and butter and fry until golden brown.
In a medium sauce pan.

Black Beans

In a medium saute pan, melt butter and then add mustard seeds to toast.
Stir in black beans and red pepper flakes to combine.
Cover and keep warm.

Carrot Puree

To finish puree, add carrots and chicken broth to blender or food processor and process until smooth.
Divide puree between two large bowls or four smaller bowls and stir in black beans accordingly.
Top bowls with fried onions and garnish with cilantro leaves.
Notes
7.8.1.2
205
https://melaniemakes.com/southwest-carrot-and-black-bean-soup/
Melanie Bauer | Melanie Makes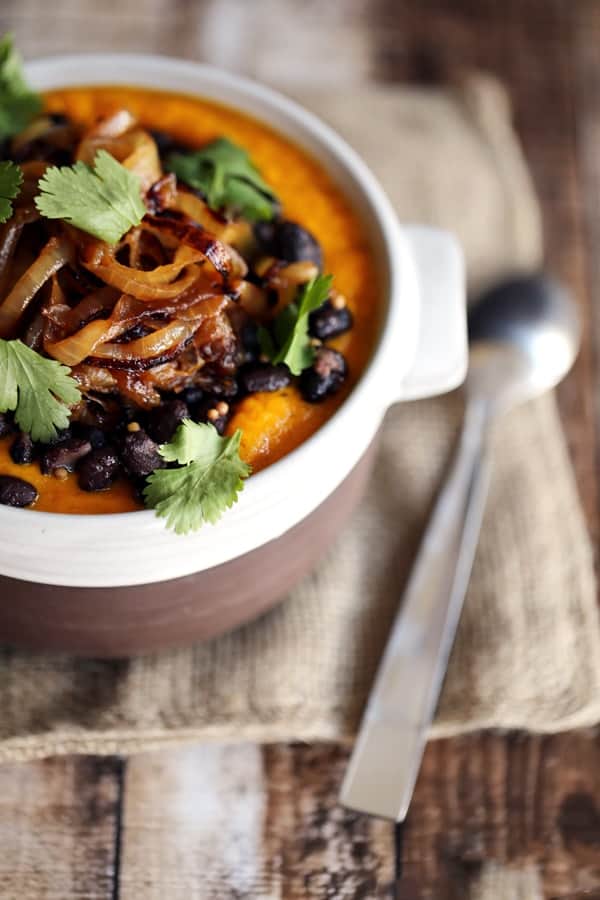 This Southwest Carrot and Black Bean Soup is the perfect start to the new year. Healthy without screaming that it is. Instead, it's all the flavors I love in Mexican food injected into a big bowl of comforting soup. And of course those fried onions on top. They're like the most amazing soup topping ever!
Looking for more great soup recipes?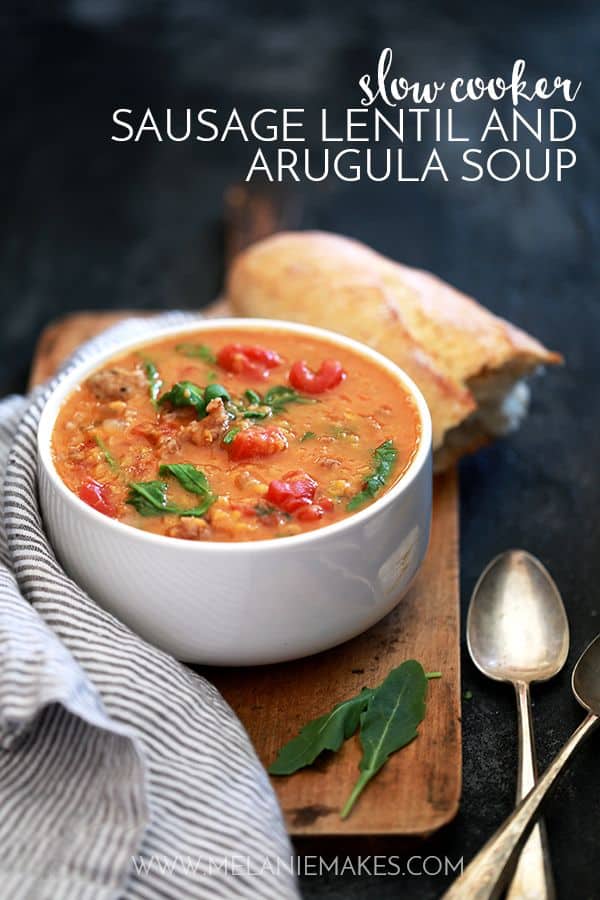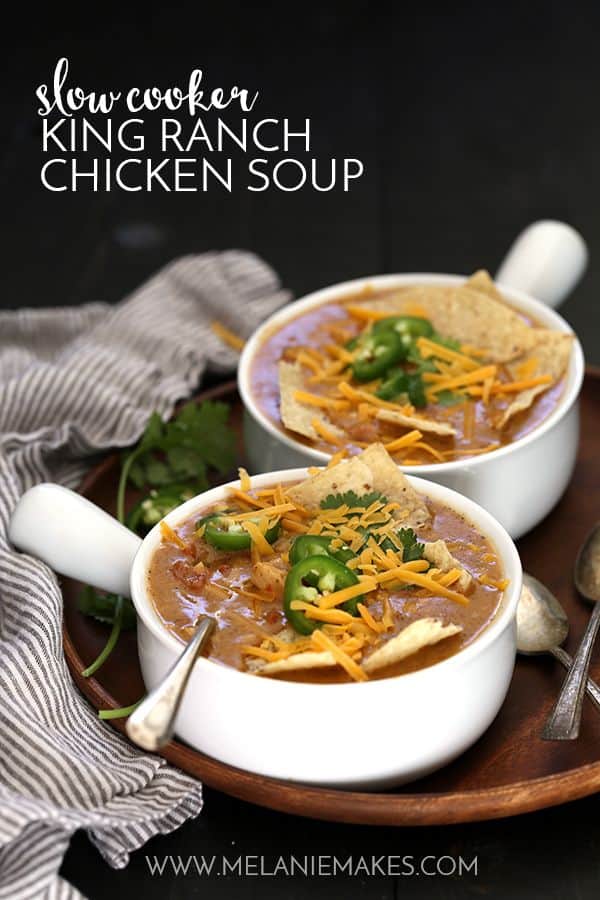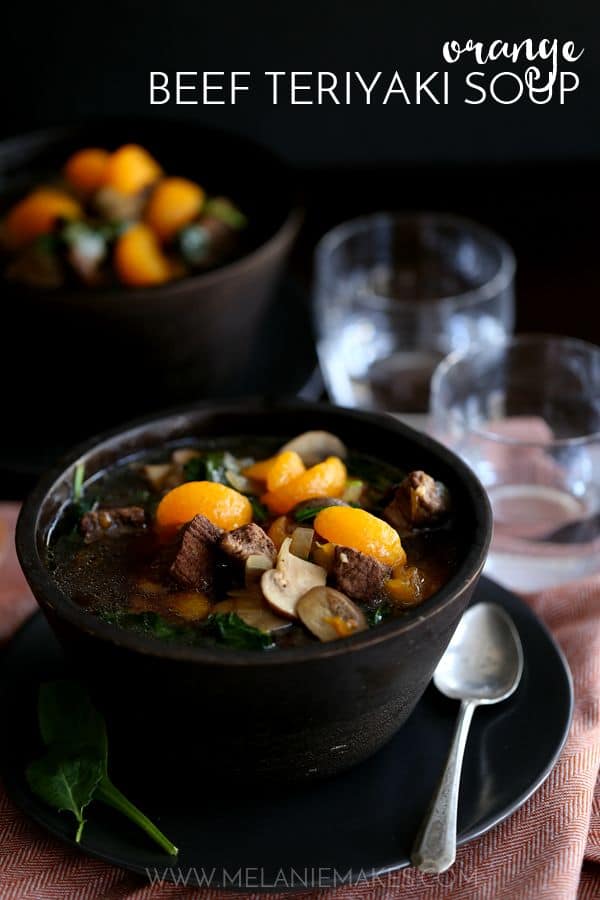 More great soup recipes from fellow food bloggers:
Slow Cooker Chicken Enchilada Soup | A Spoonful of Flavor
Chicken Noodle Soup with Zucchini Noodles | Food, Faith, Fitness
Crockpot Cheeseburger Soup | Belle of the Kitchen
—–
I received this book from Blogging for Books for this review. As always, all thoughts and opinions are my own. Thank you for supporting this sponsor that allows me the opportunity to create content, such as this, for Melanie Makes.