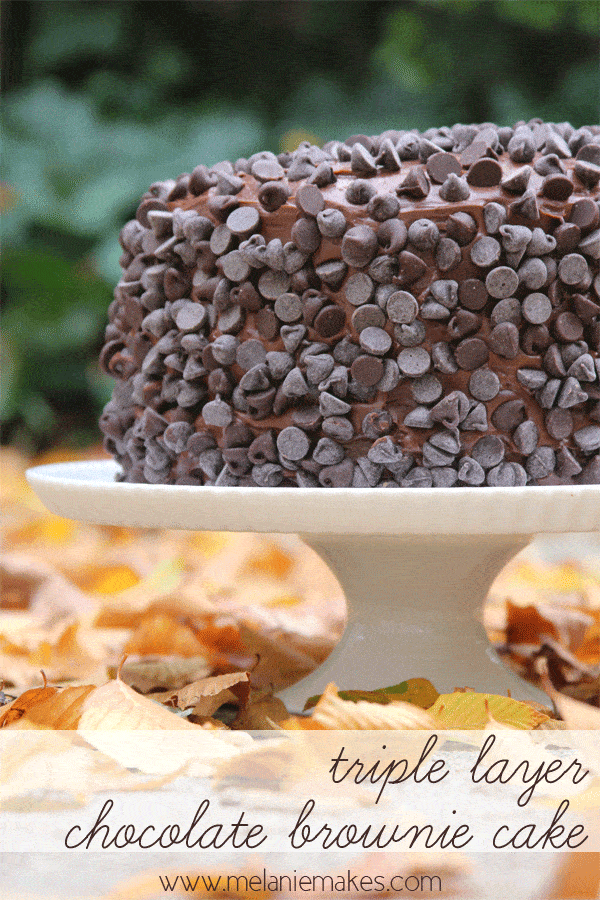 Friends, this cake is not for the faint of heart. This recipe is for the die-hard chocolate lovers – hello dear mother-in-law of mine! – who can't go a day without chocolate. It's knock your socks off chocolate nirvana.
It's also incredibly easy! Although maybe that's not a good thing as you can easily whip this up for dessert any night of the week. This was my contribution to the girls' school family festival last week. If you know me at all, I'm over the top or nothing at all so when there was a request for cakes for a cake walk this was what I came up with. I'm not sure who took it home, but I hope they had a gallon of icy, cold milk on hand to wash it down with!
Since I was taking it somewhere, I wasn't able to cut a slice to photograph it in all of it's three layer – cake, brownie, cake – glory. Guess I'll have to make it again!
Triple Layer Chocolate Brownie Cake
I normally don't purchase box mixes as to me it's just as easy to make something from scratch, but EASY was the name of the game to create something noteworthy for my daughters' school festival.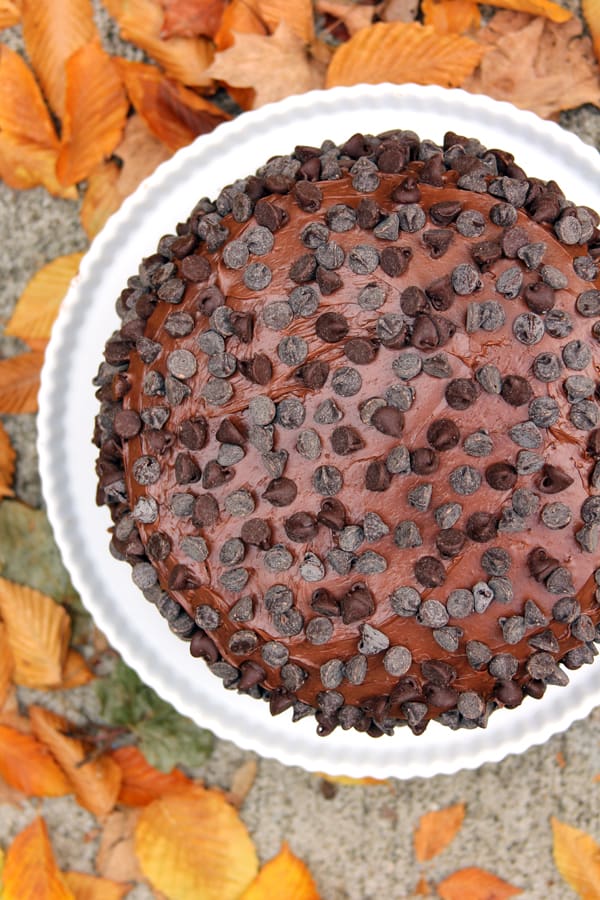 Ingredients
1 boxed chocolate cake mix
1 boxed 9" x 13" brownie mix
2 cans chocolate frosting
eggs + vegetable oil + water to prepare cake and brownie mixes as noted on the box
12 ounces chocolate chips
Instructions
Preheat oven to 350 degrees.
Prepare chocolate cake mix as directed on box and divide evenly into two 8" lightly greased cake pans. Bake according to box directions. Bake for 35 minutes and allow to cool 10 minutes in pan before removing to wire rack to cool completely.
Prepare chocolate brownie mix as direct on box and pour into one 8" lightly greased cake pan. Bake for 25 minutes and allow to cool 15 minutes in pan before removing to wire rack to cool completely.
Place one cake layer on cake stand and frost top with approximately 1/3 of chocolate frosting.
Place brownie layer on top of frosted cake and frost top with approximately 1/3 of chocolate frosting.
Finally, place second layer on top of frosted brownie and use remaining frosting to cover the top and outside of the cake.
Before frosting sets, sprinkle chocolate chips on top of the cake and press into sides.
Notes
To frost your cake without making a mess of your cake plate, slide small strips of wax paper around the outside of the bottom layer. When you're done frosting and adding the chocolate chips, simply slide them out removing the excess.
7.6.4
389
https://melaniemakes.com/blog/2013/10/triple-layer-chocolate-brownie-cake.html
Melanie Bauer | Melanie Makes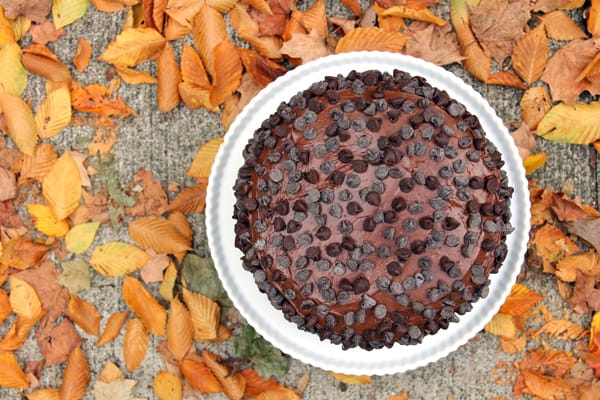 Nothing says fall like a school family festival complete with a bake sale and cake walk! When this pops up on your family's calendar, consider yourself prepared!
—–
I'm also linking to Lil' Luna's Link Party Polooza here.