A single bowl and just ten ingredients is all that stands in the way between you and these deliciously decadent One Bowl Chocolate Fudge Brownies.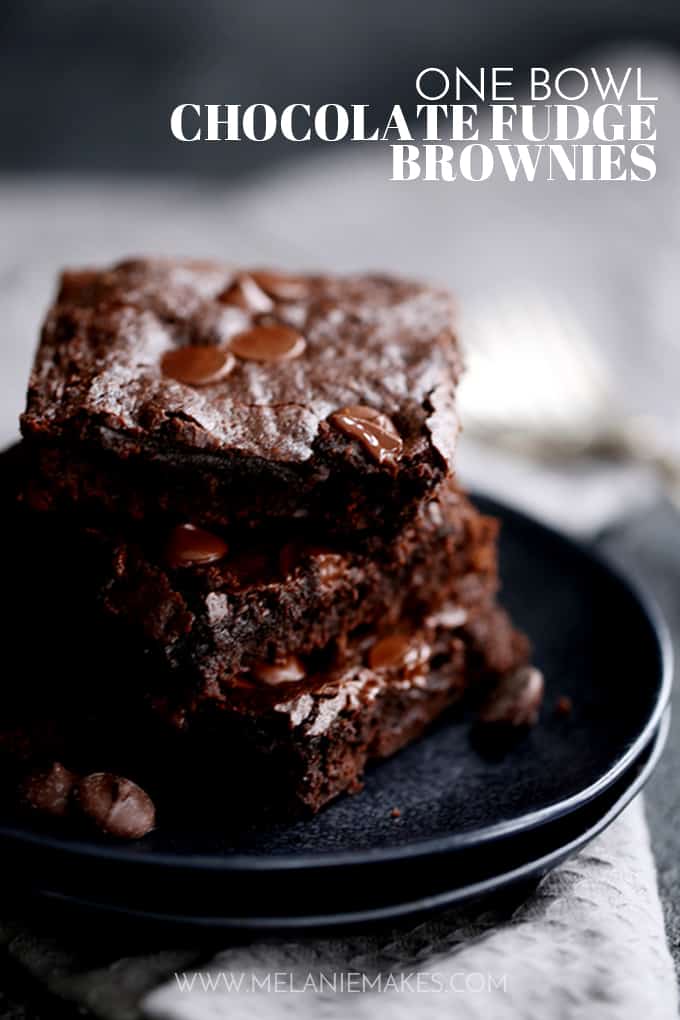 Keep in touch! Subscribe to receive Melanie Makes recipes direct to your inbox.
If you do something to help me or my family out, nine chances out of ten I'm going to find a way to say thank you by making you something in the kitchen. These One Bowl Chocolate Fudge Brownies? Last week they were a big, chocolatey thank you to a girlfriend for bringing my two oldest home after school when I was having car drama and was stranded at home with my youngest two. Said friend said she hates me for breaking her diet by giving her a pan of brownies, but I'm pretty sure she's not angry at me whatsoever.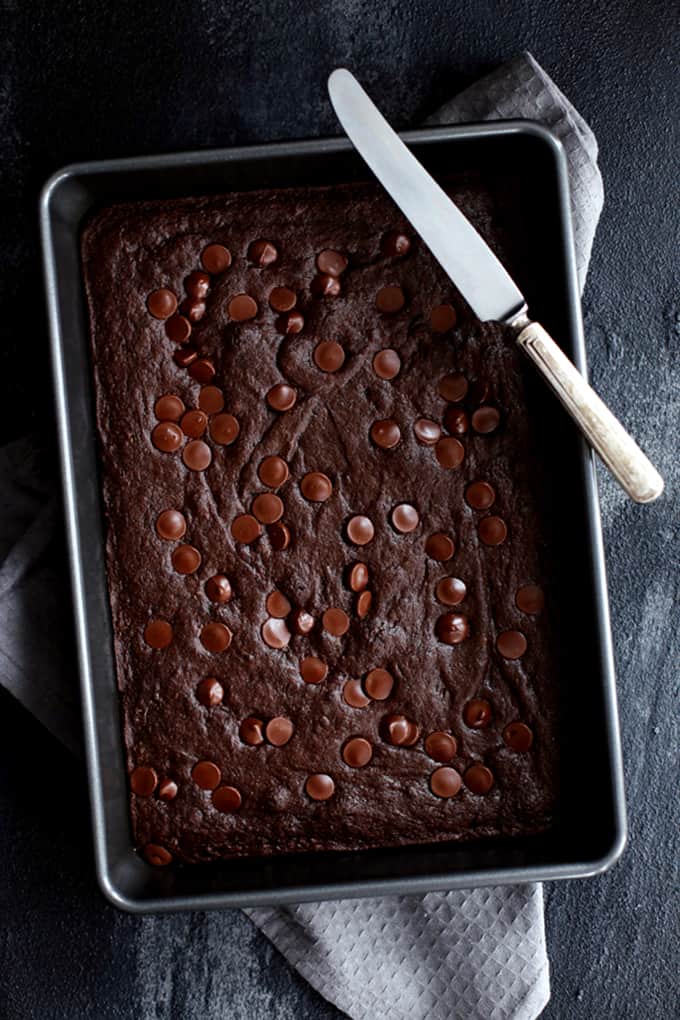 These are my go-to brownies. The one that I could pretty much recite the recipe for and the one that is made on an almost weekly basis. I swear we never go longer than two weeks without a pan of these brownies. They're rich, they're fudgey and those dark chocolate chips on the top? Yep, they're pretty much the best thing ever. In fact, they're also the base for my decadent Peanut Butter Cup Stuffed S'mores Brownies, my sweet treat mashup Oreo Marshmallow Treat Brownies and my moist and delicious One Bowl Blueberry Brownies.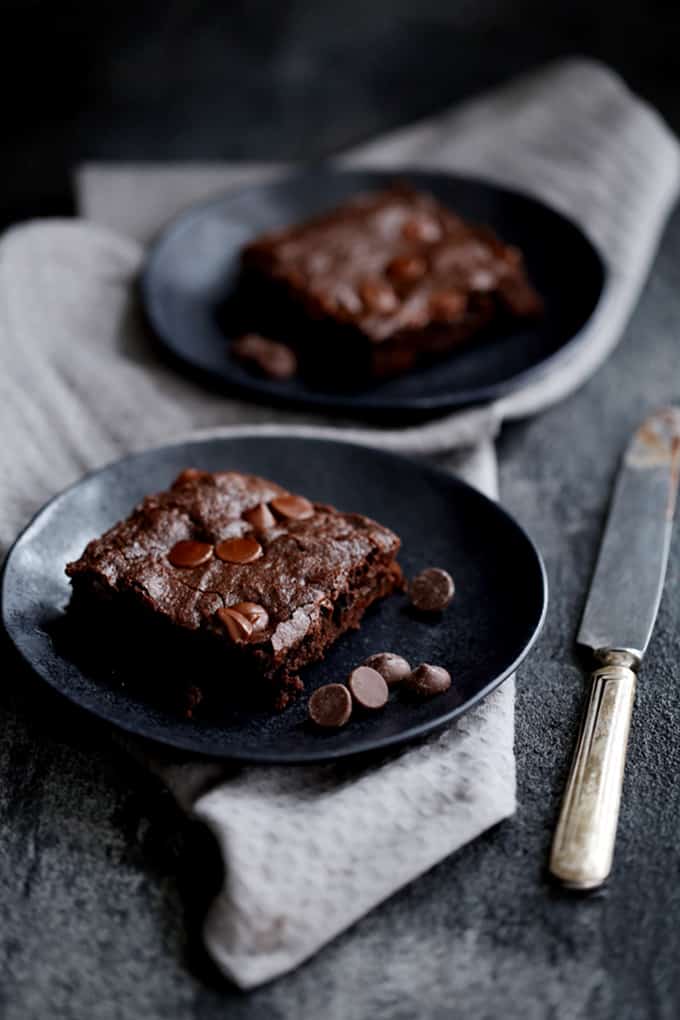 As the name implies, all you need for these One Bowl Chocolate Fudge Brownies is a single bowl, a whisk and a wooden spoon. You could probably nix the whisk, but it does make combining a few things easier, so I say use it if you've got it. And the ingredients? If I'm a betting type of gal, I'd say you'd likely have all the ingredients in your pantry or fridge right this very second. Easy peasy.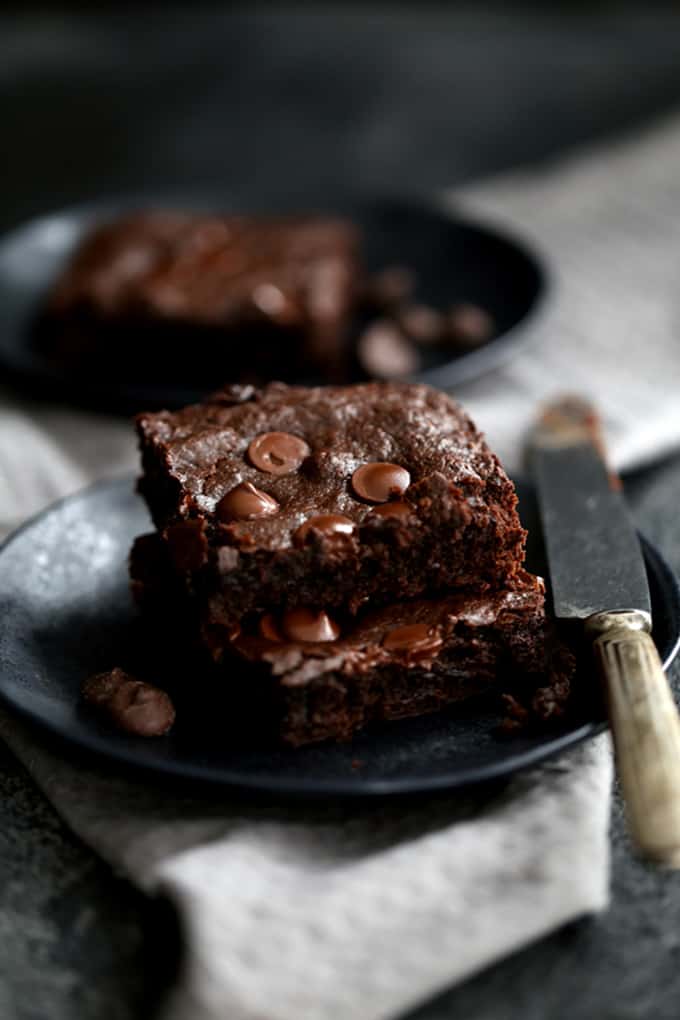 Now, before you go scrolling down to the recipe and have your jaw hit your keyboard in disgust that these brownies have coffee in them and you know, you are so not a coffee drinker, give me just a minute to explain. Me? I'm so not a coffee drinker either! Ever. Well, except for that one semester in undergrad when my then boyfriend, now husband, got me hooked on it except that I was putting so much creamer and other things in it that it wasn't really coffee at all. Instead of drinking coffee, I love to bake with it. It totally brings out the flavor of the chocolate and makes it more intense. And these brownies don't taste like coffee!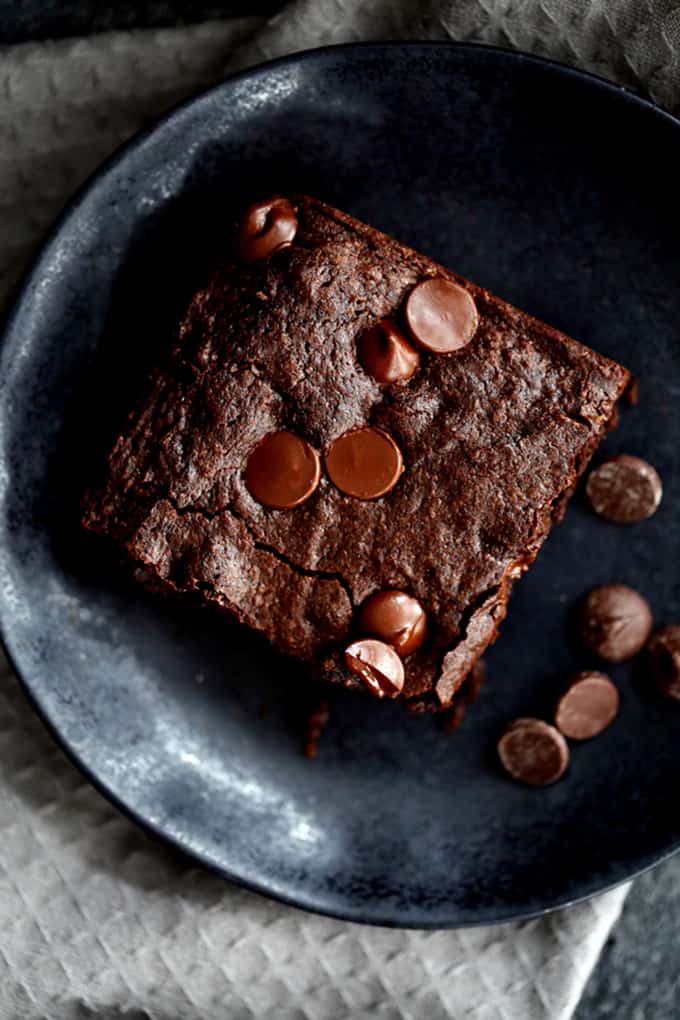 Do yourself a favor. Make yourself a pan of One Bowl Chocolate Fudge Brownies and make a pan for a friend to say thanks for just because. I guarantee you that everything will be happy that you did. Because, seriously. Whoever said no to a brownie?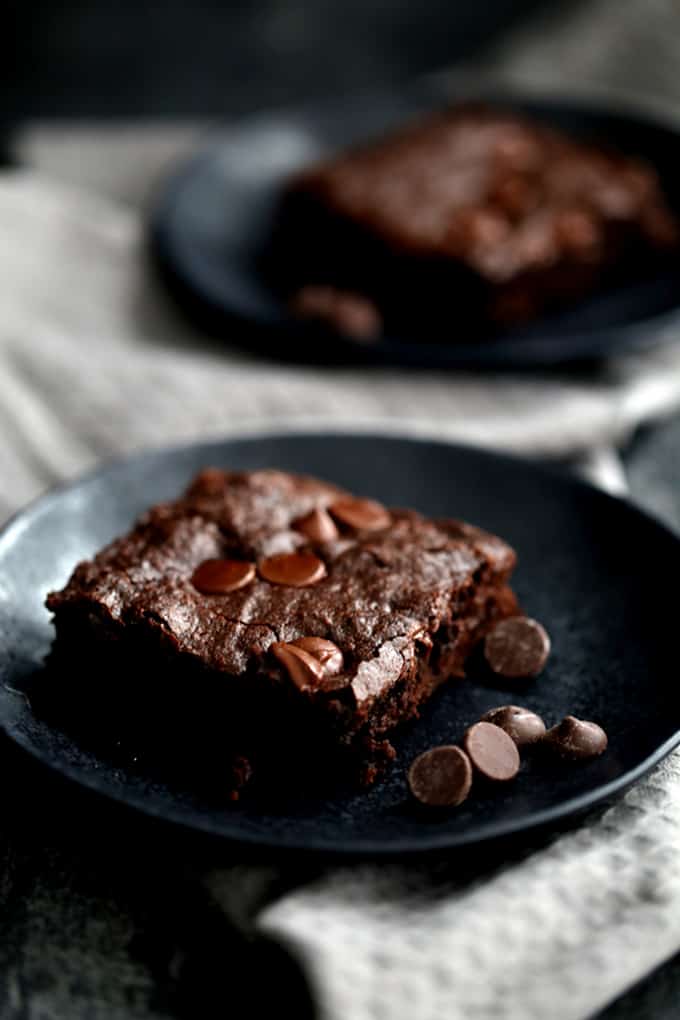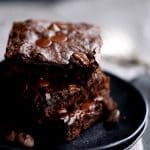 Print Recipe
One Bowl Chocolate Fudge Brownies
A single bowl and just ten ingredients is all that stands in the way between you and these deliciously decadent One Bowl Chocolate Fudge Brownies.
Ingredients
3/4

cup

butter

3/4

cup

cocoa powder

1/4

cup

strong coffee

prepared

1-2/3

cups

sugar

2

eggs

2

teaspoons

vanilla

1/2

teaspoon

baking powder

1/4

teaspoon

salt

1-1/3

cup

flour

1

cup

dark chocolate chips
Instructions
Preheat oven to 350 degrees.

In a large, microwave safe bowl, add butter and heat on high for 1 minute. Whisk together until completely melted.

Add cocoa powder and coffee and whisk together until smooth and completely combined.

Add eggs, sugar and vanilla and stir together until combined.

Add baking powder, salt and flour and stir together until just combined, being careful not to over mix.

Pour batter into greased 9x13 baking pan and smooth into an even layer. Sprinkle chocolate chips over batter.

Bake for 18-20 minutes or until just set and a toothpick inserted into the center removes cleanly.
Notes
If you insist on not including coffee in this recipe - trust me, just do it! - you can substitute 1/4 cup water instead. Please note, however, the chocolate flavor won't be as intense. (Insert sad face, here.)
Adapted from Old School Fudge Brownies with Walnuts
.
Nutrition
Calories:
193
kcal
|
Carbohydrates:
15
g
|
Protein:
2
g
|
Fat:
14
g
|
Saturated Fat:
9
g
|
Cholesterol:
46
mg
|
Sodium:
142
mg
|
Potassium:
168
mg
|
Fiber:
1
g
|
Sugar:
8
g
|
Vitamin A:
6.3
%
|
Vitamin C:
0.1
%
|
Calcium:
5.4
%
|
Iron:
5.5
%
And if you're looking for other brownie thank you ideas, you might want to try this Gooey Brownie Pie, this Brownie Batter Cheesecake Ball or this Snickers Cheesecake Brownie Cake.
Brownie all the things, I say!