This Lemon Arugula Pasta is the answer to getting dinner on the table quickly with minimal effort.  Your favorite pasta is tossed with lemon juice and zest, arugula and olive oil before being showered with Parmesan cheese.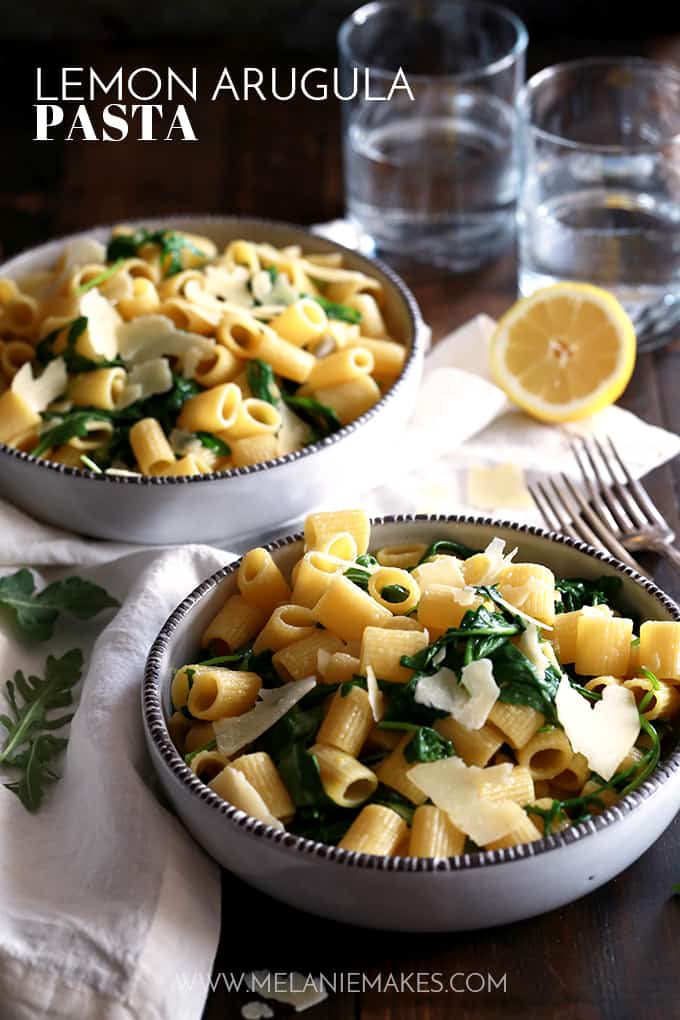 Keep in touch!  Subscribe to receive Melanie Makes recipes direct to your inbox.
Last week I turned the air off to enjoy the un-summer like temperatures that had made their way into Cleveland.  Nightly lows that hit the high 40s and daily highs that barely reached 70 degrees.  It was heavenly!  Although this is where I also admit I then flew to Sacramento for a couple of days to enjoy highs of 100+.  And if you couldn't tell, the word "enjoy" is being used in a completely sarcastic tone of voice!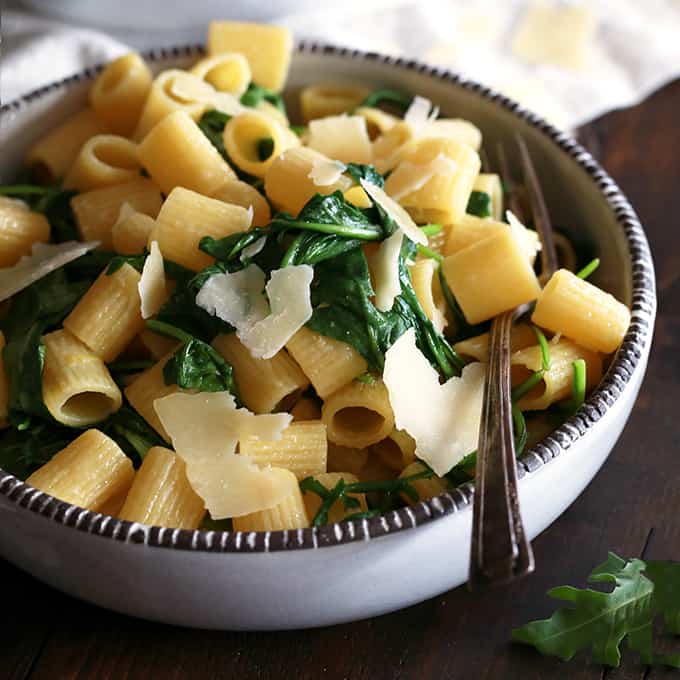 The last thing I want to do when the weather warms up is to heat up my kitchen making dinner.  To be honest, I don't particularly care to spend much time in the kitchen during summer vacation when I'd rather be hanging out in the backyard with the menagerie blowing bubbles, riding bikes, or pretty much any other activity that doesn't involved being cooped up inside.  Instead, I'm looking for easy meal ideas that I can prepare quickly so that we can get back to playing.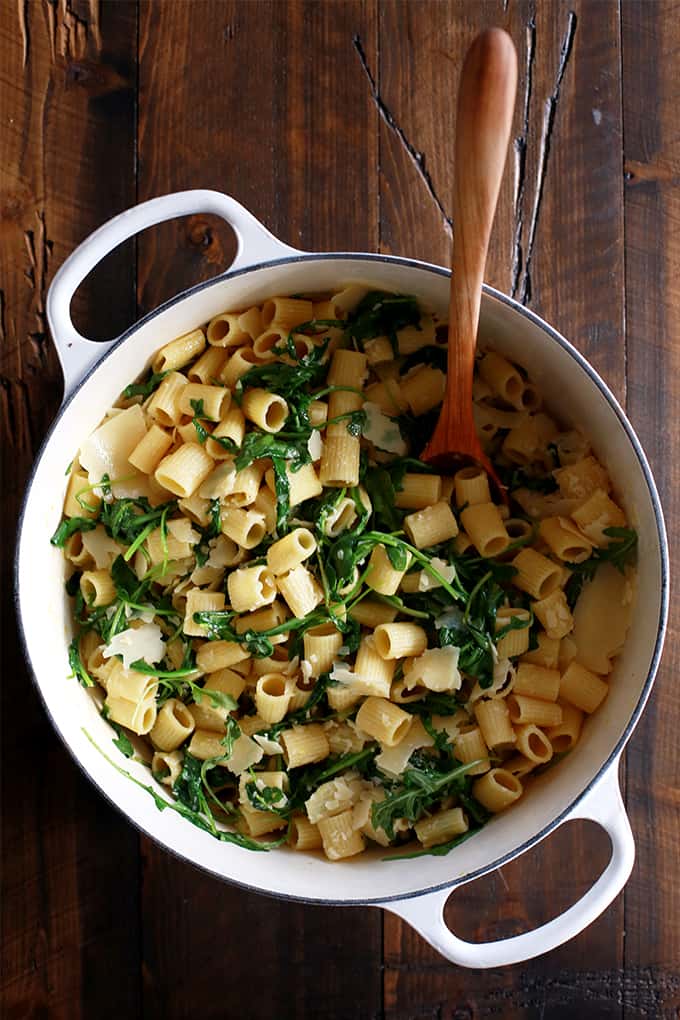 This Lemon Arugula Pasta is the answer to getting dinner on the table quickly with minimal effort and without heating up your kitchen.  Win, win, win!  Better yet, I typically have all of the ingredients on hand in my fridge and pantry.  Your favorite pasta – my favorite is rigatoni! –  is tossed with lemon juice and zest as well as arugula and olive oil and then topped with a shower of shaved Parmesan cheese.  Have extra greens from this week's CSA box?  They'd make a great substitute!
I love one pot pasta recipes like this one as a secret shortcut to get dinner on the table stat.  My super flavorful One Pot Sausage and Peppers Pasta, my mashup Barbecue Chicken Pizza Skillet Lasagna and my Quick and Easy Spinach and Artichoke Pasta are perfect additions to your meal planning arsenal.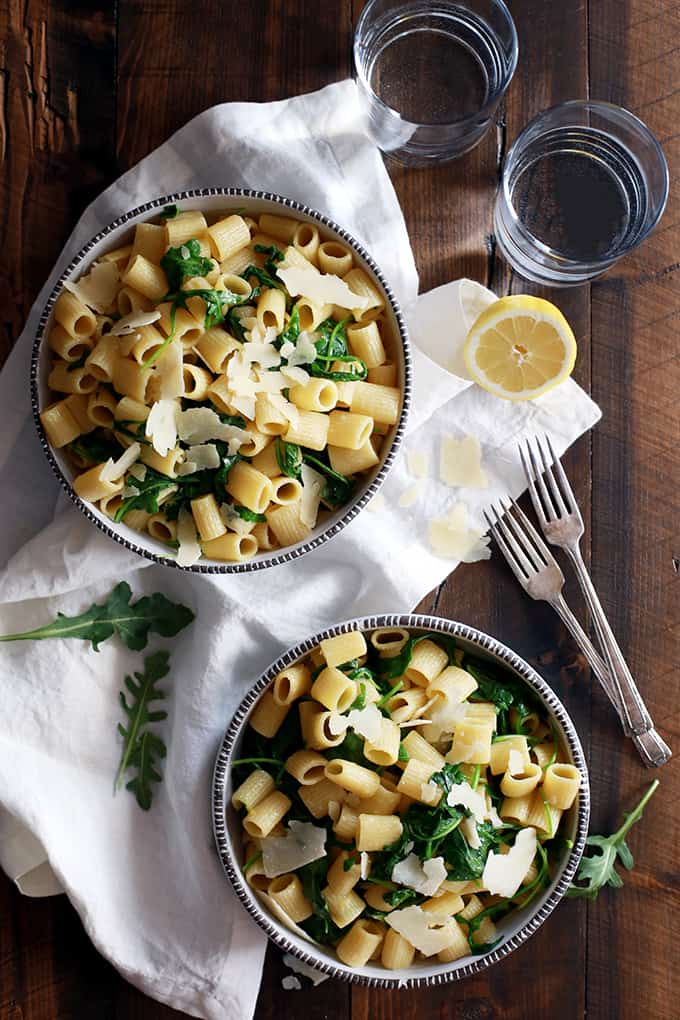 If you have extra arugula hanging around – it's my favorite, I love that peppery bite! – you could also top your pasta with this Rosemary Arugula Pesto.  A win/win as you're using two great greens for a flavor packed pesto in minutes.  I also love the look of this Arugula and Shrimp Pesto Flatbread as well as the sweet and salty combination of this Prosciutto and Fig Pizza with Arugula.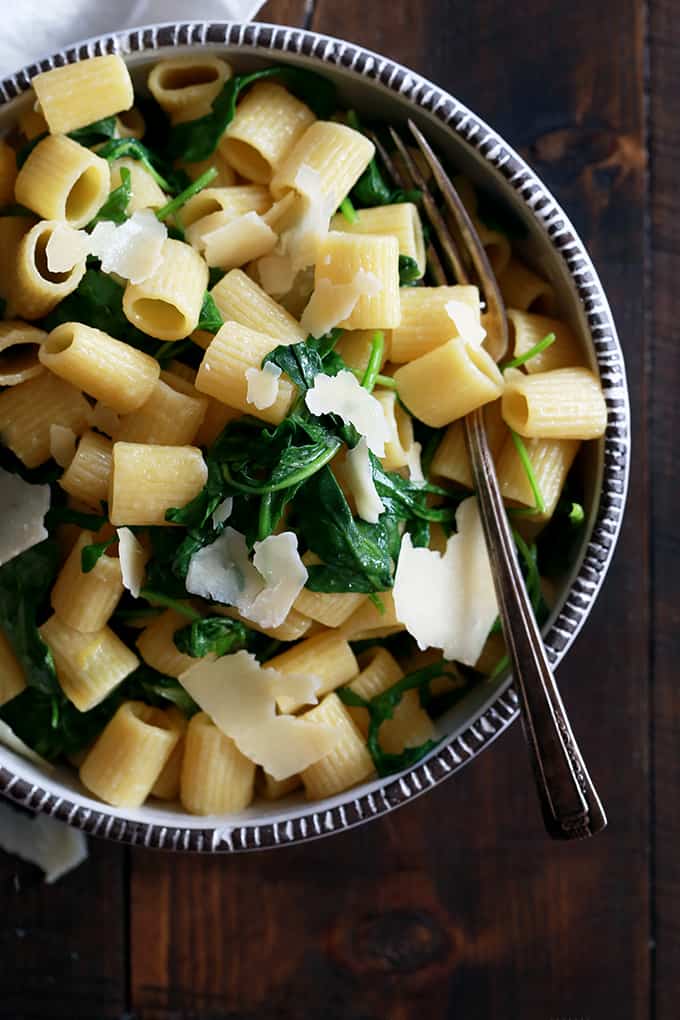 This easy Lemon Arugula Pasta recipe is sure to please!  My six year old absolutely loves it and eagerly asks for a second helping whenever this recipe lands on our weekly meal plan.  You know when you're child is requesting extra helpings of greens you've done something amazing.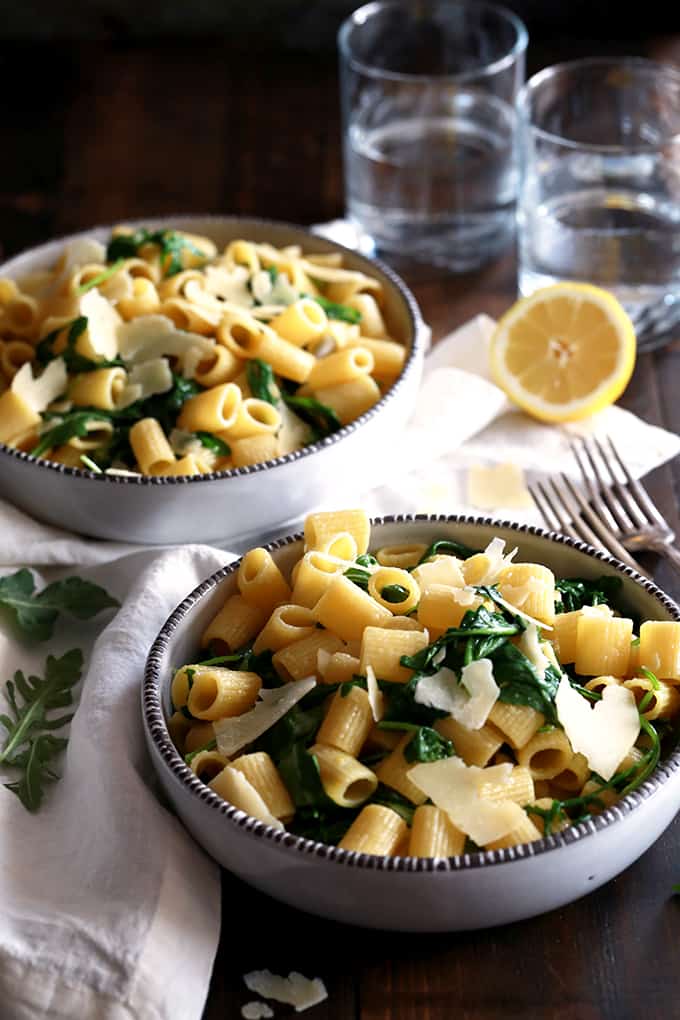 Ingredients
16 ounces pasta
5 ounces arugula
1 lemon, zest and juice
2 tablespoons extra virgin olive oil
1 cup shaved Parmesan cheese
Instructions
Cook pasta according to package directions.
Drain pasta and immediately toss with arugula mixture.
In large bowl, combine arugula, lemon zest and juice and olive oil.
Season to taste with salt and pepper and garnish with Parmesan cheese.
7.7.0.1
136
https://melaniemakes.com/blog/2014/08/lemon-arugula-pasta.html
Melanie Bauer | Melanie Makes