Sayonara coffeehouse!  With just four ingredients, you can create a delicious and less expensive Iced Caramel Mocha Latte in the comfort of your own home.  No barista experience required!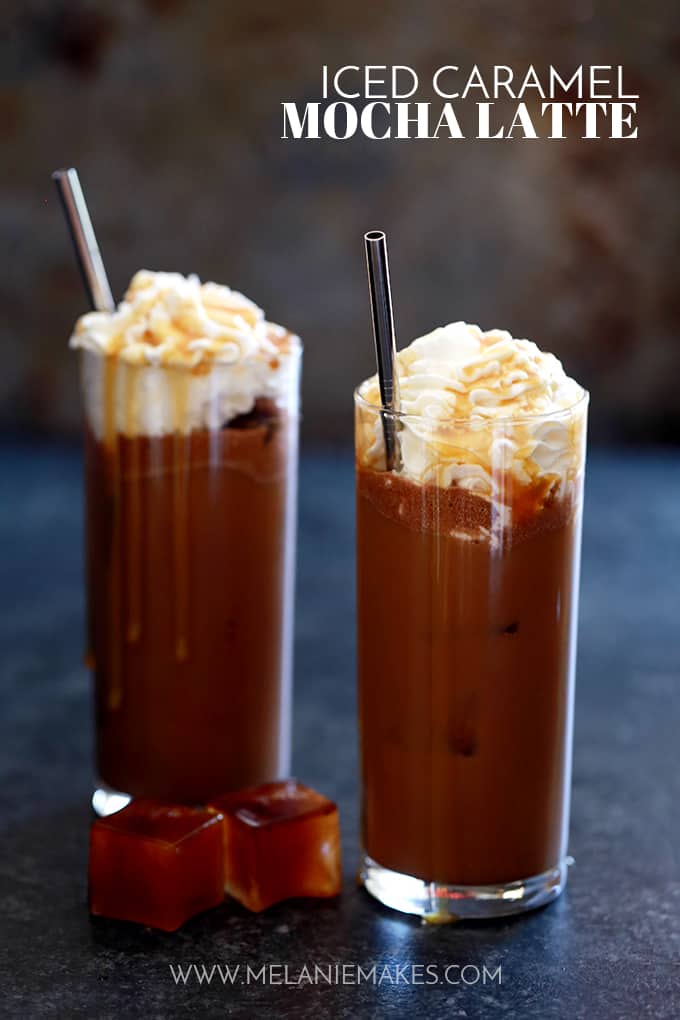 Keep in touch!  Subscribe to receive Melanie Makes recipes direct to your inbox.
I've repeatedly noted that I'm not a coffee person whatsoever.  Tea, on the other hand, is a different story.  I love it iced, chai, green, black – pretty much any way you can think to serve it.  But one day about two years ago, a McDonald's employee handed me an Iced Caramel Mocha Latte that they had made as a duplicate order.  I took it to be polite thinking that I would be handing it over immediately to my coffee loving husband in the parking lot.  Let's just say I took that first sip and was instantly hooked.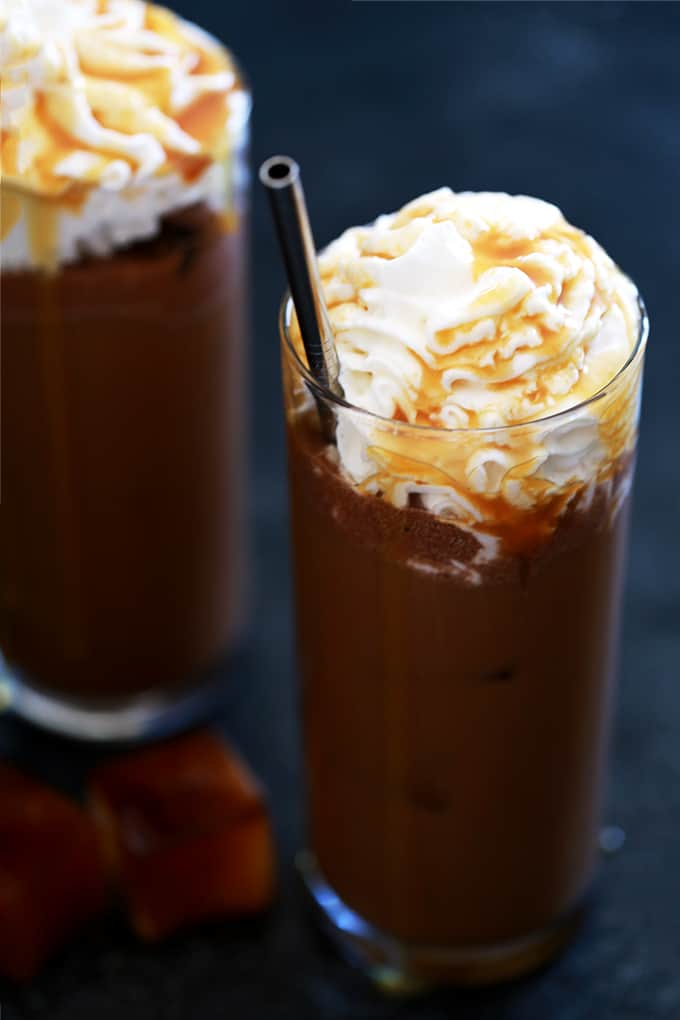 Because really, a mocha is chocolate.  CHOCOLATE, people.  Coffee + chocolate = mocha.  And then you go and throw caramel into the mix and well, who wouldn't think this was the greatest caffeine pick-me-up of all time?  But friends, shelling out $3+ at a drive-thru every time I want to indulge in an Iced Caramel Mocha Latte is not an option.  Instead, I've found an easy and more cost effective way to treat myself any time of day in the comfort of my own home.  No loading all four of my children into the car required!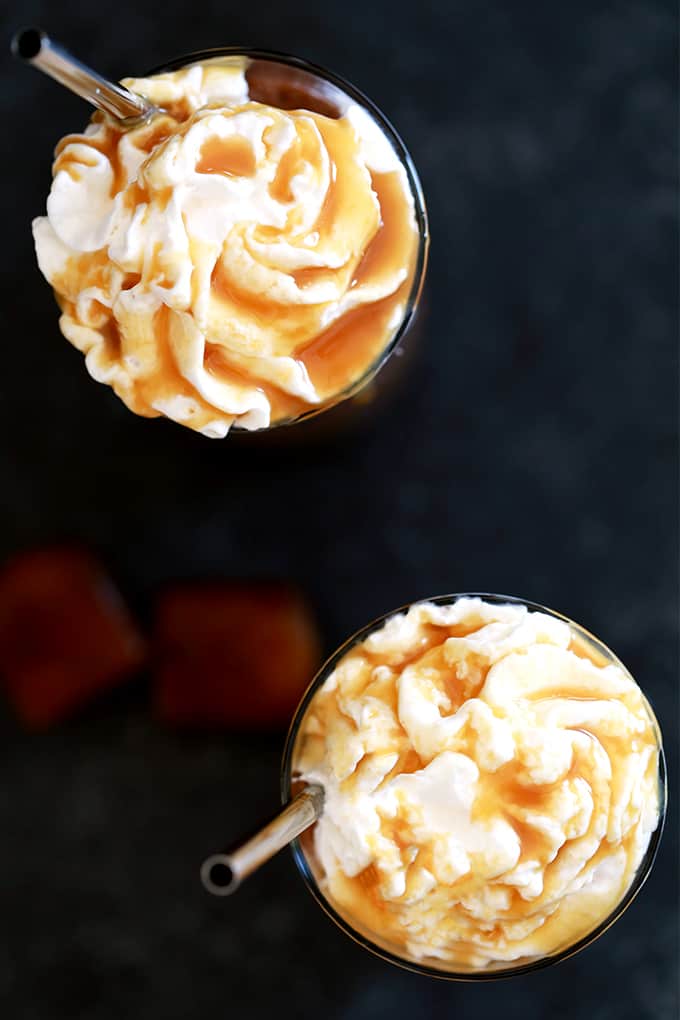 Since I've come to the realization that mocha simply means more chocolate in my life, I've mocha-fied many recipes!  My decadent Peanut Butter Mocha Poke Cake is always a crowd favorite.  And you'll love how easy my no bake Mocha Coconut Frappuccino Pie is.  I also love filling our cookie jar with these festive Mocha Peppermint Crunch Cookies that are not only delicious, but pretty, too!
My love for all things mocha knows no bounds as I'm looking forward to trying several new treats.   This Malted Mocha Swiss Roll not only sounds amazing, but it's absolutely stunning as well!  This Whipped Mocha Tart looks perfect for any day ending in Y that might call for dessert.  Of course, I can't think of a better way to begin my day than with this Strawberry Mocha Smoothie Bowl – love the addition of fruit!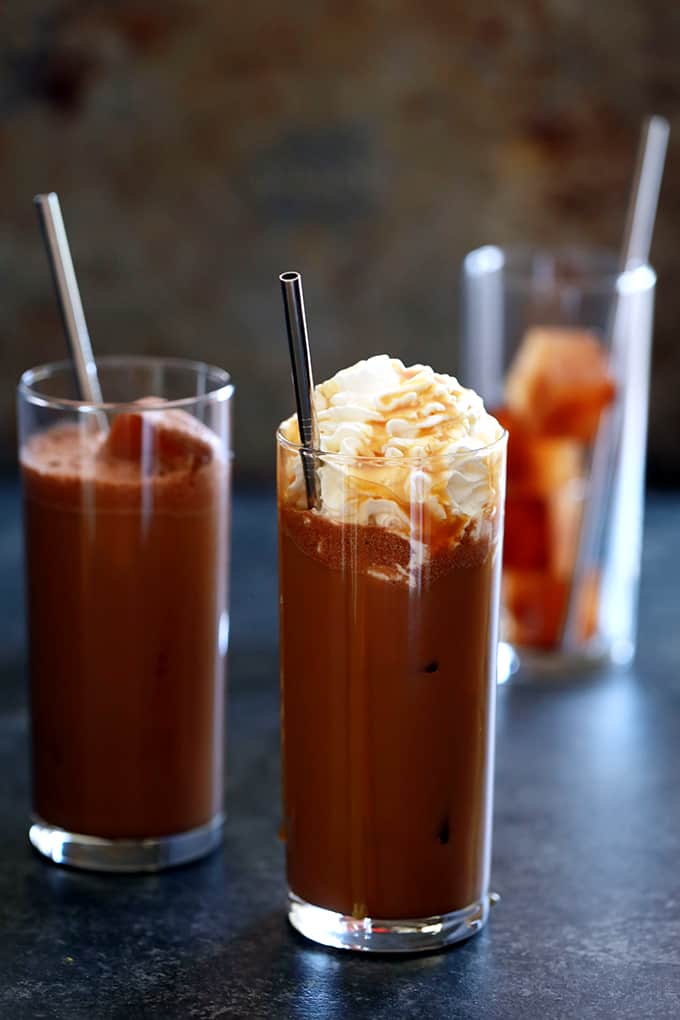 My Iced Caramel Mocha Latte recipe is incredibly easy.  First up?  Coffee cubes!  My one pet peeve with purchased iced coffee house drinks is that they quickly become watered down and I'm slurping like a mad woman to finish them before that happens.  To combat the problem, I freeze coffee in ice cube trays – I love these silicone ones – so that I can enjoy my drink at a more leisurely pace.
With my coffee cubes at the ready, I'm ready to make my drink.  I need only four ingredients and each one is something that I always have on hand – coffee, hot cocoa mix, milk and caramel ice cream topping.  I wish it hadn't taken me so long to figure out just how easy it was to create this mocha at home!  I simply steal one of my husband's K-Cups and brew a cup of coffee.  You then whisk in the other toppings and in less than two minutes, you're slowly sipping your drink and leaving your worries behind.  Suddenly things like your baby not napping don't seem so bothersome.  (For a few minutes anyway…)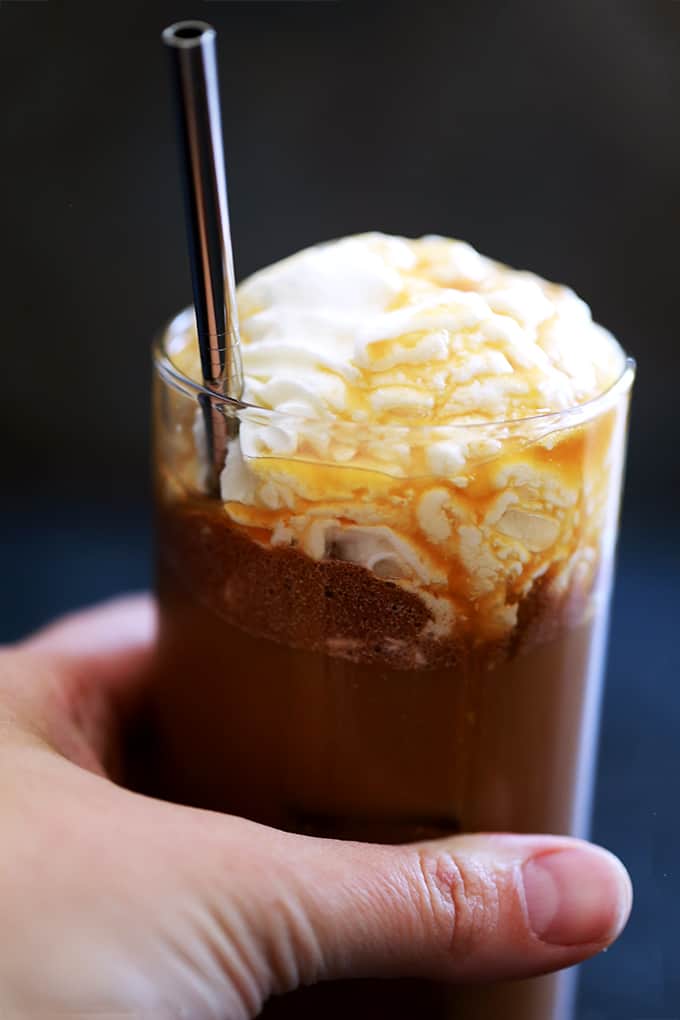 And because you're making you're drink at home, you also get to make the important barista decision of how much whipped cream is too much?  As if there were such a thing!  Top your latte with a mountain of whipped cream and a few additional swirls of caramel and you'll be patting yourself on the back for an Iced Caramel Mocha Latte well done!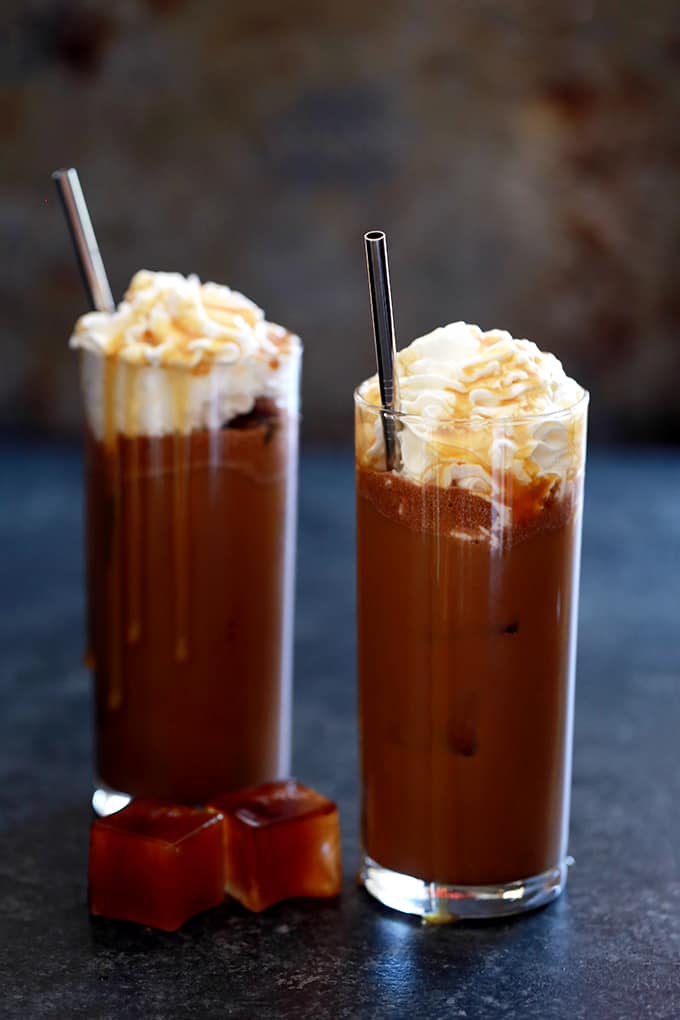 Ingredients
8 ounces coffee, prepared
2 tablespoons hot chocolate mix
1 tablespoon caramel ice cream topping
1/4 cup milk
coffee cubes (optional)
whipped cream and additional caramel, to garnish (optional)
Instructions
Whisk together coffee, hot chocolate mix, caramel and milk.
Pour over coffee cubes or ice cubes.
Garnish with whipped cream and additional caramel, if desired.
7.6.4
249
https://melaniemakes.com/blog/2015/06/iced-caramel-mocha-latte.html
Melanie Bauer | Melanie Makes