This deliciously easy Chicken Caesar Pasta Salad takes just 25 minutes to prepare and is the perfect weeknight dinner idea.  Chicken, shaved Parmesan cheese, pasta and cherry tomatoes adorn crisp romaine leaves before being drizzled with a homemade Caesar dressing.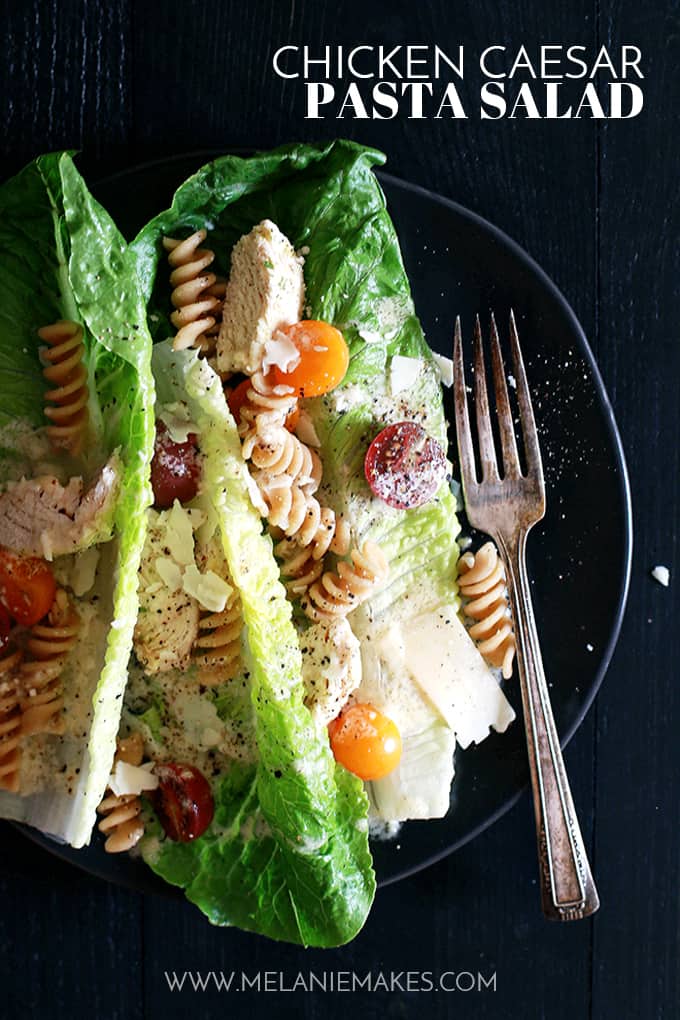 Keep in touch!  Subscribe to receive Melanie Makes recipes direct to your inbox.
Alert the presses!  I have found another meal to add to my list that each and every member of our family of six enjoyed.  And all three school aged children asked to take for lunch the next day.  Don't mind me.  I'm simply going to give this Chicken Caesar Pasta Salad a gold star and a permanent spot in our dinner time line up!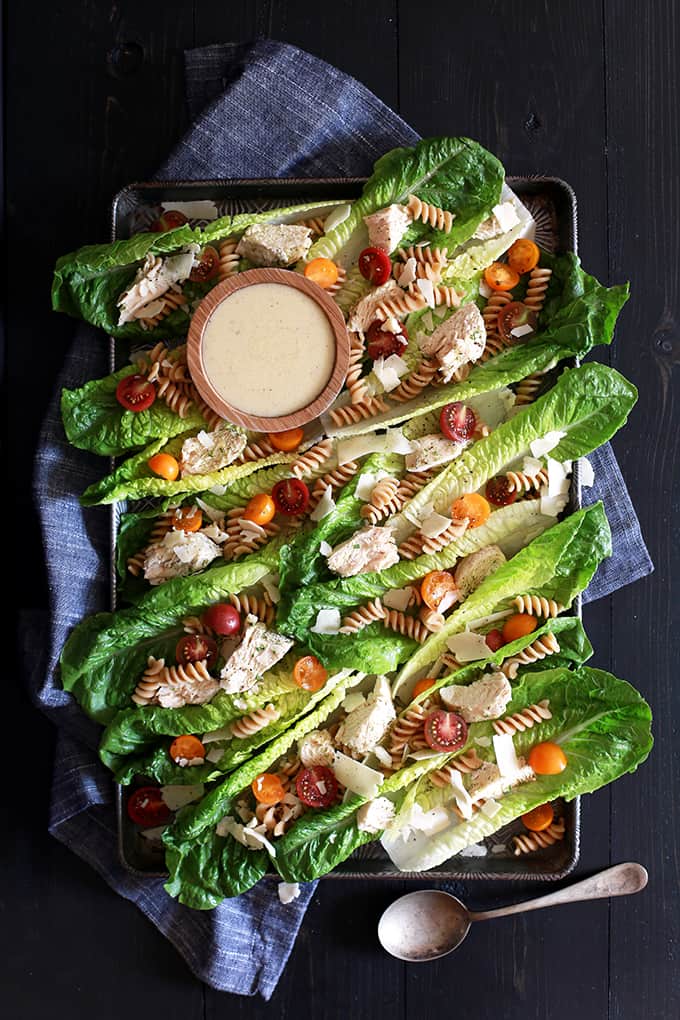 I've got two theories on what makes this Chicken Caesar Pasta Salad such a success.  It's presentation is the first one.  Sure, I could've chopped the lettuce and tossed everything together in a large bowl but what's special about that?  Instead, I layered the romaine hearts on a large serving platter – in this case, a baking sheet!  You eat with your eyes first and I'd much rather dig into this salad board of sorts, wouldn't you?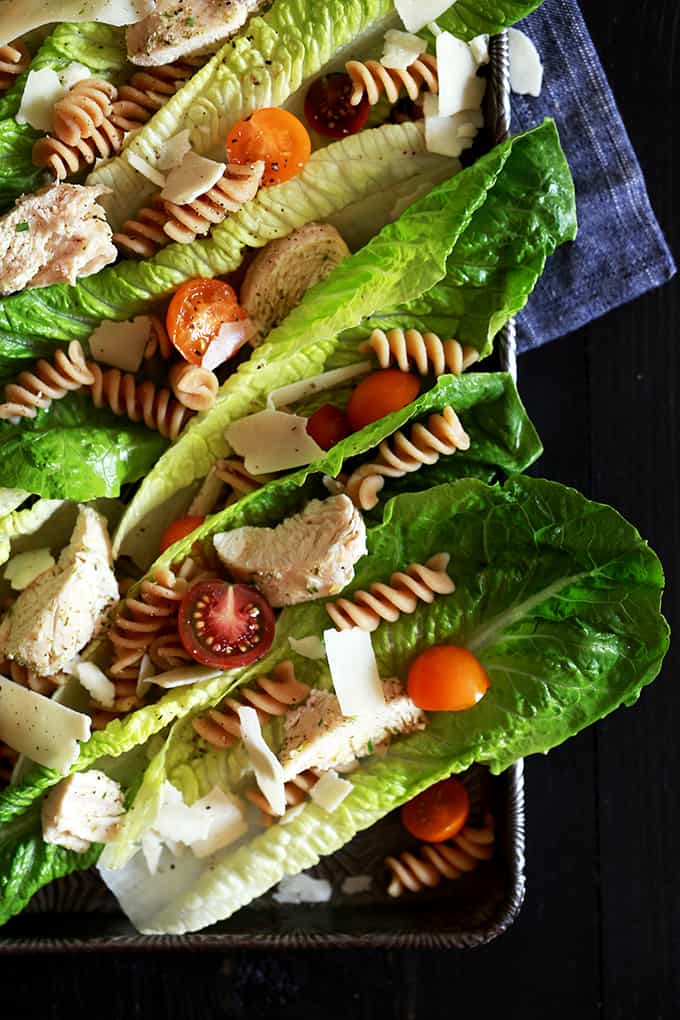 After the layer of romaine leaves, it's time for the fun part.  "Decorating" the salad with the rest of the ingredients.  Chicken, shaved Parmesan, pasta and cherry tomatoes adorn crisp lettuce leaves before being drizzled with my Homemade Caesar Dressing (No Anchovies).  This is the perfect time to let little ones in your house help with dinner because there's absolutely no wrong way to do it.  My two year old enjoyed picking up the romaine leaf on her plate to eat her salad like a taco but if it's easier for smaller children, you definitely could chop the lettuce instead.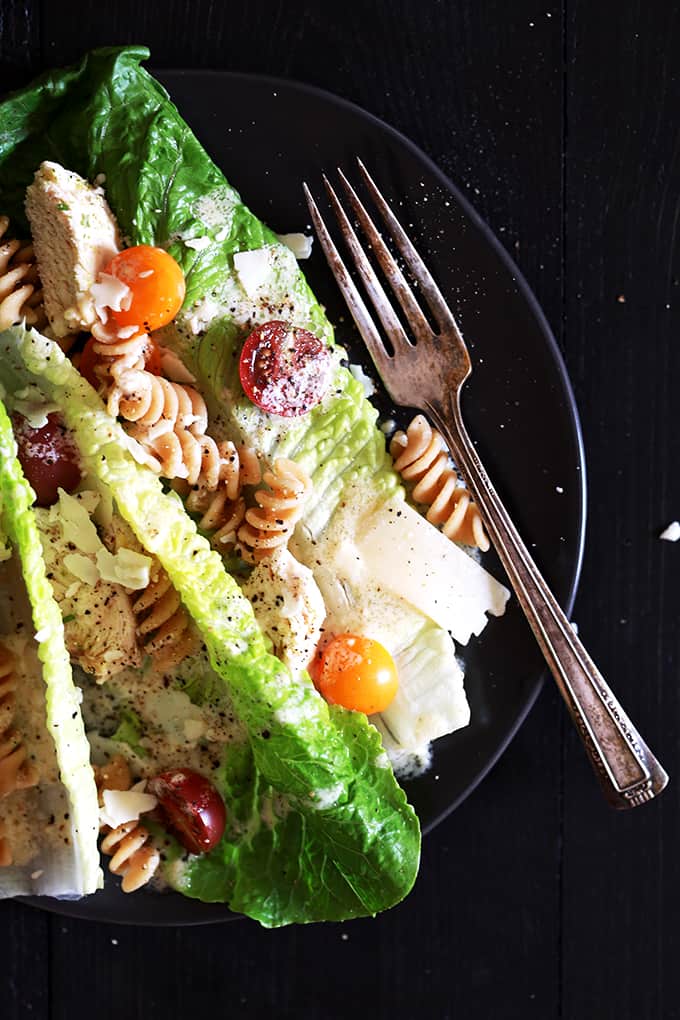 This Chicken Caesar Pasta Salad is absolutely main dish worthy and makes getting dinner on the table so easy!  However, if you'd rather dish out smaller servings as a side dish or appetizer, that works too!  It would be the perfect accompaniment to my delicious Roasted Red Pepper Puttanesca Lasagna Rolls, comfort food worthy Shrimp Parmesan Sandwiches or my crowd pleasing easy String Cheese Manicotti.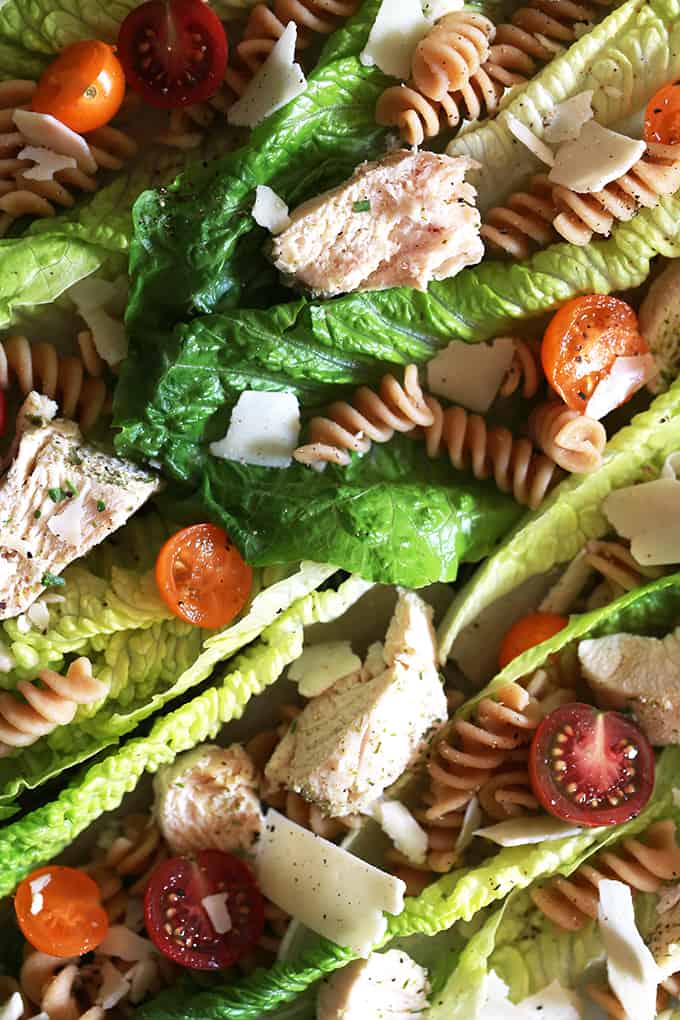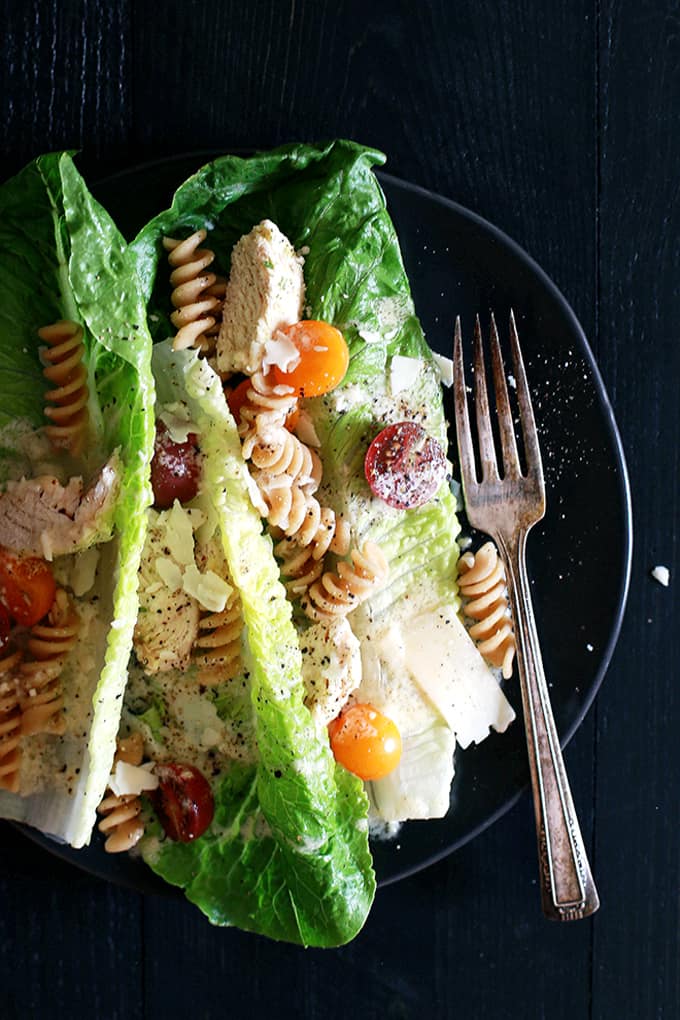 Ingredients
16 ounces pasta
3 romaine hearts
4 cups cooked chicken, coarsely chopped
1 pint cherry tomatoes, halved
1 cup shaved Parmesan cheese
1 cup prepared Homemade Caesar Dressing with No Anchovies
salt and pepper, to taste
Instructions
Cook pasta to al dente according to package directions. Drain, rinse with cold water and drain again.
To assemble salad, arrange romaine hearts on a large platter.
Top romaine with chicken, tomatoes and cheese.
Dress with Caesar dressing and salt and pepper to taste.
7.6.4
430
https://melaniemakes.com/blog/2017/09/chicken-caesar-pasta-salad.html
Melanie Bauer | Melanie Makes
Fans of this Chicken Caesar Pasta Salad will also no doubt love these Easy Low-Carb Cucumbers Caesar, this magazine worthy Caesar Cocktail and these fun Chicken Caesar Kabobs.