These Pepperoni Pizza Pancakes make a quick and delicious snack, lunch or dinner.  A homemade baking mix, eggs, milk and herbs are stirred together before being bedazzled with a mountain of cheese and pepperoni.  In less than 15 minutes, you've got a stack of savory flapjacks ready and waiting to be dipped into some warmed marinara sauce.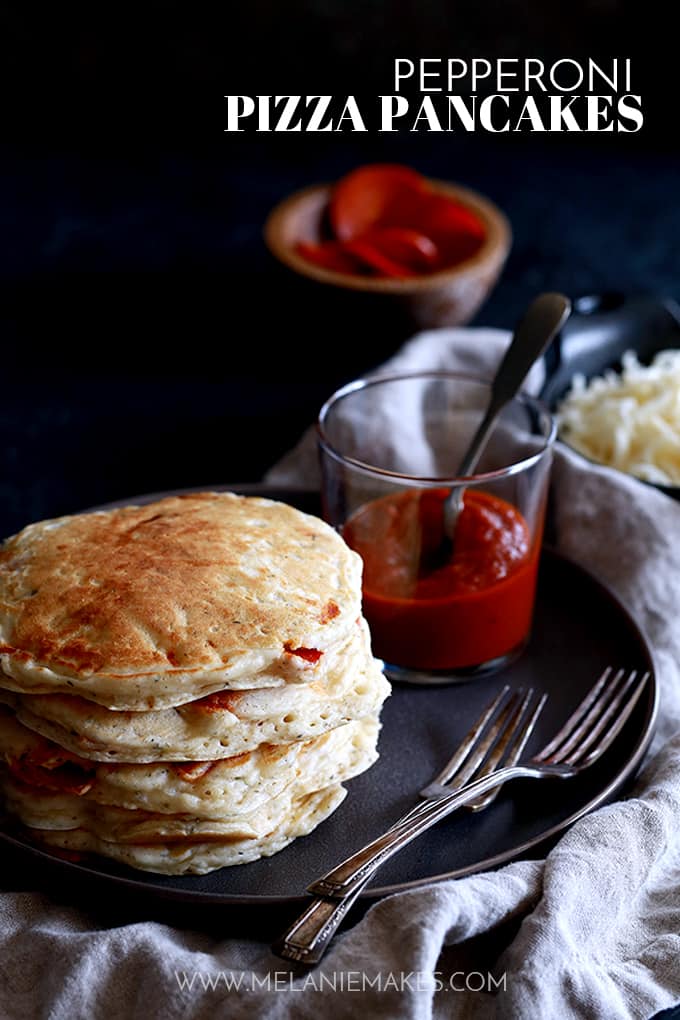 Keep in touch!  Subscribe to receive Melanie Makes recipes direct to your inbox.
Please tell me that a brinner meal isn't something that just occurs at my house.  You know, BRINNER.  Serving breakfast food for dinner as it's something easy for you to make but also a meal that's guaranteed to be loved by each and every member of your family.  Don't get me wrong, I'm a big fan of brinner but sometimes I don't want something sweet like waffles or french toast.  I'm wanting something savory.  Enter my Pepperoni Pizza Pancakes.  It's pizza night meets brinner and it's absolutely as dreamy as it sounds.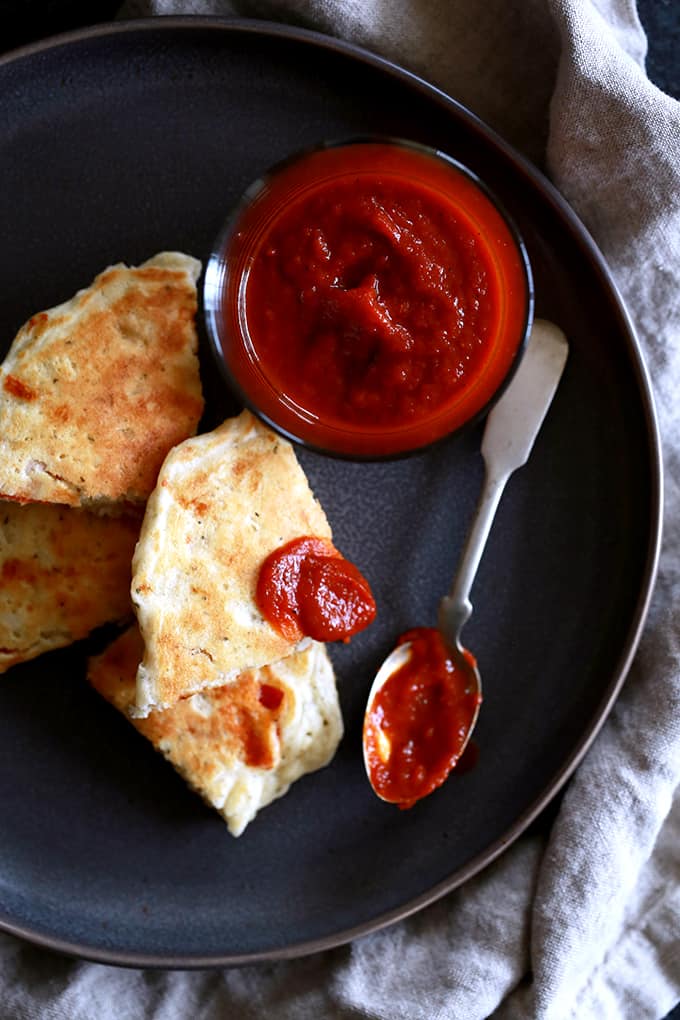 Don't get me wrong, when I've got the time and feel like cooking I'm all about these fluffy Pepperoni Pizza Rolls or my Deep Dish Bubble Pizza, but sometimes mama just needs something easy with a capital E and these seven ingredient Pepperoni Pizza Pancakes fit the bill!  Especially when one of those ingredients is my Homemade Baking Mix.  It's like a super secret shortcut hiding in my pantry ready to get dinner on the table in just minutes.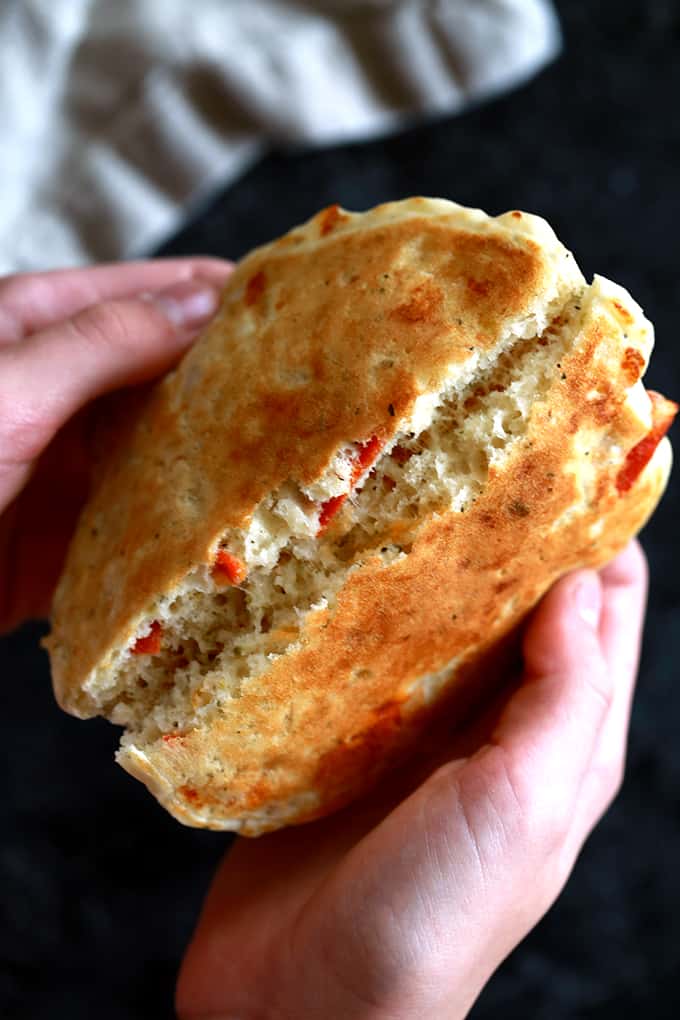 It's as easy as preheating your griddle and then stirring the baking mix, eggs, milk and herbs together.  And of course, then you add lots and cheese and pepperoni to insure each and every bite is as delicious as the last.  In less than 15 minutes, you've got a stack of savory flapjacks ready and waiting to be dipped into some warmed marinara sauce.  I mean, tell me what adult or child wouldn't love to sit down to a plate of these Pepperoni Pizza Pancakes!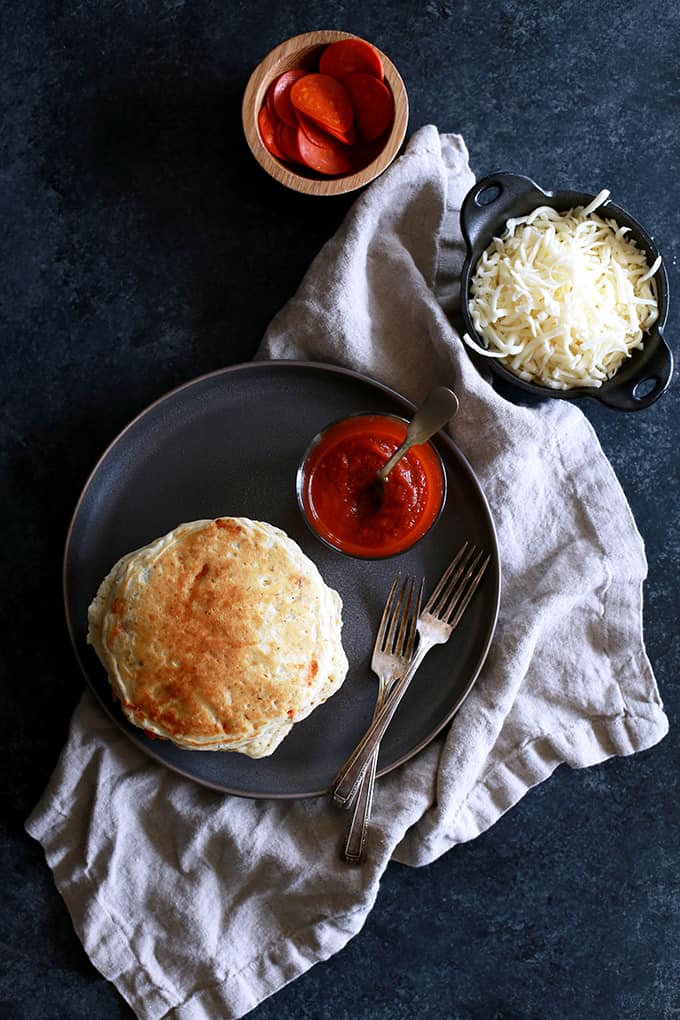 And if making one batch of these Pepperoni Pizza Pancakes is so easy, I'd advise you to double the recipe!  Not only do these pancakes freeze well to have stashed for a quick snack or meal idea in the future, but they're also the perfect lunchbox meal as well.  Easy to eat by even the littlest of hands and way less messy than a traditional slice of pizza.  A lunch that will definitely be the envy of every other student in the cafeteria.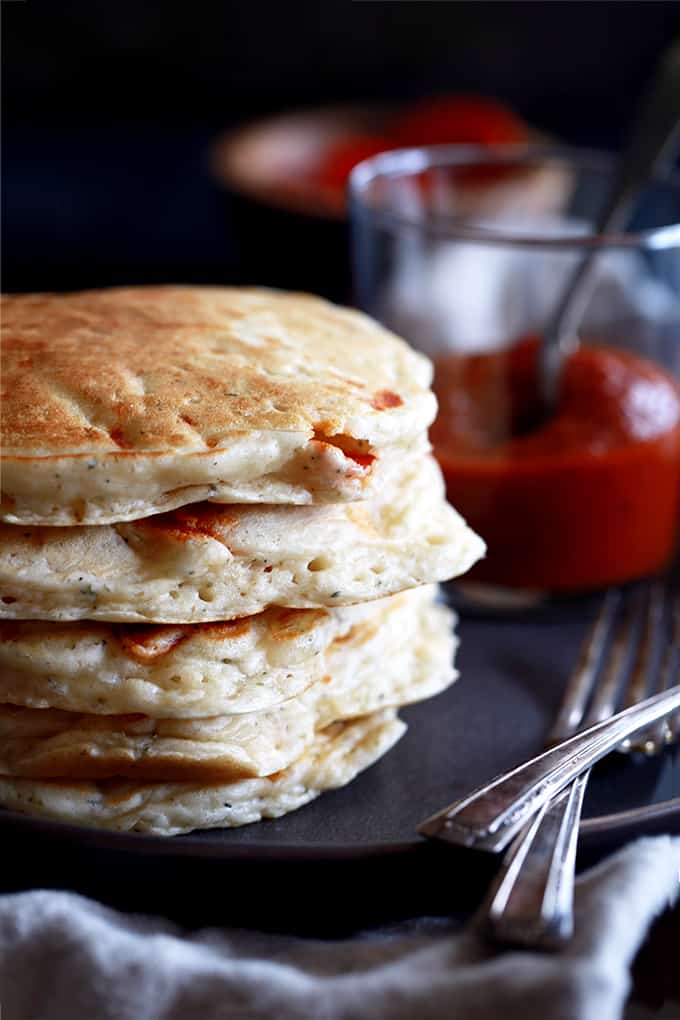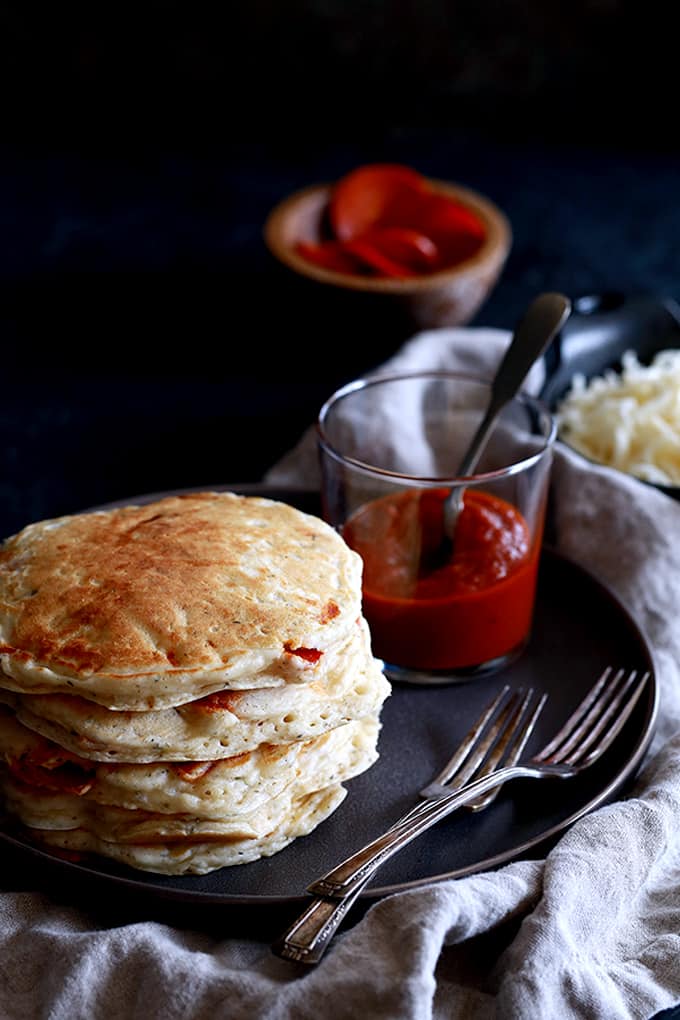 Ingredients
4 cups Homemade Baking MIx
3 cups milk
4 eggs, beaten
4 teaspoons Italian seasoning
2 teaspoons garlic powder
2 cups shredded mozzarella cheese
4 ounces pepperoni slices, quartered
14 ounces pizza sauce, for dipping
Instructions
Heat griddle to 350 degrees.
In a large bowl, add baking mix, milk, eggs, Italian seasoning and garlic powder and stir together until just combined.
Add cheese and pepperoni to bowl, being sure to separate pepperoni slices when adding to bowl so they do not stick together. Carefully fold into batter.
Using a 1/3 cup measuring cup, pour batter onto griddle to create pancakes.
Wait until brown on bottom side and bubbling on top before flipping and browning on additional side.
Serve pancakes with warmed marinara sauce for dipping.
7.6.4
448
https://melaniemakes.com/blog/2017/10/pepperoni-pizza-pancakes.html
Melanie Bauer | Melanie Makes
Looking for more ways to include pizza in your life?  Me too!  Check out these amazing Pepperoni Pizza Lasagna Rolls, The Best Pan Pizza and this comforting Pizza Dip Filled Baguette.