The perfect treat created with candy from your Easter basket stash! These Jelly Bean Donuts are bedazzled with spring colored jelly beans and covered with a vanilla sugar glaze. They're sure to be a hit with anyone with a sweet tooth!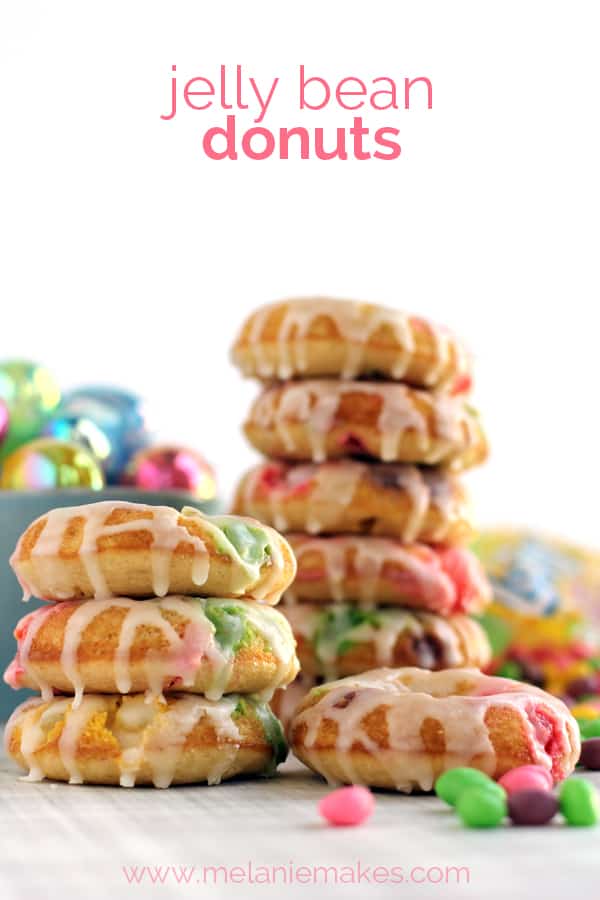 I'm going to let you in on a little secret… I am friends with the Easter Bunny. Oh yes, it's true. We're on a first name basis and I'm able to pass along our Easter candy preferences to him to insure that each basket is filled with everyone's favorites. It's a pretty cool arrangement, I must admit.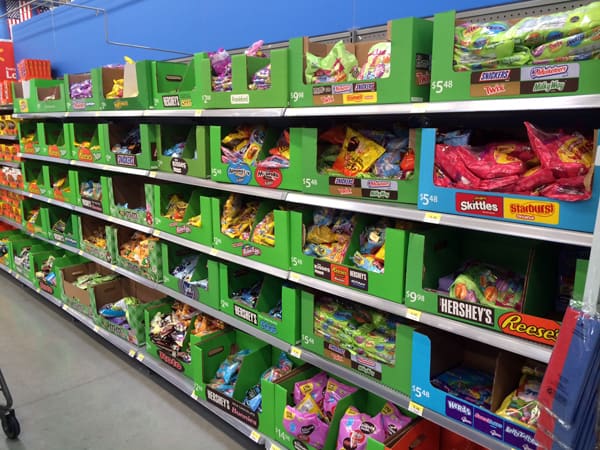 A few weeks ago while strolling what seemed like aisle upon aisle of Easter candy goodness at Walmart, I spied two different candies that I immediately added to our "must have" list this year.
One was a brand new candy, Wonka Laffy Taffy Jelly Beans, and the other was a family favorite, Butterfinger Nest Eggs, now in a 10 oz. package. I immediately had recipe plans for both so asking the Easter Bunny to deliver them seemed like the perfect way to insure that I had extra for my baking stash post holiday. Clever, right?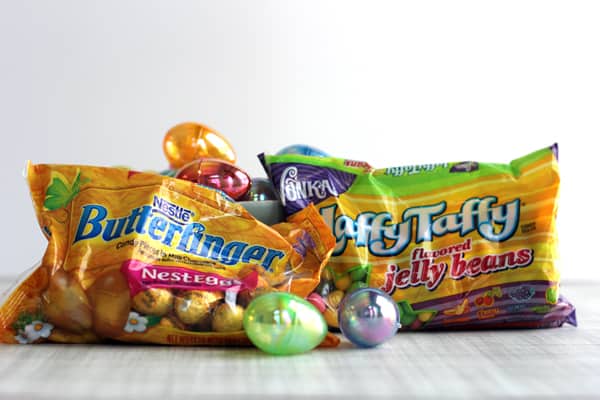 The menagerie loves jelly beans. Like LOVES. They will request a handful after dinner and then play a game where they hand one to a sibling who has their eyes closed and then will eat it in an attempt to guess which flavor they've been given. They also request jelly beans as part of our Thanksgiving dinner spread thanks to seeing Snoopy serve them during his yearly cartoon special… But I digress.
These Wonka Laffy Taffy Jelly Beans taste just like their name implies, Laffy Taffy! Laffy Taffy is something we'd always get from the concessions stand at our town pool when we went swimming each summer. Such a fun memory! These jelly beans are the perfect cross between both candies. Spring colored, fruit flavored goodness.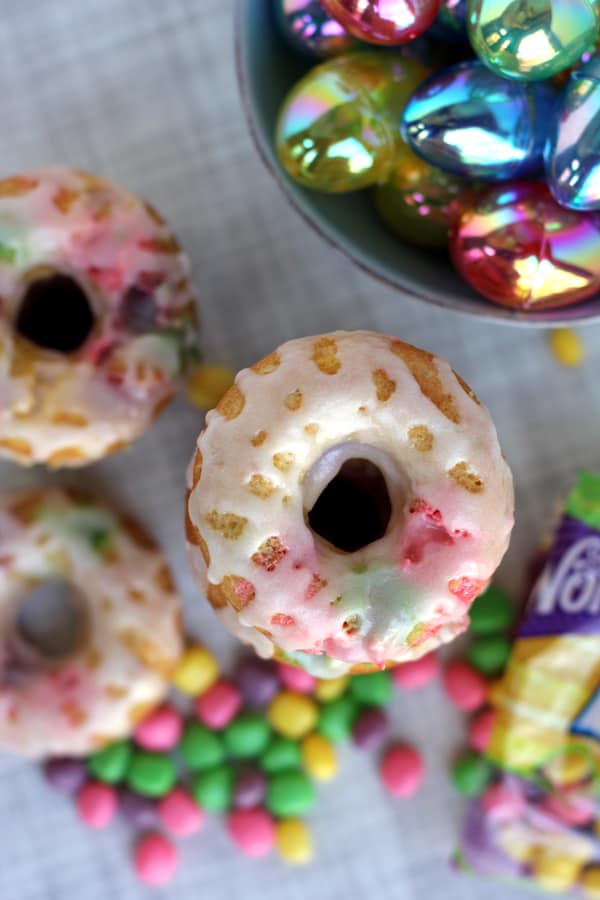 Funfetti anything has been all the rage with recipes as of late and I thought why should sprinkles have all the fun? Wouldn't it be awesome to have donuts dotted with jelly beans? I knew the colors would be perfect and what a great way to make a dent in all of the Easter loot you'll soon have on hand!
The best part is that these donuts couldn't be easier to make. In less than an hour you can have fresh Jellybean Donuts that are glazed and at the table ready for you to enjoy! Don't have a donut pan? No worries! You can also use the batter in a muffin tin and simply adjust the baking time. Either way, you'll have a special Spring treat waiting to be devoured!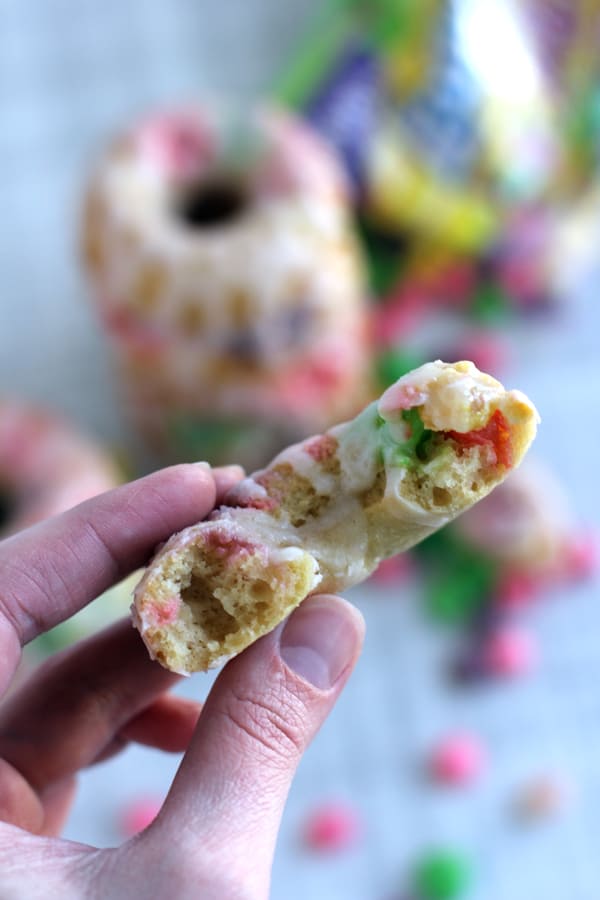 Melanie Bauer
Yields 12 donuts
Jelly Bean Donuts
15 minPrep Time
10 minCook Time
25 minTotal Time
Ingredients
Jelly Bean Donuts

1/4 cup milk
1/4 cup plain yogurt
1 egg
2 tablespoons butter, melted
1 teaspoon vanilla
1 cup flour
1 teaspoon baking powder
1/4 teaspoon baking soda
1/3 cup sugar
1 cup Wonka Laffy Taffy Jelly Beans

Glaze

2 cups powdered sugar
1/2 cup milk
1 teaspoon vanilla
Instructions
Preheat oven to 350 degrees.
In the bowl of an electric mixer, combine milk, yogurt and egg. Add butter and vanilla and mix until combined.
Add flour, baking powder, baking soda and sugar to yogurt mixture and mix until just combined.
Fold in jelly beans.
Spray donut pan with nonstick spray.
Add batter to a large zipped top bag and cut off one corner to use as a piping bag. Add batter to each donut well until 2/3 full.
Bake for 10 minutes.
Remove from oven and let donuts cool for 5 minutes before removing to wire rack to cool completely.
Meanwhile, in a small bowl, whisk together all glaze ingredients. Add glaze to a zipped top bag and cut off one corner to use as a piping bag and glaze donuts.
Notes
Donuts are best served the day that they are made but can be stored for two days if covered tightly.
7.8.1.2
119
https://melaniemakes.com/jelly-bean-donuts/
Melanie Bauer | Melanie Makes
Thinking you might like to have an in with the Easter Bunny, too? Let me know. I'll be more than happy to pass along his contact info!
Want to see what I created with the Butterfinger Nest Eggs? Let me tell you, you do! Click here for the recipe.
—–
As part of a sponsored post for Collective Bias®, I created these Jelly Bean Donuts featuring Wonka Laffy Taffy Jelly Beans as a delicious use for all that candy the Easter Bunny will be bringing you. #NewFavorites #CollectiveBias