These Oven Baked Chimichurri Chicken Fajitas are bursting with bright fresh flavors thanks to a vibrant green chimichurri sauce.  Succulent strips of chicken breast marinate in the sauce before being oven baked and nestled into tortillas with bell peppers, red onions and grape tomatoes.  Fajitas have never been easier or more delicious!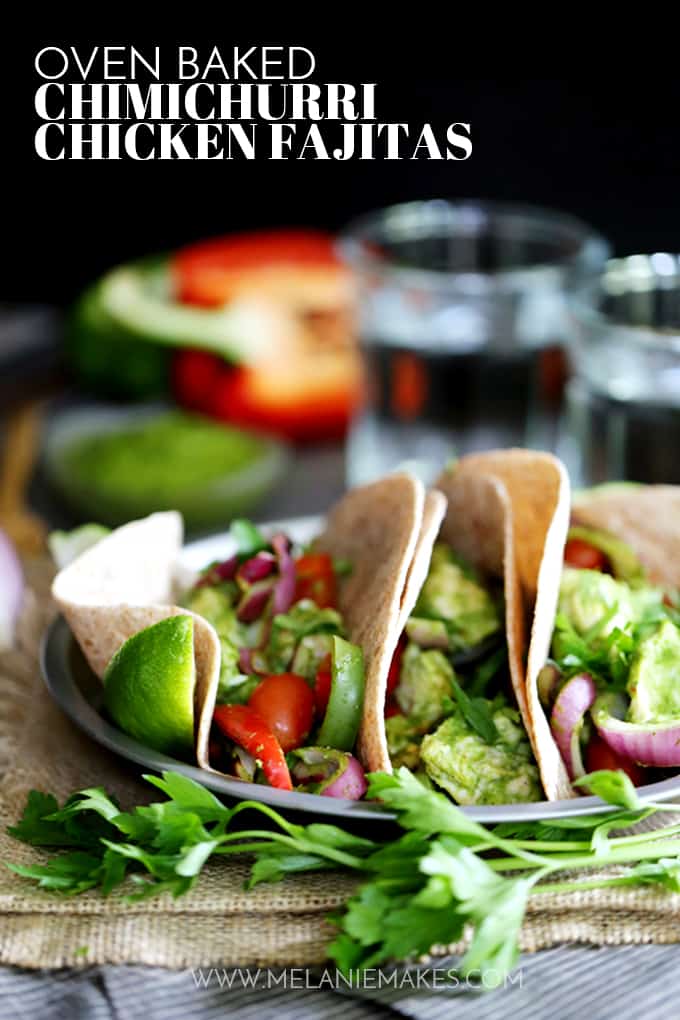 This recipe was written in partnership with Zaycon Fresh.  As always, all thoughts and opinions are my own.  They provided the chicken I used in this recipe, but I received no further compensation.  Thank you for supporting this brand that allows me the opportunity to create content for Melanie Makes.
Keep in touch!  Subscribe to receive Melanie Makes recipes direct to your inbox.
Fajita lovers, rejoice!  I've found the perfect way to not only make fajitas, but have also summer-ized them.  I'm thinking if you can winterize things, you can surely summer-ize them, right?  The bright, fresh flavors of these Oven Baked Chimichurri Chicken Fajitas are just spot on.  The fact that I can prepare these on a weeknight without manning a grill and with four children underfoot?  That's the definition of a winning fajita recipe in my book!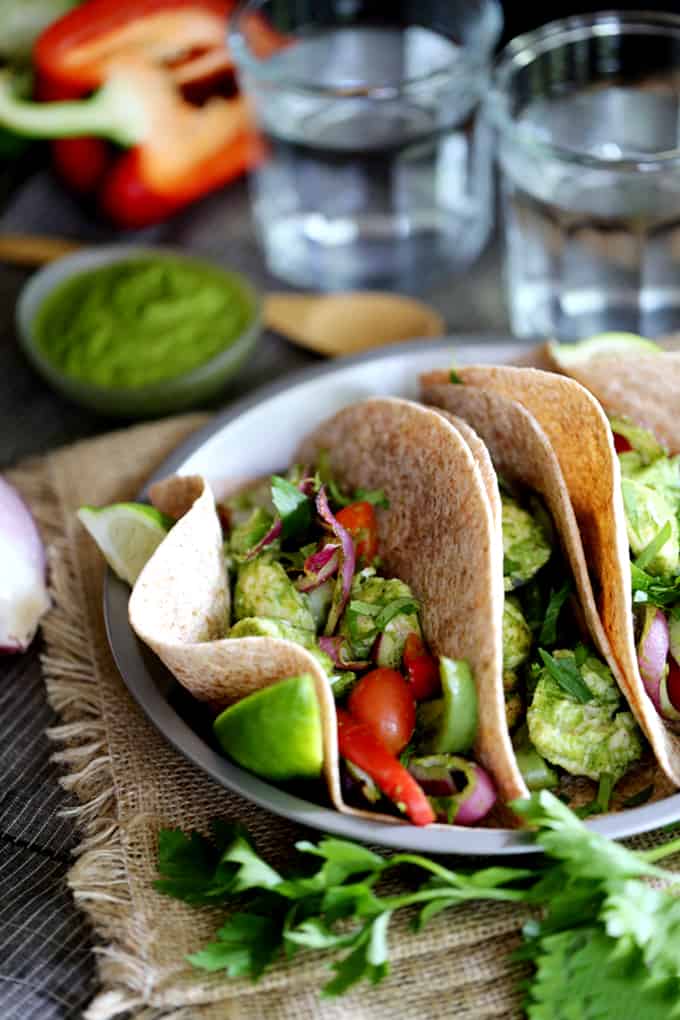 A vibrant green chimichurri sauce of cilantro, parsley and garlic and spiked with red pepper flakes and cumin comes together in just minutes with just a whirl in the blender.  Succulent strips of chicken breast that have been marinated in the chimichurri sauce then oven baked before being nestled into a tortilla with bell peppers, red onions and tomatoes.  I mean, these Oven Baked Chimichurri Chicken Fajitas couldn't be easier, or more delicious.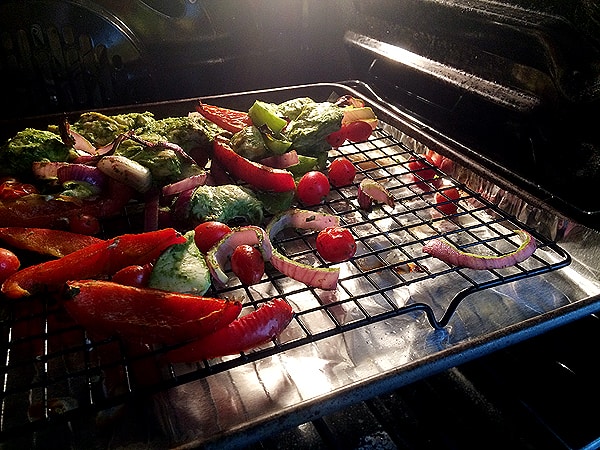 I've tried several oven baked fajita recipes, and although they're easy, I've hated the fact that they're baked in a 9×13 pan and the chicken and vegetables end up steaming instead of baking.  The end result is a fajita mixture that's sitting in a pool of liquid and limp vegetables.  Wah, wah!
My Oven Baked Chimichurri Chicken Fajitas are a bit different as the fajita mixture is baked in a single layer on a baking rack placed on a foil lined baking sheet.  The end result?  Slightly charred veggies that still have some bite and perfectly baked chicken and minimal clean up required.  I do have to admit the cherry tomatoes that burst in your mouth when you bite into them might be my favorite part.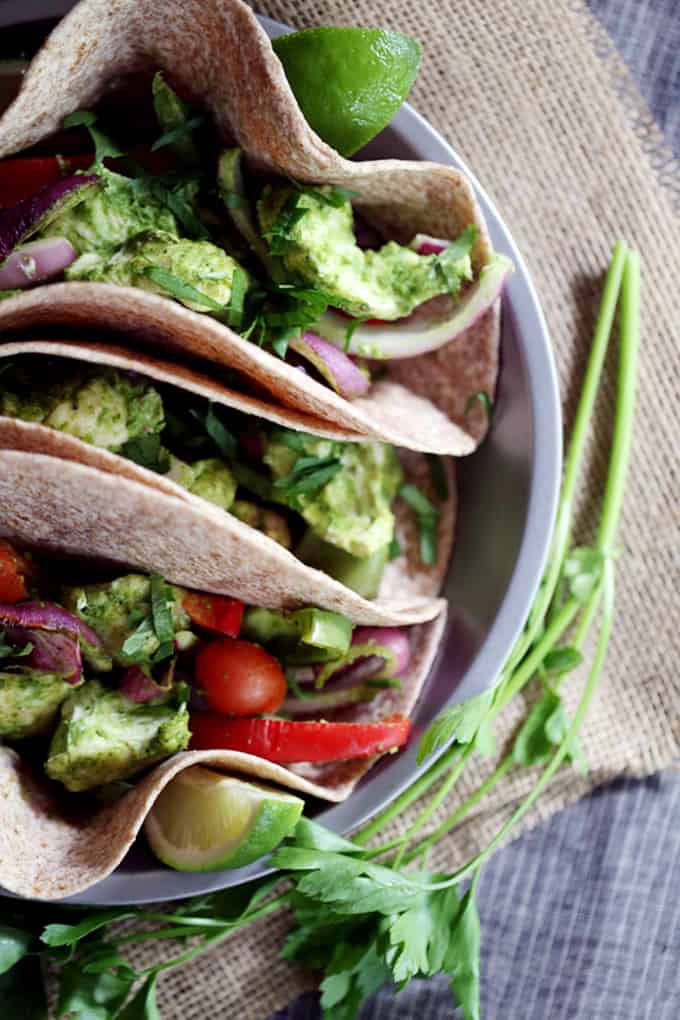 But back to that chicken…  I don't know about you, but our family loves chicken and we eat it numerous times a week and friends, chicken isn't cheap.  Especially when you're feeding a family of six.  (Sure, the baby doesn't eat solid foods yet, but I'm still calling it a family of six.)
A month or so ago, I discovered Zaycon Fresh.  Zaycon Fresh offers delicious, high quality, farm-fresh food at more than 30% off grocery store prices.  Here in Cleveland, boneless skinless chicken breasts are usually around $4/pound.  I try and only purchase them when they're buy one, get one free and then buy a few extra to put in the freezer.  With Zaycon, you not only get them at a cheaper price – they're currently listed at $1.89/pound – but you're able to place your order online and then pick them up at location convenient to ME.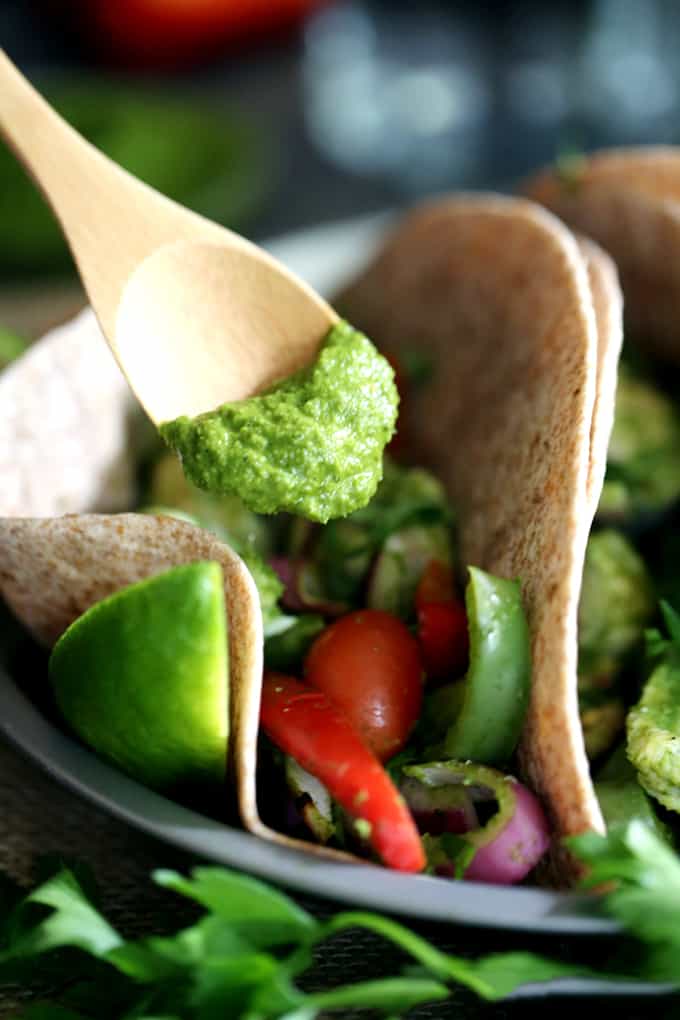 I purchased my chicken online and then at the date and time of my event, I drove to my pickup location.  Because it was my first time trying things, I was a few minutes early when I pulled up to the Zaycon truck.  I simply had to show the driver my receipt and he placed my order in my car for me.  The whole process took less than five minutes!  The fact that I didn't have to unbuckle four children from car seats, walk to the back of a store to get chicken, pay for my groceries and then buckle everyone back up?  AMAZING!
Another positive is that the case of chicken breasts was 40 pounds.  Yes, four zero.  That meant that that evening after I got everyone to bed I was able to repackage everything how I liked and stock my freezer.  This process took less than an hour for my husband and I to complete and was a breeze thanks to using my Food Saver machine and their quart and gallon size bags.
This is the same chicken I use for my crowd pleasing Sheet Pan Chicken Reuben Nachos, delicious Mandarin Orange Chicken Salad and Taco Tuesday favorite Slow Cooker Hoisin Chili Chicken Tacos.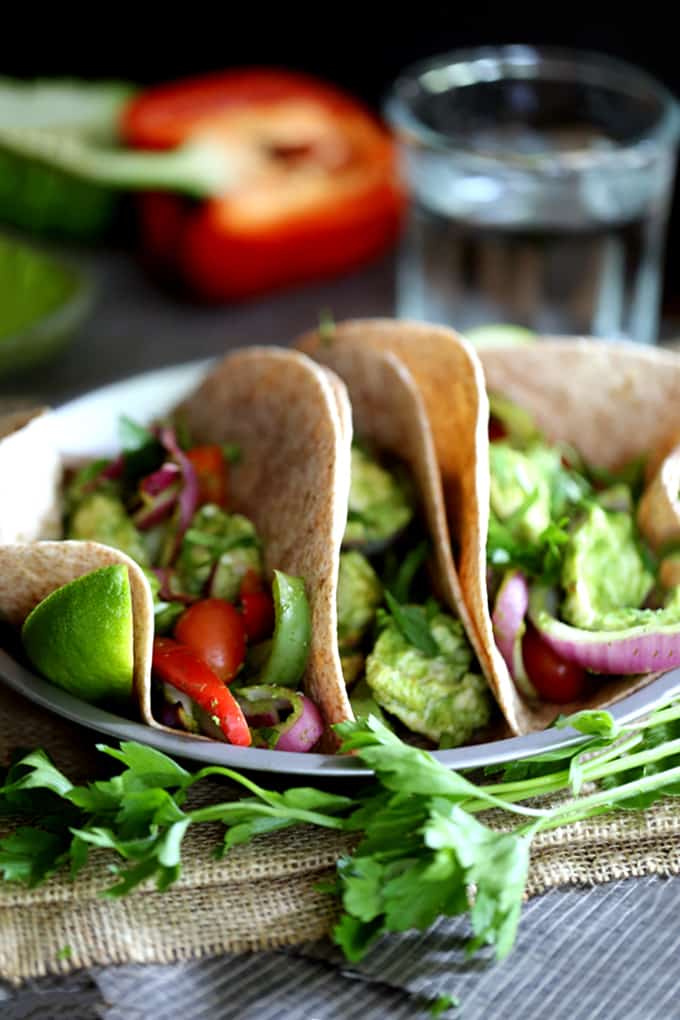 Now that you've joined the chimichurri fan club with these Oven Baked Chimichurri Chicken Fajitas, you'll also want to add a few more green sauced dishes to your menu plan.  I'm thinking this hearty Chimichurri Steak Sandwich, these tropical One Pot Sticky Honey Lime Shrimp with Pineapple Chimichurri or these cultural mashup Brisket Empenadas with Passionfruit Chimichurri would be a great place to start.
Melanie Bauer | Melanie Makes
Yields 12 fajitas
Oven Baked Chimichurri Chicken Fajitas
20 minPrep Time
25 minCook Time
45 minTotal Time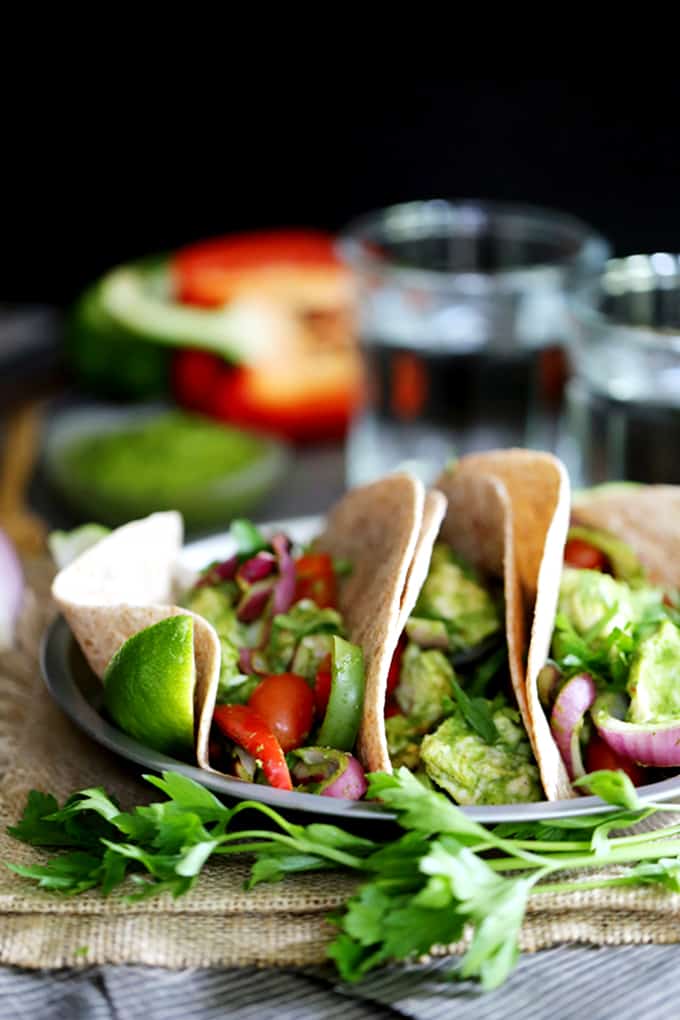 Ingredients
Chimichurri Sauce

1 bunch cilantro
1 bunch parsley
3 cloves garlic
1/2 red onion, sliced
1 tablespoon salt
1 teaspoon pepper
1/2 teaspoon red pepper flakes
1/2 teaspoon cumin
2 tablespoons red wine vinegar
juice of 1 lemon
1/2 cup olive oil

Chicken Fajitas

2-3 pounds Zaycon Fresh Boneless Skinless Chicken Breasts , cut into bite sized strips
1-1/2 red onions, sliced
1 pint grape tomatoes
2 red peppers, sliced
2 green peppers, sliced
12 fajita size tortillas
lime wedges, for serving
Instructions
Chimichurri Sauce

In a blender carafe, add all ingredients and blend until well combined and desired consistency.

Chicken Fajitas

In a gallon size zip top bag, add chicken and half of chimichurri sauce. Refrigerate and allow to marinate for at least 30 minutes but no longer than 2 hours.
Preheat oven to 400 degrees.
In a large bowl, stir together marinated chicken, peppers, onion and tomatoes. Spread into a single layer over a cooling rack nestled into a foil lined baking sheet. (This will likely mean using two baking sheets.)
Bake for 25-30 minutes until chicken is cooked through.
Serve fajita mixture in tortillas with additional chimichurri sauce and lime wedges.
7.8.1.2
260
https://melaniemakes.com/oven-baked-chimichurri-chicken-fajitas/
Melanie Bauer | Melanie Makes