I'm stepping back from Melanie Makes for a few weeks to enjoy a maternity leave of sorts with our new arrival. In the meantime, I'm thrilled to be sharing recipes from some of my favorite food bloggers who I'm also lucky enough to call friends. Today, fellow Buckeye State blogger and mama-to-be Courtney from Neighborfood is sharing a delicious treat that I can't wait to try!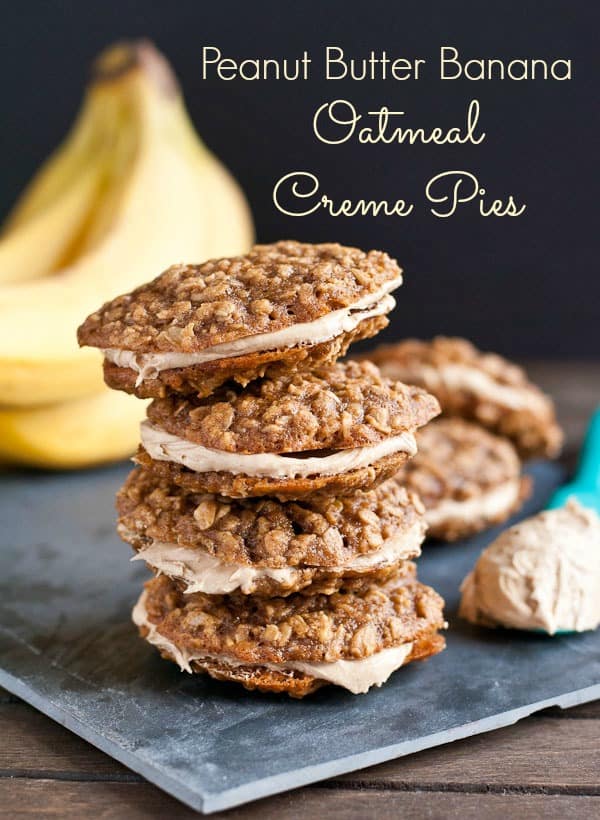 Hey Melanie Makes fans! I'm Courtney, and I'm the blogger, corny-joke teller, and general crazy person behind the blog NeighborFood. I'm so excited to be sharing these incredible Peanut Butter Banana Oatmeal Creme Pies with you while Melanie gets some much deserved time off to snuggle with her new baby.
I've never been a huge fan of pre-packaged sweets. Even as a sugar-crazed child, you couldn't tempt me with a Twinkie or a Ho Ho. But there was one glaring exception to this aversion and it came in the form of a thin oatmeal cookie sandwich wrapped in crinkly cellophane.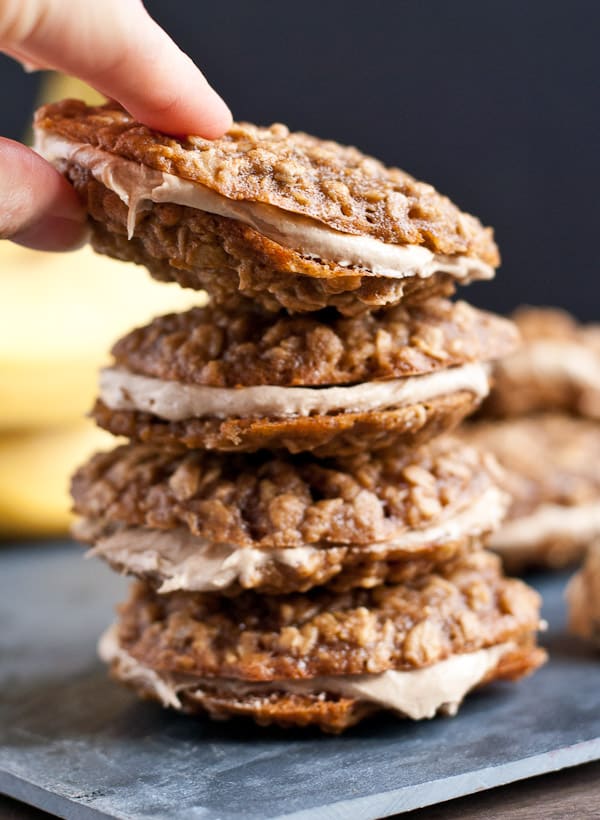 I was (and continue to be) a complete sucker for oatmeal creme pies. To me, they're the perfect sweetness and texture. They're sweet without being overbearing, and have the perfect balance of chewiness and creaminess.
I've made oatmeal creme pies in the past, but never thought to change up the original. However, when a recent hunt for the perfect banana cookie turned up this recipe, my love for bananas and my undying devotion to oatmeal creme pies collided in the best of ways.
These Oatmeal Banana Cookies are thin, chewy, and soft, just like the cookies in my favorite oatmeal creme pies. As soon as I made them I knew they had to be sandwiched. The only question was what to put in the middle. Plain marshmallow filling would have been tasty, but knowing Melanie's affinity for fluffernutter flavored treats, I knew I had to find a way to work peanut butter into the mix.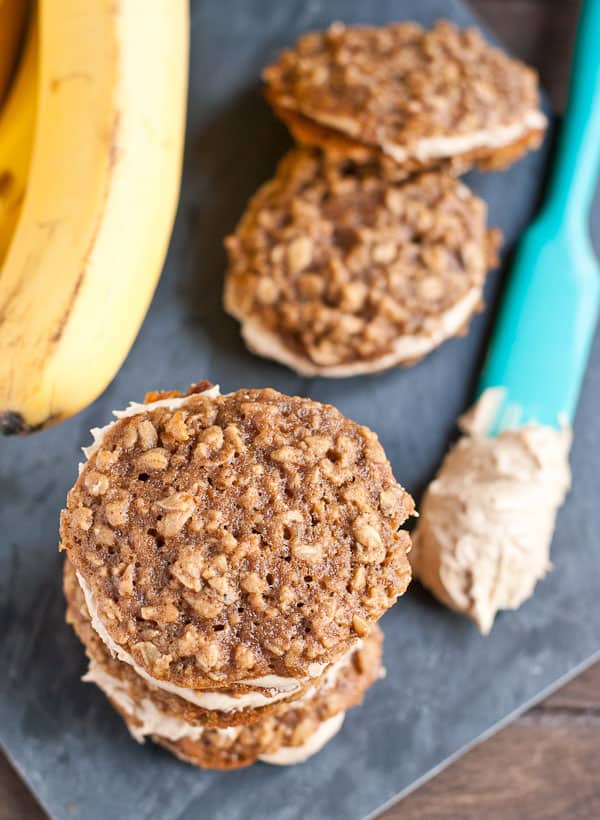 The result is a moist, chewy banana flavored oatmeal cookie cushioned around a dreamy peanut butter marshmallow creme filling. I don't want to knock the original (I'll always love you Oatmeal Creme Pies!!), but these are even more irresistible than their predecessors. If you're a fan of peanut butter, banana, and marshmallow, you're going to want to get these into your face as soon as possible.

Neighborfood for Melanie Makes
Yields 16-18 sandwiches
Peanut Butter Banana Oatmeal Creme Pies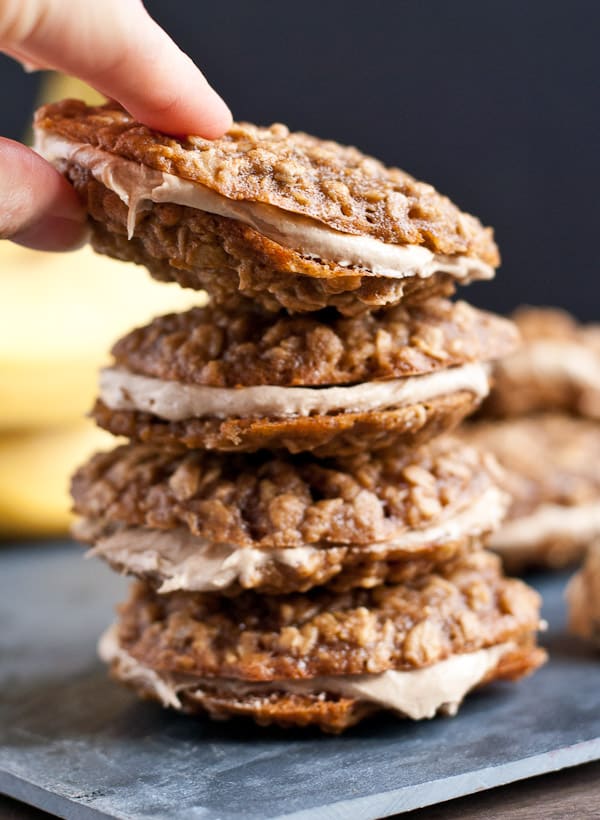 Ingredients
For the cookies:

3/4 cup unsalted butter
1 cup packed brown sugar
1/2 cup sugar
1 egg
1 teaspoon vanilla extract
1 cup mashed bananas
1 1/2 cups flour
1 1/2 teaspoons cinnamon
1 teaspoon baking soda
2 teaspoon cornstarch
1/2 teaspoon salt
3 cups old fashioned oats

For the filling:

1 cup marshmallow creme
1 cup creamy peanut butter
1/2 cup shortening
1/4 cup powdered sugar
1 teaspoon vanilla
Pinch salt
1-3 Tablespoons hot water
Instructions
For the cookies:

Preheat oven to 350 degrees. Line two large baking sheets with parchment paper.
In the bowl of an electric mixer, beat together the butter and sugars until well combined. Add the egg, vanilla extract and mashed bananas and beat on medium speed until combined, scraping down the bowl as needed.
In another bowl, whisk together the flour, cinnamon, baking soda, salt and cornstarch. Add it to the mixer and beat on low speed until combined. Stir in oats.
Spoon tablespoons of dough onto prepared cookie sheets. Flatten dough a bit with the palm of your hand, into thick discs. They will spread a little when baked. Bake for 10-12 minutes or until edges are golden and top is no longer sticky.
Remove from oven and cool on cookie sheet for 3-4 minutes, then use a spatula to move them to a cooling rack to finish cooling.

For the filling:

Using an electric stand mixer, beaters, or a strong whisk, beat together all the ingredients except the hot water. The mixture will be thick and very sticky. Slowly add the hot water, beating until mixture is smooth, creamy, and thin enough to spread easily with a knife or spatula.
Once the cookies have cooled, spread an ample amount of filling on one cookie then sandwich with a second. Depending on how much filling you use, you may have extra. Go ahead and spoon that straight into your mouth. I won't tell. Store finished sandwiches in an airtight container for up to a week.
7.8.1.2
227
https://melaniemakes.com/peanut-butter-banana-oatmeal-creme-pies/
Melanie Bauer | Melanie Makes
In fact, why not drop everything right now and go make yourself a batch. You'll be in fluffernutter heaven in no time.
Looking for more recipes featuring peanut butter?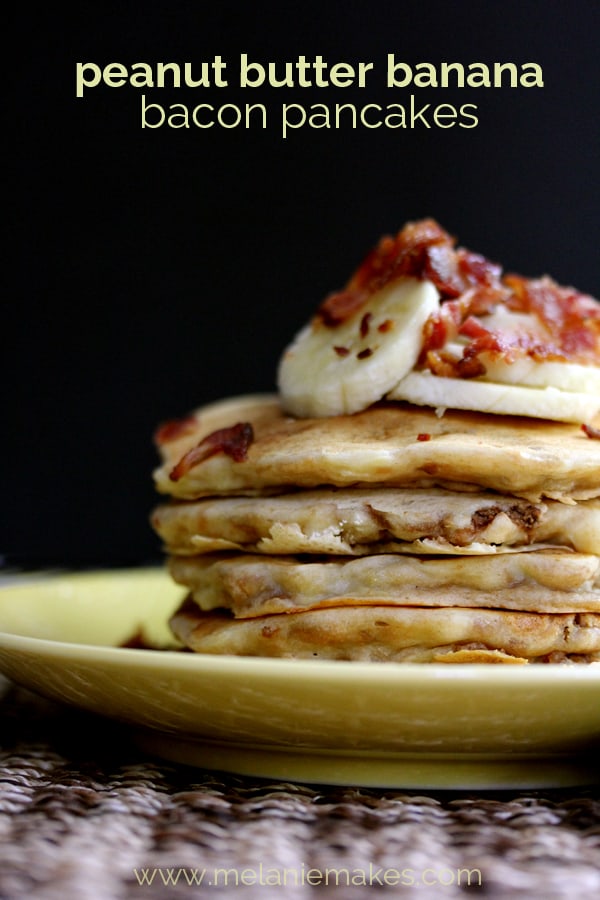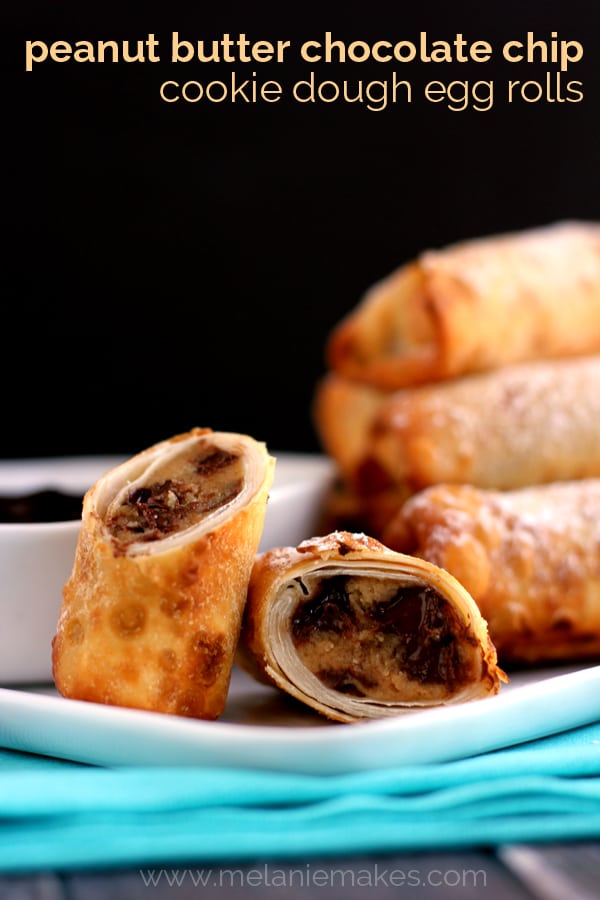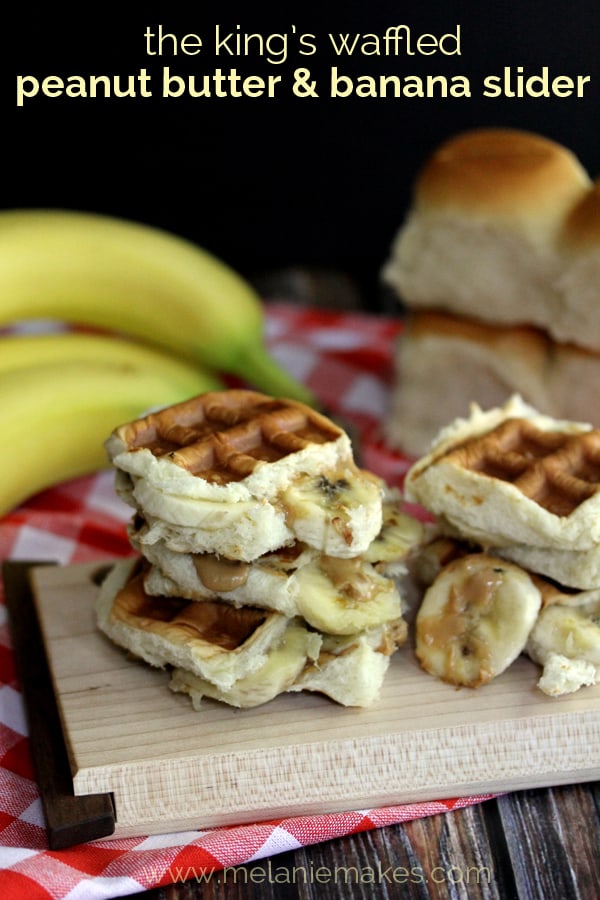 More great recipes from Neighborfood:
Grilled Banana Fluffernutter Sandwiches
Triple Peanut Butter Chocolate Chip Cookies
The Very Best Banana Bread