A few bagels, spinach and sharp cheddar cheese are the stars of this five ingredient Spinach and Cheese Bagel Strata.  Baked until golden brown, this make ahead breakfast casserole puts your typical weekday breakfast to shame!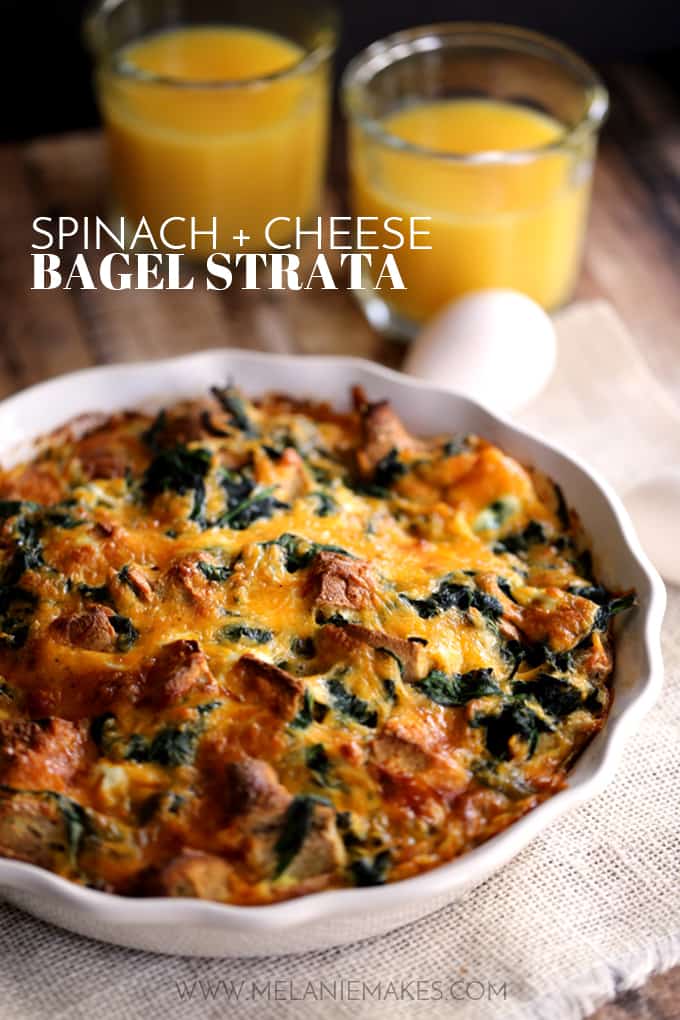 Keep in touch!  Subscribe to receive Melanie Makes recipes direct to your inbox.
I've mentioned before that I most of the time I swear that getting everyone fed breakfast is the hardest part of my day.  It always seems to be chaotic with four little ones to manage and a dog that's always doing his best to be in the middle of the madness.  I love to have quick and easy meal items on hand to make my life just a bit easier.  Without a doubt, things like bagels and English muffins are favorites of my crew and why not switch things up a bit with something a bit more special like this Spinach and Cheese Bagel Strata?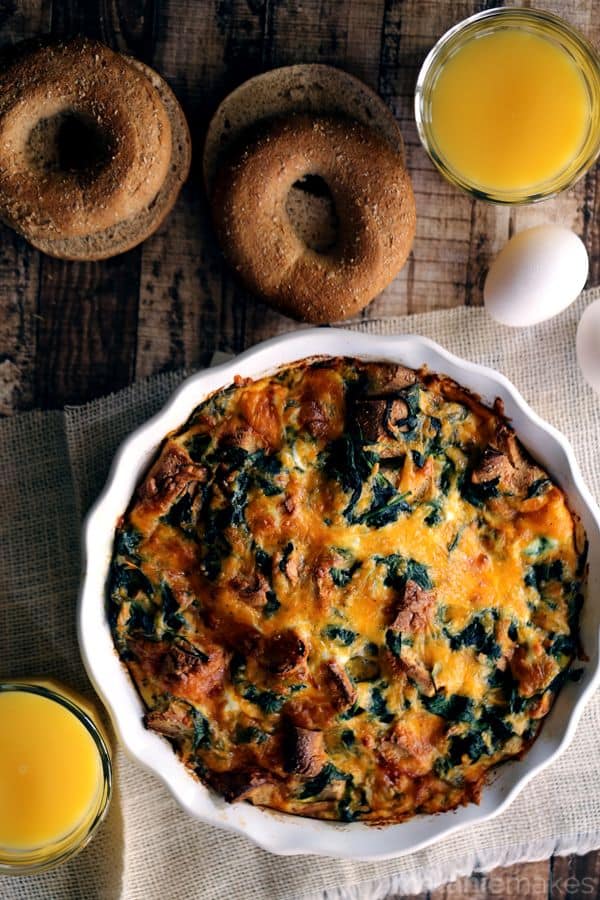 And if your house is anything like mine, your children could care less if they finish one flavor of bagels before moving on to another.  So at times I have two or three packages open at once.  Packages of Cobblestone Bread Co. wheat, white, cinnamon raisin – they all seem to be fair game at any time at our house.  At the end of the week, odds and ends are left of every flavor so I took it upon myself to come up with a delicious way to put them to use.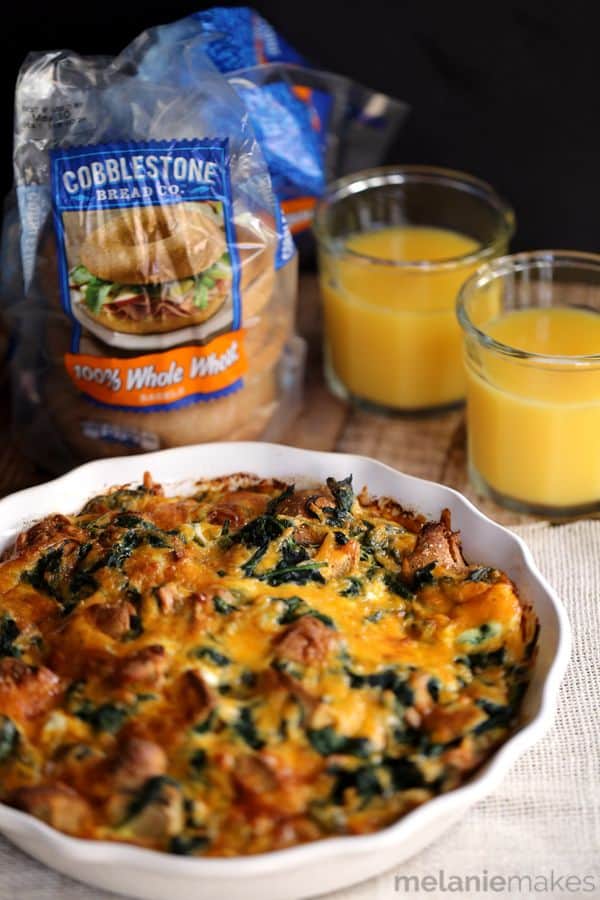 A few bagels, spinach and sharp cheddar cheese are the stars of this Spinach and Cheese Bagel Strata.  I mean, eggs and cheese is one of my favorite breakfast combinations and it's becoming quite well documented.  For instance, my Huevos Rancheros Sheet Pan Nachos and Bridge Brunch Casserole.  But I digress…  Covered in an egg and milk custard-like mixture and baked until golden brown, this breakfast casserole puts our typical weekday breakfasts to shame!  Better yet?  You can make it the night before and put it i the oven when everyone gets out of bed so you can enjoy this strata any day you'd like as it takes just 30 minutes to bake.  What better way to send everyone off to conquer their day than with a full tummy of this deliciousness?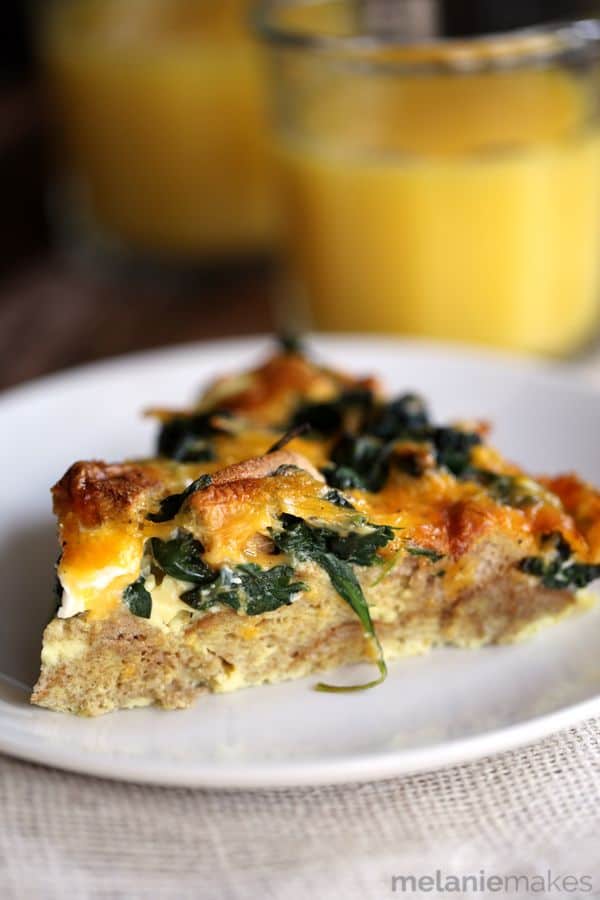 Melanie Bauer | Melanie Makes
Yields 8 slices
Spinach and Cheese Bagel Strata
10 minPrep Time
30 minCook Time
40 minTotal Time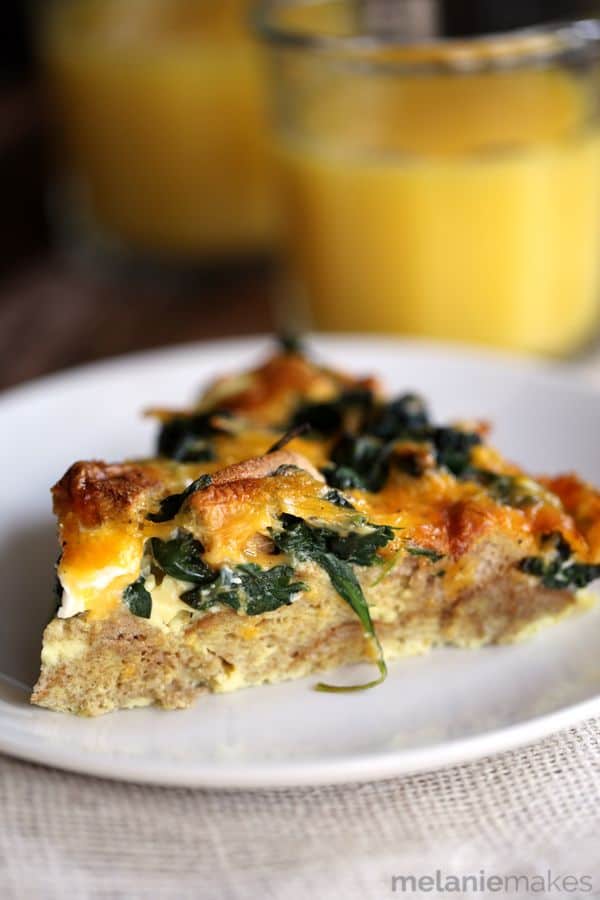 Ingredients
3 whole wheat bagels, cut into 1" cubes
8 ounces spinach
6 eggs
1 cup milk
1/2 teaspoon salt
1/2 teaspoon pepper
2 cups shredded sharp cheddar cheese
Instructions
Preheat oven to 400 degrees.
In a 1.5 quart casserole dish sprayed with non-stick spray, add bagel cubes.
In a skillet over medium heat, add spinach and cook until wilted, stirring constantly. Transfer spinach to colander and using the back of a wooden spoon, press spinach to remove any excess liquid. Spread evenly over top of bagel cubes.
In a medium bowl, whisk together eggs, milk, salt and pepper. Pour over bagel and spinach.
Sprinkle cheese over bagel mixture.
Bake for 30-35 minutes or until set and golden brown.
Notes
You can also assemble and refrigerate this strata in advance for up to 8 hours prior to baking.
7.8.1.2
248
https://melaniemakes.com/spinach-cheese-strata/
Melanie Bauer | Melanie Makes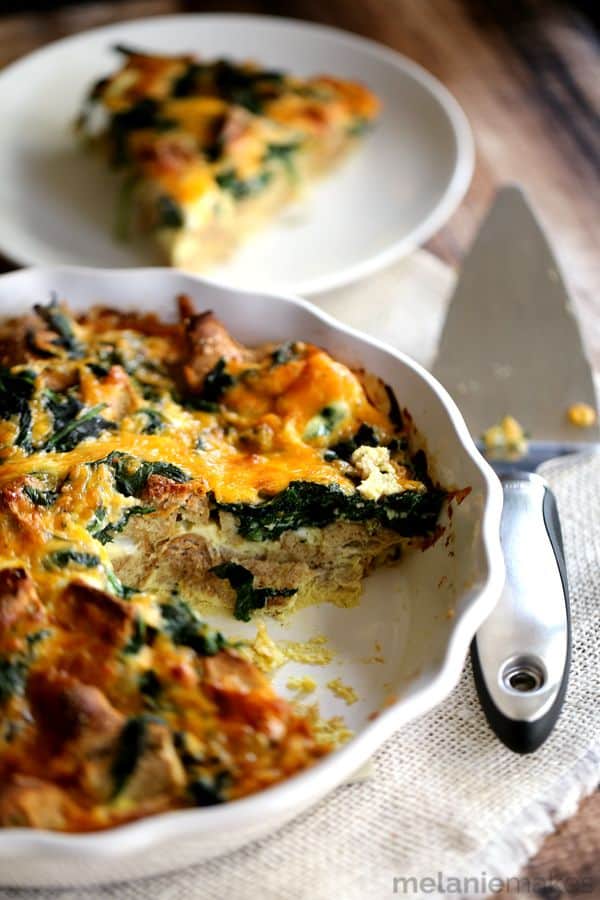 And hey, nobody says you have to wait for breakfast to enjoy this dish!  This Spinach and Cheese Bagel Strata also makes a great dinner paired with a side salad.  The fact that I can prep it in advance and it uses items that I typically have on hand make it a winning idea in my book! 
Looking for more delicious breakfast ideas?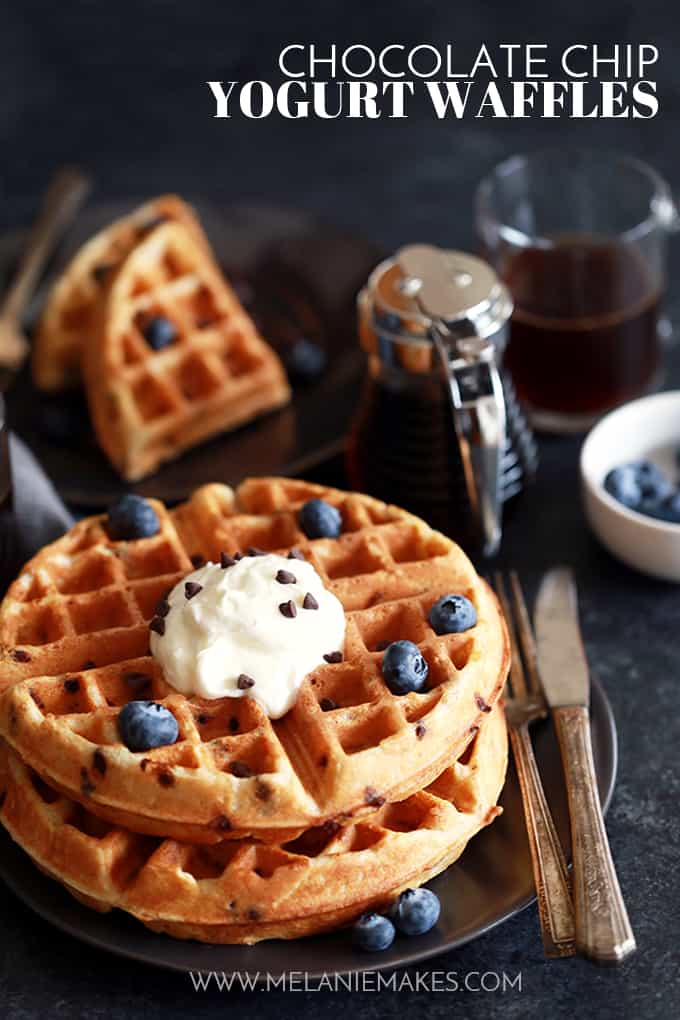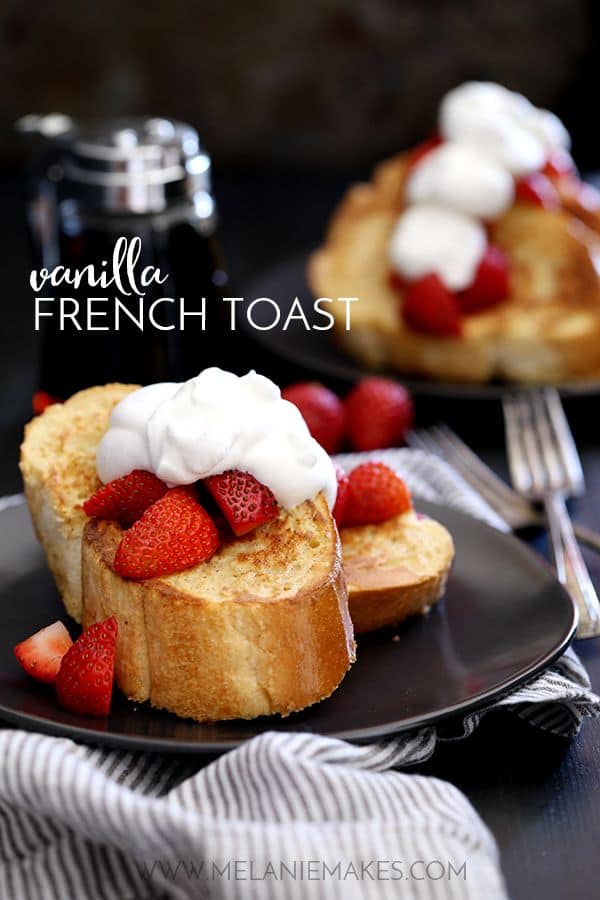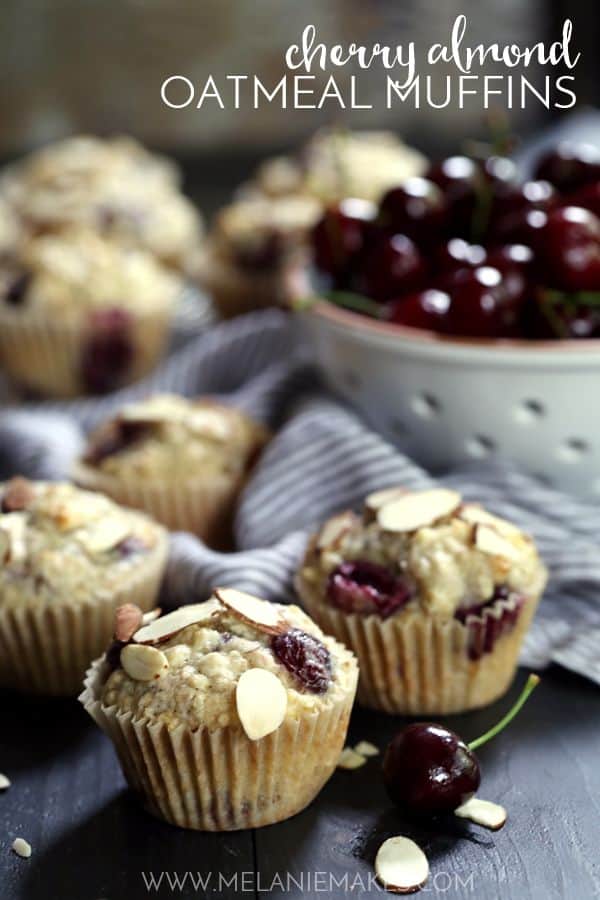 Looking for even more ways to make breakfast exciting again?  Kitchen Daily has 20 more of them!
—–
Compensation for this post was provided by Cobblestone Bread Co. via AOL Media.  The opinions expressed herein are those of the author and are not indicative of the opinions or positions of Cobblestone Bread Co. or AOL.