Easily transform a pair of party favor sunglasses into a fun children's valentine with this free printable. Valentine, you make our class bright!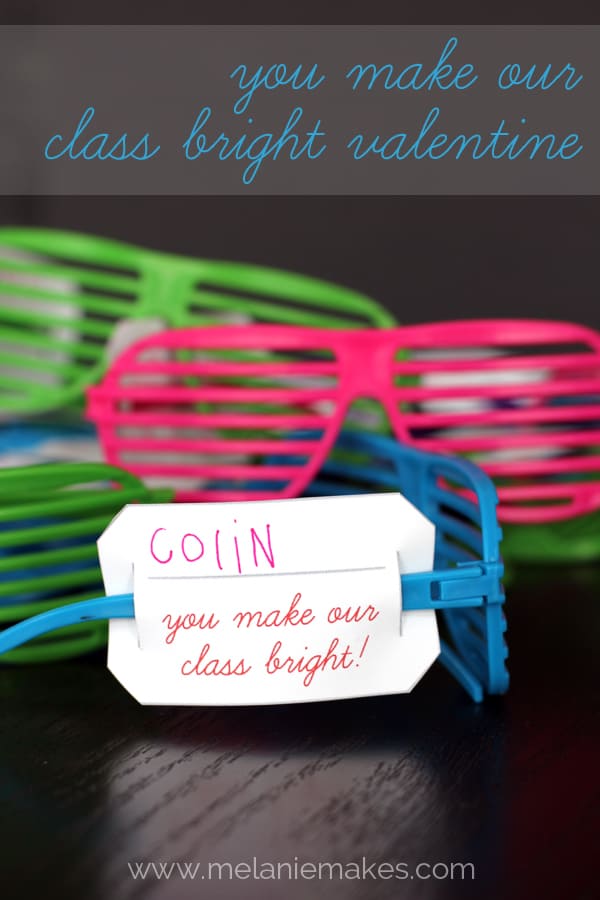 Do me a favor… If you ever meet my children, please don't let on to the fact that companies actually make valentines and sell them in stores. You know, like in Hello Kitty and Disney Princess varieties. This year I'm proud to once again to have made homemade valentines with both of the girls without them knowing any different. Sure it's a bit over the top, but we have such a great time making them together.
This year, Camryn's valentines came together as I was actually searching for something on Amazon to use for Leighton's valentines, which I'll be sharing next week. You know that section of the page that says something like, "people that bought this also bought this?" That's how I found these 80s style shutter sunglasses. The girls LOVE wearing sunglasses and using them for dress-up so when I showed them as a valentine option to Camryn she immediately said yes! Granted, I hadn't a clue what the actual valentine was going to be, but we figured that out quickly once they arrived.
The sunglasses end up being about 42 cents a pair which I thought was reasonable, especially as she has a smaller class. I ordered two packages and we have four pairs left over to play with at home.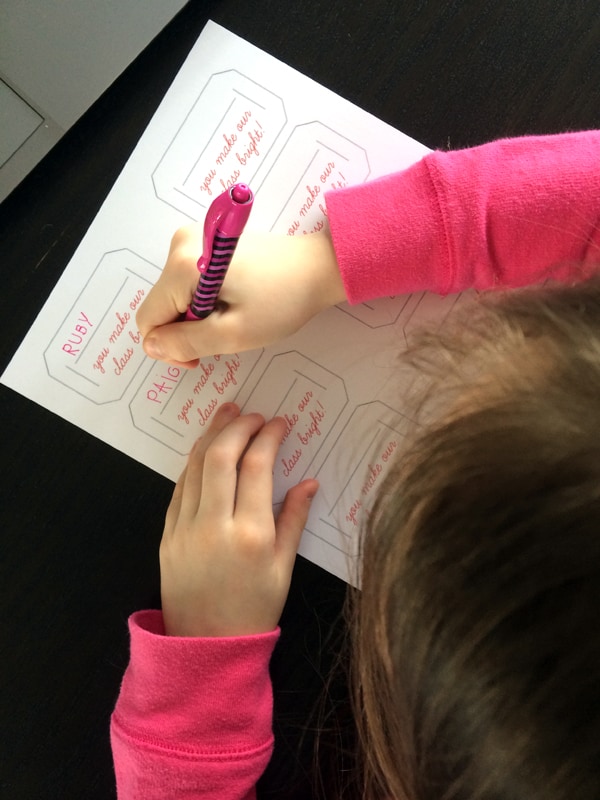 I didn't really want to tie anything onto the sunglasses or use a sticker so I instead created this FREE printable so that it could easily slide onto the side of them to distribute at Camryn's class party. The recipient can then easily slide it off and be wearing their stylish shades in no time!
After printing out a couple of sheets – I used white cardstock that I already had on hand – Camryn got to work writing her friends name on the tags. I love how she thinks it's so special that I let her use the pink pen the girls got me for Christmas.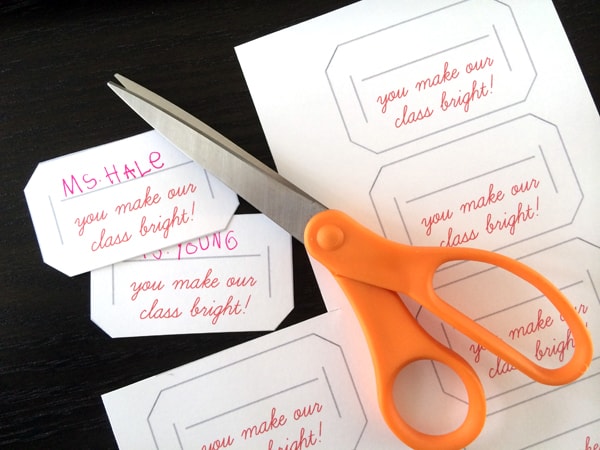 After names are written, each tag is cut out. This is something that depending on the age of your child, they can do themselves.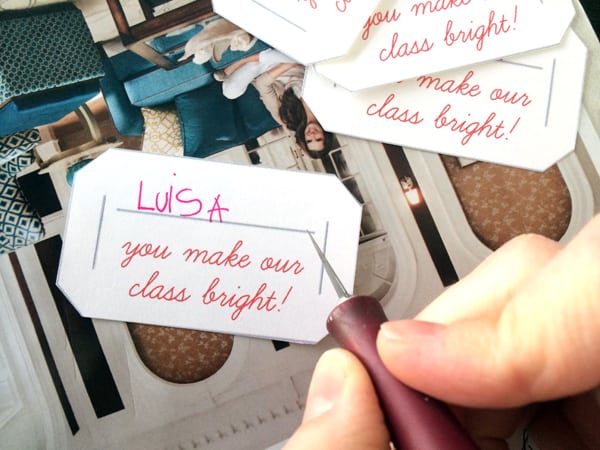 I then used a craft knife to cut the slits on each tag. As I was too lazy to grab a cutting mat from my office (How's that for honesty?), I was using a back of a magazine that happened to be laying close by.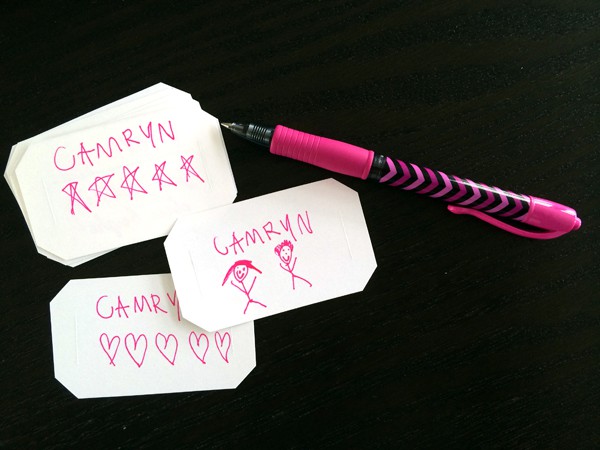 The tags were then signed on the back by my favorite Kindergartner.
This was quite humorous to watch. Some friends got hearts, others got stars and for some reason, her friend Victor got two people. I'm guessing it's the two of them playing?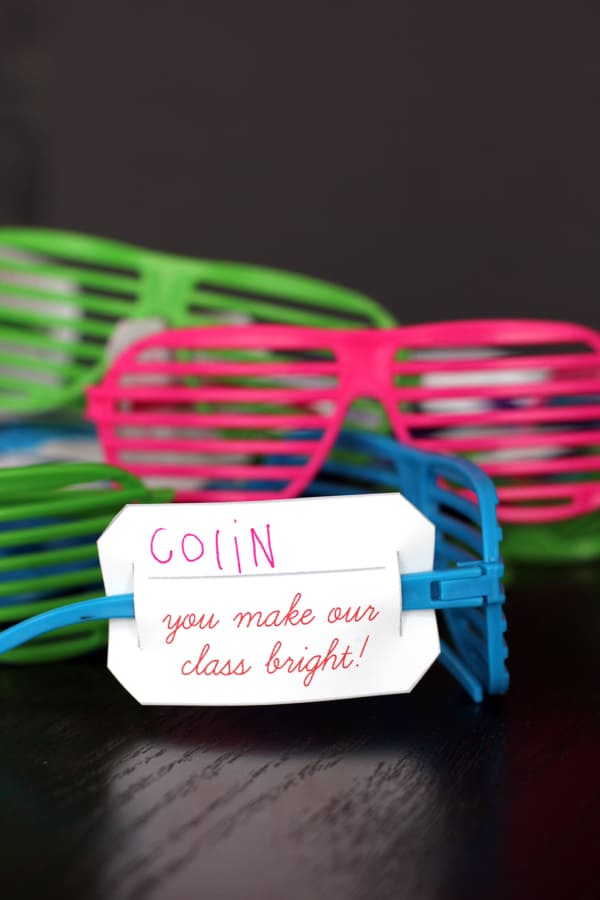 Then it was the fun part – sliding all of the tags onto the sunglasses!
There was much thought put into what color of shades each tag went on. For the record, apparently Colin's favorite color is blue.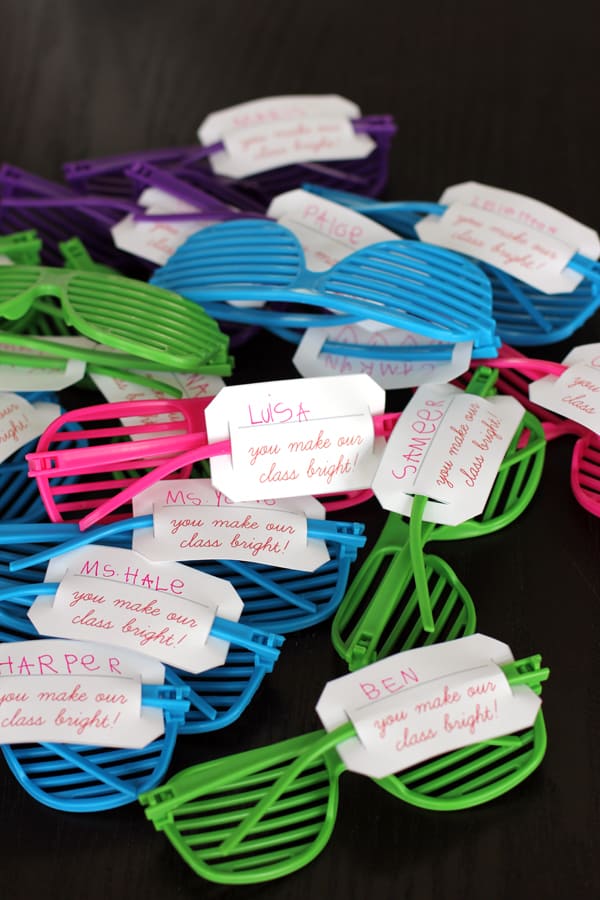 And in less than an hour – including the time it took me to design the tags – her valentines were complete!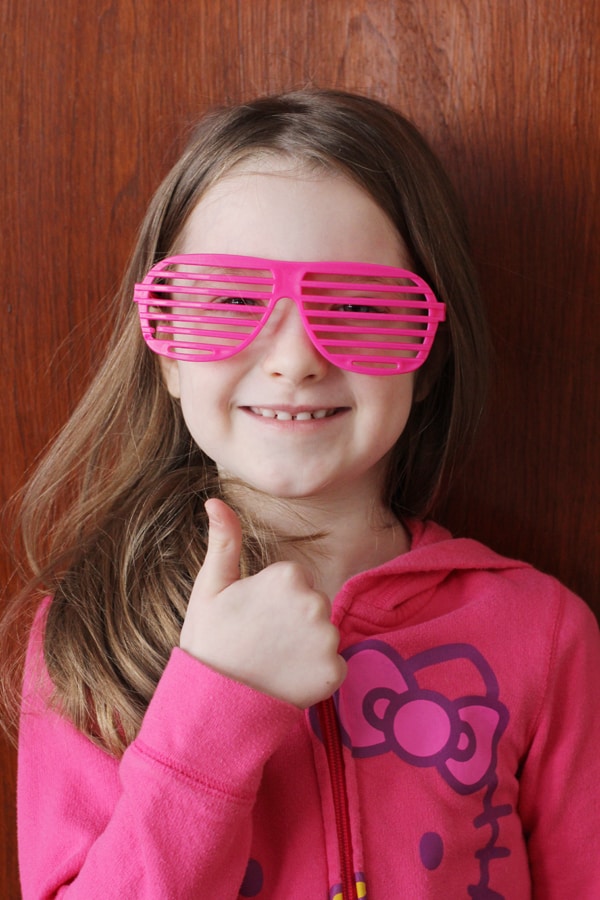 .
She gave both the project and her new shades a thumbs up! I give the time we spent together creating them a thumbs up, too!