This Honey Ginger Glazed Grilled Pork Tenderloin and Peaches is the perfect sweet and savory dinner combination.  A sticky, sweet honey glaze spiked with fresh ginger is drizzled over perfectly grilled pork tenderloin and charred green onions and peaches.  A complete meal made entirely on the grill!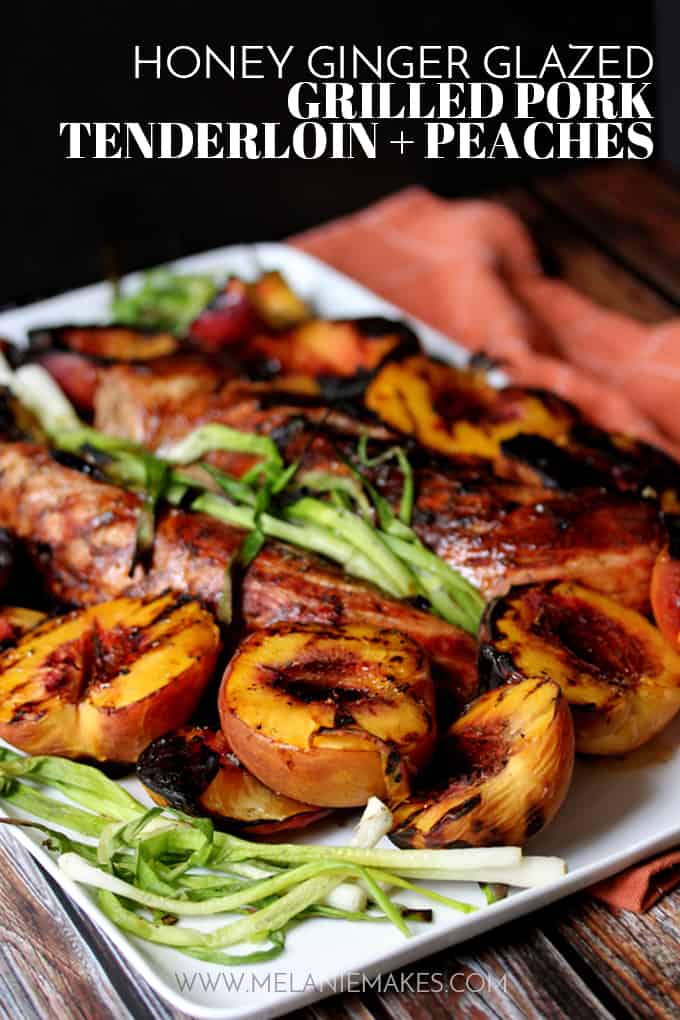 Keep in touch!  Subscribe to receive Melanie Makes recipes direct to your inbox.
Raise your hand if you grilled yesterday for the long Labor Day weekend.  Yep, me too.  Sure, Labor Day may be the signal that Summer is drawing to a close, but that doesn't mean grilling season has to end.  Instead of burgers and steaks, I simply switch up what goes over the coals.  This Honey Ginger Glazed Grilled Pork Tenderloin and Peaches is the perfect transition into Fall and one of our absolute favorites.  I guarantee you'll want a swimming pool full of the glaze to pour over absolutely everything!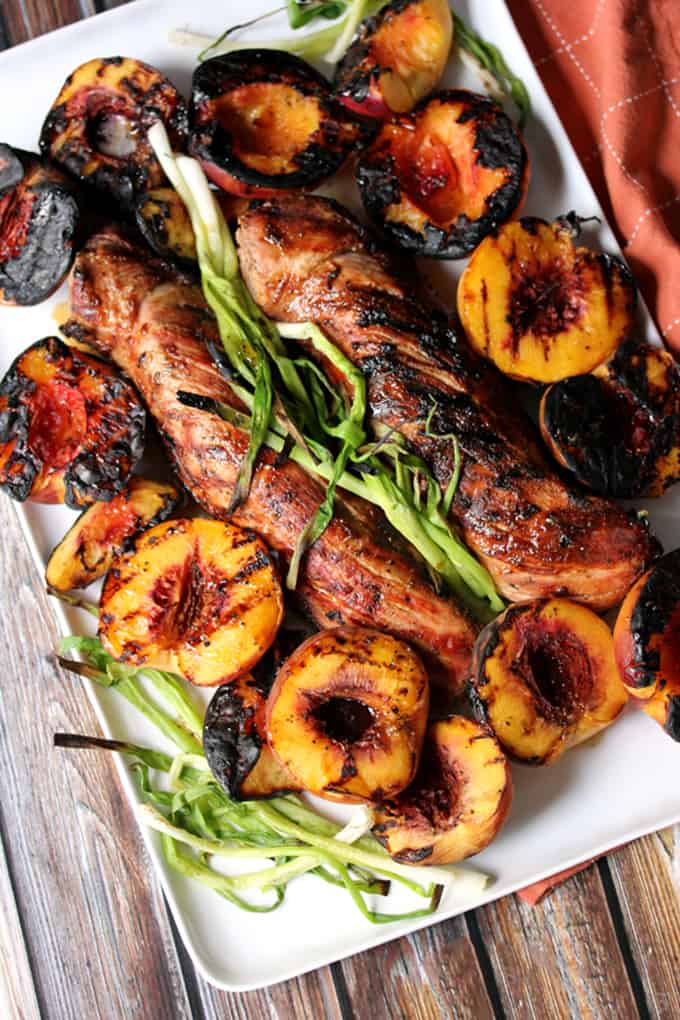 It's amazing how grilling can turn simple ingredients such as pork tenderloin, green onions and peaches into absolute showstoppers.  We first started making this meal when we lived in Madison and when grilling was more of a chore than it is now.  We lived in a condo and the kitchen was a story above where we grilled so everything had to be taken down a flight of stairs and then back up again when grilling.  I think it speaks volumes that we made this Honey Ginger Glazed Grilled Pork Tenderloin and Peaches so often anyway because it really is that good!
This grilled deliciousness was also the inspiration behind my Honey Glazed Peach and Pork Tenderloin Grilled Cheese recipe.  You can never have too much of a good thing in my opinion.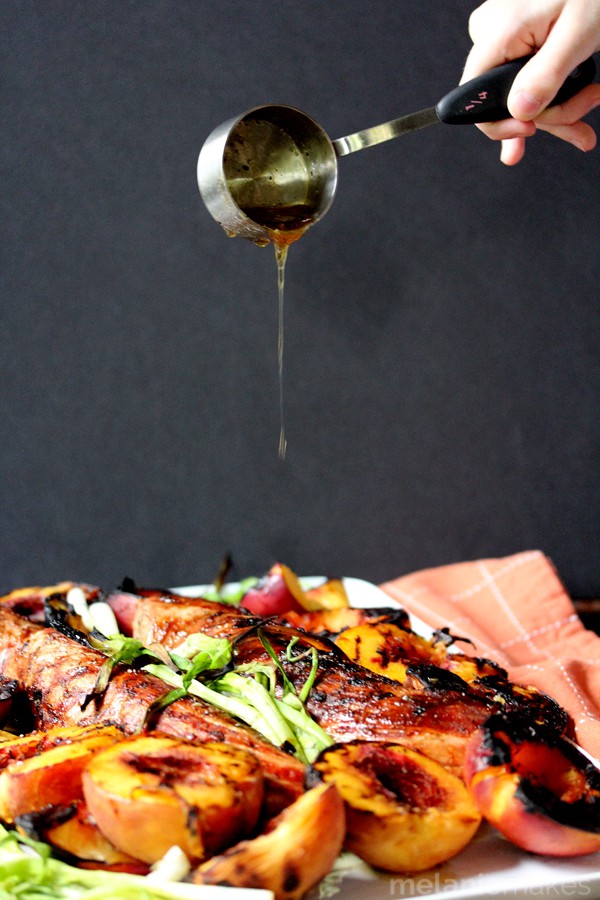 The grilled peaches are insanely delicious, especially when drizzled with the honey ginger glaze.  No dessert is needed after this meal as they're such a sweet treat!  I've also substituted nectarines and apricots for the peaches depending on what looks good at the farmer's market that day and I've also used a combination of all three when grilling this dish, all with equally delicious results.  Take my word for it, don't let grilling season pass you by without first making this Honey Ginger Glazed Grilled Pork Tenderloin and Peaches!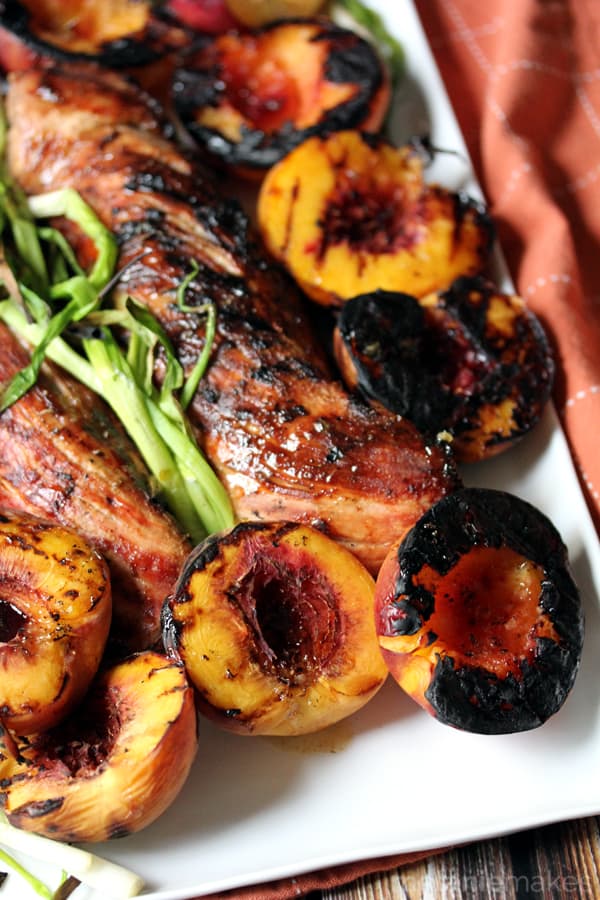 Everyone loves pork tenderloin because it's just what it's name implies – TENDER.  If you're looking to bring your dinner prep inside, you might also take a look at my Slow Cooker Pork Tenderloin with Raspberry Chipotle Sauce which is started in the slow cooker and ends under the broiler.  And of course, my Bacon Wrapped Cherry Merlot Pork Tenderloin is always a guaranteed winner.  Pork on pork.  Yep, can't go wrong there!  It's also prepared in the oven.
I've also lined up some other pork recipes that I want to try soon.  Like this Pork Sirloin Tip Roast in the Pressure Cooker.  Talk about dinner in a hurry!  Or this Slow Cooker Cuban Pork.  I love that dinner can be waiting for me instead of the other way around!  And of course, Low-Carb Slow Cooker (or Pressure Cooker) Pork Roast with Spicy Peanut Sauce had me hello with that spicy sauce.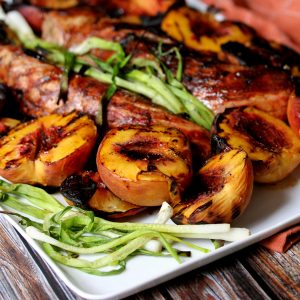 Ingredients
1 teaspoon ground coriander
1/2 teaspoon pepper
2" fresh ginger, grated
3/4 cup honey
2 tablespoons cider vinegar
1/4 teaspoon salt
2 pounds pork tenderloin
3 tablespoons olive oil
2 bunches green onions
6 peaches, halved and pitted
Instructions
In a small saucepan, toast coriander and pepper over medium heat until fragrant.
Add ginger, honey, vinegar and salt and cook until bubbling. Remove from heat.
Preheat grill to high heat.
Season pork to taste with salt and pepper and brush with 1 tablespoon of oil.
Grill until browned on all sides.
Move to indirect heat and cook until internal temperature reads 140 degrees.
Remove from grill and tent with foil.
Add green onions to grill and char.
Brush peaches with remaining oil and grill cut side down until charred. Continue grilling on all sides until cooked through.
Transfer peaches and green onions to serving plate with pork and drizzle everything with the honey ginger glaze.
7.6.6
163
https://melaniemakes.com/blog/2014/09/honey-ginger-glazed-grilled-pork-tenderloin-and-peaches.html
Melanie Bauer | Melanie Makes