This Creamy Baked Double Cheese and Spinach Dip is the perfect make ahead appetizer. Cream cheese, yogurt, cheddar cheese, spinach and ranch seasoning are baked to cheesy perfection.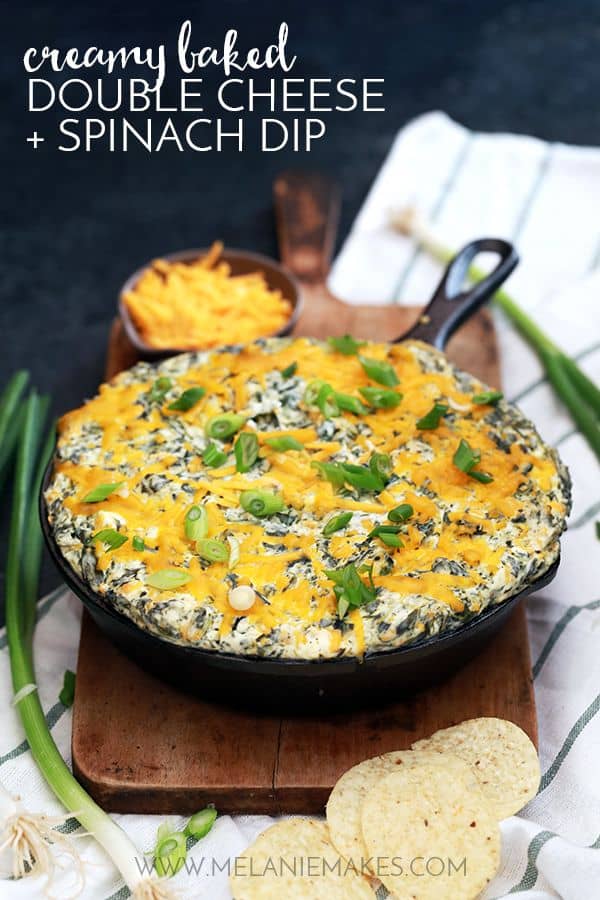 I was compensated by Nancy's Yogurt to create a recipe featuring their product. As always, all thoughts and opinions are my own. Thank you for supporting this sponsor that allows me the opportunity to create content, such as this, for Melanie Makes.
Keep in touch! Subscribe to receive Melanie Makes recipes direct to your inbox.
At school drop off yesterday, a teacher and another mom and I were all in disbelief that Thanksgiving was just three weeks away. So much to do, so little time! Thanksgiving is my favorite holiday. In fact, I have a binder dedicated to past menus and what we've eaten each year that we've hosted dinner. The whole day revolves around our evening meal. We tend to just snack between breakfast and dinner that evening, which means that I also like to have appetizers on hand to keep everyone happy.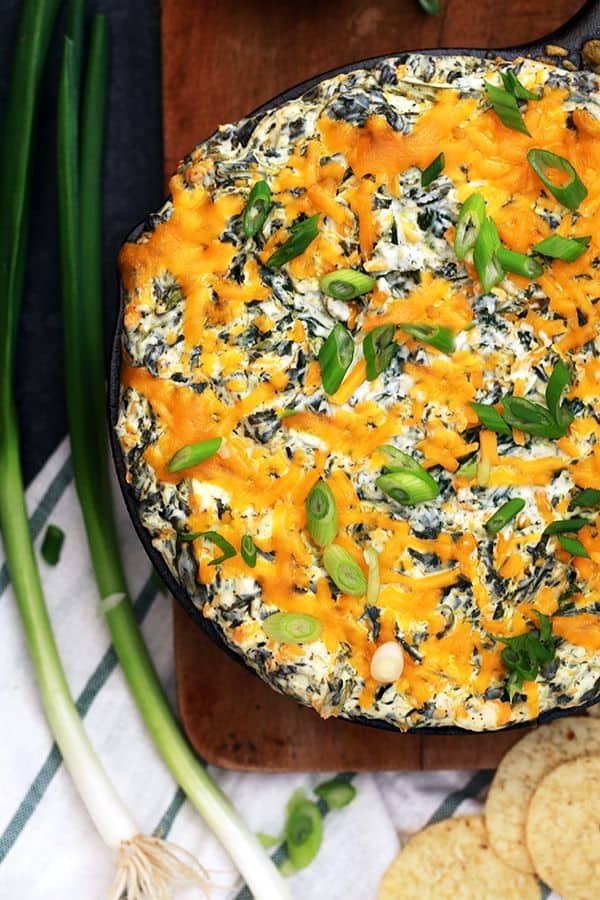 This Creamy Baked Double Cheese and Spinach Dip is the perfect appetizer for so many reasons. Minimal prep work creates maximum taste. How often can you say that? Cream cheese, yogurt, cheddar cheese, spinach and ranch seasoning take a spin in the bowl of an electric mixer before being poured into a baking dish and then are baked to warm through. Additional cheddar cheese and sliced green onions top this divine dairy dip.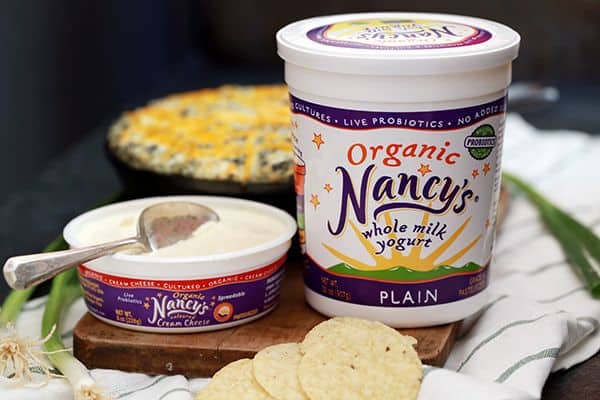 This dip is extra dreamy – my dreams are often made up of creamy cheese dips, don't you know! – because of the cream cheese and whole milk yogurt I've used. Both are from Nancy's and are products I feel good about having in my fridge as they're free of artificial flavors and cane sugars. In fact, all of Nancy's products are! Nancy's Organic Cultured Cream Cheese is is soft, spreadable and free of thickeners or additives. Nancy's Whole Milk Yogurt is made with fresh organic whole milk from local family farms and is teeming with live probiotic cultures. I love how thick and rich it is!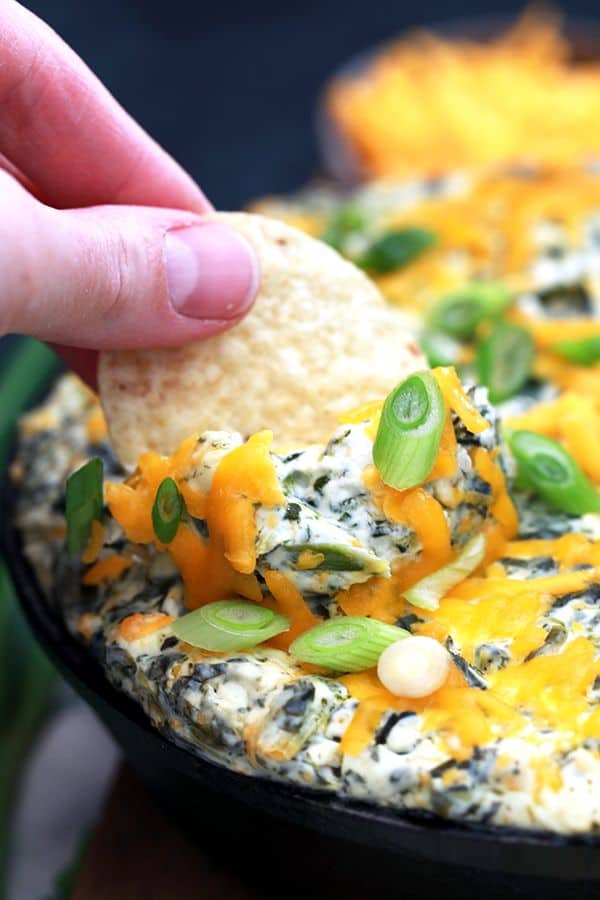 Visiting someone for Turkey Day? Volunteer to bring an appetizer! You can easily prepare this dish at home and then simply bake off when you arrive at your dinner destination. Even better? The size of this amazing app means you can forget using the oven and taking up valuable space and instead bake in a toaster oven. Look at you being a considerate guest!

Melanie Bauer
Yields 6
Creamy Baked Double Cheese and Spinach Dip
10 minPrep Time
20 minCook Time
30 minTotal Time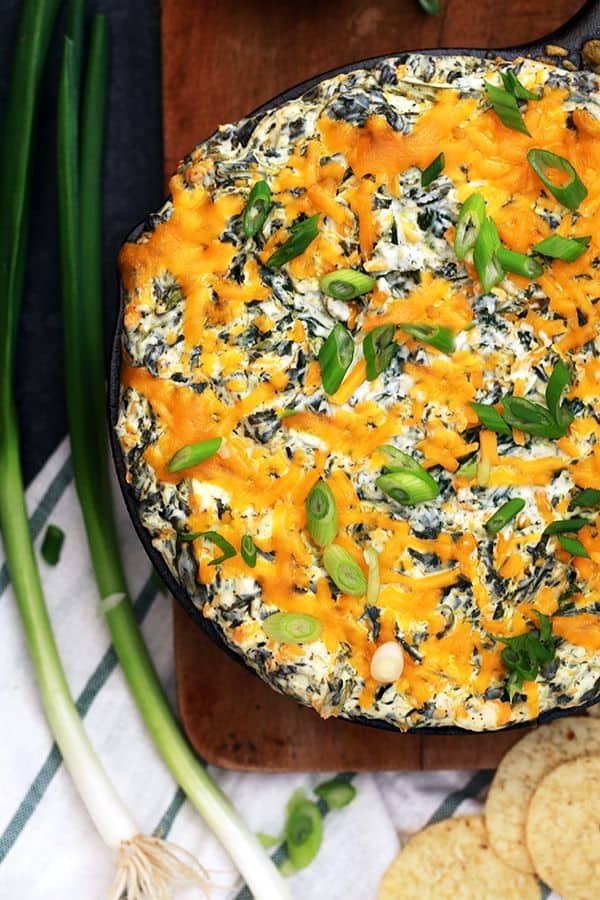 Ingredients
1 cup shredded sharp cheddar cheese
8 ounces frozen spinach, thawed and drained
1 ounce package ranch dressing mix
1/2 cup shredded cheddar cheese
1/4 cup green onions, thinly sliced
tortilla chips or fresh vegetables, to serve
Instructions
Preheat oven to 350 degrees.
In the bowl of an electric mixer, add cream cheese, yogurt, 1 cup cheese, spinach and ranch dressing mix. Mix until combined.
Spoon into shallow baking dish and bake for 20 minutes.
Top with additional 1/2 cup of cheddar cheese and return to oven until melted, about five minutes.
Garnish with green onions and serve with tortilla chips or fresh vegetables.
Notes
7.6.4
188
https://melaniemakes.com/blog/2014/11/creamy-baked-double-cheese-and-spinach-dip.html
Melanie Bauer | Melanie Makes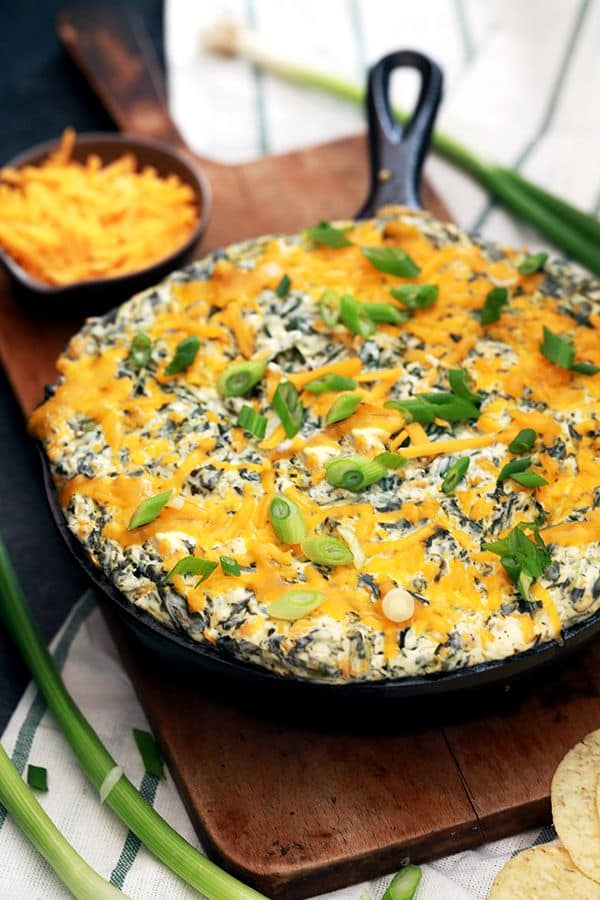 I was planning on serving this Creamy Baked Double Cheese and Spinach Dip with various vegetable crudite, but just couldn't bring myself to do it. The lure of salty tortilla chips definitely won the perfect dip accompaniment contest hands down. Feel free to try both but I assure you that the chips will win at your Thanksgiving as well!
Looking for other amazing appetizer recipes?