A favorite appetizer gets a makeover!  These Oven Baked Pickle Chips with Horseradish Chipotle Sauce are not only baked instead of fried, but their flavor quotient has been upped thanks to being dredged in an amazing horseradish sauce.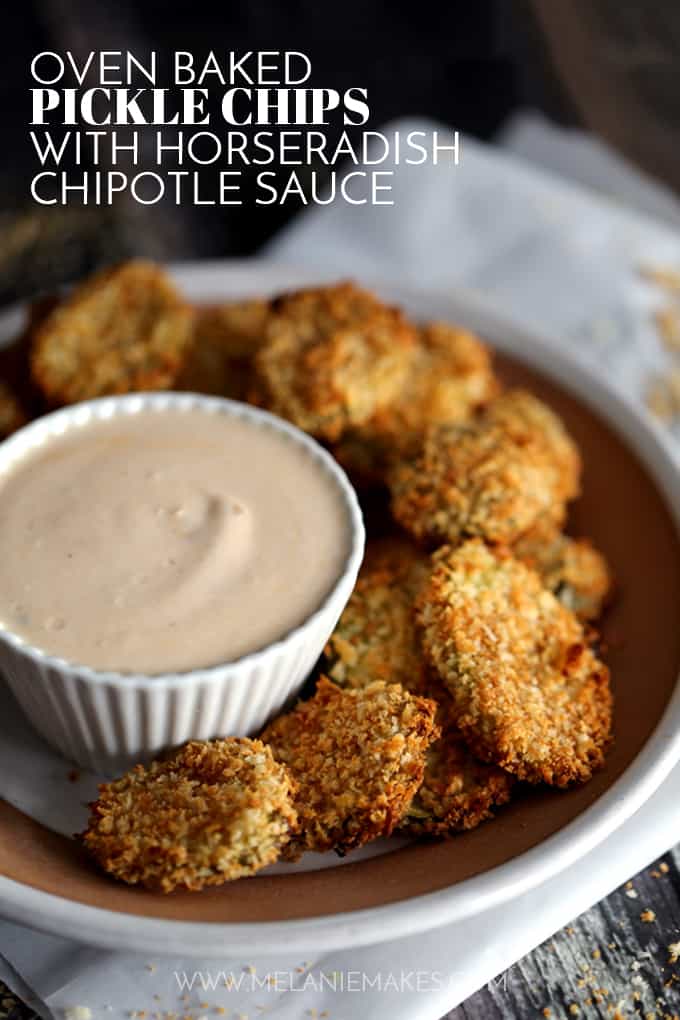 This recipe was written in partnership with Robert Rothschild Farm.  As always, all thoughts and opinions are my own.  Thank you for supporting this brand that allows me the opportunity to create content for Melanie Makes.
Keep in touch!  Subscribe to receive Melanie Makes recipes direct to your inbox.
I'm from a small town.  Like, really small.  As in somewhere around 1500 people.  I went to school with practically the same 54 kids from elementary school to high school.  It was there that I first had fried pickles and was instantly hooked.  I worked two summers designing ads at the local newspaper and on occasion, we'd order lunch from the bar down the street.  Forget the burger and fries, once I had tried the fried pickles, they became my lunch of choice.  Nutritious, no?
Knowing that that bar no longer exists and my trips back home are few and far between, it was only logical that I learned to not only make my own fried pickles, but to also put my own spin on them.  My Oven Baked Pickle Chips with Horseradish Chipotle Sauce were the result of said logic.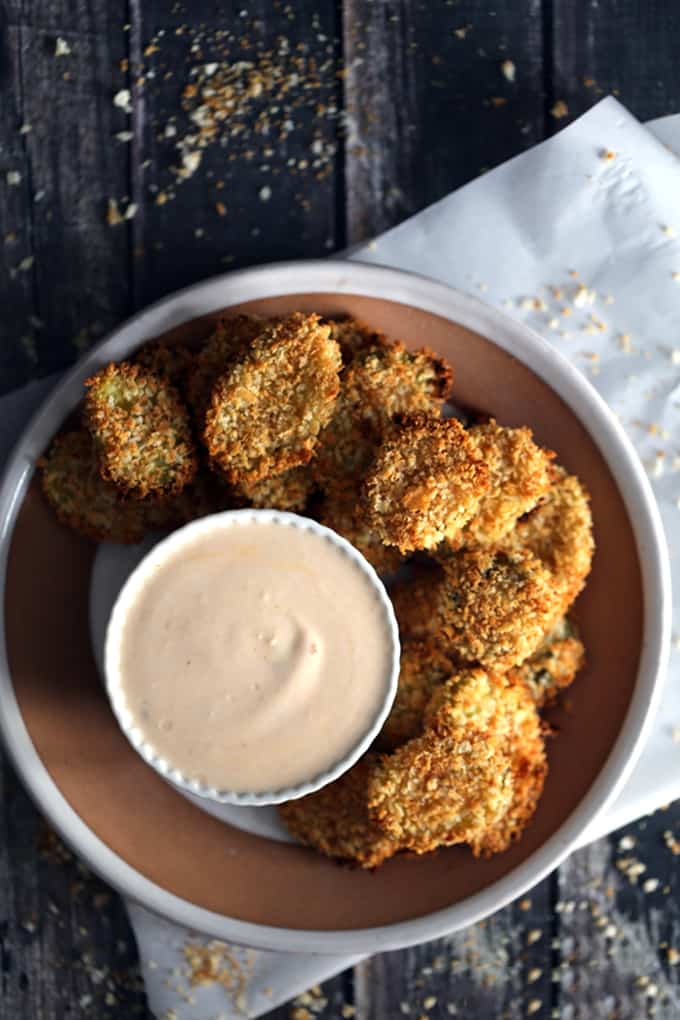 Making my own fried pickles has been on my to-list for some time as Andy and I love to order them as an appetizer whenever we see them on a menu.  The only issue?  I don't fry things.  I hate the way it makes the house and my clothes smell, let alone that it's not the healthiest option over.  So finding a way to create baked pickles that have the same crunchy coating was the obstacle to overcome.  After first trying bread crumbs and then panko crumbs and still not getting the crunchy texture I was looking for, I discovered that by toasting the panko crumbs prior to coating the pickle slices and then baking, the end result was nearly perfect.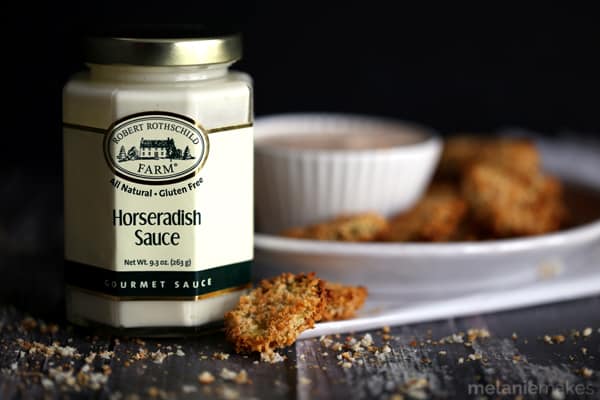 It was then time to up the flavor quotient of these crispy chips.  When I received a package from my friends at Robert Rothshchild Farm last month with this Horseradish Sauce, I knew I'd found a winner.  After unboxing the product, I immediately unscrewed the top and stuck a spoon inside to give it a taste.  I knew it would be perfect for a dipping sauce but wondered if I could incorporate it into the actual pickle chips as well.  I didn't have to wonder long as I decided to forego dredging the pickles in egg and instead dipped it into this tangy sauce instead.  The result?  Absolute perfection.  Perfect for game day, a weekend snack, or as cliche as it might be, any pregnancy cravings I might be having.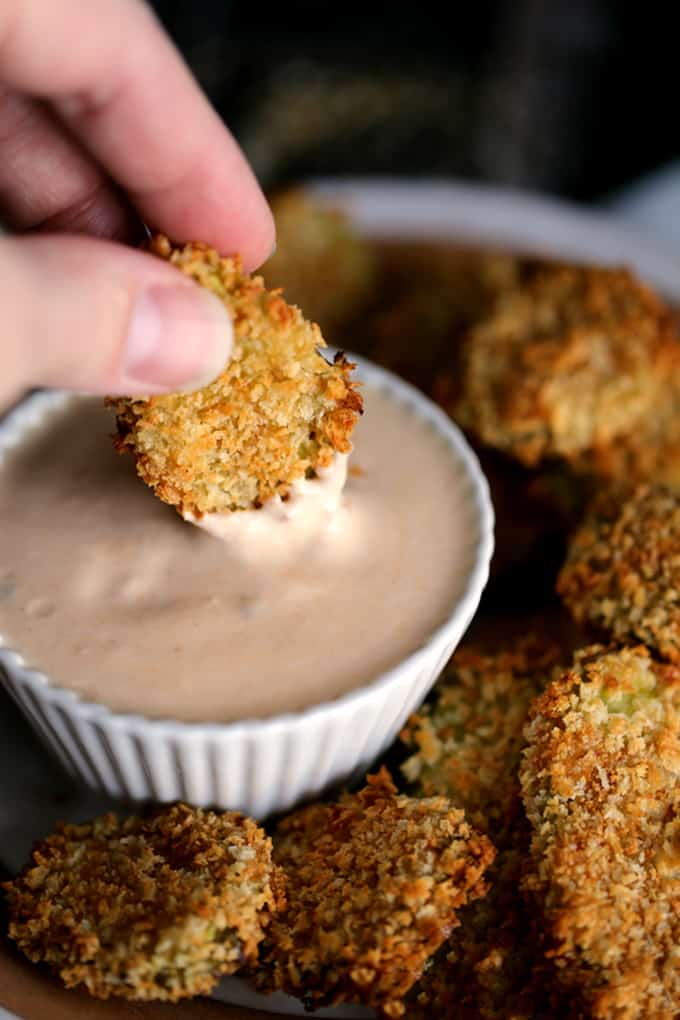 Not only are these Oven Baked Pickle Chips with Horseradish Chipotle Sauce amazing on their own -believe me my six year old and I totally demolished these Oven Baked Pickle Chips on our own! – but I'm thinking they'd also be delicious on top of my Bacon Double Cheeseburger Pizza, rolled into my Cheeseburger Chimichangas and alongside my Copycat Fat Doug Burger.
Still can't get enough dill pickle in your life?  You'll want to be sure to add this insanely popular Dill Pickle Dip, amazing appetizer option Salami Pickle Rolls and this cheesy Dill Pickle Bacon Grilled Cheese to your menu soon!
Melanie Bauer
Yields 4 servings
Oven Baked Pickle Chips with Horseradish Chipotle Sauce
20 minPrep Time
16 minCook Time
36 minTotal Time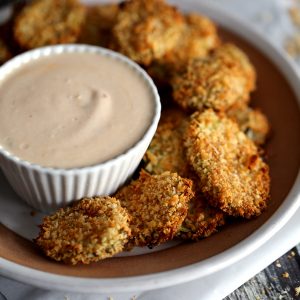 Ingredients
Pickle Chips

1-1/2 cups panko bread crumbs
16 ounces dill pickle slices, drained and patted dry
1/2 cup flour

Horseradish Chipotle Sauce

1/4 cup Robert Rothschild Farm Horseradish Sauce
1/4 cup plain yogurt
1 tablespoon chipotle adobo sauce
Instructions
Pickle Chips

Preheat oven to 450 degrees.
In a large saucepan over medium-high heat, add panko bread crumbs. Stir constantly until golden.
Pour flour onto a plate.
Pour horseradish sauce onto another plate.
Dredge each pickle slice in flour, then horseradish sauce, then panko bread crumbs.
Place coated pickle slices on parchment or silicone mat lined baking sheet.
Bake for 7-8 minutes, flip, and bake for an additional 8 minutes or until browned.

Horseradish Chipotle Sauce

In a small bowl, stir together horseradish sauce, yogurt and chipotle adobo sauce.
7.6.4
208
https://melaniemakes.com/blog/2015/01/oven-baked-pickle-chips-with-horseradish-chipotle-sauce.html
Melanie Bauer | Melanie Makes