There's no campfire needed for these Peanut Butter Cup Stuffed S'mores Brownies!   A thick graham cracker crust base is topped with a rich brownie batter, peanut butter cups, dark chocolate candy bar and large jet-puffed marshmallows.  Decadent and delicious!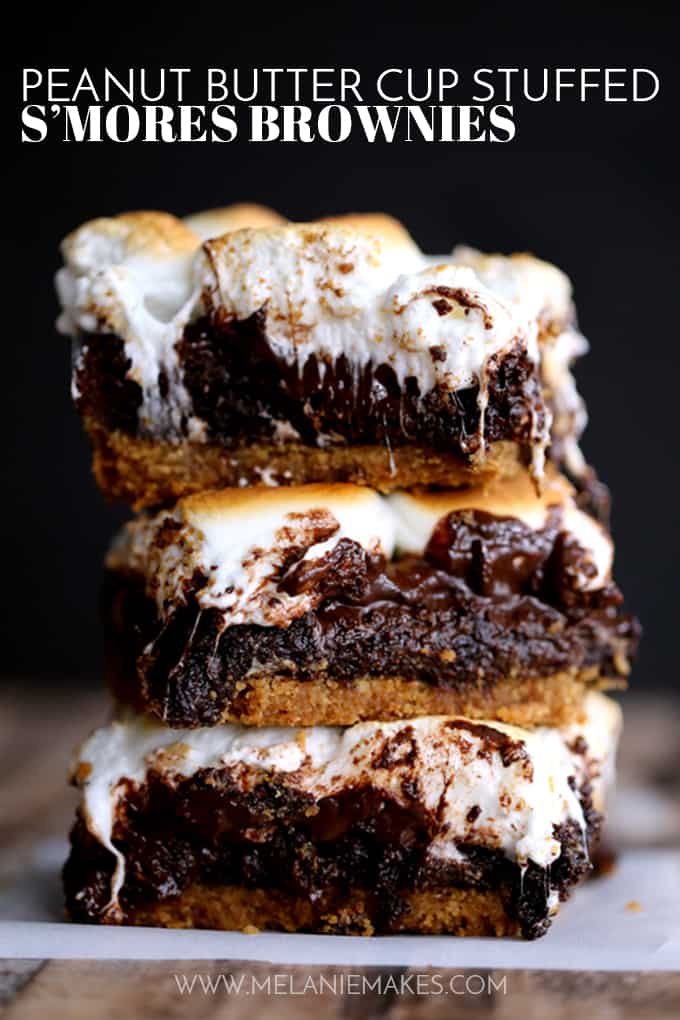 Keep in touch!  Subscribe to receive Melanie Makes recipes direct to your inbox.
I'll be honest, my husband's work schedule is no fun at all.  Many times we're cancelling or rescheduling activities or trying to schedule activities around his call schedule.  As we got married the first week of med school, it's something that I've become used to, but it's still not any fun to deal with.  These Peanut Butter Cup Stuffed S'mores Brownies are hands down the best – and sweetest! – thing to have ever come from cancelling plans.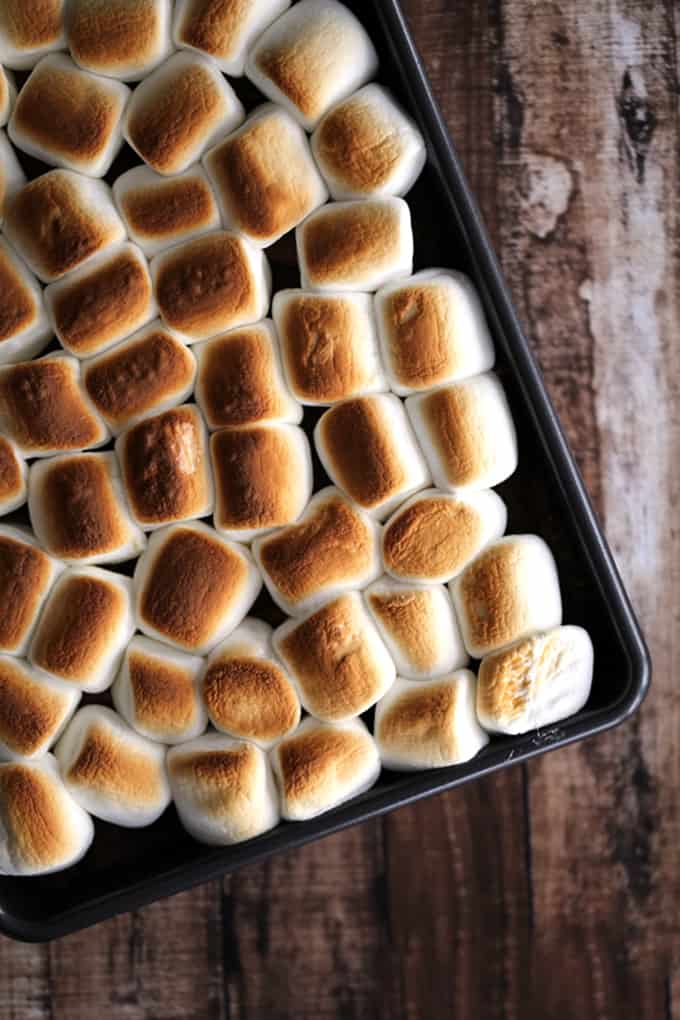 Late last fall, we had made plans to have a s'mores party with our friends that live down the street.  I had purchased all the ingredients – including peanut butter cups and both milk and dark chocolate – so that each person could make their own unique dessert concoction.  Then I got the dreaded text from my husband saying that he was going to be late.  So our party plans were scrapped for another day.  Unfortunately, the weather turned colder and we never got around to having our party.
But then I found the bag of s'mores ingredients in the pantry and was trying to figure out how I could use them.  My mind immediately went to brownies.  I absolutely adore homemade brownies and this version is absolutely out of this world!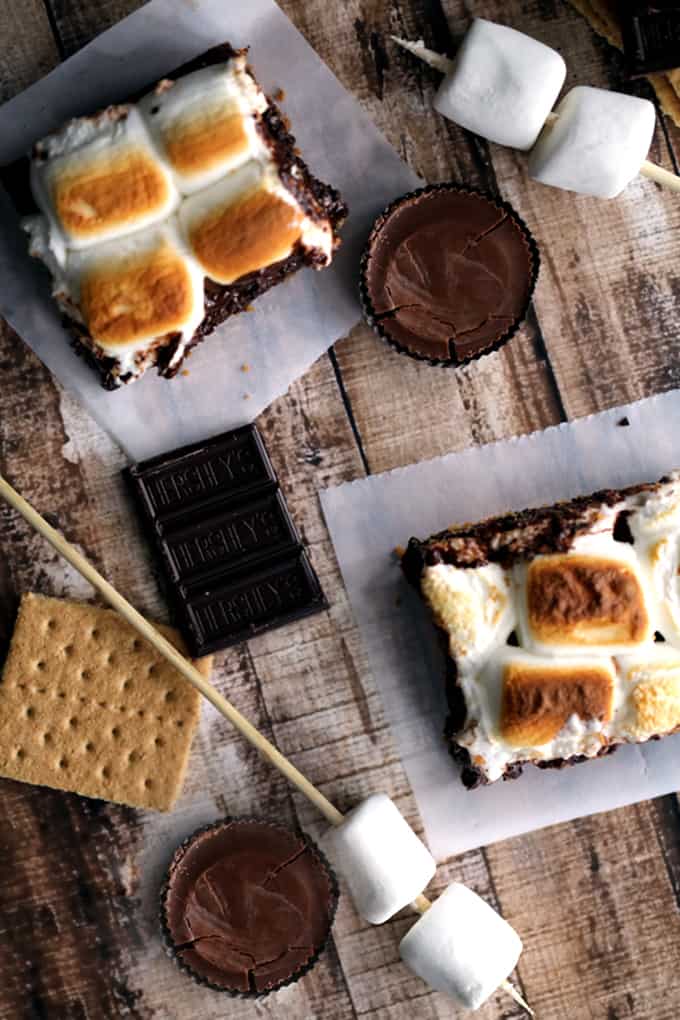 A thick graham cracker crust acts as a base for these decadently delicious brownies that are then topped with a rich, chocolate brownie batter.  Peanut butter cups and pieces of a dark chocolate candy bar are then pressed into the brownie batter before being baked.  And of course, you can't have smore's anything without marshmallows!  Large jet-puffed marshmallows are then sprinkled over the top of the brownies and broiled to toasty perfection.
Fellow s'mores lovers will also no doubt love my super chocolatey S'mores Stuffed Chocolate Krispie Treats, incredibly easy Double Chocolate No Bake S'mores Pie and Angel Food Cake S'mores Skewers – perfect for a night around the fire pit!  If you're on the hunt for additional s'mores brownies, my Dulce de Leche Swirl S'mores Brownies are always a crowd pleaser.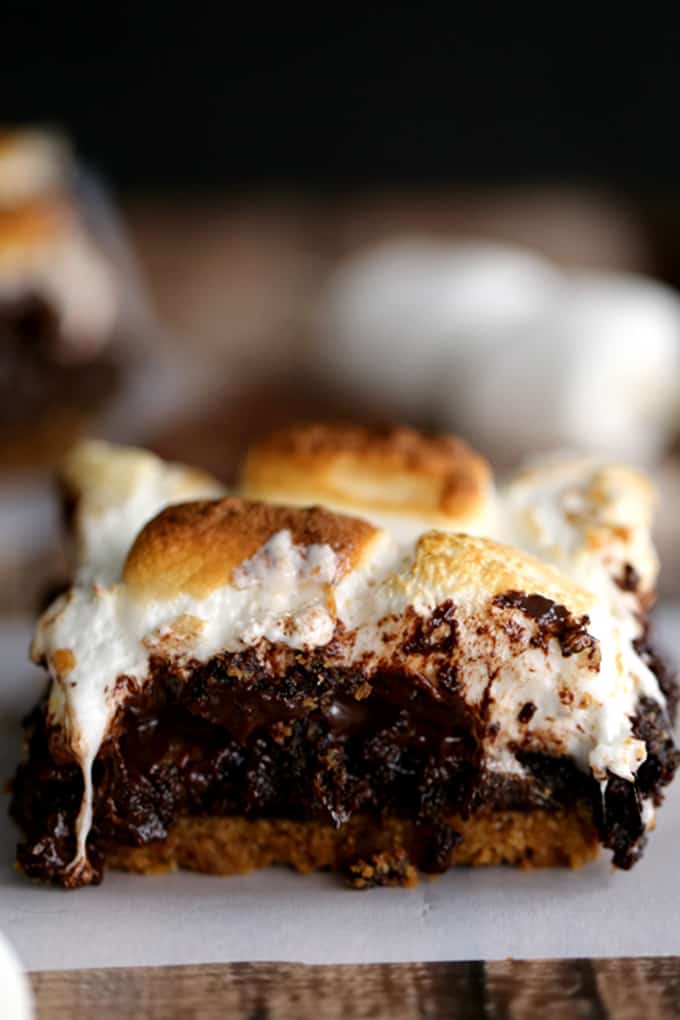 Who needs a campfire when you can have these Peanut Butter Cup Stuffed S'mores Brownies any time you crave one?  Even better, you get an entire pan to devour instead of one or two marshmallows toasted at a time.  A definite win/win, if you ask me!
Since I've declared myself a founding member of S'mores Anonymous, I'm looking to try these decadent S'mores Chocolate Chip Cookie Cups, these salty sweet Pretzel S'mores and these simply adorable Owl S'mores next.
Melanie Bauer
Yields 12 brownies
Peanut Butter Cup Stuffed S'mores Brownies
20 minPrep Time
45 minCook Time
1 hr, 5 Total Time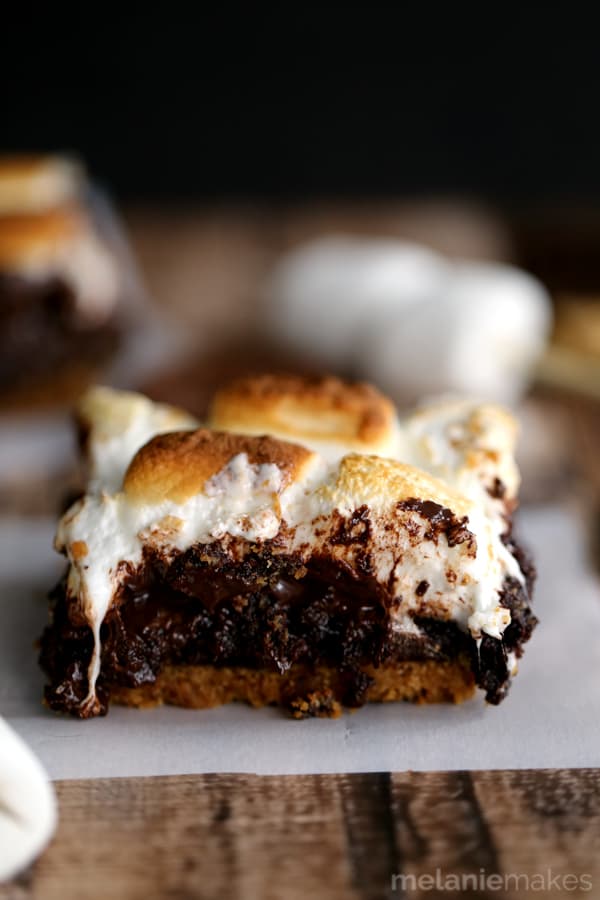 Ingredients
Graham Cracker Crust

3 cups graham cracker crumbs
1/4 cup sugar
1/4 teaspoon salt
3/4 cup butter, melted

Brownies

3/4 cup cocoa powder
3/4 cup butter, melted
2 Tablespoons hot water
1-2/3 cup sugar
2 eggs, beaten
2 teaspoons vanilla
1-1/3 cup flour
1/2 teaspoon baking powder
1/4 teaspoon salt
12 peanut butter cups
1 dark chocolate candy bar

Marshmallows

24 ounces jet-puffed marshmallows
Instructions
Graham Cracker Crust

Preheat oven to 350 degrees. Grease a 9x13 pan and set aside.
In a medium bowl, stir together graham cracker crumbs, sugar, salt and butter until combined. Pour into prepared pan and press into an even layer. Bake for 12-14 minutes or until set and beginning to brown.

Brownies

In a large bowl, stir together cocoa, melted butter and hot water. Add sugar, eggs and vanilla and stir until well combined.
Stir in flour, baking powder and salt until just combined.
Top graham cracker crust with brownie mixture, spreading in an even layer.
Press peanut butter cups into brownie batter in three rows of four.
Break the candy bar into individual pips or pieces and place in horizontal and vertical rows between peanut butter cups.
Bake for 18-20 minutes or until just set.

Marshmallows

Remove brownies from oven and turn oven to broil setting. Add marshmallows to top of brownies pressing lightly to adhere them to the warm brownies. Broil for 2-3 minutes or until they reach desired char level.
Let brownies cool completely before attempting to cut and serve.
7.6.6
239
https://melaniemakes.com/blog/2015/03/peanut-butter-cup-stuffed-smores-brownies.html
Melanie Bauer | Melanie Makes