Forget the campfire, these Dulce de Leche Swirl S'mores Brownies are where it's at!  A base of graham cracker crumbs topped by a rich, fudgy brownie, dollops of dulce de leche, chocolate chips and puffy, browned marshmallows.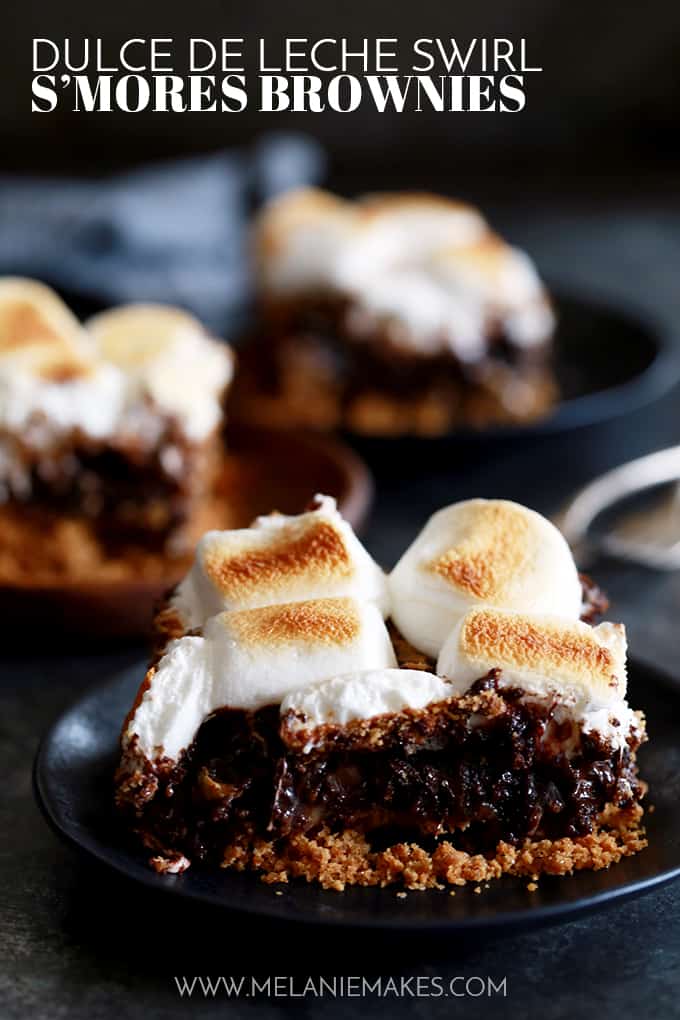 Keep in touch!  Subscribe to receive Melanie Makes recipes direct to your inbox.
I'm usually quite lucky that the recipes I obsessively dream up in my head usually turn out well – these Dulce de Leche Swirl S'mores Brownies are definitely one of them!  On the other hand, that makes it even more frustrating when something I try not only doesn't turn out the first time, but also the second time, causing me to throw in the towel and move on to something else.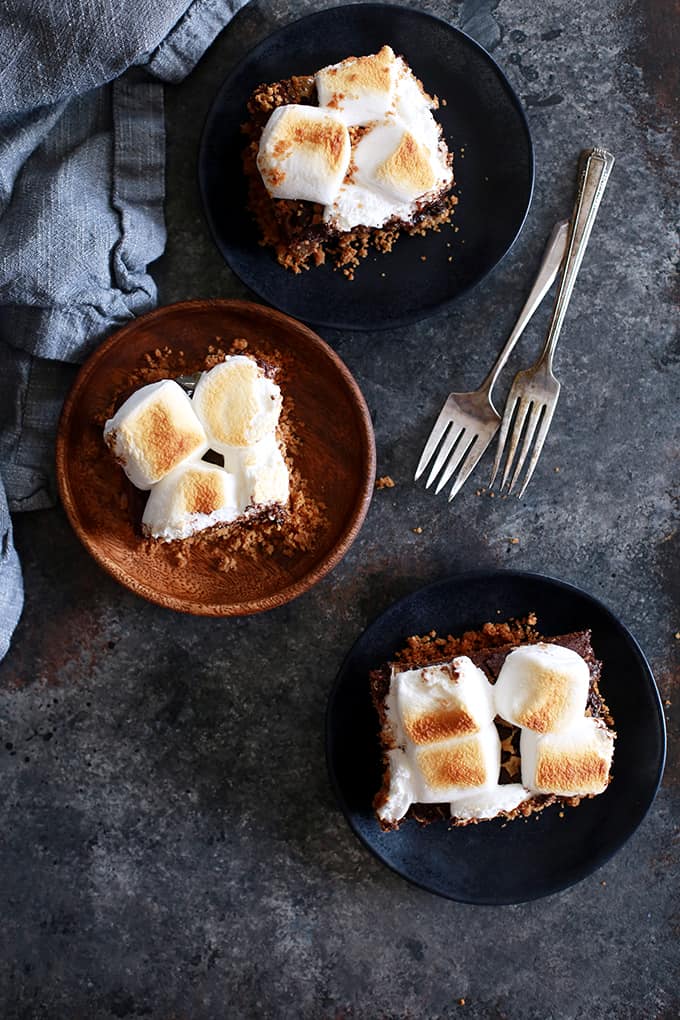 This occurred last week after I learned how to make dulce de leche from sweetened condensed milk and then tried to incorporate it into a popsicle recipe.  The flavor was absolutely awesome.  The problem?  The dulce de leche refused to freeze enough to allow for the popsicles to come out of the mold intact.  I was always left with the bottom half of the popsicle stuck in the mold.  I'm not really into serving what appears to be a half eaten popsicle to someone, so I finally threw in the towel.
As I was cleaning up my mess from the second failed attempt and trying not to focus on the amount of time or ingredients I had wasted in the process, I spied a stack of mini marshmallows on the counter that I had volunteered to supply for Bible School in the coming weeks.  AHA!  Inspiration!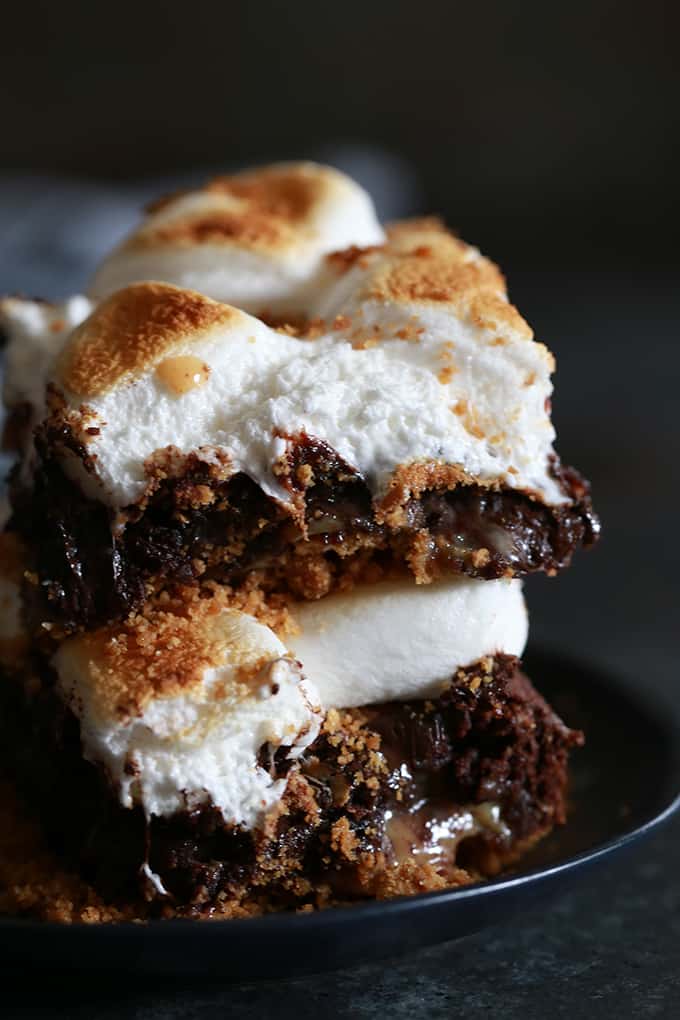 When I say marshmallows, what do you think of?  My first thought?  S'mores!  And what if I were to combine my new flavor crush of dulce de leche with a s'more?  And perhaps put it all on a brownie for added chocolate impact?  That's exactly what I did with these Dulce de Leche Swirl S'mores Brownies.  A base of graham cracker crumbs is topped by a rich, fudgy brownie.  Dollops of dulce de leche are plopped onto the brownie batter and then swirled into it to insure that each bite is as decadent as the one prior.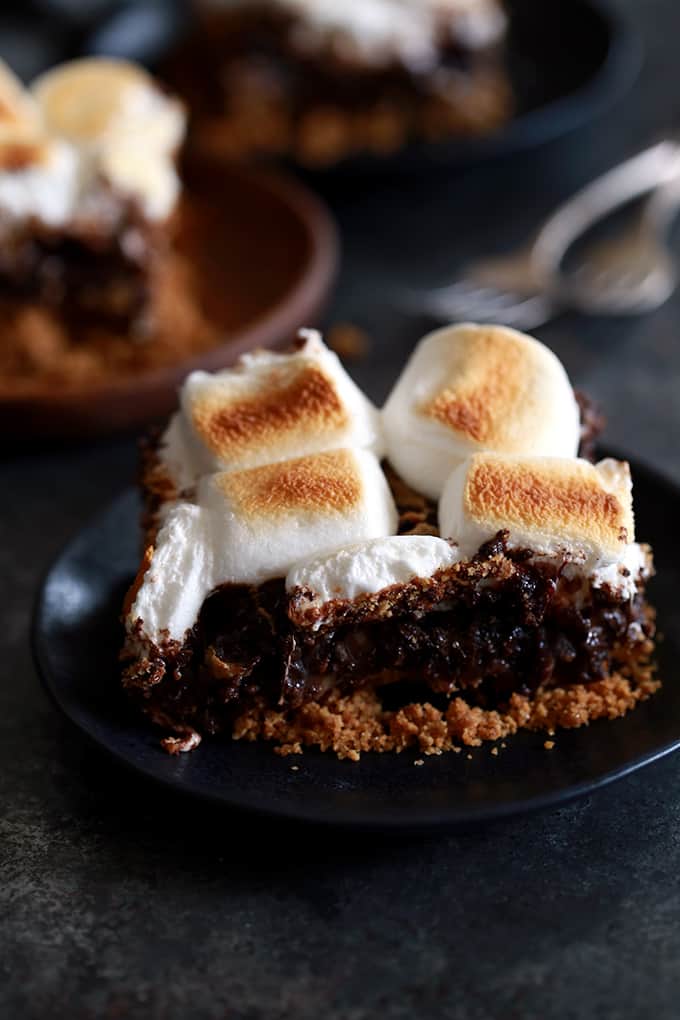 These aren't my first time creating a s'mores brownie dessert mashup!  My Cherry Cola S'mores Brownies and Peanut Butter Cup Stuffed S'mores Brownies are some of my most decadent and delicious brownies to date.  I might have then gone a little overboard as I thought a handful or two of chocolate chips on top of all of that was a good idea.  (For the record, I was right.)  Into the oven this pan of heaven goes and when it's done, it's topped with clouds of marshmallows – a whole bag! – and then broiled to the perfect shade of char doneness.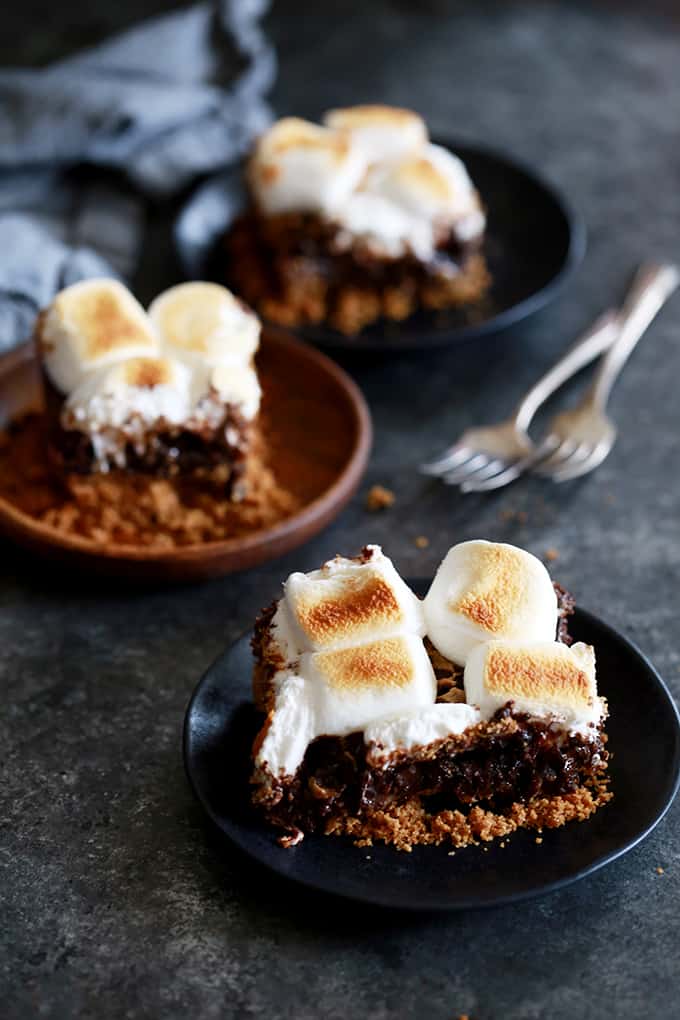 You can never have to many dulce de leche flavored treats in your recipe box, at least that's what I think!  In fact, these Dulce de Leche Swirl S'mores Brownies join these easy Homemade Dulce de Leche Coffee Creamer, these delicious Coconut Dulce de Leche Thumbprint Cookies and this dreamy No Bake Dulce de Leche Cheesecake with Caramelized Peaches in mine.  I have no doubt you'll be adding this recipe to yours as well.
Melanie Bauer | Melanie Makes
Yields 15 brownies
Dulce de Leche Swirl S'mores Brownies
15 minPrep Time
20 minCook Time
35 minTotal Time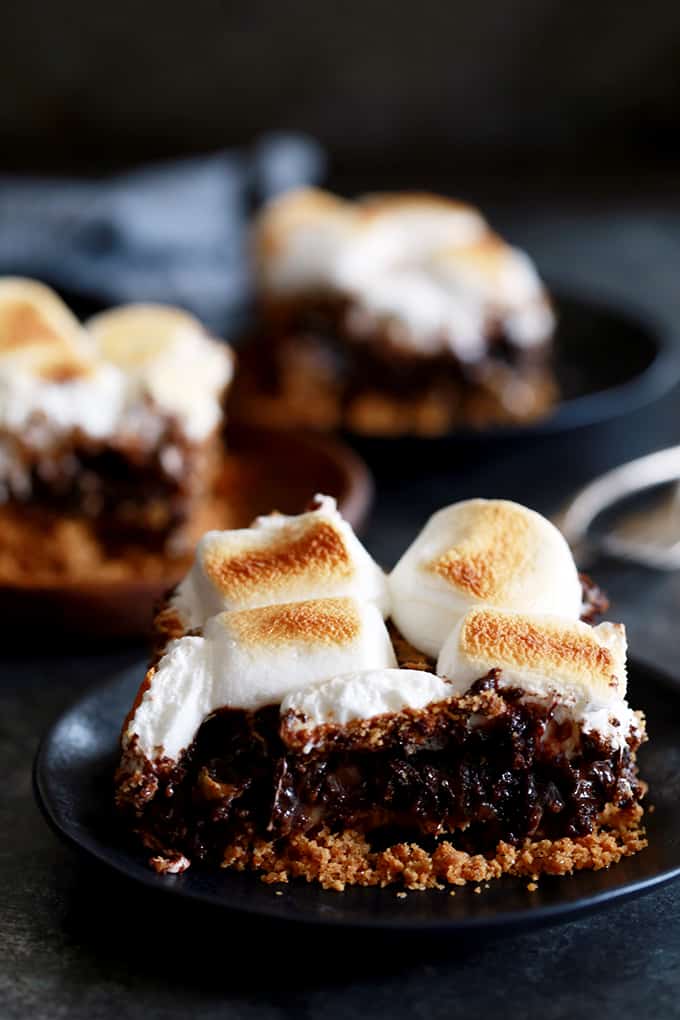 Ingredients
Dulce de Leche

1 recipe dulce de leche , prepared

Graham Cracker Crust

3 cups graham cracker crumbs
1/4 cup sugar
1/4 teaspoon salt
3/4 cup butter, melted

Brownies

1 recipe One Bowl Chocolate Fudge Brownies

Marshmallows

1 10-ounce package large marshmallows
Instructions
Graham Cracker Crust

As dulce de leche cools, preheat oven to 350 degrees.
Grease a 9x13 pan and set aside.
In a medium bowl, stir together graham cracker crumbs, sugar, salt and butter until combined. Pour into prepared pan and press into an even layer.
Bake for 12-14 minutes or until set and beginning to brown.

Brownies

Prepare batter for brownies and pour over graham cracker crust, spreading in an even layer.
Add dollops of dulce de leche on top of brownie batter and swirl together with knife or skewer to create marbleized effect. Sprinkle with chocolate chips.
Bake for 18-20 minutes or until just set.

Marshmallows

Remove brownies from oven and turn oven to broil setting. Add marshmallows to top of brownies pressing lightly to adhere them to the warm brownies.
Broil for 2-3 minutes or until they reach desired char level. Watch closely!
Let cool completely before attempting to cut and serve.
Notes
Recipe was originally shared as a guest post on Neighborfood but has been adapted to reflect how I currently prepare it.
7.8.1.2
421
https://melaniemakes.com/dulce-de-leche-swirl-smores-brownies/
Melanie Bauer | Melanie Makes