These five ingredient Slow Cooker Pepperoncini Beef Sandwiches are the easiest dinner recipe you've ever seen! With just 10 minutes prep, you'll soon have the perfect combination of succulent beef, melty cheese and crispy fried onions, all sandwiched between two pieces of bread!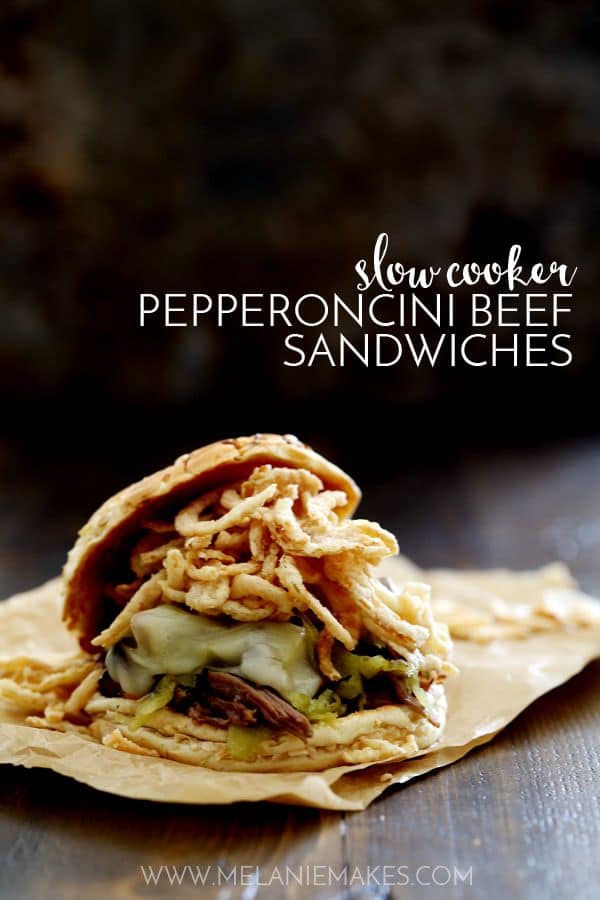 If an easy dinner recipe is what you're looking for, I dare you to find an easier recipe than these Slow Cooker Pepperoncini Beef Sandwiches. I'm not a big sandwich fan but these are absolutely delicious. And did I mention easy? So freakin' easy! They've been on our menu for years but I've recently add my own twist which takes the flavor quotient up a notch but doesn't increase the difficulty rating by one iota.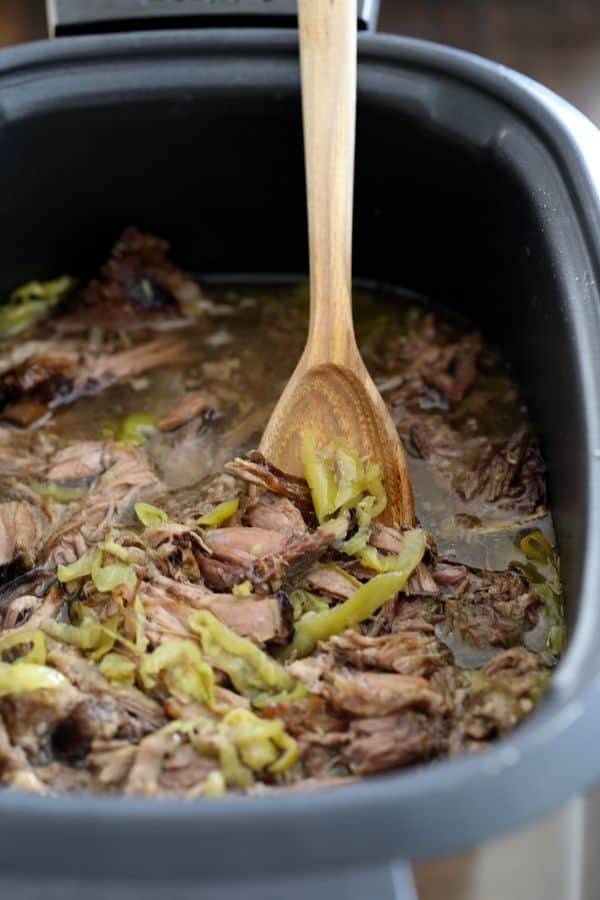 Want to know just how easy these sandwiches are? Here goes. You simply place a boneless beef roast in your slow cooker and pour over a jar of sliced pepperoncinis. Place lid on slow cooker. Enter the time on your slow cooker and away you go. THAT IS IT. I tried to find a word that means easier than easy, but I failed.
SIDE NOTE: If you're looking for an amazing slow cooker, I can't recommend the one I chatted about in this recipe enough. I mean, the fact that it's non-stick and is a breeze to clean is amazing in and of itself, but it also will brown, simmer and steam as well. I have three slow cookers and this is the only one that has earned residency in my small kitchen's limited cabinet real estate.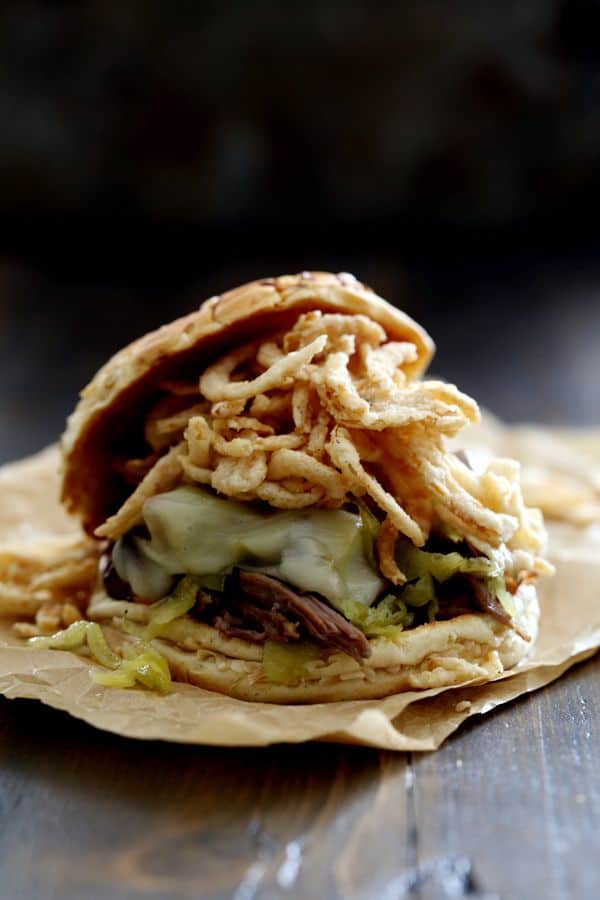 So after 8-10 hours of making your house smell amazing, you shred the beef with a couple of forks. You then top half of a sandwich roll with the beef mixture, blanket it with a slice of mozzarella cheese and pop it under the broiler to get nice and melty. This is where I take the reigns and add my own twist to things. I grab a handful of crispy fried onions – you know, of green bean casserole fame – and create a mountain of them on top of the cheese before adding the top of the sandwich roll. The combination of crunchy onions, melty cheese and succulent beef is on point!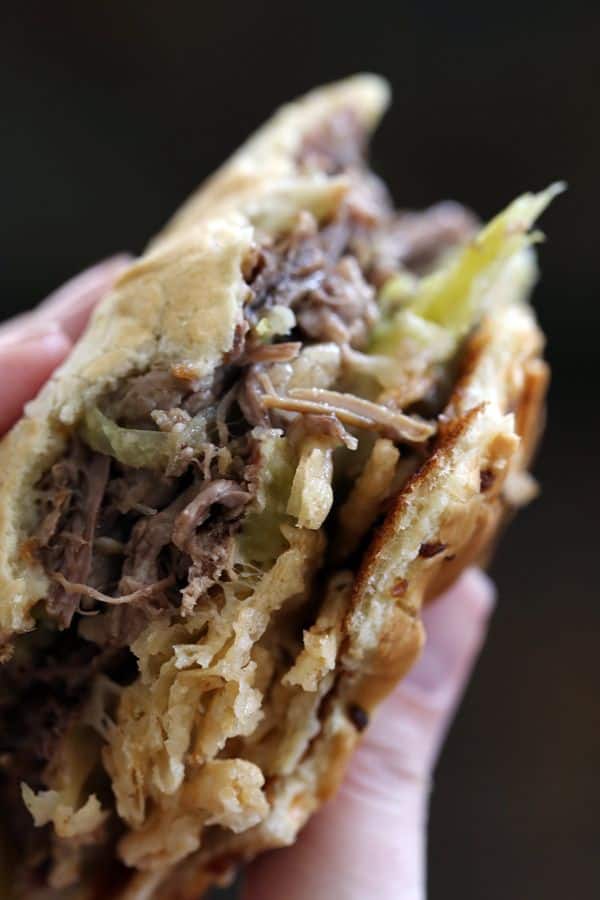 Melanie Bauer
Yields 8 sandwiches
Slow Cooker Pepperoncini Beef Sandwiches
10 minPrep Time
8 hrCook Time
8 hr, 10 Total Time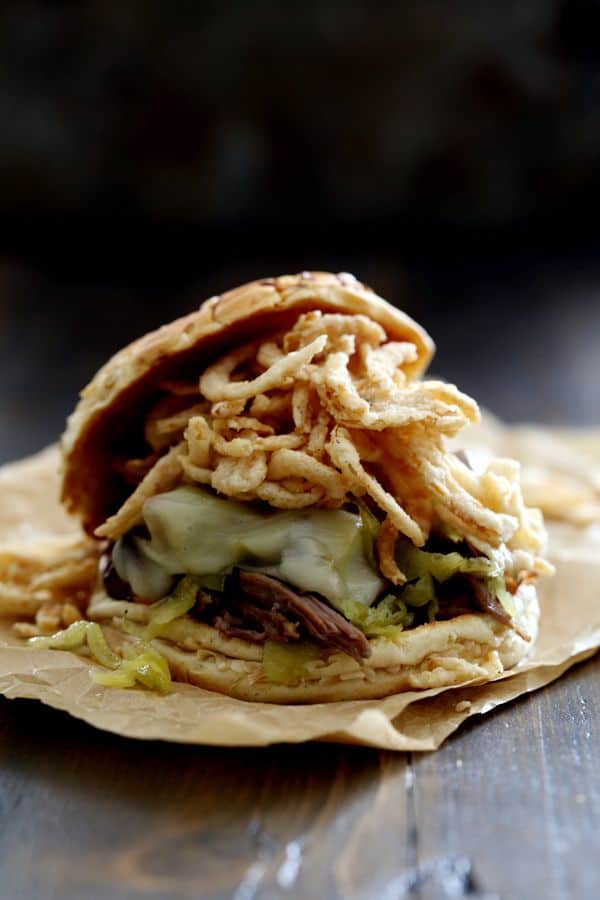 Ingredients
3 pound boneless beef chuck roast
16 ounces sliced pepperoncini peppers, undrained
8 sandwich rolls
8 slices mozzarella cheese
6 ounces crispy fried onions
Instructions
In a 6 quart slow cooker, add roast.
Pour pepperoncini peppers, including liquid, over roast.
Cook on LOW 8-10 hours.
Remove roast from slow cooker and pull apart using two forks. Return to slow cooker.
To assemble sandwiches, place beef mixture on top of one half of sandwich roll and a slice of cheese.
Place under broiler until cheese is melted. Top with a handful of crispy fried onions and other roll half.
Notes
7.6.6
342
https://melaniemakes.com/blog/2016/07/slow-cooker-pepperoncini-beef-sandwiches.html
Melanie Bauer | Melanie Makes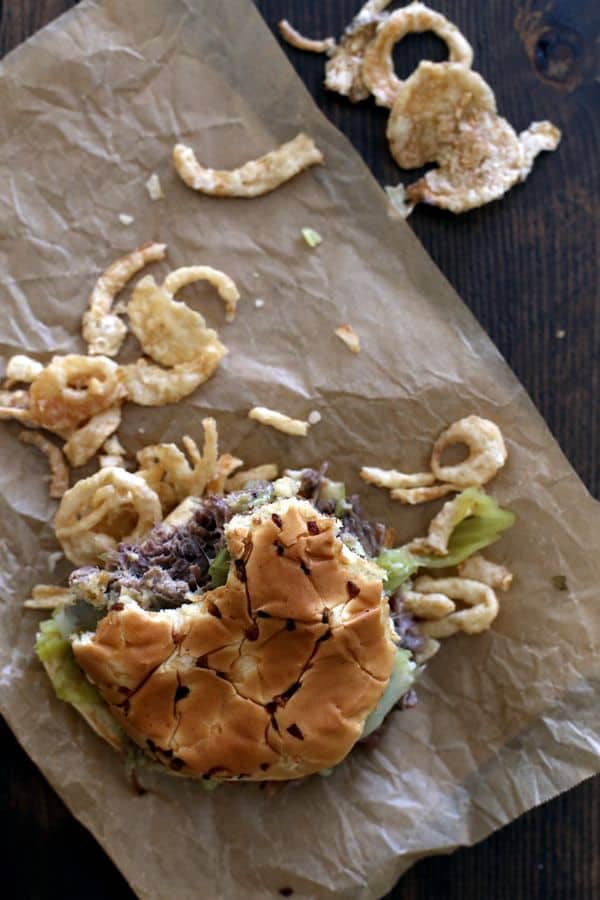 I'm thrilled to have teamed up with three of my favorite food blogger friends to bring you this Slow Cooker Pepperoncini Beef Sandwiches recipe as part of Summer Slow Cooker Week 2016. Be sure to check out the slow cooker recipes that they're posting today, below: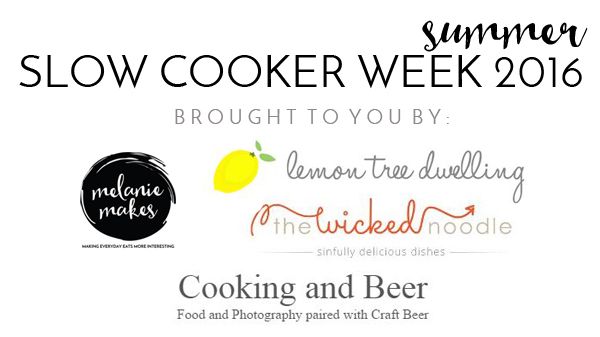 Even better than four new slow cooker recipes to begin your week, we've also teamed up with Cuisinart to bring you a giveaway! Your chance to win the exact slow cooker I mentioned above and the only one that I use in my kitchen. See the giveaway form below to enter.
Looking for more great slow cooker recipes?