These Oreo Marshmallow Treat Brownies are what Oreo lovers dream about.  A single pan of brownies that includes TWO packages of Double Stuf Oreos.  Chocolate fudge brownies are topped with a layer of Oreos before being baked and then topped with an Oreo marshmallow treat mixture and even more Oreos.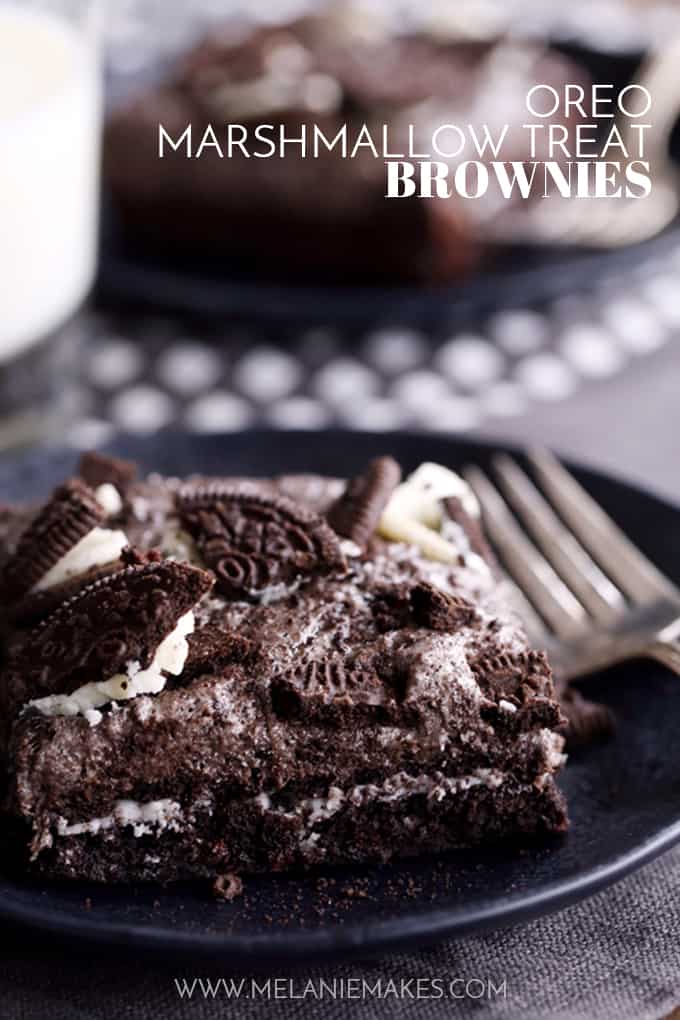 This recipe was written in partnership with Rodelle.  I received product for recipe creation but no other compensation.  As always, all thoughts and opinions are my own.  Thank you for supporting this brand that allows me the opportunity to create content for Melanie Makes.
Keep in touch!  Subscribe to receive Melanie Makes recipes direct to your inbox.
How do we feel about Oreos?  And by we, I obviously mean you.  I know how I feel about Oreos.  Oreos are dangerous with a capital D.  If they're in my house, there is a strong magnetic pull between me and the package.  Especially the Double Stuf ones.  And now look what I've gone and done.  I've put not one, but TWO entire packages of Double Stuf Oreos into these Oreo Marshmallow Treat Brownies.  Oops.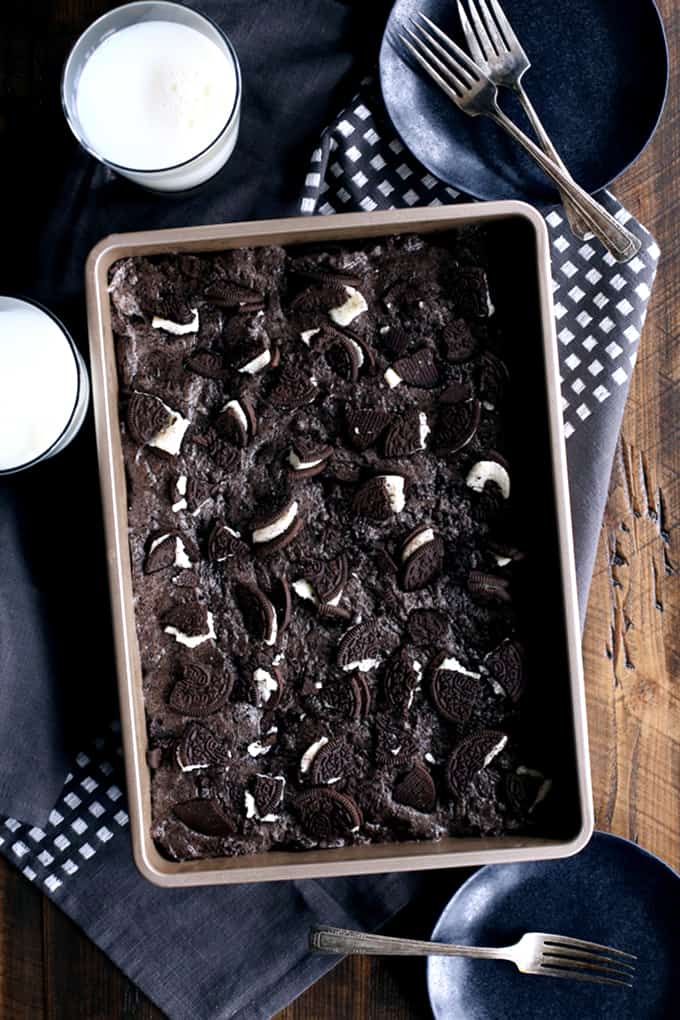 Oreo Marshmallow Treat, you say?  It's like your childhood favorite Rice Krispie Treat, minus the Rice Krispie, add Oreos.  In other words, ah-maz-ing.  Seriously.  Marshmallow, butter, Oreos.  There is absolutely no way you can go wrong with this scenario.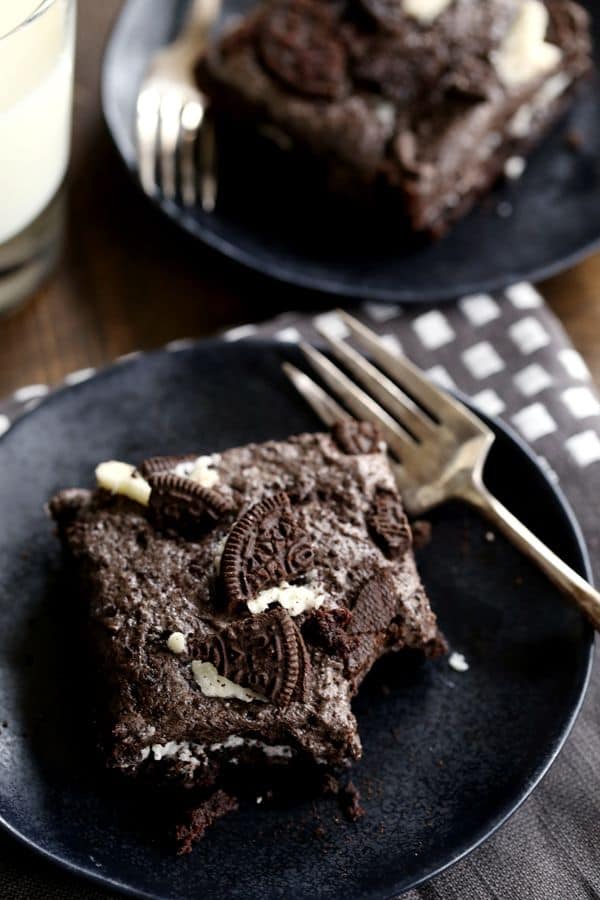 My One Bowl Chocolate Fudge Brownies have been transformed into an Oreo and marshmallow wonderland.  Chocolately fudge brownie batter is topped with a layer of 24 Double Stuf Oreos before being baked into brownie deliciousness.  They're then topped with a layer of Oreo marshmallow treat mixture.  But wait!  There's more!  Those leftover Oreos from the package you opened to top the brownie batter?  We wouldn't want them to go to waste, would we?  I thought so.  Instead, they're crumbled on top of the marshmallow treat mixture.  There you have it.  Two entire packages of Oreos in one batch of brownies.  Life goals, friends.  Life goals.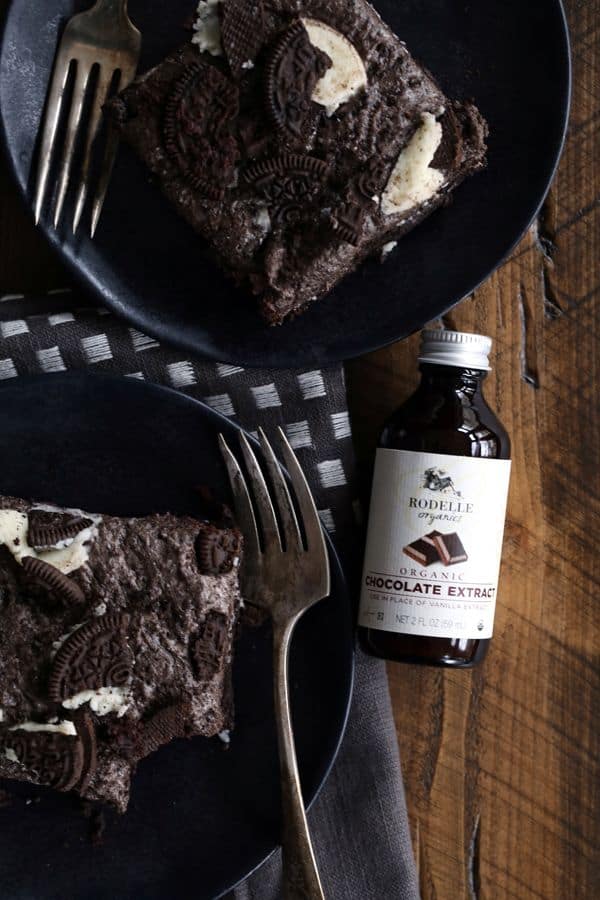 And my secret for insuring that theseOreo Marshmallow Treat Brownies are as chocolatey as possible?  My pantry staple Rodelle Baking Cocoa – I seriously have this stuff on an Amazon Subscribe and Save subscription as I love it so much and go through it like crazy.  I also reached for my Rodelle Organic Chocolate Extract.  Pure chocolate goodness.  Used in place of vanilla extract, it seriously ups the chocolate flavor quotient in any recipe and was the perfect choice for these brownies.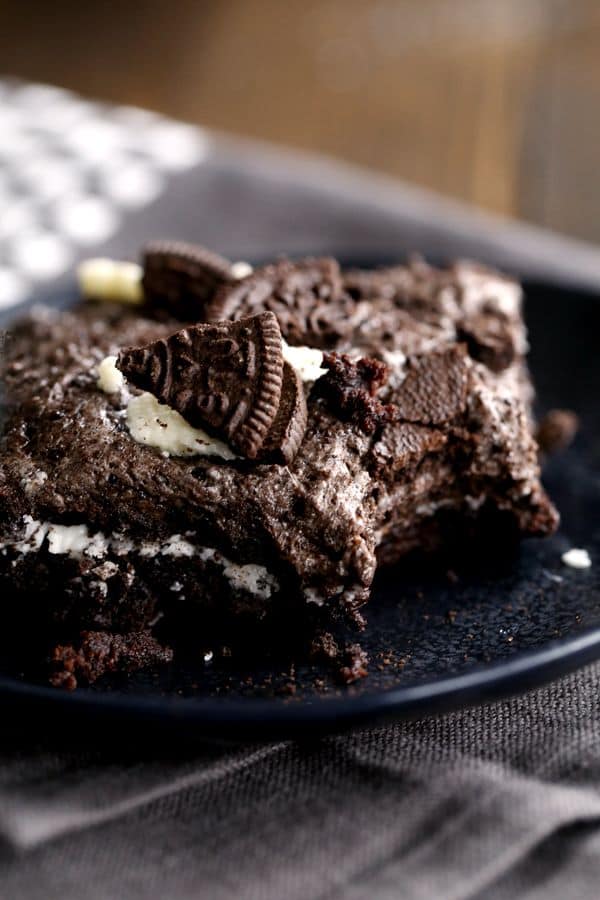 Marshmallows and brownies are such a dynamic dessert duo that I've combined them in other recipes besides theses Oreo Marshmallow Treat Brownies as well.  My Cherry Cola S'mores Brownies are a mashup of my favorite dessert and favorite soda and my Peanut Butter Cup Stuffed S'mores Brownies are a peanut butter and chocolate lovers dream come true.
Apparently I'm not the only ones who love the marshmallow and brownie mashup!  These rich and fudgy Thin Mint Marshmallow Brownies and these Patriotic Marshmallow Crunch Brownies both look delicious.  And these Funfetti Rocky Road Brownies are three of my favorites in a single dessert!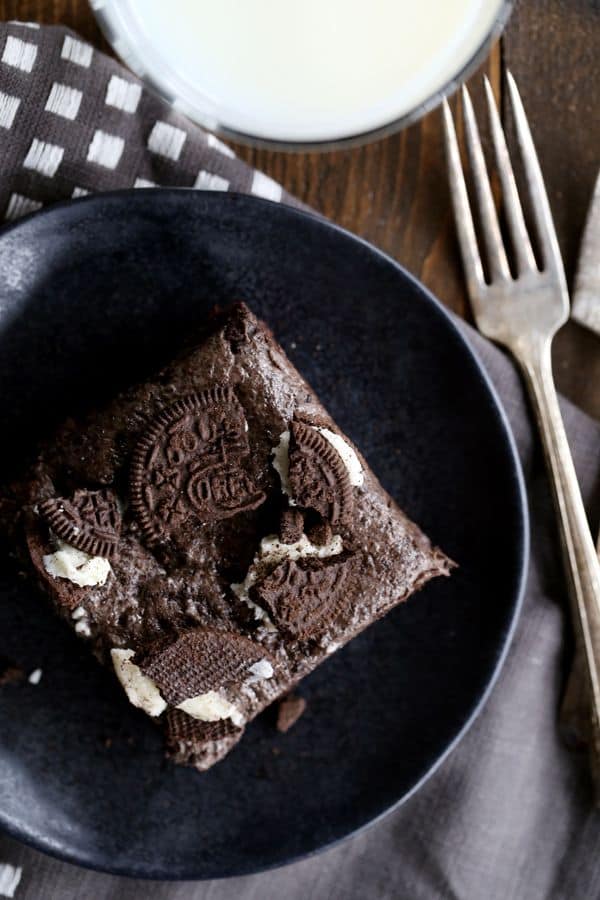 Melanie Bauer | Melanie Makes
Yields 15 brownies
Oreo Marshmallow Treat Brownies
15 minPrep Time
25 minCook Time
40 minTotal Time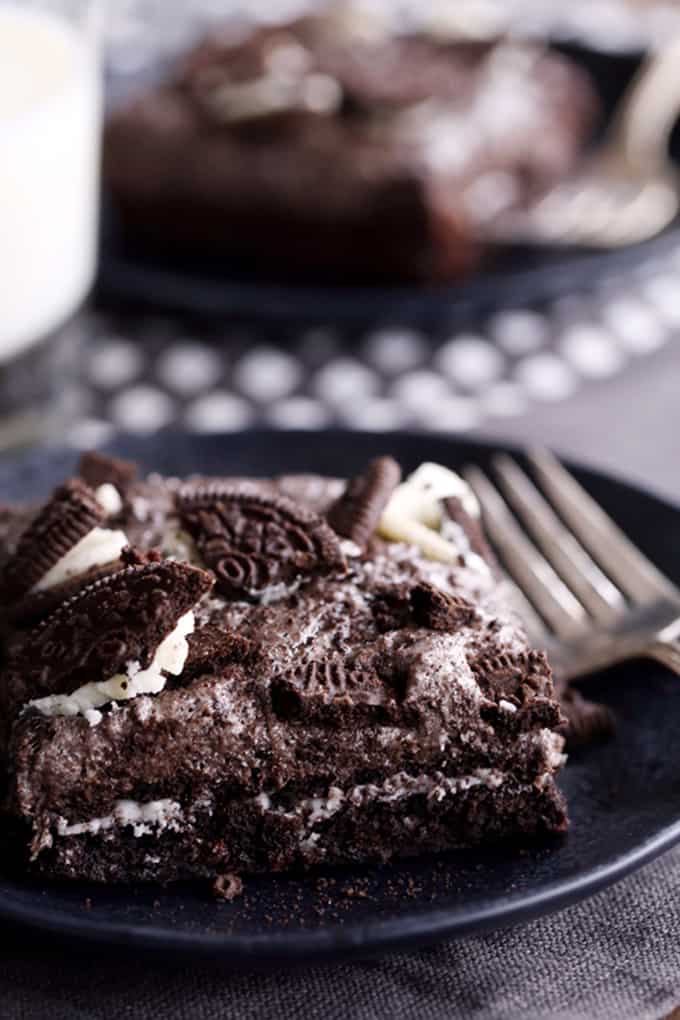 Ingredients
Brownies

3/4 cup butter
3/4 cup Rodelle Baking Cocoa
1/4 cup strong coffee, prepared
1-2/3 cups sugar
2 eggs
2 teaspoons Rodelle Organics Chocolate Extract
1/2 teaspoon baking powder
1/4 teaspoon salt
1-1/3 cups flour
24 Double Stuf Oreos

Oreo Marshmallow Treats

1 15.35-ounce package Double Stuf Oreos
5 cups marshmallows
4 tablespoons butter
remaining Oreos from package used for brownies
Instructions
Brownies

Preheat oven to 350 degrees.
In a large, microwave safe bowl, add butter and heat on high for 1 minute. Whisk together until completely melted.
Add Rodelle Baking Cocoa and coffee and whisk together until smooth and completely combined.
Add eggs, sugar and Rodelle Chocolate Extract and stir together until combined.
Add baking powder, salt and flour and stir together until just combined, being careful not to over mix.
Pour batter into greased 9x13 baking pan and smooth into an even layer. Layer Oreos in a single layer over brownie batter.
Bake for 18-20 minutes or until just set and a toothpick inserted into the center removes cleanly.

Oreo Marshmallow Treats

Add Oreos to bowl of food processor and pulse until they are coarse crumbs.
In a large microwave safe bowl, add marshmallows and butter and microwave for 90 seconds.
Add Oreo crumbs to bowl and stir to combine. Press gently in a single layer over top of warm brownies.
Crumble Oreos over marshmallow treat mixture, gently pressing them in to adhere.
Allow to cool completely before cutting.
7.8.1.2
330
https://melaniemakes.com/oreo-marshmallow-treat-brownies/
Melanie Bauer | Melanie Makes